SDCC 2023: Captain Planet – Gaia Diamond Glitter Funko Pop!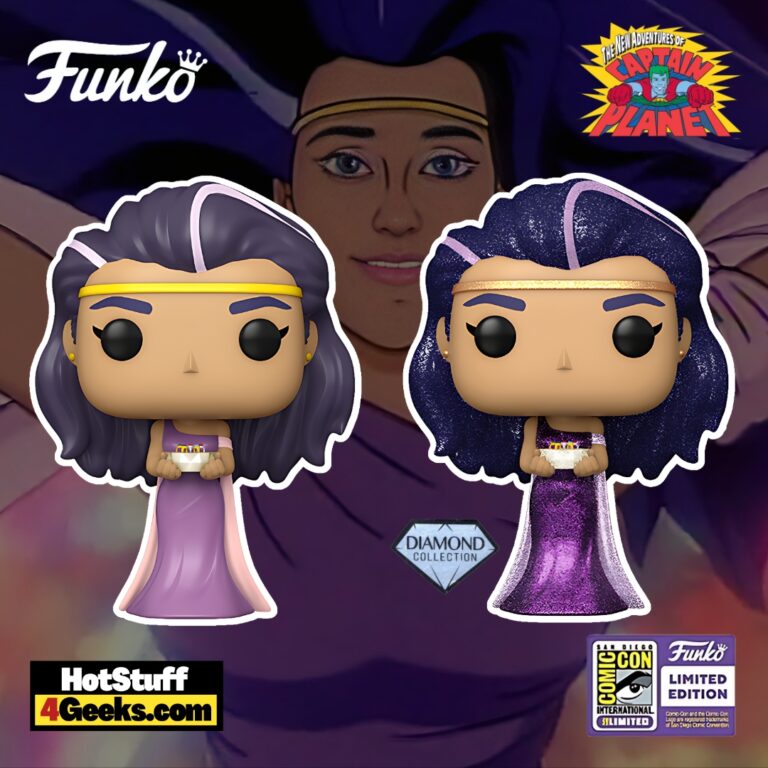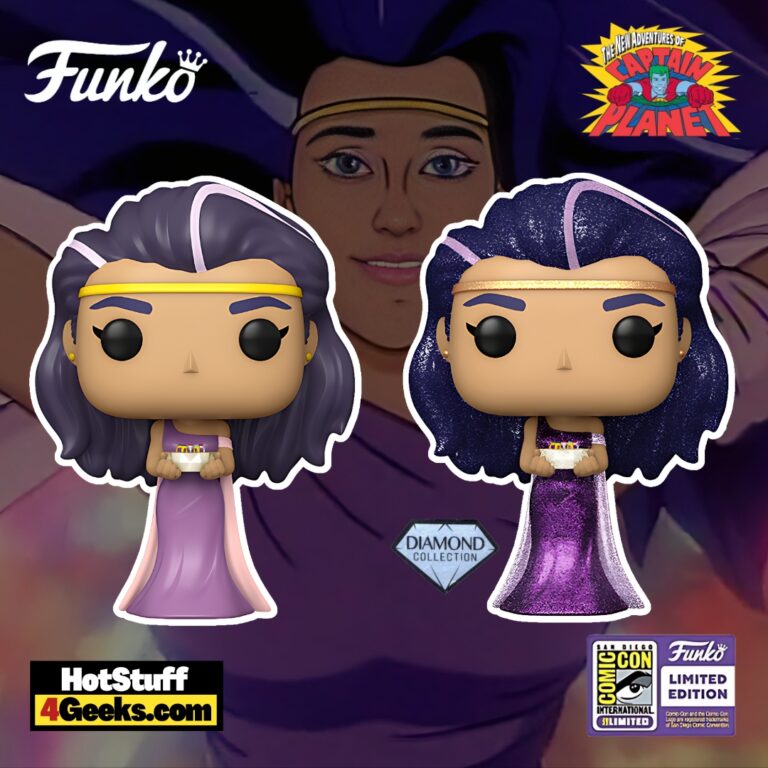 The new Funko POP! Animation: The New Adventures of Captain Planet – Gaia Diamond Glitter Funko Pop! Vinyl Figure – SDCC 2023 and Funko Shop Shared Exclusive will be available online starting at 6 AM PT on Thursday, July 20, at the links below (click to jump!)
Sparkling into Action: Gaia's Diamond Debut in Funko Pop! as a 2023 SDCC Exclusive
The San Diego Comic-Con 2023 has brought forth a gem that will delight both animation and collector enthusiasts – the Diamond Glitter Gaia Funko Pop! Vinyl Figure.
Straight from the revamped animated series "The New Adventures of Captain Planet," Gaia, Earth's spirit, has risen from her hibernation, ready to combat the world's escalating environmental crises.
Presented in all her diamond glitter glory, Gaia's representation as a Pop! Vinyl figure perfectly captures her revamped, active role in the series.
The figure holds true to her animated counterpart, capturing her resolve to protect nature and restore the Earth with her firm grip on the powerful Planeteer rings.
This SDCC exclusive, with its unique glitter aesthetic, sets it apart from the common version.
The Diamond Collection Gaia boasts intricate details and a shine synonymous with Gaia's renewed zeal in the series.
Whether you're looking to enhance your "The New Adventures of Captain Planet" collection or are a fan of Gaia's empowering persona, this piece is an absolute must-have.
Beaming with environmental determination, the Diamond Glitter Gaia is not just a captivating spectacle to behold but an emblem of her commitment to planetary healing.
The sparkle is a constant reminder of Gaia's vibrant energy, readiness to tackle environmental threats, and journey alongside the Planeteers.
A figure that beautifully encapsulates Gaia's character, the Diamond Glitter Gaia Funko Pop! Vinyl is a spectacular testament to her spirit.
Welcome her into your collection and embrace the dazzling mission she embodies – to protect, restore, and preserve our beloved Mother Earth.
The SDCC 2023 and Funko Shop Shared Exclusive Gaia (Diamond Glitter  and Common Version) Funko Pop! can be found at the links below as soon as the online sale begins (click to jump!)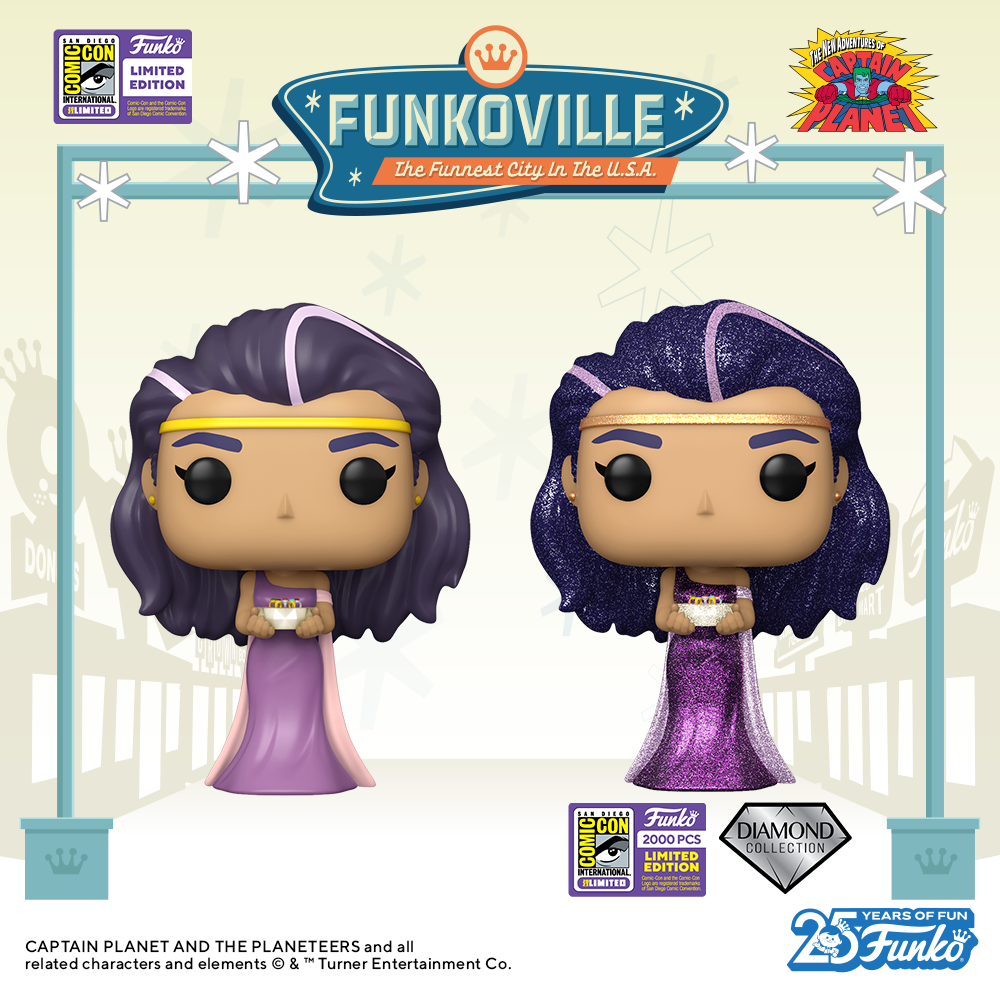 Breathing Fresh Air into Captain Planet: Gaia's Revamped Role
The renaissance of beloved animated TV series often brings an exciting twist to classic characters.
The reboot of the 90's environmental superhero show "Captain Planet and the Planeteers" is no exception.
Aptly titled "The New Adventures of Captain Planet," the series doesn't just offer a fresh take on the eco-champion but significantly expands the role of the spirit of the Earth, Gaia, thereby elevating the show's environmental message.
Initially voiced by Whoopi Goldberg, Gaia was essentially a guiding figure in the original series.
However, in this reboot, she's more than a mentor. Evolving from an ethereal entity to a proactive participant in the Planet team's adventures, Gaia's amplified presence offers a refreshing perspective on the narrative.
This shift isn't a simple character upgrade for entertainment's sake.
By making Gaia an active character, the showrunners ingeniously tie in a profound environmental message: Mother Earth isn't just a passive receptor of human actions and a vibrant entity capable of fighting back and defending itself.
The dynamic Gaia doesn't just sit on the sidelines offering sage advice; she battles environmental threats alongside Captain Planet and the Planeteers, tackling issues such as climate change, deforestation, and plastic pollution head-on.
Her active involvement speaks volumes about the series' commitment to emphasizing our planet's resilience while maintaining the action-packed plotline that fans have come to expect.
The revamped Gaia also brings a distinct sense of emotional depth to the series.
The intimate relationship between Gaia and the Planeteers, and her close ties with the environment, echo the emotional bond between humanity and nature.
This connection forms the emotional backbone of the series, adding a layer of realism and urgency to the environmental message.
What's more, Gaia's evolution extends beyond just her character. Her design, too, has seen a significant update.
The creators have done a splendid job preserving her iconic green eyes while providing a modern, relatable look, resonating with original fans and new viewers.
"The New Adventures of Captain Planet" masterfully reimagines Gaia, transforming her from a guiding spirit to an active defender of the Earth, seamlessly integrating an impactful environmental narrative with a riveting storyline.
This intriguing blend of action, education, and emotion ensures that the series offers more than mere nostalgia.
Like the original, the reboot balances entertainment and education, introducing complex environmental issues to younger viewers while entertaining adult fans.
Yet, with an active Gaia on the front lines, the stakes are higher, the action more intense, and the environmental message louder.
This innovative take on Gaia proves that our favorite eco-warrior series isn't just surviving in this new era; it's thriving.
So, if you're a fan of animation with depth, a lover of environmental action, or simply curious about this revamped classic, "The New Adventures of Captain Planet" is worth watching.
The series offers a captivating blend of nostalgia and innovation, centered around a reimagined Gaia – a testament to the enduring power of Mother Earth.
Read more:
Starting now, you can receive 10% off in-stock items with my special link at Entertainment Earth!
 Enjoy!
As an Amazon Associate I earn from qualifying purchases
Want more stuff like this?
Get the best viral stories straight into your inbox!
Don't worry, we don't spam