SDCC 2023: Classic Spider-Man Funko 25th Anniversary Special Edition Pop!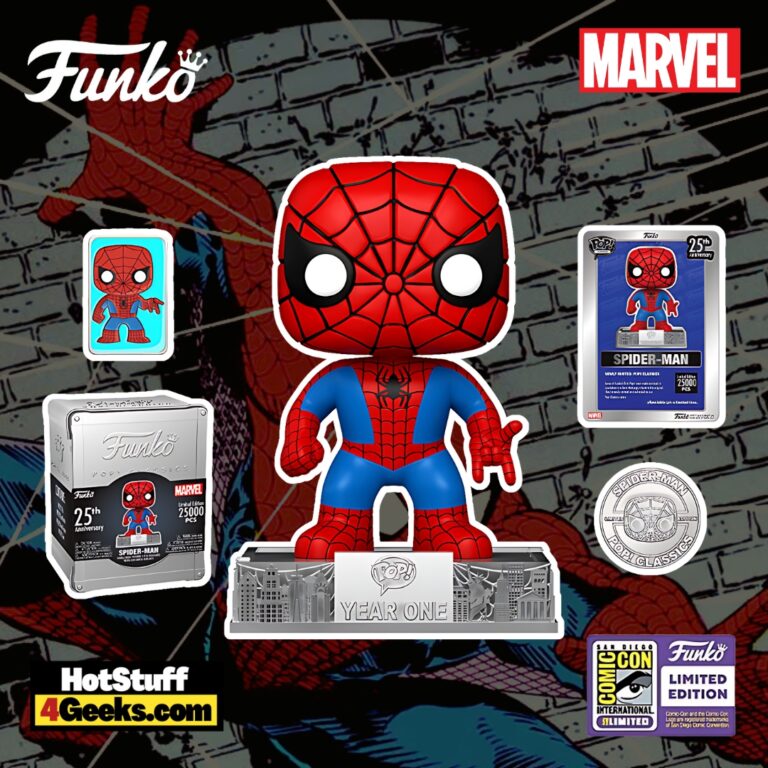 The new Funko POP! Funko 25th Anniversary-  Classic Spider-Man Funko Pop! Special Edition Vinyl Figure – SDCC 2023 and Funko Shop Shared Exclusive will be available online starting at 6 AM PT on Thursday, July 20, at the links below (click to jump!)
SDCC 2023 Shines with Funko's 25th Anniversary Classic Spider-Man Exclusive
Spider-Man fans, prepare to have your Spidey-senses tingling! Funko's 25th anniversary has brought us an irresistible treat – the Classic Spider-Man Funko Pop!
This special edition vinyl figure, exclusively released for SDCC 2023, isn't just a collectible. It's a grand celebration of our beloved web-slinger.
Crafted with care and attention to detail, this Classic Spider-Man figurine stands proudly on a detachable base, packaged in an elegant silver-tone window box.
The protective tin case, embossed to resemble a vault door, opens to reveal the Pop! Spider-Man figure exudes an aura of exclusivity and intrigue.
What makes this package even more special are the additional goodies. An enamel Pop! Pin and a stainless-steel Pop! Coin, both proudly displaying Spider-Man's face, are included.
Plus, a foil Certificate Card details Spider-Man's biographical information, adding an extra layer of authenticity to this unique collectible.
This isn't just an addition to your collection. It's a celebration of the enduring legacy of Spider-Man, a symbol of Funko's commitment to bringing us closer to our favorite heroes.
The Classic Spider-Man Funko Pop! is more than just a figure. It's a vibrant homage to the timeless appeal of our web-slinging hero.
The SDCC 2023 and Funko Shop Shared Exclusive Lilith Funko Pop! can be found at the links below as soon as the online sale begins (click to jump!)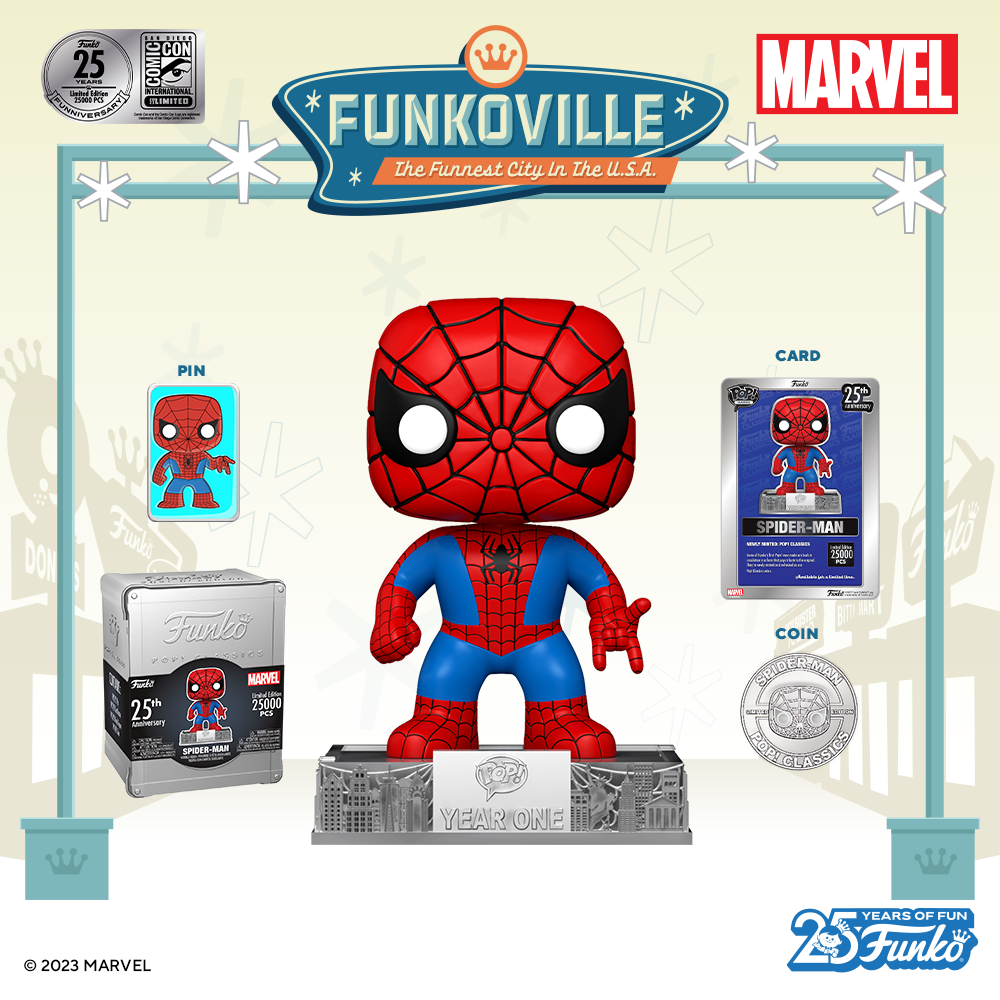 Spider-Man: A Masterpiece Spanning Comics and History
Since his inception in the pages of Amazing Fantasy #15, Spider-Man, the creation of legendary Marvel duo Stan Lee and Steve Ditko, has captured the hearts and minds of millions.
The web-slinging superhero's success isn't just a tale of popularity—it explores the depth of character development, historical context, and sheer artistic genius.
In the landscape of 1960s comics, Peter Parker was a breath of fresh air.
Unlike the invincible paragons of virtue common in the superhero genre, Peter was relatable, an everyday teenager navigating the tumultuous waters of adolescence, only with the added responsibility of great power.
Through the persona of Spider-Man, Lee, and Ditko, it expanded the emotional vocabulary of the superhero genre, making it resonate with readers on a deeply personal level.
Spider-Man's universe is a rich tapestry of characters, each contributing to the narrative's vibrant hue.
A critical aspect of this universe is his roster of villains.
Characters like the cunning Doctor Octopus and the menacing Green Goblin were not just adversaries but catalysts for storytelling, challenging Spider-Man and, by extension, thrilling readers with high-stakes drama.
An equally important facet of Spider-Man's universal appeal is his iconic costume.
Steve Ditko's design was innovative, breaking the norm of partially revealed faces.
The full-face mask allowed readers, irrespective of their background, to envision themselves as the heroic web-slinger, fostering a profound connection with the character.
But the magic of Spider-Man doesn't stop with Peter Parker.
The narrative has evolved, mirroring societal changes and introducing characters like Miles Morales, a biracial teenager who took up the mantle of Spider-Man.
This inclusive portrayal has broadened Spider-Man's resonance with readers, fortifying his relevance in an ever-evolving pop culture landscape.
To understand the grandeur of Spider-Man is to appreciate the intricate balance between artistry and relatability.
He's a superhero for sure, but more importantly, he's a mirror to our own experiences—a living testament to the trials, tribulations, and triumphs of being human.
As we marvel at his storied journey, it becomes evident that Spider-Man isn't just a character in a comic book.
He's an enduring symbol of humanity's resilience, underscoring the timeless maxim— with great power comes great responsibility.
Funko POP! Funko 25th Anniversary-  Classic Spider-Man Funko Pop! Special Edition Vinyl Figure – SDCC 2023 and Funko Shop Shared Exclusive
Available at:
Starting now, you can receive 10% off in-stock items with my special link at Entertainment Earth!
 Enjoy!
As an Amazon Associate I earn from qualifying purchases
Want more stuff like this?
Get the best viral stories straight into your inbox!
Don't worry, we don't spam