SDCC 2023: Cobra Kay – Daniel Larusso Soda Figure Exclusive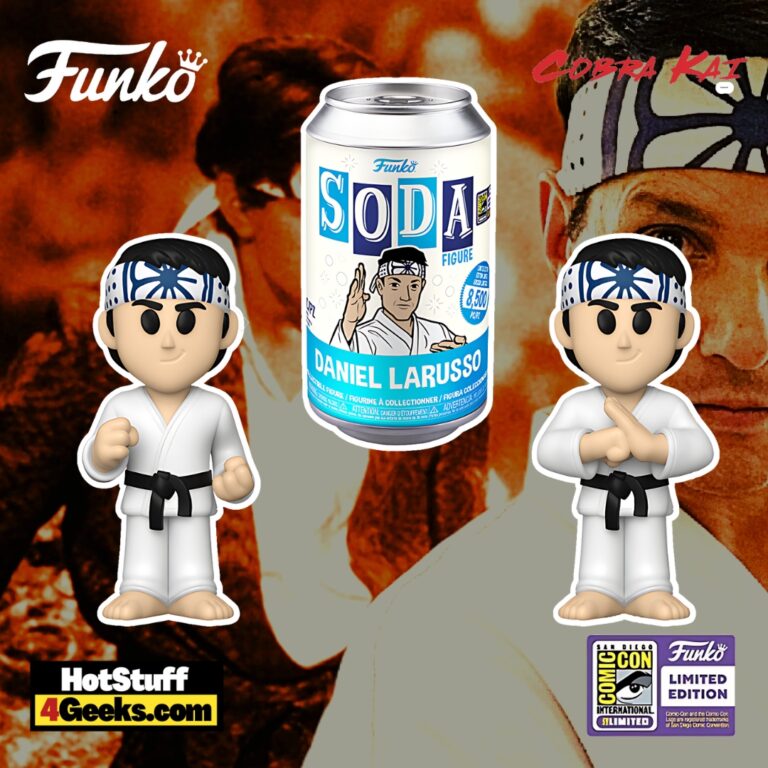 The new Funko Soda! Cobra Kay: Daniel Larusso Funko Soda Vinyl Figure with Chase Variant – SDCC 2023 and Funko Shop Shared Exclusive will be available online starting at 6 AM PT on Thursday, July 20, at the links below (click to jump!)
The 'Karate Kid' Returns: Unveiling the Daniel LaRusso Funko Soda Vinyl Figure at 2023 SDCC
Stepping right off the small screen and into your collection comes a piece that will make "Cobra Kai" fans jump with joy: the exclusive Daniel LaRusso Funko Soda Vinyl Figure.
Debuting at SDCC 2023, this unique piece captures the essence of our favorite Karate Kid in vibrant vinyl, complete with his iconic karate gi and a focused expression that exudes his relentless fighting spirit.
The appeal of this piece is amplified by the Chase Variant – an elusive, special edition that transforms Daniel into his classic 'Cobra Kai' form.
That's right! The Chase offers an alternate snapshot of Daniel, providing collectors the thrill of seeking out this rarity.
For true fans, it's a delightful, tangible representation of the riveting character evolution we've witnessed on "Cobra Kai."
Collecting Funko Soda figures is not merely about amassing a series of vinyl dolls; it's about commemorating the characters we've grown to adore.
The Daniel LaRusso figure is no exception.
It stands as a testament to a character who has mastered karate and our hearts. SDCC 2023, bring it on!
The SDCC 2023 and Funko Shop Shared Exclusive Funko SODA Daniel Larusso can be found at the links below as soon as the online sale begins (click to jump!)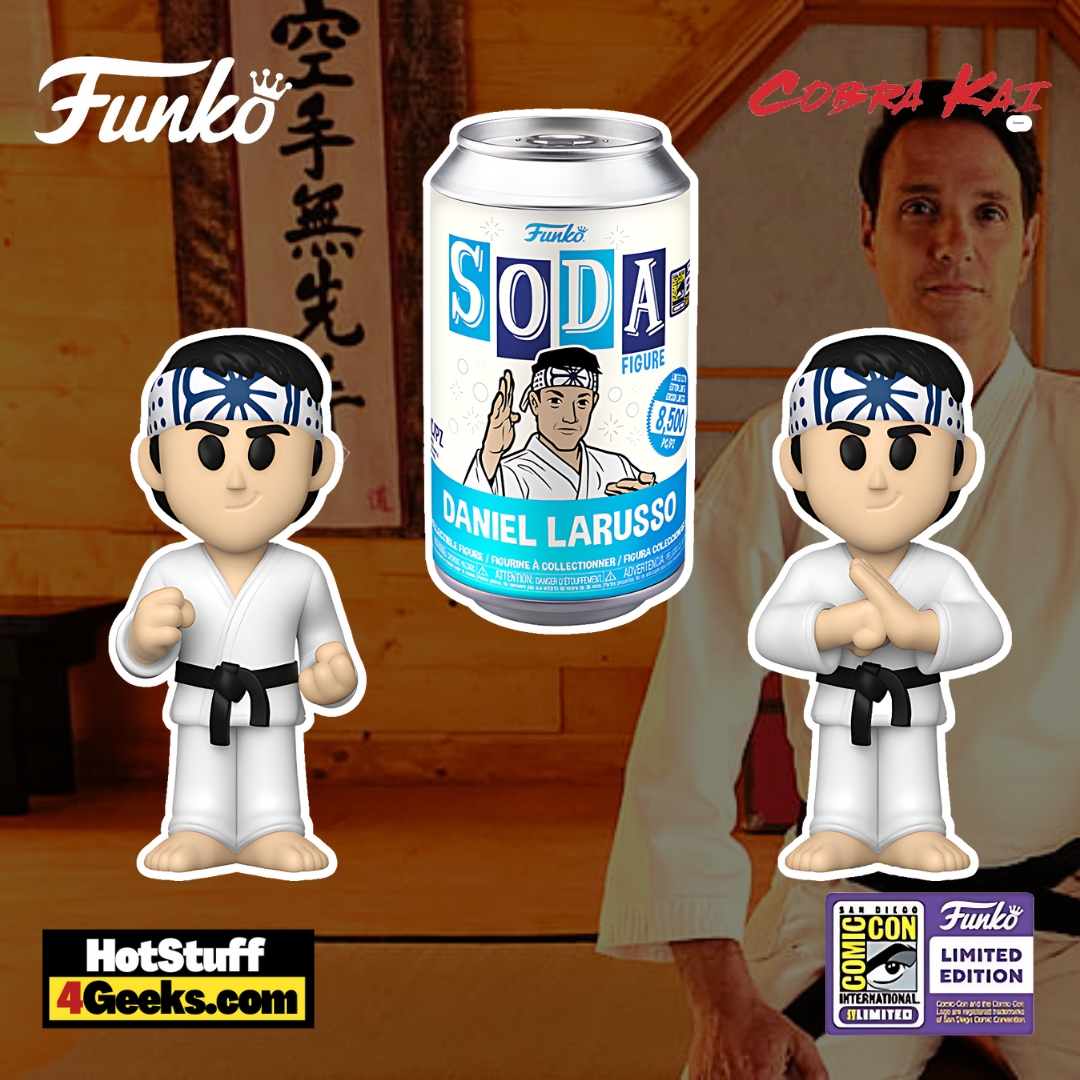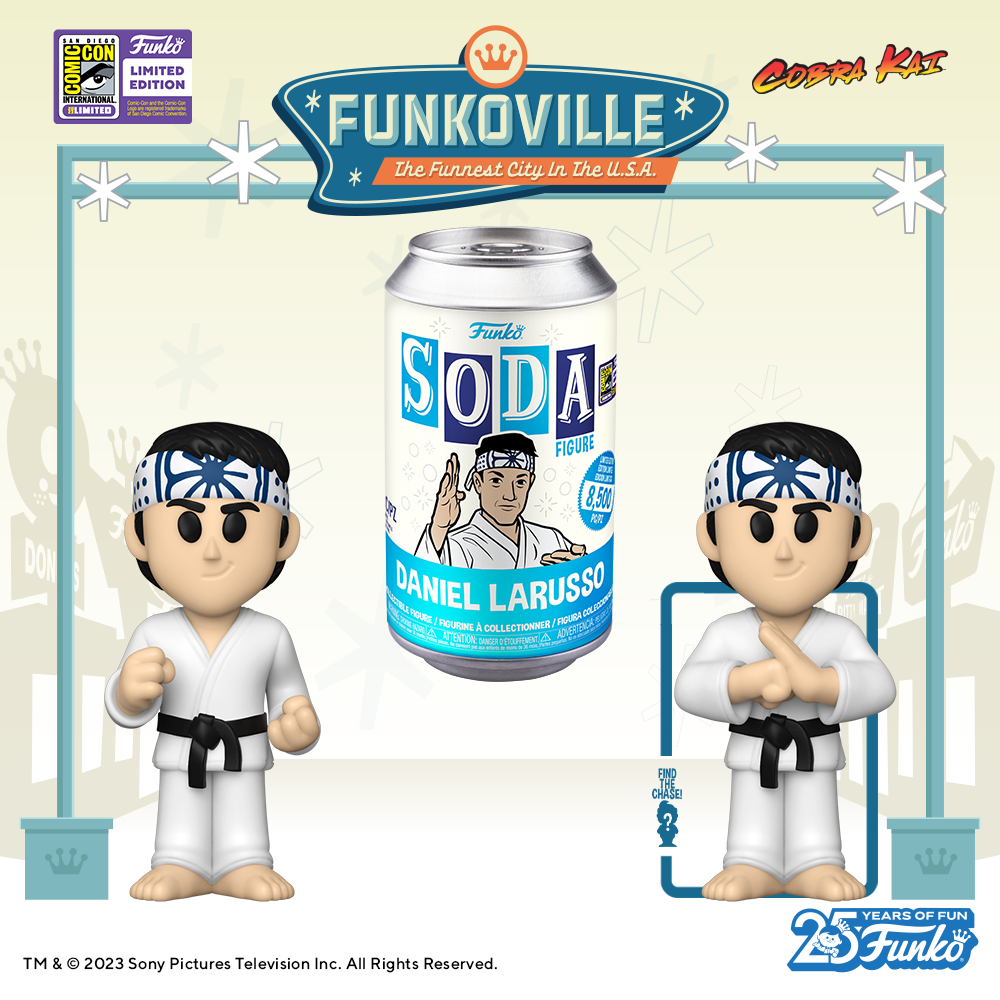 Cobra Kai: A Journey Through Familiarity and Repetition
If you've been around the dojo of television recently, there's no way you haven't heard of "Cobra Kai."
The series, a sequel to the beloved Karate Kid films, has managed to capture the hearts of countless viewers with its blend of nostalgia, impressive fight choreography, and a cast that's equally captivating and endearing.
However, amidst its unique charm and engaging narrative, it's an intriguing truth we must reckon with: on the surface, not much happens.
Now, don't get me wrong. This isn't an accusation of the series being dull.
Far from it! "Cobra Kai" has demonstrated its knack for humor, emotionally charged sequences, and thrilling martial arts displays that keep us glued to our screens.
But peel back the layers of action-packed dojo face-offs, and what you find might surprise you: a plot that's as stable as a seasoned martial artist in a meditative stance.
Let's jog our memories, shall we?
Over the past five seasons, the story's heart remains essentially the same: our beloved characters, Johnny Lawrence and Daniel LaRusso, repeatedly form alliances, break apart, and then come together again in a perpetual dance of rivalry and camaraderie.
Their respective dojos, Cobra Kai and Miyagi-Do, have constantly been embroiled in a power struggle for the Valley's supremacy, a theme that's become as familiar as the show's opening credits.
While compelling, even the smaller story arcs, such as Miguel's search for his father or his miraculous recovery from a severe injury, don't bring a significant shift in the overall plot trajectory.
You might be scratching your head at this point, thinking: "If 'Cobra Kai' is indeed as repetitive as it sounds, what keeps drawing us back in, episode after episode?"
And it's a fair question. But the answer lies precisely within this predictability, not despite it.
Firstly, let's give credit where it's due.
"Cobra Kai" boasts some seriously commendable fight choreography.
Whether it's a one-on-one face-off or a chaotic brawl, every move is precise, engaging, and undeniably fun to watch.
But there's more to the show than just high-flying kicks and expertly delivered punches.
The character development, casting choices, and dynamic relationships form the series' heart.
From Hawk to Demetri, Moon to Stingray, each character has a unique charm that adds to the series' appeal.
They aren't merely supporting roles but individuals with stories that intertwine beautifully with the main plot.
The clever decision to reintroduce and expand upon characters like Chozen in Season 5 was nothing short of brilliant.
Yet, arguably the most significant factor in "Cobra Kai's" enduring success is its inherent familiarity.
There's a comforting predictability that wraps around you like a warm blanket.
The repetition might seem like a shortcoming, but it's this very aspect that connects us so intimately with the series.
Just like the original Karate Kid movies, we know who the heroes are, who we're rooting against, and that, in the end, things will likely work out.
And maybe that's okay. Perhaps we don't need a plot that keeps us on our toes.
Maybe we need a familiar friend in "Cobra Kai," a show that allows us to sink into our couches and lose ourselves in a world of karate, rivalry, and camaraderie.
So, as the curtains draw on the sixth and final season, we can't help but feel a twinge of sadness.
But, as it's often said, all good things must come to an end. "Cobra Kai," despite its revolving narratives, will be dearly missed, its dojo forever etched in our hearts.
Funko Soda! Cobra Kay: Daniel Larusso Funko Soda Vinyl Figure with Chase Variant – SDCC 2023 and Funko Shop Shared Exclusive
Available at:
Starting now, you can receive 10% off in-stock items with my special link at Entertainment Earth!
 Enjoy!
As an Amazon Associate I earn from qualifying purchases
Want more stuff like this?
Get the best viral stories straight into your inbox!
Don't worry, we don't spam