SDCC 2023: Cobra Kay – Johnny Lawrence Soda Figure Exclusive
The new Funko Soda! Cobra Kay: Johnny Lawrence Funko Soda Vinyl Figure with Chase Variant– SDCC 2023 and Funko Shop Shared Exclusive will be available online starting at 6 AM PT on Thursday, July 20, at the links below (click to jump!)
When Johnny Lawrence isn't fighting life's battles in the dojo, he's taking on the world of collectibles in a fresh avatar: the Johnny Lawrence Funko Soda Vinyl Figure, an SDCC 2023 exclusive.
This isn't merely a standard vinyl figure. It captures the essence of Johnny's journey in a tangible and tactile way.
Sporting Johnny's signature karate gear, the figure harkens back to the glory days of the Cobra Kai dojo, capturing his fierce persona.
But there's more – the figure also features a Chase Variant.
This elusive version uncovers a new side of Johnny, revealing an intricacy that true fans will instantly recognize.
The transformation of Johnny from a feared dojo champion to a sensei finding redemption is portrayed in this Funko Soda Vinyl Figure.
Whether it's the regular or the Chase Variant, each figure holds a piece of Johnny's soul – they stand as a testament to his journey, echoing his struggles, redemption, and unyielding spirit.
It's Johnny Lawrence, immortalized in pop culture, a collectible that resonates with his profound narrative.
The attention to detail, the faithful representation, and the spirit of Cobra Kai – it's all encapsulated in this remarkable piece.
Here's to Johnny, standing tall in Funko Soda form, an authentic tribute to a fallen hero rising again.
The SDCC 2023 and Funko Shop Shared Exclusive Funko SODA Johnny Lawrence can be found at the links below as soon as the online sale begins (click to jump!)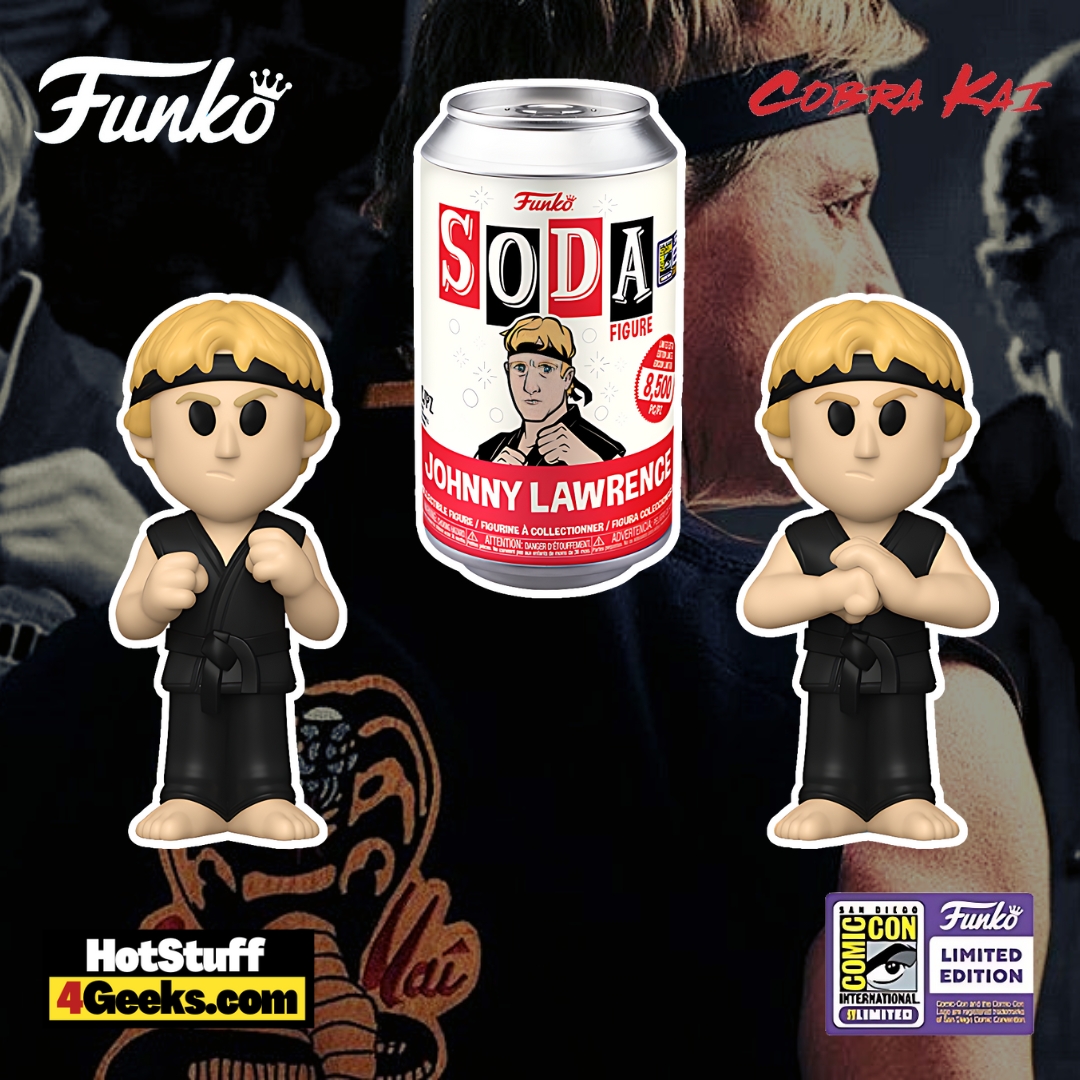 Johnny Lawrence: Revisiting the Fallen Hero of Cobra Kai
Life is a martial arts movie. And in the sprawling saga of Cobra Kai, one character has perfectly embodied the complex weave of humanity – Johnny Lawrence.
Weaving through the threads of the rich and the rebellious, the misunderstood and the misguided, Johnny's life paints a poignant tale of redemption that's as riveting as it is relatable.
William Zabka, in his nuanced portrayal, masterfully resurrects Johnny from the murky realms of a stereotypical villain into a vividly relatable, beautifully flawed hero.
Johnny was the affluent lousy boy in The Karate Kid, the bane of the wholesome protagonist, Daniel LaRusso.
A master in the ruthless art of Cobra Kai Karate, Johnny was molded by the stringent teachings of his sensei, John Kreese, adopting a strikingly aggressive combat style that had "strike first, strike hard, no mercy" as its uncompromising mantra.
As the top student of Cobra Kai, Johnny commanded fear and respect.
But it was his loss in the 1984 All Valley Karate Tournament that marked the beginning of a turbulent life phase.
It was as though Johnny's entire world had been knocked off balance with a single Crane Kick, and he spiraled into a life marked by a dysfunctional family, estrangement from his son Robby, and an unending struggle with his own inner demons.
However, Johnny Lawrence was no quitter.
In a move to reclaim his life, he reopened Cobra Kai, becoming a beacon for a new generation of karate enthusiasts.
But the shadow of Kreese loomed large, and Johnny once again found himself in a bitter feud, now as the protector of his students rather than the aggressor.
The introduction of Eagle Fang Karate, Johnny's new dojo, gave us a glimpse of his growth.
His transformation was evident in the way he embraced the aggression of his past, attempting to mold it into a positive force for his students.
This was not Johnny from The Karate Kid; this was Johnny trying to create a legacy beyond his personal failures.
Johnny's personal journey has been a captivating side story too.
He stepped away from the dojo to mend his relationship with Robby, showed immense maturity in handling his impending fatherhood with Carmen, and joined hands with his longtime rival Daniel to face Kreese.
Johnny Lawrence's evolution from a disgraced karate champ to a resilient sensei is a powerful testament to the human capacity for change and redemption.
His journey hasn't been perfect – but it's real, raw, and compellingly human.
In Johnny, we see a reflection of life's harsh blows and spectacular comebacks, the struggle for self-improvement against all odds, and above all, the indomitable spirit of the fallen hero who keeps fighting back.
In the end, Cobra Kai offers us a richly layered portrayal of Johnny Lawrence – not as a typical hero, but as a beautifully flawed human being. And that's what makes him so unforgettable.
Funko Soda! Cobra Kay: Johnny Lawrence Funko Soda Vinyl Figure with Chase Variant– SDCC 2023 and Funko Shop Shared Exclusive
Available at:
Starting now, you can receive 10% off in-stock items with my special link at Entertainment Earth!
 Enjoy!
As an Amazon Associate I earn from qualifying purchases
Want more stuff like this?
Get the best viral stories straight into your inbox!
Don't worry, we don't spam