SDCC 2023: DC 4-Pack Bitty Pops! (The Joker, Batgirl, Batman + Mystery Figure)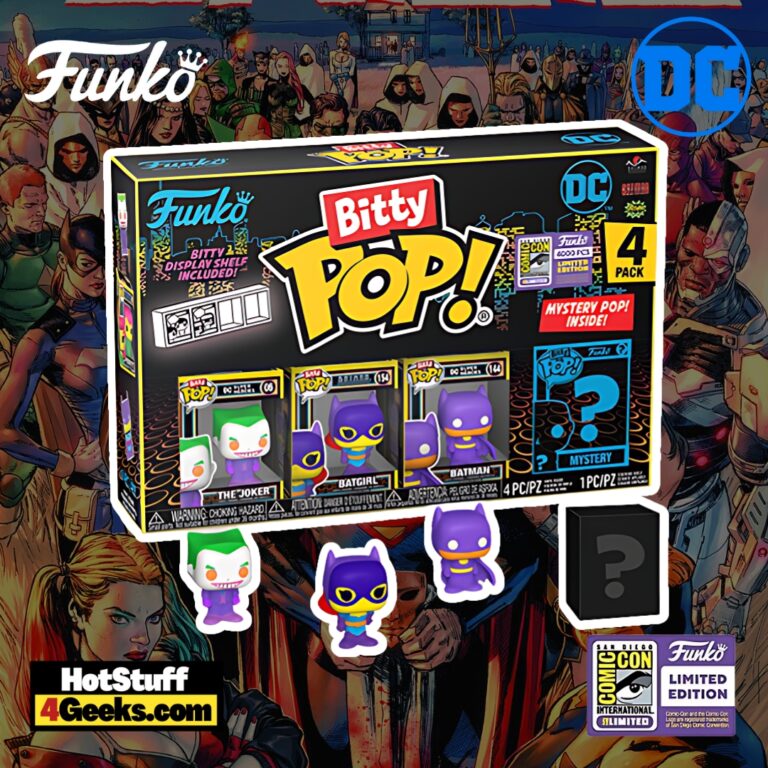 The new Funko POP! DC: Bitty Pop! 4-Pack Black Light Vinyl Figures (The Joker, Batgirl, Batman + Mystery Figure) – SDCC 2023 and Funko Shop Shared Exclusive will be available online starting at 6 AM PT on Thursday, July 20, at the links below (click to jump!)
DC Under a Different Light: The 2023 SDCC DC Bitty Pop! 4-Pack
Navigating the depth and expanse of DC's storied universe, Funko POP! presents the Bitty Pop! Black Light Vinyl Figures at the San Diego Comic-Con 2023.
This quartet of miniatures, exclusive to the event, comes with an air of mystery that adds an extra layer of anticipation to the joy of unboxing.
The set features Batman, his resilient sidekick Batgirl, and the maniacally mesmerizing Joker, all under a psychedelic black light that unveils their details in a whole new aura.
Their vibrant colors dance under the black light, revealing a distinctive version of the characters we know and love.
But that's not all. The final figure remains shrouded in mystery, a secret nod to the mysterious world of DC and a pleasant surprise for the avid collector.
The thrill of unveiling this mystery character is a joy ride that is symbolic of the endless surprises DC's universe has to offer.
A treat for fans, this exclusive set brings the luminosity of the DC universe to the palm of your hand.
The SDCC 2023 and Funko Shop Shared Exclusive DC Black Light 4-Pack Bitty Pops! can be found at the links below as soon as the online sale begins (click to jump!)
DC's Superhero Universe: Legacy, Inclusion, and Unforgettable Tales
There's a perennial debate, age-old as the superhero genre itself, surrounding the rivalry between DC and Marvel.
We're focusing on the undeniable appeal of DC, a universe that has consistently proven its mettle in the realm of comic books and beyond.
Regarding the birth of the superhero phenomenon, it's hard to ignore DC's prominent role.
They might not have the first superhero to their name, but they were indeed pioneers.
The advent of Superman and Wonder Woman brought the superhero genre into the mainstream, breaking barriers and creating a pathway for countless characters to follow.
The legacy of DC extends further than just its early prominence.
The company boasts an impressive range of female characters who have broken stereotypes and pushed boundaries.
From the enduring strength of Wonder Woman to the vivacity of the all-female Birds of Prey, DC's women aren't just sidekicks or love interests; they're powerful figures in their own right.
Yet, it's not just the heroes that define DC's universe.
The villains, in their depth and diversity, play a vital role.
Just consider the likes of the Joker or Harley Quinn.
These antagonists aren't merely plot devices; they're complex characters with unique narratives often taking the spotlight, showcasing DC's dedication to multi-dimensional storytelling.
DC's storytelling prowess shines in other aspects as well.
There's a rich tradition of sidekicks, not merely as helpers but as key characters who eventually rise to assume their mentor's mantles.
This emphasis on legacy and the passage of time sets DC apart, allowing the narrative to evolve and remain fresh.
There's something intrinsically inspiring about DC's universe.
Its characters, rather than mirroring reality, often represent ideals to aspire to.
This divergence from reality-based storytelling offers readers a unique form of escapism while still addressing profound themes.
The excellence of DC isn't confined to its comic books.
The company's animated universe stands as a testament to the quality and depth of its narratives.
This commitment to animation is further evidence of DC's dedication to broadening its appeal and reaching a wider audience.
DC's exploration of darker themes sets it apart.
It isn't afraid to delve into the grim, challenging narratives, creating a universe that's not always family-friendly but is invariably compelling and thought-provoking.
Lastly, DC's relative detachment from political discourse offers a refreshing reprieve to some readers.
While it's worth noting that both approaches have their own merits, this aspect of DC's storytelling style resonates with those who prefer their comic book escapism sans political undertones.
In conclusion, the richness of DC's superhero universe lies in its complex characters, aspirational themes, legacy storytelling, and continuous innovation.
Its broad appeal makes it clear that the superhero genre is not a monolith. DC offers a unique and captivating world within its pages, equally inviting to newcomers and seasoned fans alike.
Funko POP! DC: Bitty Pop! 4-Pack Black Light Vinyl Figures (The Joker, Batgirl, Batman + Mystery Figure) – SDCC 2023 and Funko Shop Shared Exclusive
Available at:
Starting now, you can receive 10% off in-stock items with my special link at Entertainment Earth!
 Enjoy!
As an Amazon Associate I earn from qualifying purchases
Want more stuff like this?
Get the best viral stories straight into your inbox!
Don't worry, we don't spam