SDCC 2023: DC Heroes – Talia al Ghul Funko Pop! Exclusive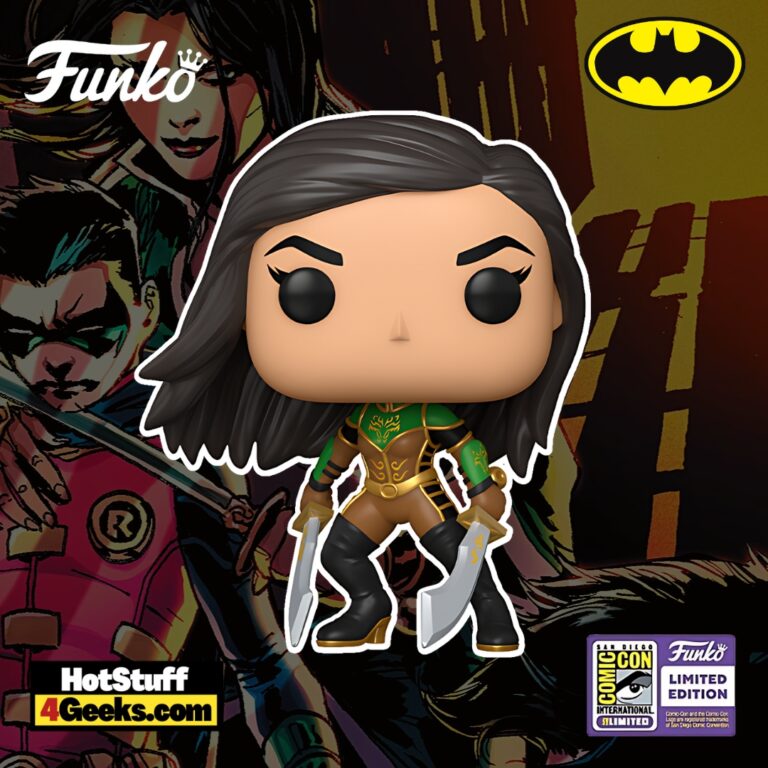 The new Funko POP! DC Heroes: Talia al Ghul Funko Pop! Vinyl Figure – SDCC 2023 and Hot Topic Shared Exclusive will be available online starting at 6 AM PT on Thursday, July 20, at the links below (click to jump!)
A Dynamic Addition to Your Collection: The 2023 SDCC Exclusive Talia al Ghul Funko Pop!
The 2023 San Diego Comic-Con unveils a real gem for passionate DC fans – the new Talia al Ghul Funko Pop! vinyl figure.
This exclusive figurine distills the enigmatic essence of the DC Universe's iconic character into a beautifully crafted, compact, absolutely stunning form.
This Talia al Ghul Pop! figurine showcases her indomitable spirit and complex personality with mastery. One cannot help but appreciate how her unique characteristics, like her masterful combat stance and intense gaze, are so wonderfully encapsulated.
Moreover, the design captures the transformative journey of Talia – from a strong woman caught in a patriarchal world to an independent leader of a criminal empire.
It's a tribute to her strength, resilience, and complexity.
This Talia al Ghul Funko Pop! is not only an exclusive release for SDCC 2023, but it also serves as a testament to one of the most enigmatic characters in the DC universe.
Every collector, and even casual fans, would relish the opportunity to add such an exquisitely detailed piece of art to their collection.
The SDCC 2023 and Hot Topic Shared Exclusive Talia al Ghul Funko Pop! can be found at the links below as soon as the online sale begins (click to jump!)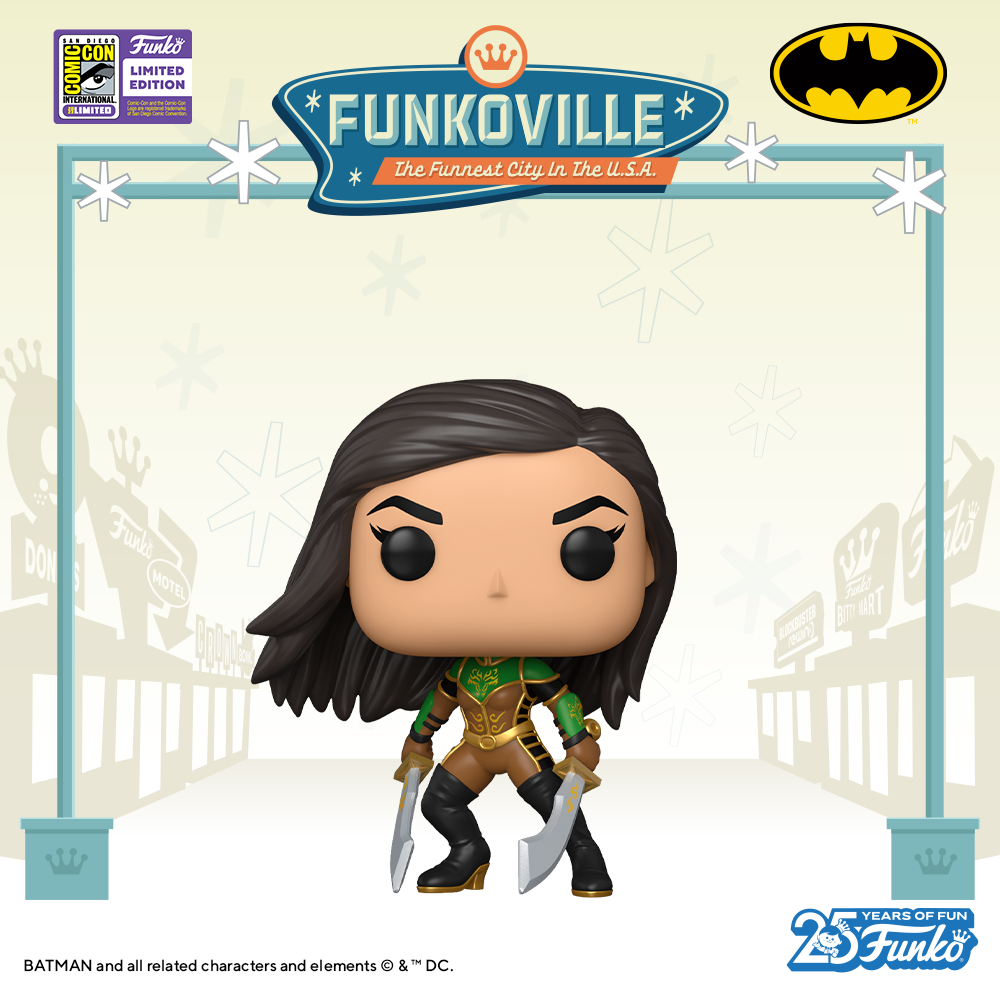 Talia Al Ghul: The Enigmatic Shapeshifter of the DC Universe
In the ever-oscillating landscape of the DC Universe, few characters can match the complexity and intrigue of Talia al Ghul.
Born into a lineage of infamous villains and constantly grappling with the duality of her allegiances, Talia is a riveting embodiment of darkness and light.
In this fascinating tapestry of loyalty, power, and ambition, we see a woman consistently fighting to make a name for herself beyond the shadows of the formidable men in her life.
She's the daughter of Ra's al Ghul, one of Batman's most formidable foes, and the mother of Damian Drake.
Yet, Talia is more than just the sum of her familial connections.
While most would crumble under the weight of such an imposing heritage, she has deftly straddled the line between villainy and heroism, making her one of the most intriguing figures in the Batman universe.
Talia al Ghul's introduction into the comic realm, back in 1971's "Detective Comics #411," was far from typical. Initially presented as a damsel in distress, she swiftly casts this stereotype aside by saving Batman's life.
This potent spirit has since become a signature trait, shaping her interactions throughout her comic book tenure.
Whether it's mastering the art of martial combat or taking control of LexCorp, Talia's refusal to be boxed in by societal norms is inspirational.
But don't mistake her toughness for unfeeling harshness.
One of the most compelling aspects of Talia's character is her steadfast dedication to protecting Batman's identity.
Even in the face of her darkest villainous moments, this steadfast loyalty underscores a profoundly nuanced character who defies simple categorization.
The story of Talia is also one of profound personal growth and independence
. In the past, she believed that power was unattainable unless linked to a strong male partner and a male heir.
This changed dramatically when she decided to take destiny into her own hands, creating the secret criminal empire known as Leviathan.
This organization cemented her position as a formidable force in the DC Universe, free from the shackles of her lineage.
Despite her powerful reputation, however, the nature of Talia's life—marked by supernatural longevity, martial expertise, and a heart torn between love and duty—is shrouded in mystery.
Her mother's identity remains ambiguous, her relationship with Bruce Wayne has been subject to varying interpretations, and her ultimate descent into villainy has added new dimensions to her character.
Throughout her complex history, one thing remains constant: Talia al Ghul is not merely an antihero, not merely a love interest, and not merely a villain.
She is Talia al Ghul, a dynamic force in the DC Universe.
She is a testament to the fluidity of morality, the struggle for personal agency, and the power of resilience in the face of adversity.
Truly, Talia al Ghul is a character that continues to captivate us, ensnaring our imaginations with every twist and turn of her captivating tale.
Funko POP! DC Heroes: Talia al Ghul Funko Pop! Vinyl Figure – SDCC 2023 and Hot Topic Shared Exclusive
Available at:
Starting now, you can receive 10% off in-stock items with my special link at Entertainment Earth!
 Enjoy!
As an Amazon Associate I earn from qualifying purchases
Want more stuff like this?
Get the best viral stories straight into your inbox!
Don't worry, we don't spam