SDCC 2023: Floaty Freddy (Black Light & Common) Funko Pops!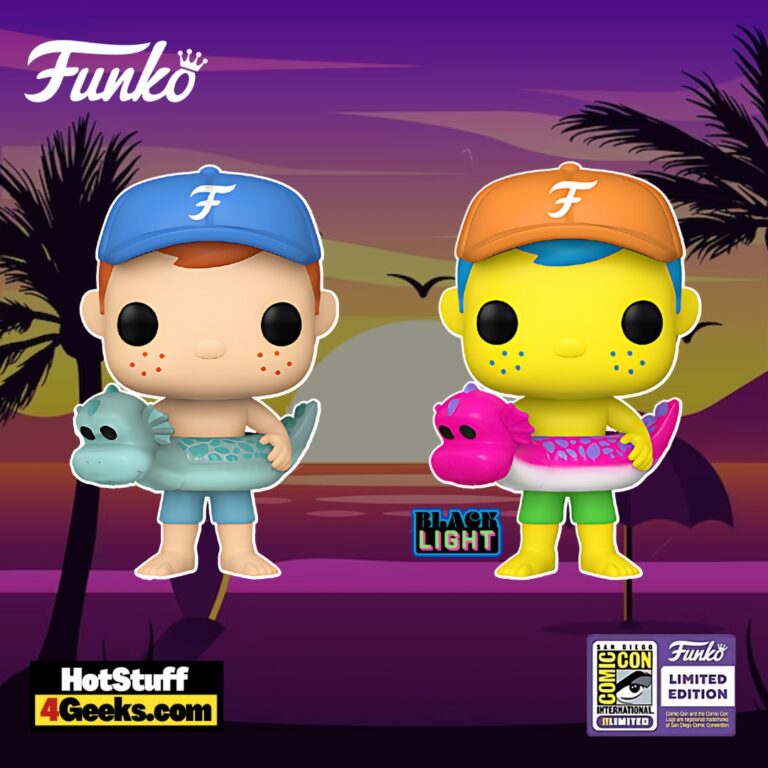 The new Funko POP! Floaty Freddy (Black Light and Common) Funko Pop! Vinyl Figures – SDCC 2023 and Funko Shop Shared Exclusives will be available online starting at 6 AM PT on Thursday, July 20, at the links below (click to jump!)
Funko POP! Floaty Freddy: The Aquatic Marvel of 2023 SDCC
There's something truly special about immersing yourself in the pop culture phenomenon that is Funko POP! – the detail, the craftsmanship, and the sheer delight of watching your favorite characters spring to life in the form of miniature vinyl figures.
The newly released Floaty Freddy (Black Light and Common) Funko Pop! Vinyl Figures – SDCC 2023 Exclusives- have taken this fascination to new depths.
For the uninitiated, let's dive into a bit of context. Freddy Funko, the mascot of the Funko brand, has earned himself a loyal following over the years, stepping into the shoes (or rather, the outfits) of various pop culture icons.
Yet, this summer, our beloved Freddy is making a splash in a completely different way, leaving his familiar hat at home in favor of swimming trunks, a floaty, and a cap.
As we venture into this new look, it's worth noting the delicious detail put into crafting this beach-ready Freddy.
Sporting vibrant swimming trunks and an adorable floaty wrapped securely around his waist, he's poised to become the poolside buddy you didn't know you needed.
And the cap! It's not just a piece of cloth on his head.
It personifies his playful spirit and determination to beat the summer heat in style.
The SDCC 2023 and Funko Shop Shared Exclusives Floaty Freddy (Black Light and Common) Funko Pops! can be found at the links below as soon as the online sale begins (click to jump!)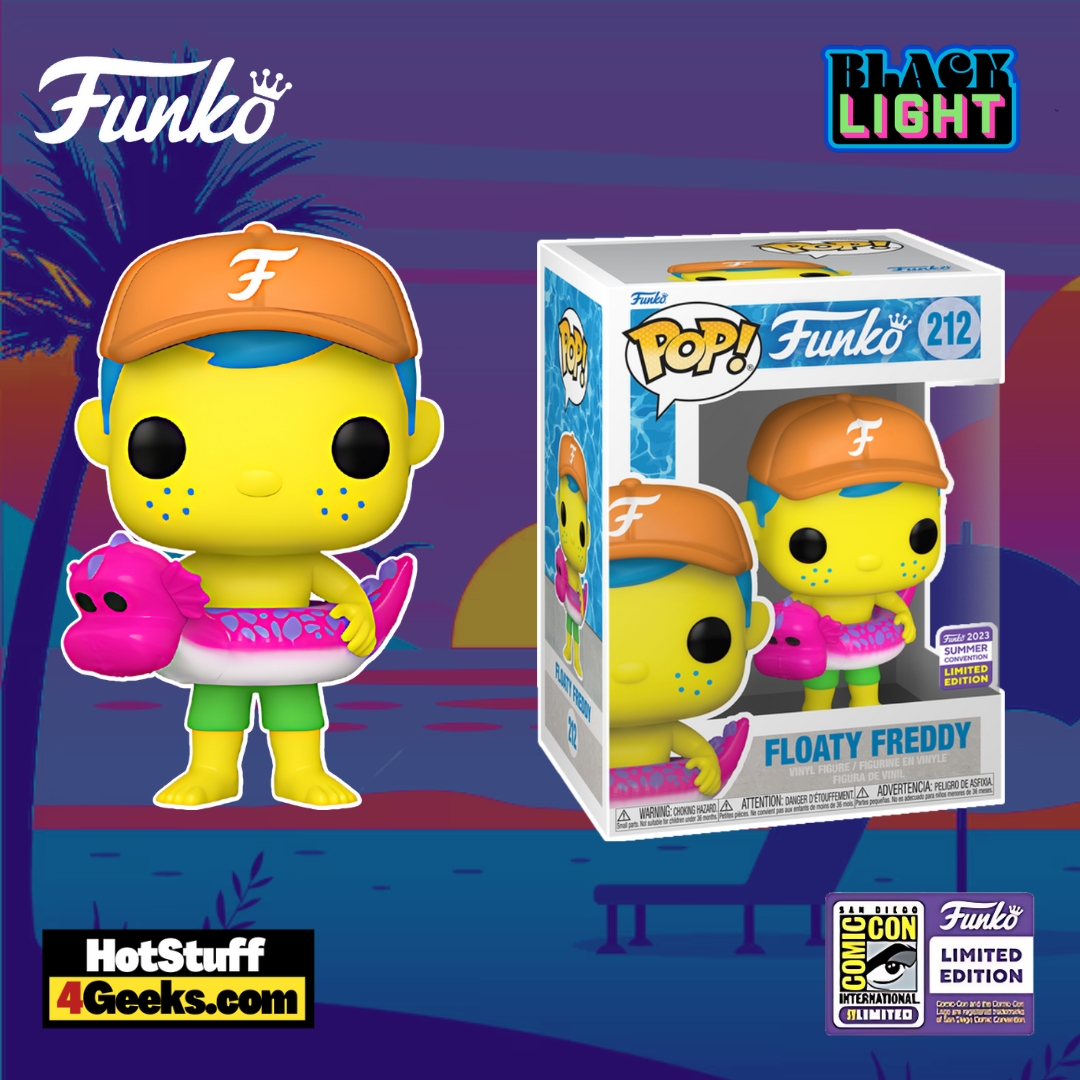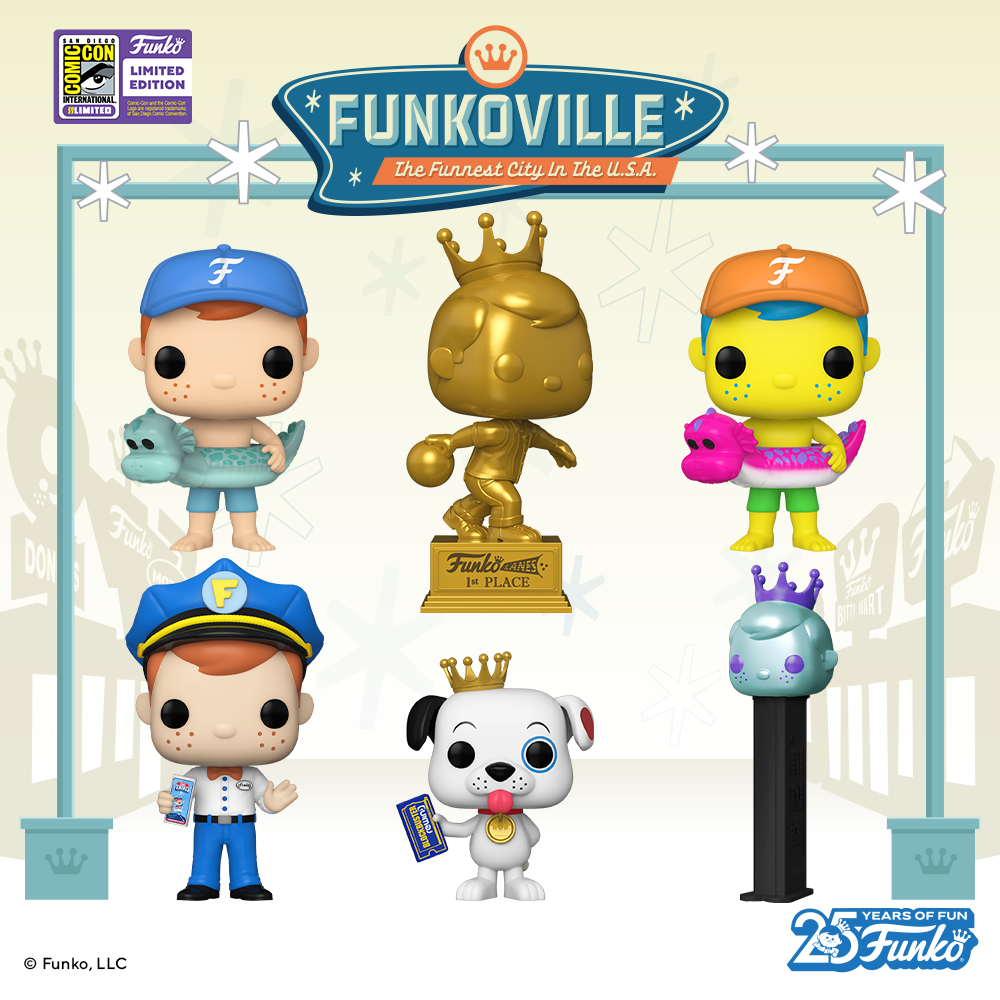 The Black Light version of Floaty Freddy is a neon masterpiece waiting to make waves in your collection.
While maintaining the same fun-loving look as his Common counterpart, the Black Light Freddy seems to have stepped straight out of a vibrant dreamscape.
Now, it might be tempting to think of this Black Light version as just a repainted model.
Oh, but you'd be mistaken.
He's not just a darker version of the Common Floaty Freddy – no, he's a luminescent spectacle that is set to transform your collection.
His neon glow captures the electrifying excitement of a pool party under a starry night, bringing a dash of wonder to your display.
It's like he's challenging the darkness with a blaze of neon defiance.
When you place these two versions of Floaty Freddy side by side, you get a snapshot of a day in the life of our beloved mascot.
From soaking up the summer sun to glowing in the neon lights of a pool party, these vinyl figures are ready to ride the waves with you.
To conclude, the Floaty Freddy (Black Light and Common) Funko Pop! Vinyl Figures – SDCC 2023 Exclusives are not just collectibles.
They're effigies of summer fun and pop culture, capturing the spirit of a character we've grown to love.
Remember, whether it's the Common Floaty Freddy looking ready to dive into the cool blue or the Black Light Floaty Freddy glowing like a beacon in the night, these new figures are ready to make your summer collection unforgettable.
Remember to take it slow and float along with Freddy!
Starting now, you can receive 10% off in-stock items with my special link at Entertainment Earth!
 Enjoy!
As an Amazon Associate I earn from qualifying purchases
Want more stuff like this?
Get the best viral stories straight into your inbox!
Don't worry, we don't spam