SDCC 2023: Fun on the Run Freddy Funko Pop! Exclusive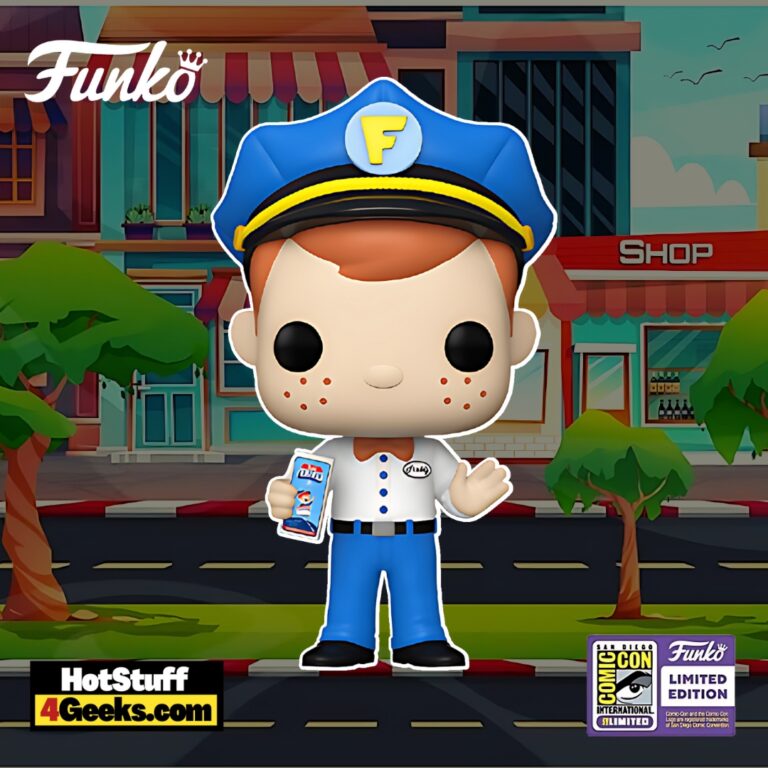 The new Funko POP! Fun on the Run Freddy Funko Pop! Vinyl Figure – SDCC 2023 and Funko Shop Shared Exclusive will be available online starting at 6 AM PT on Thursday, July 20, at the links below (click to jump!)
Funko's Cross-Country Adventure and the Unveiling of Fun on the Run Freddy Funko Pop! Vinyl Figure at 2023 SDCC
Funko's 25-year journey in the world of collectibles is being celebrated with an extraordinary cross-country tour aptly named "Fun on the Run."
With each stop on this tour, Funko aims to connect with its fans in their hometowns, reaching out to them in a way they never have before.
A celebration of this magnitude calls for a unique keepsake, and that's where the exclusive Fun on the Run Freddy Funko Pop! Vinyl Figure comes in.
Set to make its debut at the 2023 San Diego Comic-Con (SDCC), this commemorative figure brings Funko's spirit to life.
Dressed in smart blue trousers and a matching hat, Freddy Funko is a silent observer, reflecting the brand's journey with an expression that's more thoughtful and contemplative than usual.
His crisp, white shirt adds an elegant touch to the overall design, a testament to the craftsmanship that has created this unique piece.
The SDCC 2023 and Funko Shop Shared Exclusive Fun on the Run Freddy Funko Pop! can be found at the links below as soon as the online sale begins (click to jump!)
The Fun on the Run Freddy Funko Pop! is more than just a collectible; it symbolizes the essence of Funko's grand cross-country adventure.
This figure represents a key milestone in Funko's history – a moment when the brand ventured out to meet its fans, not on the coasts, but in their very own towns.
Each Fun on the Run tour stop celebrates the love and dedication Funko fans have shown over the years.
As such, this Freddy Funko Pop! is not just a marker of Funko's 25-year legacy but also a tribute to its incredible fan base.
In its beautifully designed form, this figure promises to encapsulate the spirit of this eventful journey, making it a worthy addition to any Funko fan's collection.
As we count down the days to SDCC 2023, remember that the unveiling of this exclusive figure will be one of the event's most exciting highlights.
So, get ready to join us on the road as we traverse across the country, celebrating a remarkable 25 years of Funko magic!
Funko POP! Fun on the Run Freddy Funko Pop! Vinyl Figure – SDCC 2023 and Funko Shop Shared Exclusive
Available at:
Starting now, you can receive 10% off in-stock items with my special link at Entertainment Earth!
 Enjoy!
As an Amazon Associate I earn from qualifying purchases
Want more stuff like this?
Get the best viral stories straight into your inbox!
Don't worry, we don't spam