SDCC 2023: Hunter & Hunter: Shaiapouf Funko Pop! Exclusive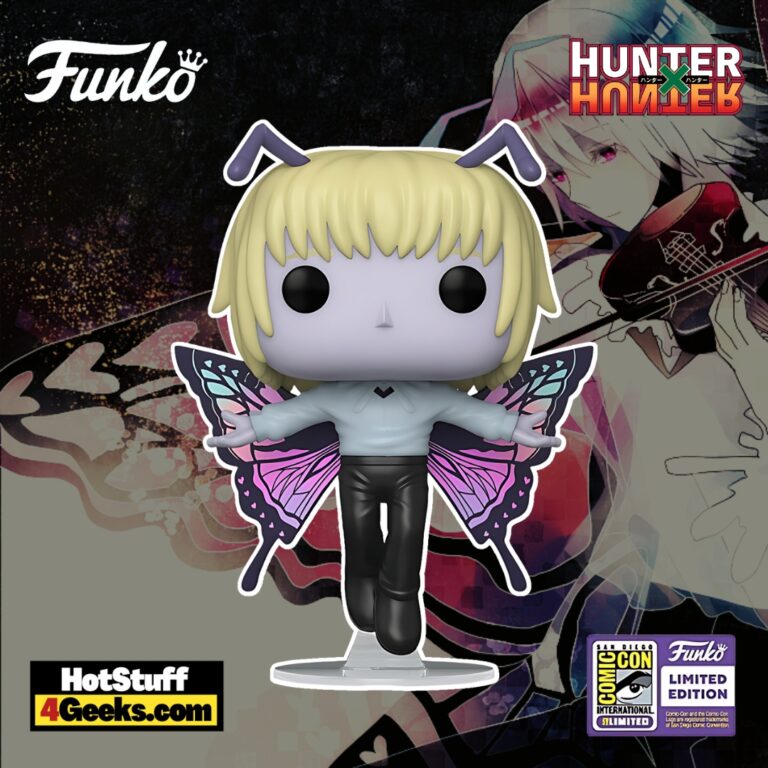 The new Funko POP! Animation:  Hunter & Hunter – Shaiapouf Funko Pop! Vinyl Figure – SDCC 2023 and Hot Topic Shared Exclusive will be available online starting at 6 AM PT on Thursday, July 20, at the links below (click to jump!)
Chimera Ant Royal Guard Takes Over SDCC 2023: Shaiapouf Funko Pop! Reveal
This SDCC 2023 Exclusive Funko Pop! Vinyl Figure features none other than Shaiapouf, one of the most complex characters in the Hunter X Hunter saga.
Reimagined as a Funko Pop! figure, Shaiapouf comes to life, eager to do the bidding of the Chimera Ant King in your collection.
Rendered in exquisite detail, this Shaiapouf figure encapsulates the character's essence.
His human-like form, combined with the multicolored butterfly wings, paints a vivid image of his original animation.
Notably, Shaiapouf's loyalty, sophisticated intelligence, and knack for subterfuge are communicated through the figure's intense gaze, ready to do whatever it takes for the Chimera Ant King's triumph.
While holding this Funko Pop! figure in your hand, it's easy to be reminded of Shaiapouf's narrative complexity.
His vinyl incarnation encapsulates his elegance, intensity, and the emotional turmoil that defined his character throughout the series.
Add this SDCC 2023 Exclusive figure to your Hunter X Hunter collection, and let Shaiapouf's fascinating story continue to unfold in your display.
The SDCC 2023 and Hot Topic Shared Exclusive Shaiapouf Funko Pop! can be found at the links below as soon as the online sale begins (click to jump!)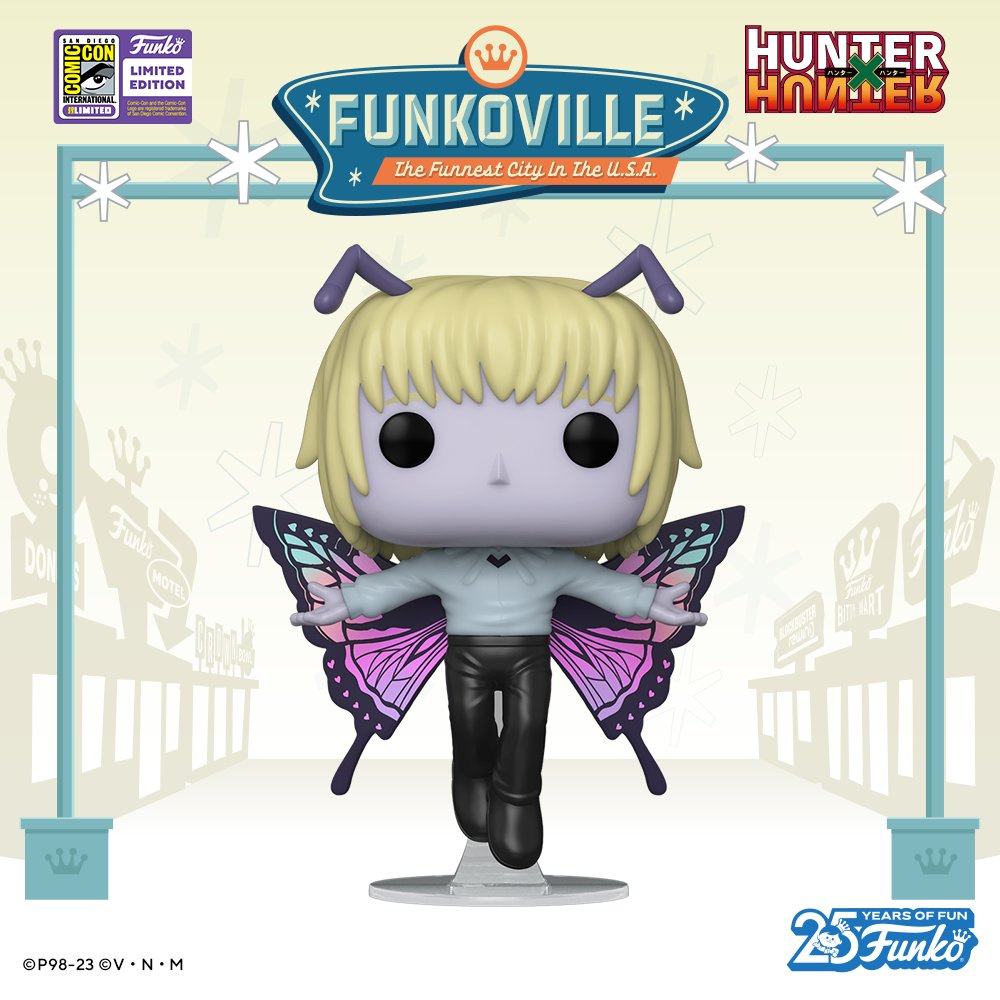 Unveiling the Complexity of Shaiapouf: The Refined Puppeteer of the Chimera Ant Court
Deep within the heart of Yoshihiro Togashi's masterpiece, Hunter x Hunter, we encounter a character that's both confounding and captivating.
Meet Shaiapouf, a secondary antagonist hailing from the Chimera Ant arc, who possesses a persona as intricate as his brightly-hued butterfly wings.
More human in appearance than his insect-like counterparts, this Royal Guard's personality unfolds like an enigmatic symphony, full of unexpected crescendos and diminuendos.
Shaiapouf appears as the embodiment of calm, a voice of reason amidst the chaos.
Yet, the complexity of his character is revealed as his passionate loyalty towards the Chimera Ant King, Meruem, muddles his logical facade.
It's here that his real identity, shrouded by intellect and artistry, surfaces.
A character who initially emanates poise morphs into a passionate figure, betraying his calm demeanor for an obsession that borders on insanity.
What's striking about Shaiapouf is not just his tenacity but the way his devotion blinds him.
He staunchly holds Meruem to an unreachable ideal, a vision devoid of evolution, thereby enabling his treacherous nature.
The dissonance he feels, given his view of the King and reality, puts him at odds with everyone around him.
In his complex relationship with the King's confidante, Komugi, Shaiapouf embodies jealousy and loathing.
He perceives her as an obstacle to Meruem's predestined dominance, an unworthy adversary stealing his lord's attention.
It's these intense emotions that birth a Machiavellian villain, willing to manipulate, deceive, and even kill for the sake of the King's ascendency.
As he navigates the tumultuous waters of the Chimera Ant Kingdom, Shaiapouf's abilities prove to be as perplexing as his character.
His superhuman capabilities, coupled with a knack for psychological warfare, make him a formidable foe.
His mastery over Nen, a powerful life force, allows him to toy with emotions, morph into different forms, and fragment his body into smaller entities for diverse purposes.
His genius-level intellect, while being a formidable asset, becomes his Achilles' heel.
His love for the King and the desire to see Meruem fulfill his 'destiny' often leads to clouded judgment, bringing an ironic twist to his character's narrative.
Shaiapouf's story ends tragically, succumbing to the poison of the Miniature Rose.
This fall of an antagonist is poignant, a reflection of the dangerous dance between devotion and delusion.
This labyrinth of emotions paints Shaiapouf as one of the most unforgettable villains in anime history.
In the world of Hunter x Hunter, Shaiapouf stands out, not merely for his villainy but for his complex personality and internal conflicts.
His intricate narrative keeps us on our toes, reminding us of the mesmerizing blend of beauty, intellect, and madness that makes up this unique antagonist.
Funko POP! Animation:  Hunter & Hunter – Shaiapouf Funko Pop! Vinyl Figure – SDCC 2023 and Hot Topic Shared Exclusive
Available at:
Starting now, you can receive 10% off in-stock items with my special link at Entertainment Earth!
 Enjoy!
As an Amazon Associate I earn from qualifying purchases
Want more stuff like this?
Get the best viral stories straight into your inbox!
Don't worry, we don't spam