SDCC 2023: InuYasha – Sesshōmaru w/ Bakusaiga Glow Funko Pop!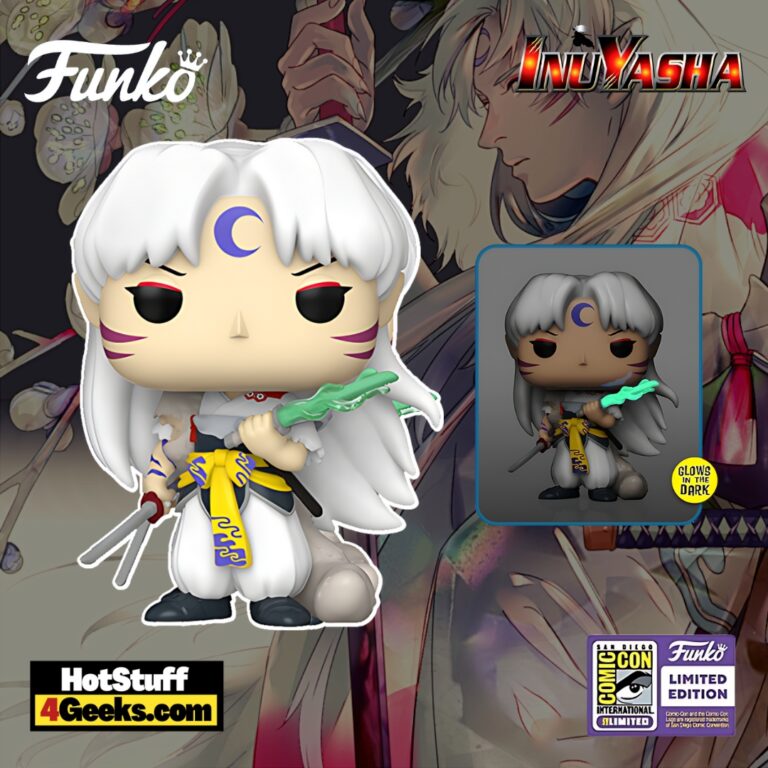 The new Funko POP! Animation: InuYasha – Sesshōmaru with Bakusaiga Sword Glow-In-The-Dark (GITD) Funko Pop! Vinyl Figure – SDCC 2023 and GameStop Shared Exclusive will be available online starting at 6 AM PT on Thursday, July 20, at the links below (click to jump!)
Sesshōmaru's Radiance: The 2023 SDCC Exclusive Glow-In-The-Dark Funko Pop!
Imagine the awe of witnessing Sesshōmaru, the great demon, wielding his powerful Bakusaiga sword, not just in your favorite anime series but right on your shelf!
Funko POP! has made this dream come true by introducing their new Sesshōmaru Glow-In-The-Dark (GITD) Funko Pop! Vinyl Figure, exclusively released at SDCC 2023.
This exclusive collectible flawlessly captures the essence of Sesshōmaru's formidable presence.
The figure brandishes the Bakusaiga sword, embodying the pivotal transformation that solidified Sesshōmaru's place as a true daiyōkai.
It's like having a slice of Sesshōmaru's iconic journey right within your grasp!
The glow-in-the-dark feature adds a supernatural touch akin to the energy radiating from the Bakusaiga.
It's an absolute must-have for die-hard InuYasha fans who have witnessed Sesshōmaru's evolution and admire his aura of power and mystery.
This piece isn't just a representation of Sesshōmaru but a testament to the growth of a remarkable character that continues to captivate us.
The SDCC 2023 and GameStop Shared Exclusive Sesshōmaru Glow Funko Pop! can be found at the links below as soon as the online sale begins (click to jump!)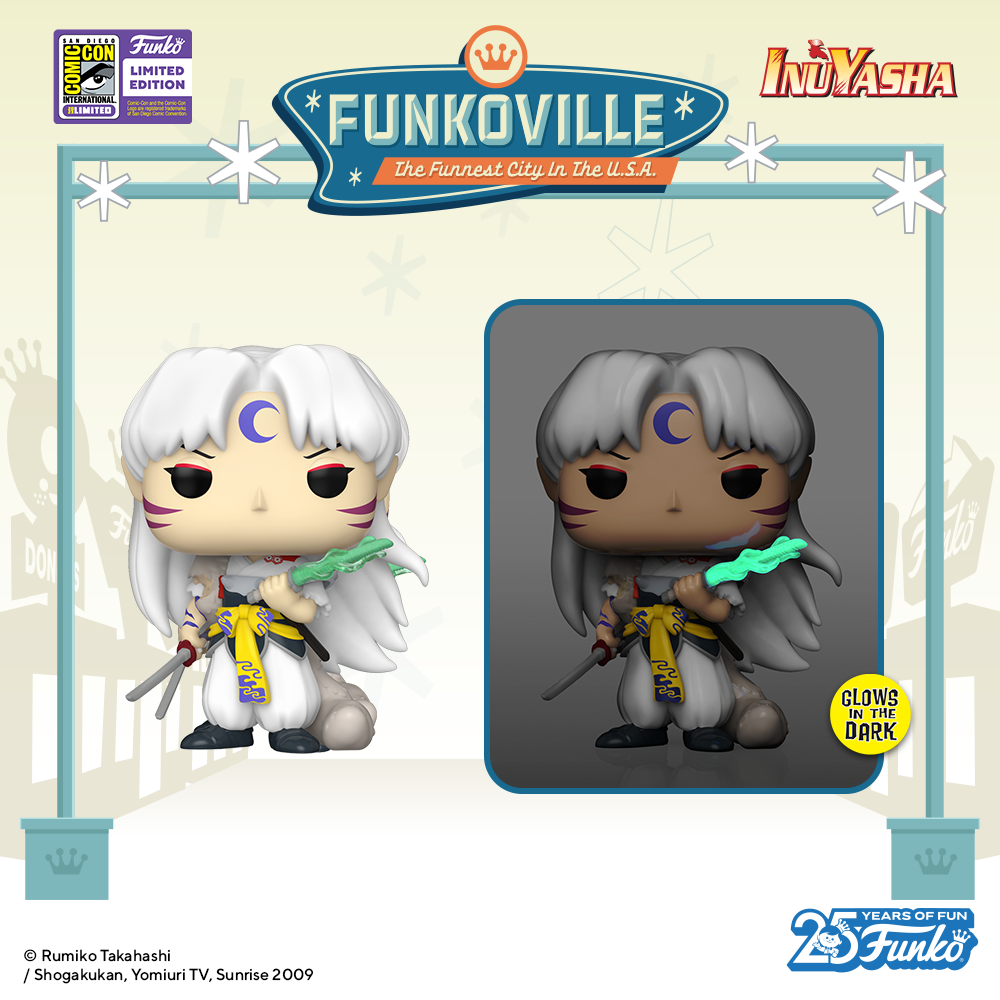 Bakusaiga: The Testament of Sesshomaru's Growth and Power
If there's one symbol that perfectly represents the powerful transformation of Sesshomaru, it's the manifestation of his own weapon, Bakusaiga.
Appearing in his fully regenerated left arm amidst a battle with the villainous Magatsuhi, Bakusaiga not only embodies Sesshomaru's might but also symbolizes his graduation from an obsessively power-hungry demon to a fully realized great demon, or daiyōkai.
The creation of Bakusaiga is not just a result of Sesshomaru's physical prowess, but it is a testament to his emotional and psychological journey as well.
Long haunted by his fixation on the Tessaiga, a sword he could never claim, the emergence of Bakusaiga marks Sesshomaru's development into a mature, independent, and powerful being.
The renowned blacksmith Tōtōsai even commented that this ability to manifest his own blade suggested that Sesshomaru's strength and power had eclipsed his father's.
This milestone, therefore, signifies his transition into a great demon and the culmination of a personal journey fraught with trials and tribulations.
The Bakusaiga is unique and unparalleled in its potency.
It doesn't merely deal physical damage to its targets.
The sword's energy has an intensely corrosive effect on organic matter, a power that lingers even after the energy blast from the weapon.
This property gives Bakusaiga a strategic advantage against opponents like Naraku.
If Naraku tries to absorb something that Bakusaiga has slain, the corrosive decomposition would transfer to him, a tactic that could potentially turn his own power against him.
Sesshomaru can wield Bakusaiga's decomposition ability as an explosive energy wave, the Explosive Corrosion Wave.
This energy wave can eliminate thousands of demons in one sweep.
According to Rumiko Takahashi, the creator of the Inuyasha series, the energy unleashed by Bakusaiga's wave attack is even more potent than a full-power blast from Inuyasha's Backlash Wave, further cementing Sesshomaru's place as a mighty demon.
In essence, Bakusaiga is more than just a weapon in Sesshomaru's arsenal.
It is the product of his rite of passage and a symbol of his personal growth.
It signifies his evolution from a power-obsessed demon to a daiyōkai, who not only surpasses his father's legacy but also carves out a unique identity for himself.
Bakusaiga embodies Sesshomaru's journey and emergence as a force to be reckoned with, forever etching his name in the annals of the most powerful characters in anime history.
Read more:
Funko POP! Animation: InuYasha – Sesshōmaru with Bakusaiga Sword Glow-In-The-Dark (GITD) Funko Pop! Vinyl Figure – SDCC 2023 and GameStop Shared Exclusive
Available at:
Starting now, you can receive 10% off in-stock items with my special link at Entertainment Earth!
 Enjoy!
As an Amazon Associate I earn from qualifying purchases
Want more stuff like this?
Get the best viral stories straight into your inbox!
Don't worry, we don't spam