SDCC 2023: Jimi Hendrix Black Light (1967 Purple Suit) Funko Pop!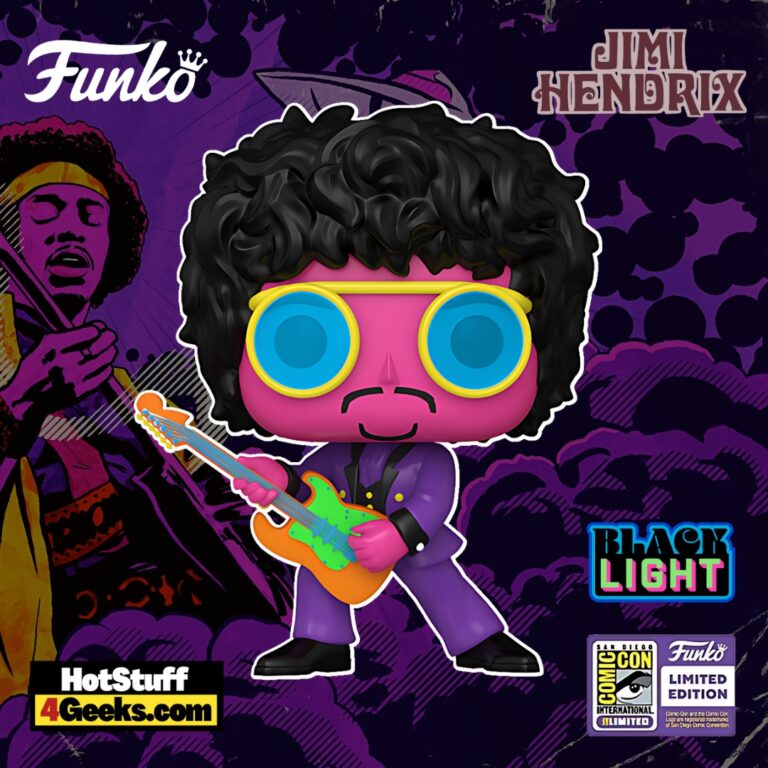 The new Funko POP! Rocks: Jimi Hendrix Black Light (1967 Purple Suit) Funko Pop! Vinyl Figure – SDCC 2023 and Funko Shop Shared Exclusive will be available online starting at 6 AM PT on Thursday, July 20, at the links below (click to jump!)
Jimi Hendrix Immortalized in Neon: The 2023 SDCC Exclusive Funko Pop! Figure
As San Diego Comic-Con 2023 rolled around, Funko Pop! took the opportunity to treat fans to a tribute to the legendary guitarist Jimi Hendrix, revealing their latest vinyl figure.
Capturing the essence of the rock icon, the Jimi Hendrix Black Light (1967 Purple Suit) Pop! figure radiates a psychedelic vibe, perfectly embodying the era that Hendrix symbolized.
This is not just any figure; it's Jimi in his iconic purple suit from 1967.
You can almost hear the opening notes of "Purple Haze" looking at it. The vinyl figure brilliantly captures Hendrix's style.
The neon paints used glow under black light, emulating his concerts' vivid and surreal atmosphere.
What's impressive is how Funko has managed to give attention to detail.
The accurate representation of Jimi's curly hair, his right-handed guitar held left-handedly, and the striking purple outfit create an uncanny resemblance.
By introducing this exclusive SDCC 2023 figure, Funko has not just created a collectible; it's a nod to music history, a piece of nostalgia crafted in vinyl.
It's a must-have for every true Hendrix enthusiast, reminding us of the unmatched creativity of this iconic rock legend.
The SDCC 2023 and Funko Shop Shared Exclusive Black Light Jimi Hendrix (1967 Purple Suit) Funko Pop! can be found at the links below as soon as the online sale begins (click to jump!)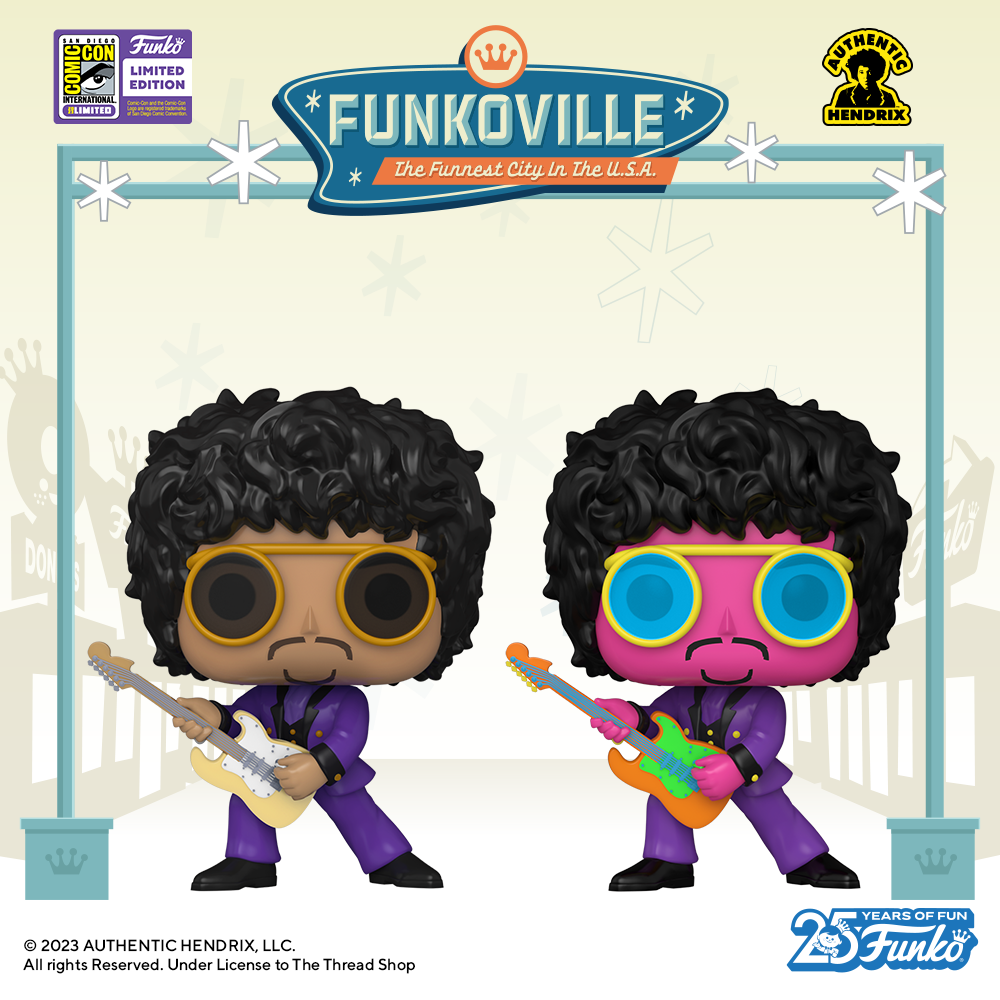 Riding the Wave of 'Purple Haze': Jimi Hendrix's Unstoppable Musical Revolution
Jimi Hendrix, a man of humble beginnings, transformed himself into a legendary figure whose influence still reverberates through the music world today.
Imagine a musician so extraordinary that, even with his career tragically cut short, he continues to inspire generations of guitarists and music enthusiasts across the globe.
That's Jimi for you. His loud and riotous music symbolizes the soul of the '60s, but his artistic genius has transcended the decades.
If there's one song that encapsulates the essence of Hendrix, it's "Purple Haze."
In its raucous, raw sound and psychedelic narrative, we find a perfect example of Hendrix's innovation.
He spun dreams and science fiction into a compelling lyrical tapestry while challenging the boundaries of electric guitar with experimental techniques.
The making of this song paints a vivid portrait of Hendrix as a trailblazing musician and a restless innovator.
As a self-taught guitarist, Hendrix was free from the constraints of traditional musical education.
He developed his style playing in small clubs in New York's Greenwich Village, blending blues and R&B into a heady mix that turned heads and captured attention.
Here, producer Chas Chandler discovered him and recognized the prodigious talent that had yet to bloom fully.
The tale of "Purple Haze" begins in a small London club where Hendrix toyed with a catchy riff backstage.
Chandler, hearing the birth of something special, urged Hendrix to complete the song.
What followed was an outpouring of creativity that filled 10 pages with verse upon verse, inspired by a dream triggered by a science fiction novel.
As Hendrix honed "Purple Haze," he didn't just stick to standard recording techniques.
Experimentation was his mantra.
That high-pitched guitar at the end resembling a mandolin?
It is achieved by recording at half speed, showcasing Hendrix's inventive approach to music production.
Hendrix was also a performer unafraid to express himself.
His on-stage antics, from playing his guitar with his teeth to setting it ablaze, may have raised eyebrows, but they also laid bare his unapologetic authenticity.
He never sought approval, but his raw passion for music and commitment to freedom of expression resonated with global audiences.
It's no small feat to revolutionize an art form within a few years.
But Hendrix's legacy, wrapped in a swirling haze of purple, is a testament to his unparalleled creativity and impact on rock 'n' roll.
His transformative role as a guitarist, relentless pursuit of innovation, and fearless performances all contribute to his enduring influence.
While Hendrix believed he sounded the same, he undoubtedly left his unique, indelible mark on the music world despite giving his everything to the music.
His promise to be there when "something new has to come" rings true today.
His music, style, and spirit – Jimi Hendrix indeed never left. His legacy continues to pulse through every guitar string, every note, and every 'Purple Haze' echoing from speakers worldwide.
Funko POP! Rocks: Jimi Hendrix Black Light (1967 Purple Suit) Funko Pop! Vinyl Figure – SDCC 2023 and Funko Shop Shared Exclusive
Available at (updating):
Starting now, you can receive 10% off in-stock items with my special link at Entertainment Earth!
 Enjoy!
As an Amazon Associate I earn from qualifying purchases
Want more stuff like this?
Get the best viral stories straight into your inbox!
Don't worry, we don't spam