SDCC 2023: Kellogg's – Tony the Tiger Funko Soda with Chase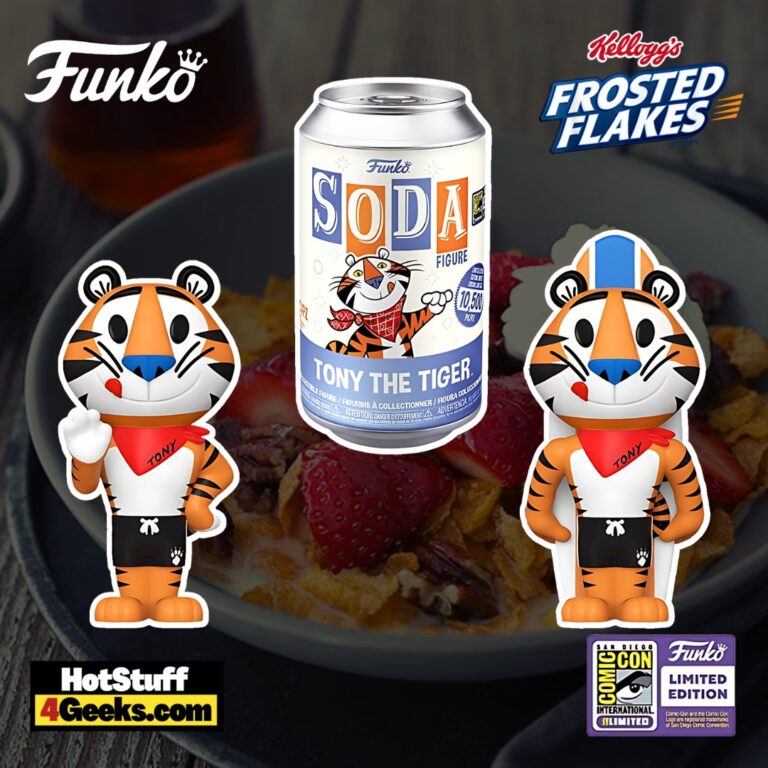 The new Funko Soda! Kellogg's Frosted Flakes – Tony the Tiger Funko Soda Vinyl Figure with Chase – SDCC 2023 and Hot Topic Shared Exclusive will be available online starting at 6 AM PT on Thursday, July 20, at the links below (click to jump!)
2023 SDCC's 'Grrreat' Surprise: Tony the Tiger Funko Soda Figure
Riding the wave of pop culture collectibles, the vibrant and beloved character of Tony the Tiger now leaps into your hands as an exclusive SDCC 2023 Funko Soda Vinyl Figure.
Synonymous with Kellogg's Frosted Flakes, this dynamic figure serves as a tangy slice of nostalgia, adding that "grrreat" flavor to your Ad Icons collection.
With only 10,500 pieces manufactured, this Tony the Tiger Funko Soda figure is an exclusive keepsake.
Tony's transition from a cereal box to a vinyl figure sees him retain his classic, athletic look, emulating the energy he brings to your breakfast table.
Now, let's delve into the fun part – the chase! Who doesn't love a good surprise, right?
Well, hidden within these 10,500 pieces is a special version of Tony the Tiger brandishing a surfboard.
With a 1 in 6 chance, you might just get to bring home Tony in his surfer avatar!
Collectors and fans of Tony the Tiger, this unique, limited-edition figure is a true testament to Tony's legacy as a pop culture and breakfast icon.
It's time to welcome this Frosted Flakes mascot into your collection and start each day on a "grrreat" note!
The SDCC 2023 and Hot Topic Shared Exclusive Tony the Tiger Funko Soda can be found at the links below as soon as the online sale begins (click to jump!)
Roaring Success: Unraveling the Tale of Tony the Tiger
In the lively world of breakfast cereals, few mascots command the same level of affection and recognition as Tony the Tiger.
Emblazoned on boxes of Kellogg's Frosted Flakes since the early 1950s, this vibrant orange Tiger has captured the hearts of many, setting an enthusiastic tone for the day with a single, exuberant "They're Grrreat!"
What many may not know is that Tony has quite the backstory. After making his public debut in 1952, he's evolved substantially over the last half-century.
Our favorite Tiger initially sported a slender build with a football-shaped head and vivid green eyes.
Over time, the creators reshaped Tony into a more athletic, muscular figure with softer features and yellow eyes – reflecting Tony's advocacy for fitness and good health.
The inception of Tony's creation is quite fascinating. Eugene Kolkey, a skilled graphic artist, and his team entered Kellogg's contest to design a mascot for their brand-new cereal.
The talented team triumphed, and Tony the Tiger became the face of the brand. But it wasn't a walk in the park for Tony; he had to compete against three other promising mascots – Elmo the Elephant, Katy the Kangaroo, and Newt the Gnu.
In the 70s, Tony added a touch of humanity to his persona.
He became an Italian-American tiger with a big, boisterous Italian family.
This move to personify Tony was a resounding success, making him even more relatable to children across the globe.
Tony's family includes his wife, affectionately known as Mrs. Tony, a son named Tony Jr., a daughter named Antoinette, and his mother, Mama Tony.
This was particularly well-received when baby tigress Antoinette was introduced, eagerly tasting the new Sugar Frosted Flakes.
Tony the Tiger has also been the voice of many talented artists. Starting with American actor Dallas McKennon, the mantle was passed to Thurl Arthur Ravenscroft, followed by Lee Marshall, and today.
The responsibility is shared by Tom Clarke Hill, Tex Brashear, and Jim Cummings.
Each has brought a unique flavor to Tony's vibrant persona, making him one of the most iconic voices in the world of advertising.
The evolution of Tony doesn't stop at his physical appearance and voice.
Once known as the 'Sugar Frosted Flakes,' the cereal is now simply 'Frosted Flakes,' reflecting a more health-conscious branding.
This echoes Tony's constant promotion of good health, especially among children.
Did you know the creative team behind Tony the Tiger also designed the Pillsbury Doughboy, among other beloved mascots?
The Leo Burnett Worldwide Inc. advertising company is credited for these iconic characters.
Their imaginative efforts have given us some of the most memorable figures in advertising history.
Tony's tale is a testament to the creative evolution of advertising and the enduring power of a well-designed mascot.
A blend of creativity and cultural responsiveness, Tony the Tiger stands as a roaring testament to the power of breakfast, family, and of course, the goodness of Frosted Flakes.
Funko Soda! Kellogg's Frosted Flakes – Tony the Tiger Funko Soda Vinyl Figure with Chase – SDCC 2023 and Hot Topic Shared Exclusive
Available at:
Starting now, you can receive 10% off in-stock items with my special link at Entertainment Earth!
 Enjoy!
As an Amazon Associate I earn from qualifying purchases
Want more stuff like this?
Get the best viral stories straight into your inbox!
Don't worry, we don't spam