SDCC 2023: Looney Tunes – Tweety Funko Pop! Exclusive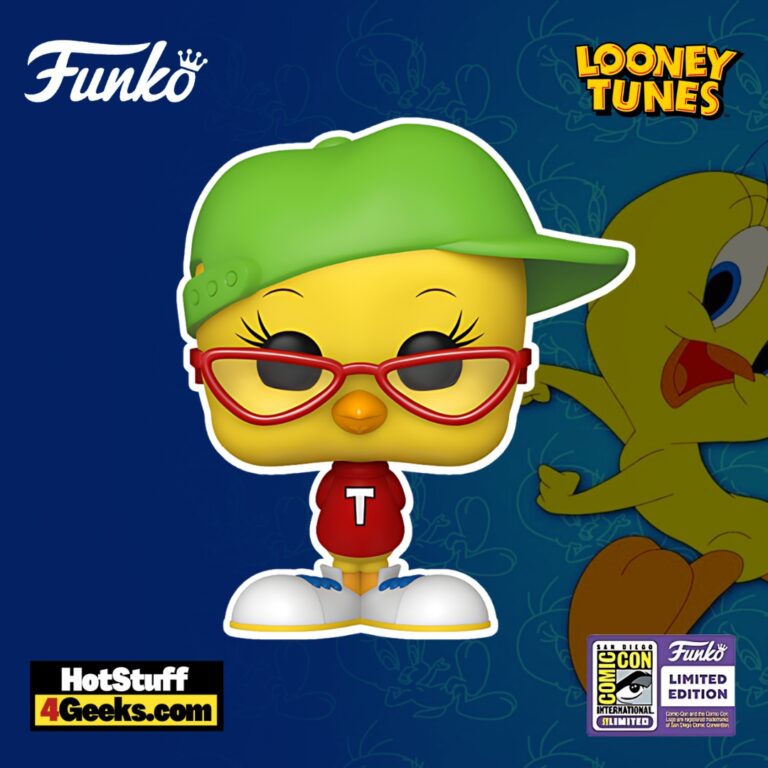 The new Funko POP! Animation: Looney Tunes – Tweety Funko Pop! Vinyl Figure – SDCC 2023 and Toy Tokyo Shared Exclusive will be available online starting at 6 AM PT on Thursday, July 20, at the links below (click to jump!)
A Classic Reborn: 2023 SDCC Exclusive Looney Tunes – Tweety Funko Pop! Vinyl Figure
Take a journey into animation history with the SDCC 2023 exclusive, the Funko Pop! Vinyl Figure featuring our beloved Tweety from Looney Tunes.
It's not just a figure. It's a tangible echo of Tweety's journey from a playful, wild chick to the lovable character we've come to adore.
Funko, known for its playful stylized collectibles, pays tribute to Tweety's iconic status with this vinyl figure, capturing his endearing and vibrant character.
With his distinct oversized eyes, yellow plumage, and that classic innocent expression, you almost expect to hear his soft, high-pitched voice.
This isn't your everyday Funko Pop! but a celebration of the resilient, clever, and often hilariously unpredictable Tweety we all grew up watching.
Revel in the nostalgia, the victories over Sylvester, and the affectionate bond with Granny.
This SDCC 2023 exclusive is a nod to the enduring legacy of Looney Tunes, rekindling our fond memories of this charismatic little bird.
After all, who can resist that cherubic Tweety charm?
The SDCC 2023 and Toy Tokyo Shared Exclusive Tweety Funko Pop! can be found at the links below as soon as the online sale begins (click to jump!)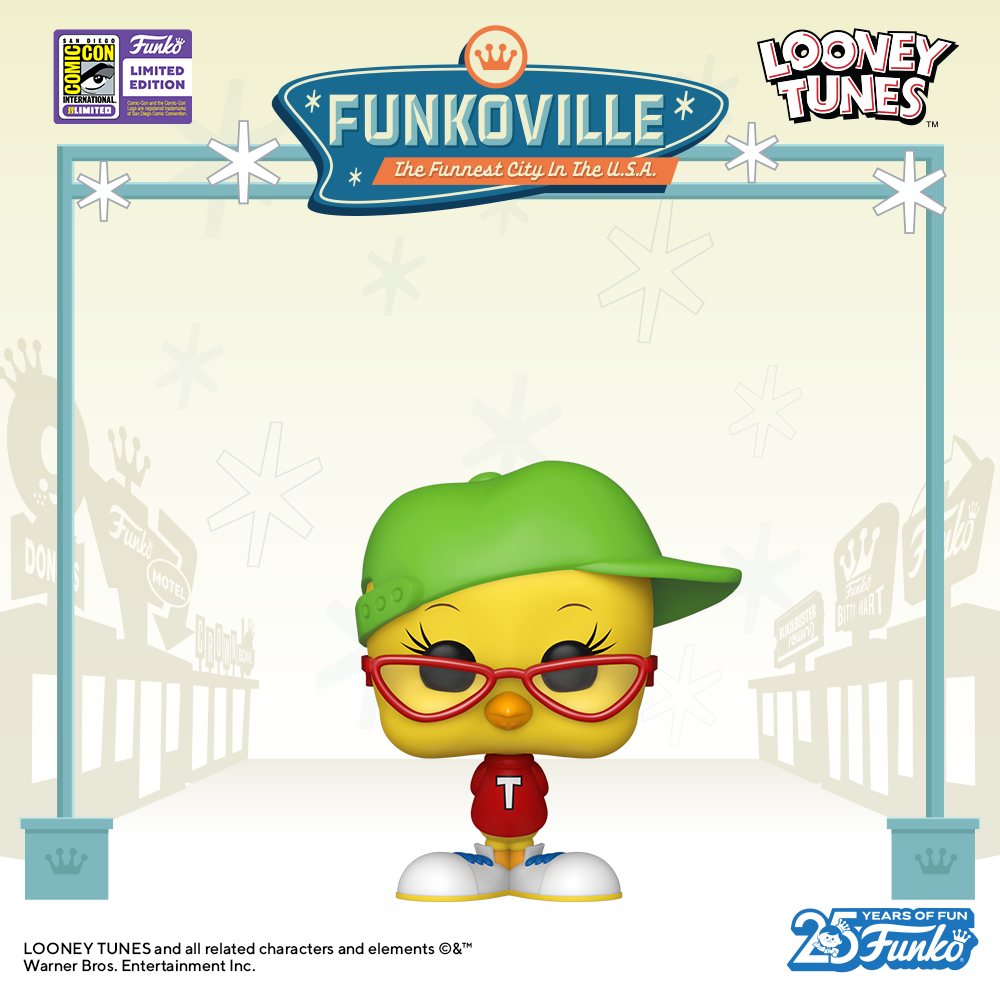 An Iconic Evolution through the Golden Age of Animation
When you delve into the animated universe of Looney Tunes, there are many captivating characters, but none so enduring and captivating as Tweety Bird.
With his adorable oversized blue eyes and soft yellow plumage, this feathered icon has captivated audiences globally, spinning a tale of transformation that begins with his creator Bob Clampett back in the animation golden age of 1941.
Tweety wasn't born into the Looney Tunes world as we know him today.
Imagine a wild, naked chick with pint-sized eyes, unattached to any particular owner, and a knack for provoking all sorts of feline chaos.
This was Tweety's first incarnation.
The random escapades with various cats became a staple in his early films, with each short story featuring a different cat.
With the departure of Bob Clampett from the animation studio, the baton was handed to Friz Freleng, a name that would become synonymous with Tweety's transformation.
Freleng sprinkled his magical animation dust over Tweety, giving the character a new look with yellow feathers, larger blue eyes, and an overall softer look that endeared him to audiences of all ages.
Yet, the change wasn't solely aesthetic.
Accompanying Tweety's new look was a change of address and a new caretaker.
Granny, who had made previous appearances in the Looney Tunes universe, stepped into the role of Tweety's guardian in "Canary Row," a 1949 short.
Granny and her steadfast bulldog Hector set the stage for Tweety's life, providing a nurturing yet often dramatic backdrop.
The proverbial fly in the ointment, and the reason for most of this drama, was Sylvester the Cat.
This clever feline, known for his various roles as the antagonist in the Looney Tunes universe, found his most memorable match in Tweety.
Their dynamic duo's first appearance in "Tweetie Pie" in 1947 clinched an Academy Award and set the tone for their relationship.
The audience relished the constant cat-and-bird chase, rooting for the resourceful and cute Tweety, who always escaped the cat's grasp despite Sylvester's countless attempts.
The evolution of Tweety Bird was marked by a significant shift in character traits.
While the initial version was more aggressive, often enjoying his adversaries' distress, the reinvented Tweety emerged as a character audiences could sympathize with, a Disney-esque figure who found himself in danger through no fault of his own.
The audience couldn't help but cheer for his survival and successes against his larger-than-life adversary, Sylvester.
Today, Tweety remains a timeless favorite, featuring in various Looney Tunes franchise updates like Space Jam and The Sylvester and Tweety Mysteries.
His journey mirrors that of any great character, embodying transformation and growth, a testament to the creative genius of multiple creators, who, through their contributions, molded Tweety into the beloved character we know and love today.
Funko POP! Animation: Looney Tunes – Tweety Funko Pop! Vinyl Figure – SDCC 2023 Exclusive
Available at:
Starting now, you can receive 10% off in-stock items with my special link at Entertainment Earth!
 Enjoy!
As an Amazon Associate I earn from qualifying purchases
Want more stuff like this?
Get the best viral stories straight into your inbox!
Don't worry, we don't spam