SDCC 2023: M.O.D.O.K. Funko Pop! Ant-Man and The Wasp: Quantumania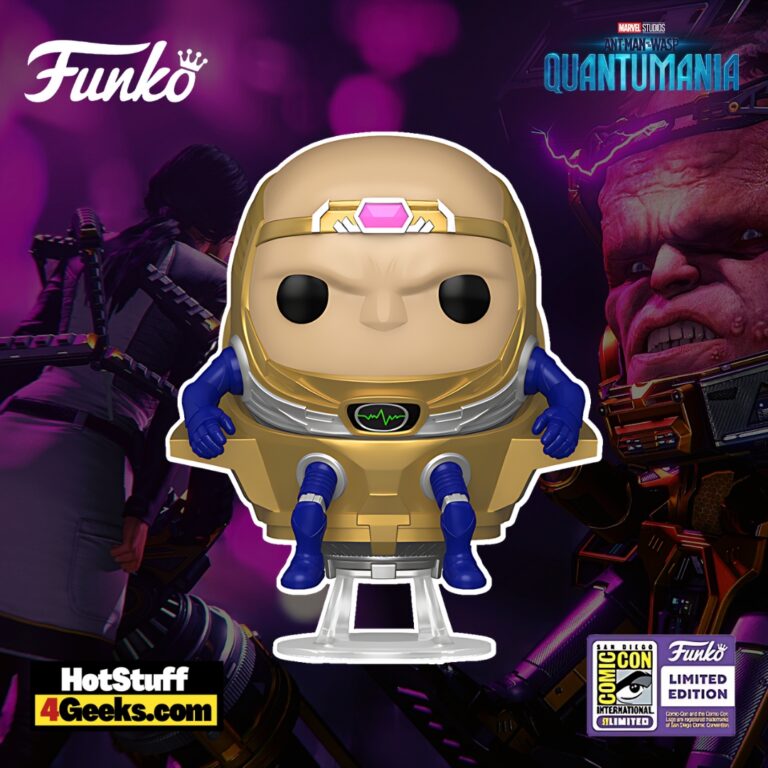 The new Funko POP! Marvel Studios' Ant-Man and The Wasp: Quantumania – M.O.D.O.K. Funko Pop! Vinyl Figure – SDCC 2023 and GameStop Shared Exclusive will be available online starting at 6 AM PT on Thursday, July 20, at the links below (click to jump!)
Behold, the M.O.D.O.K. Funko Pop!: The Bizarre Marvel Delight from 2023 SDCC
Unveiling the Marvel Studios' Ant-Man and The Wasp: Quantumania – M.O.D.O.K. Funko Pop! Vinyl Figure. Revealed exclusively at SDCC 2023, this quirky item embraces the weird, wonderful, and surprisingly lovable villain we've come to know in Quantumania.
Every bit of M.O.D.O.K.'s character – from his menacing intellect to his distinctive, larger-than-life head – has been captured with delightful precision.
The Funko Pop! even includes his ominous Doomsday Chair, hinting at his plans for chaos in the Quantum Realm.
While the world of Funko collectibles is vast, the M.O.D.O.K. Funko Pop! stands out with its uncanny resemblance to the Marvel character.
It showcases the oddball charm that's made M.O.D.O.K. a standout in the MCU. This Funko Pop! does more than sit on a shelf.
It brings a slice of Quantumania's wild ride into the comfort of your home.
Experience the thrill of Marvel adventures through this exclusive Funko Pop!, a tangible extension of M.O.D.O.K.'s universe!
The SSDCC 2023 and GameStop Shared Exclusive M.O.D.O.K. Funko Pop! can be found at the links below as soon as the online sale begins (click to jump!)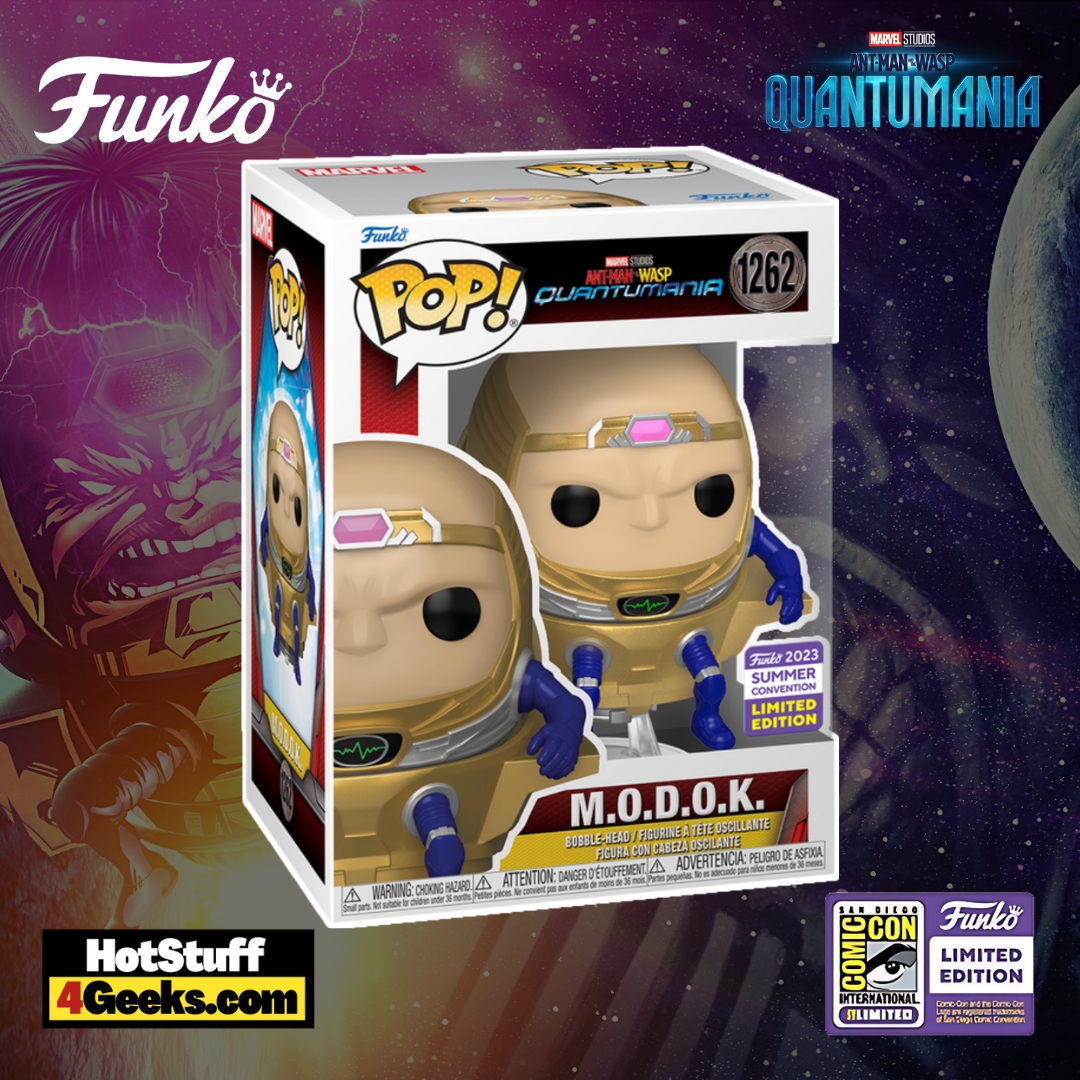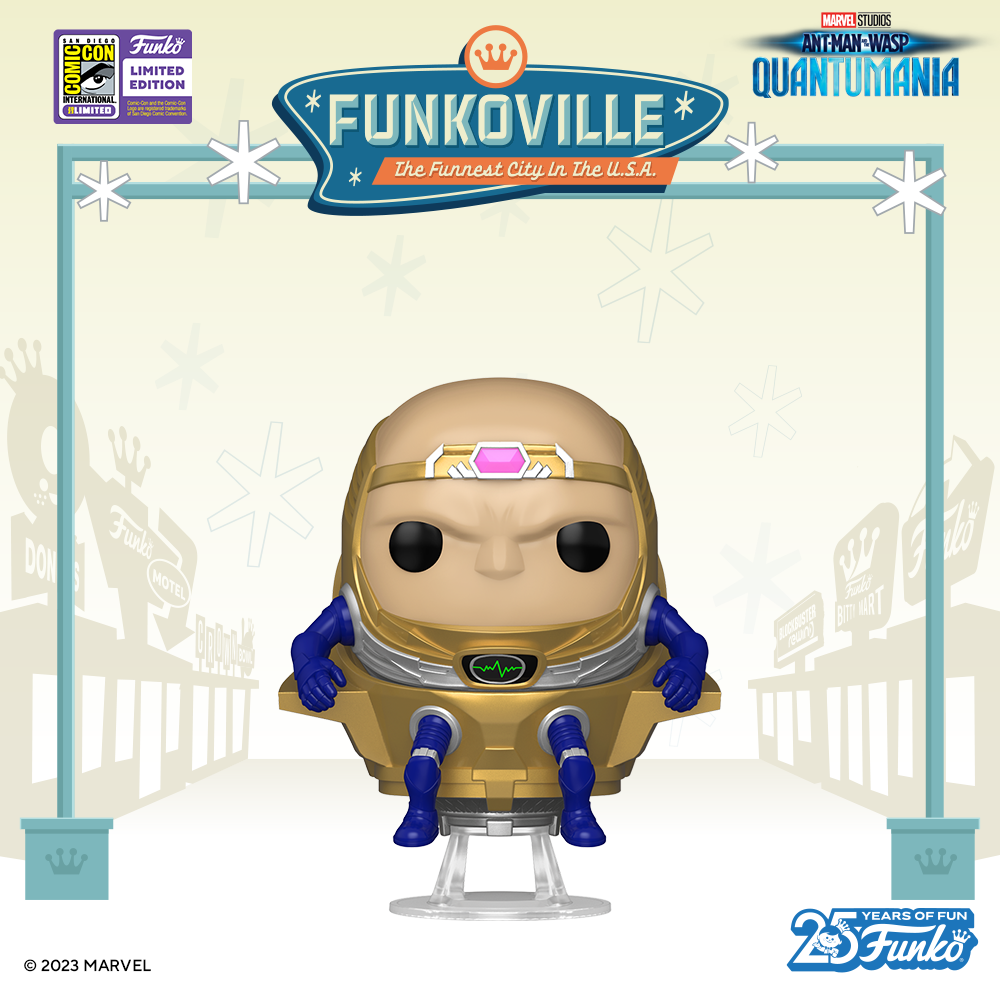 Marvel's Misunderstood Megalomaniac: M.O.D.O.K.'s Entrance in Ant-Man and The Wasp: Quantumania
Marvel has never shied away from pushing the boundaries, embracing the absurdity and the whimsy, and nowhere is this more evident than in their latest installment, "Ant-Man and The Wasp: Quantumania".
One of the standout surprises of the film is the introduction of an iconic yet unorthodox Marvel villain – M.O.D.O.K., the Mechanized Organism Designed Only for Killing.
Let's address the mental elephant in the room: M.O.D.O.K. is an eccentric character.
A genius scientist transformed into a giant floating head with miniature limbs – he's not your typical, polished super-villain. Yet, Marvel's audacious decision to bring M.O.D.O.K. into the MCU paid off big time.
Why does M.O.D.O.K. work so well in "Quantumania"? It's all about the juxtaposition.
The film explores the Quantum Realm – a place where the laws of physics go haywire, and the impossible becomes routine. M.O.D.O.K.'s absurdity feels right at home in this unpredictable environment.
What "Quantumania" also nails is M.O.D.O.K.'s characterization.
Despite his laughable appearance, M.O.D.O.K. is a lethal threat.
His genius-level intellect and psionic powers make him a formidable adversary for our shrinking superheroes.
He may look hilarious, but he's not to be underestimated.
One of the movie's most brilliant twists is the use of M.O.D.O.K.'s backstory.
His transformation from the brilliant scientist George Tarleton into the menacing M.O.D.O.K. is heart-wrenching.
The film explores his struggle with his grotesque form and his longing for his lost humanity, adding a tragic layer to the character.
This poignant arc gives M.O.D.O.K. depth and prevents him from becoming a mere punchline.
Moreover, the movie capitalizes on the inherent humor that comes with M.O.D.O.K.
After all, it's hard to keep a straight face when you're dealing with a huge levitating head with a bad attitude.
The writers skilfully blend humor with tension, creating a balance that is quintessential "Ant-Man."
And lastly, let's not forget about the superb voice acting. Corey Stoll's performance as M.O.D.O.K. is nothing short of remarkable.
He brings a certain charm to the character, making us laugh one moment and sympathize with him the next.
In conclusion, the inclusion of M.O.D.O.K. in "Ant-Man and The Wasp: Quantumania" is a testament to Marvel's willingness to take risks and embrace the unconventional.
Through a combination of clever writing, brilliant voice acting, and just the right amount of absurdity, M.O.D.O.K. has been transformed from a laughable concept into a well-rounded, compelling character.
As strange as he may be, M.O.D.O.K. has proven that he fits perfectly into the wild and whimsical world of the MCU.
Funko POP! Marvel Studios' Ant-Man and The Wasp: Quantumania – M.O.D.O.K. Funko Pop! Vinyl Figure – SDCC 2023 and GameStop Shared Exclusive
Available at:
Starting now, you can receive 10% off in-stock items with my special link at Entertainment Earth!
 Enjoy!
As an Amazon Associate I earn from qualifying purchases
Want more stuff like this?
Get the best viral stories straight into your inbox!
Don't worry, we don't spam