SDCC 2023: Marvel – Captain Marvel Flying (with Axe) Funko Pop!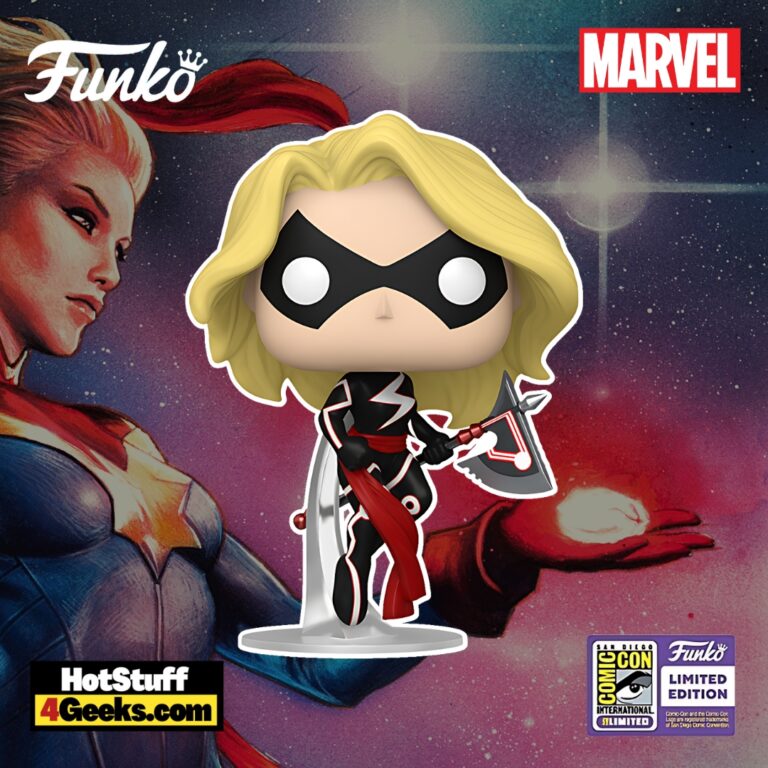 The new Funko POP! Marvel Fear Itself – Captain Marvel Flying (with Axe) Funko Pop! Vinyl Figure – SDCC 2023 and Target Shared Exclusive will be available online starting at 6 AM PT on Thursday, July 20, at the links below (click to jump!)
Captain Marvel Soars High: The 2023 SDCC Exclusive Funko Pop
Herald the entry of the quintessential cosmic hero, Carol Danvers, captured in mid-flight and armed with her formidable axe in her Funko Pop! avatar.
This special edition Captain Marvel vinyl figure is a fresh addition to the thrilling world of Marvel collectibles, and it comes with its own unique twist.
Released at the San Diego Comic-Con (SDCC) 2023, it's designed to pay homage to Captain Marvel's epic confrontations with the feared deity, the Serpent.
In her poised flight position, Captain Marvel embodies the dynamic nature of her superhero persona.
The attention to detail is astounding, with the luminous colors of her classic costume contrasting against the sleek silver of her battle-axe.
This tiny heroine is poised to be a beacon of strength in your collection, ready to unite with the rest of the Marvel Fear Itself brigade.
While the figure is a nod to collectors' nostalgia, it also represents Captain Marvel's enduring appeal.
In all her Funko glory, Captain Marvel continues to inspire and captivate, serving as a reminder of her courageous spirit and relentless pursuit of justice.
Amidst a universe of heroes, she stands out – flying high and striking hard, carving a trail for others to follow.
And now, she's ready to do the same in your collection.
The SDCC 2023 and Target Shared Exclusive Captain Marvel Flying (with Axe) Funko Pop! can be found at the links below as soon as the online sale begins (click to jump!)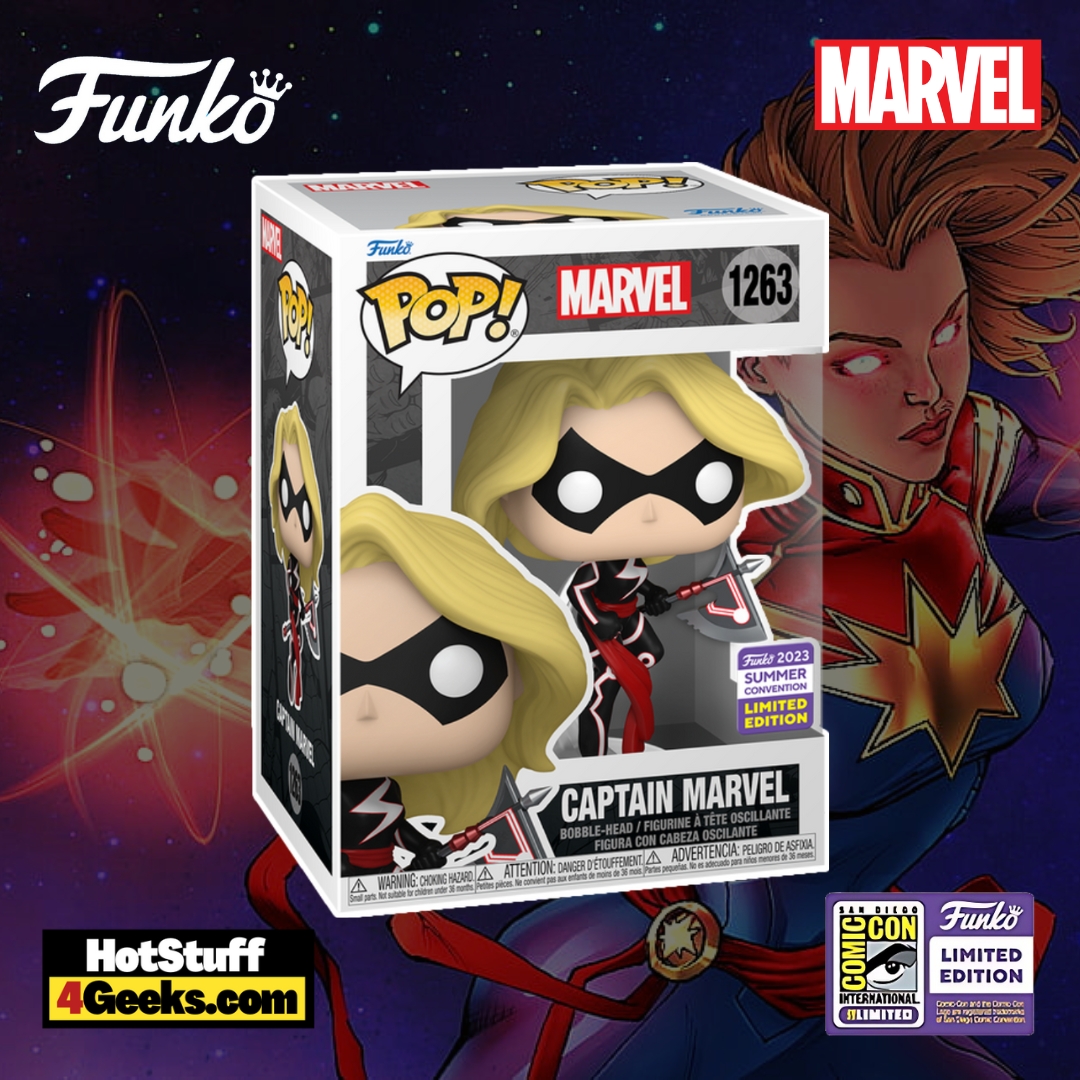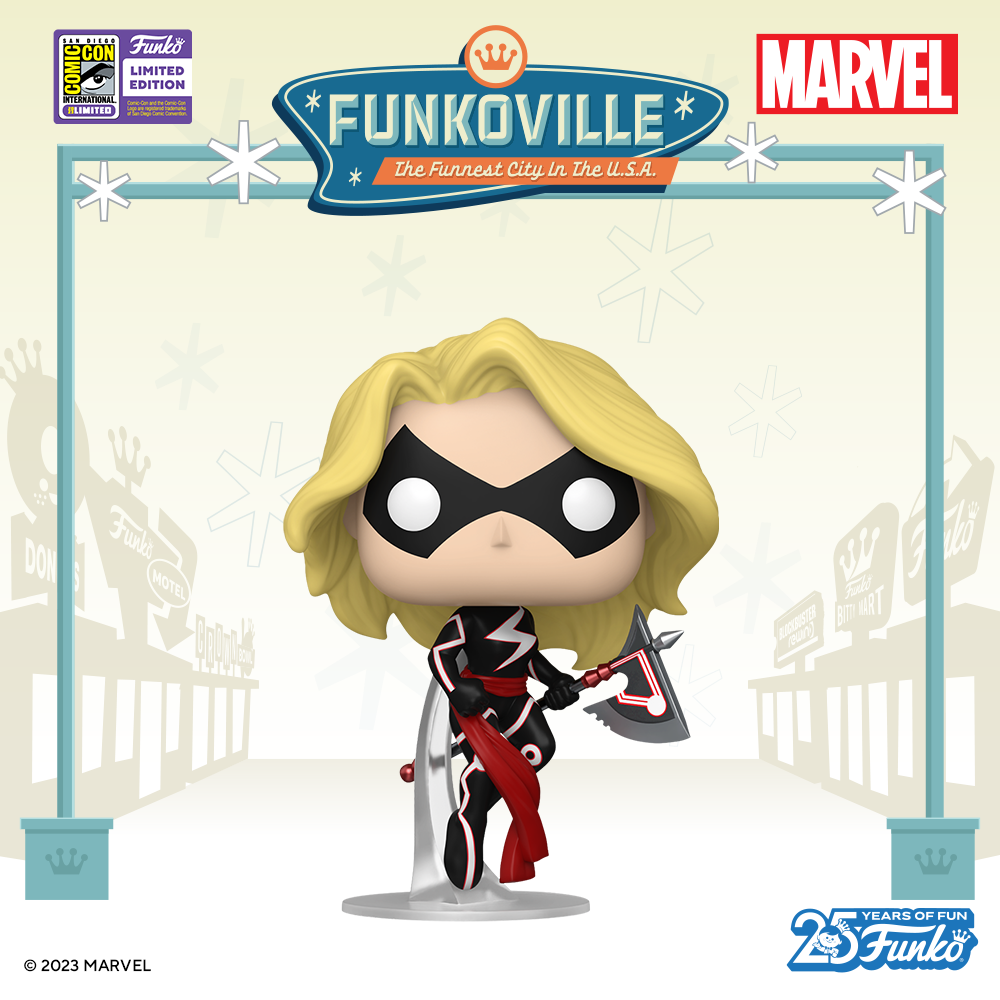 The Marvelous Ascendancy of Captain Marvel
Captain Marvel, the moniker adorning Carol Danvers, didn't just appear in a blaze of glory.
Her remarkable journey from a human woman to one of the universe's most formidable superbeings is steeped in complexity, heartbreak, and redemption.
Let's trace her captivating evolution and underline her ever-growing influence in the Marvel universe.
Carol Danvers first joined the superhero ranks as Ms. Marvel after being caught in the explosion of a Kree device, Psyche-Magnitron, which combined her DNA with Mar-Vell's, the original Captain Marvel. With her newfound superpowers, she became a formidable addition to the Avengers.
The defining moment in Carol's journey was when she was kidnapped and brainwashed by Marcus, the alleged son of Immortus, an Avengers' nemesis.
Once back on Earth, the terrible episode was revealed, but the trauma endured lingered, leading to tense relationships with her fellow Avengers.
However, Carol's resilience shone through when she fell prey to Rogue's vicious assault, which left her without memories and powers.
Saved by Spider-Woman and aided by Charles Xavier, she emerged from her coma and regained some of her memories. Yet, the emotional connections that once tethered her were lost.
An alien encounter with the Brood marked another turning point in her life.
They conducted experiments on Carol due to her unique genetic structure, inadvertently connecting her to a white hole, thereby amplifying her powers dramatically.
Taking on the moniker Binary, she wielded these newfound energy powers with tenacity, emerging as a force to reckon with.
The narrative took another turn when Carol, donning the name Warbird, joined a new iteration of the Avengers.
However, hiding her diminished powers and battling her inner demons led to her downfall, spiraling into alcoholism.
But the embodiment of a true superhero, Carol turned her life around and embraced recovery, becoming an instrumental member of the Avengers' global strike force.
Inspired by an alternate reality during the House of M incident, Carol resolved to redefine herself as a heroine.
She reassumed her Ms. Marvel identity and played a crucial role in the first Super Hero Civil War, siding with Iron Man.
Her journey climaxed when she took up the mantle of Captain Marvel, paying tribute to the fallen Mar-Vell.
Despite grappling with brain lesions and memory loss, Carol proved herself a true heroine, helping to defeat Yon-Rogg's plan to conquer New York City.
In the years following, Captain Marvel's popularity skyrocketed. She was a part of A-Force, the Ultimates, and even the commander of the Alpha Flight Low-Orbit Space Station.
She weathered personal losses and political upheaval, but each challenge only further fortified her resilience.
The inspiring journey of Carol Danvers, from her humble beginnings to her ascension as Captain Marvel, is a testament to her endurance, bravery, and steadfastness.
Not just a marvel in name, she personifies the marvel of the human spirit and resilience, making her one of the most captivating characters in the superhero universe.
Funko POP! Marvel Fear Itself – Captain Marvel Flying (with Axe) Funko Pop! Vinyl Figure – SDCC 2023 and Target Shared Exclusive
Available at:
Starting now, you can receive 10% off in-stock items with my special link at Entertainment Earth!
 Enjoy!
As an Amazon Associate I earn from qualifying purchases
Want more stuff like this?
Get the best viral stories straight into your inbox!
Don't worry, we don't spam