SDCC 2023: PEZ Freddy Funko (Metallic) Exclusive
The new Funko PEZ! Freddy Funko (Metallic) Pez– SDCC 2023  and Funko Shop Shared Exclusive will be available online starting at 6 AM PT on Thursday, July 20, at the links below (click to jump!)
The Exuberant Enigma: Freddy Funko's PEZ Dispenser — A 2023 SDCC Shining Star!
Every so often, a delightful disruption happens in the world of collectibles, and this time, the disruptor is none other than the charismatic Freddy Funko himself! And let's not just call it a disruption; it's a full-on, metallic revolution.
Buckle up, fellow Funko fanatics, because the SDCC 2023 exclusive Metallic Blue and Purple Freddy Funko PEZ Dispenser is here, and he's ready to serve up some mouth-watering smiles.
Freddy Funko is an entity of boundless adoration for pop culture, a fan of everything and anything.
With his lovable smile and iconic crown, he's more than just the face of Funko Inc; he's the company's heart, embodying the joy and fascination we all feel towards our favorite characters and franchises.
The appeal of this delightful fellow is no puzzle. Freddy is the embodiment of the fan in all of us, always ready to cheer, celebrate, and share in the joy of fandom.
And the metallic blue and purple Pop! PEZ Freddy is like a dream caught in twilight hues, a whimsical yet proud flag bearer of our shared interests.
The new Metallic Freddy Funko PEZ Dispenser is truly a sight to behold. Struck in a striking metallic blue and purple, it's not only a cheerful nod to the charm of yesteryear's nostalgic candy dispensers but also a delightful union of Pop! aesthetics with PEZ functionality.
Freddy is, as always, perpetually excited, grinning wide, and ready to serve you a sweet treat at any moment.
This exclusive piece is a treasure to cherish, a gleaming symbol of our collective joy for all things pop culture.
The SDCC 2023  and Funko Shop Shared Exclusive Freddy Funko (Metallic) Pez can be found at the links below as soon as the online sale begins (click to jump!)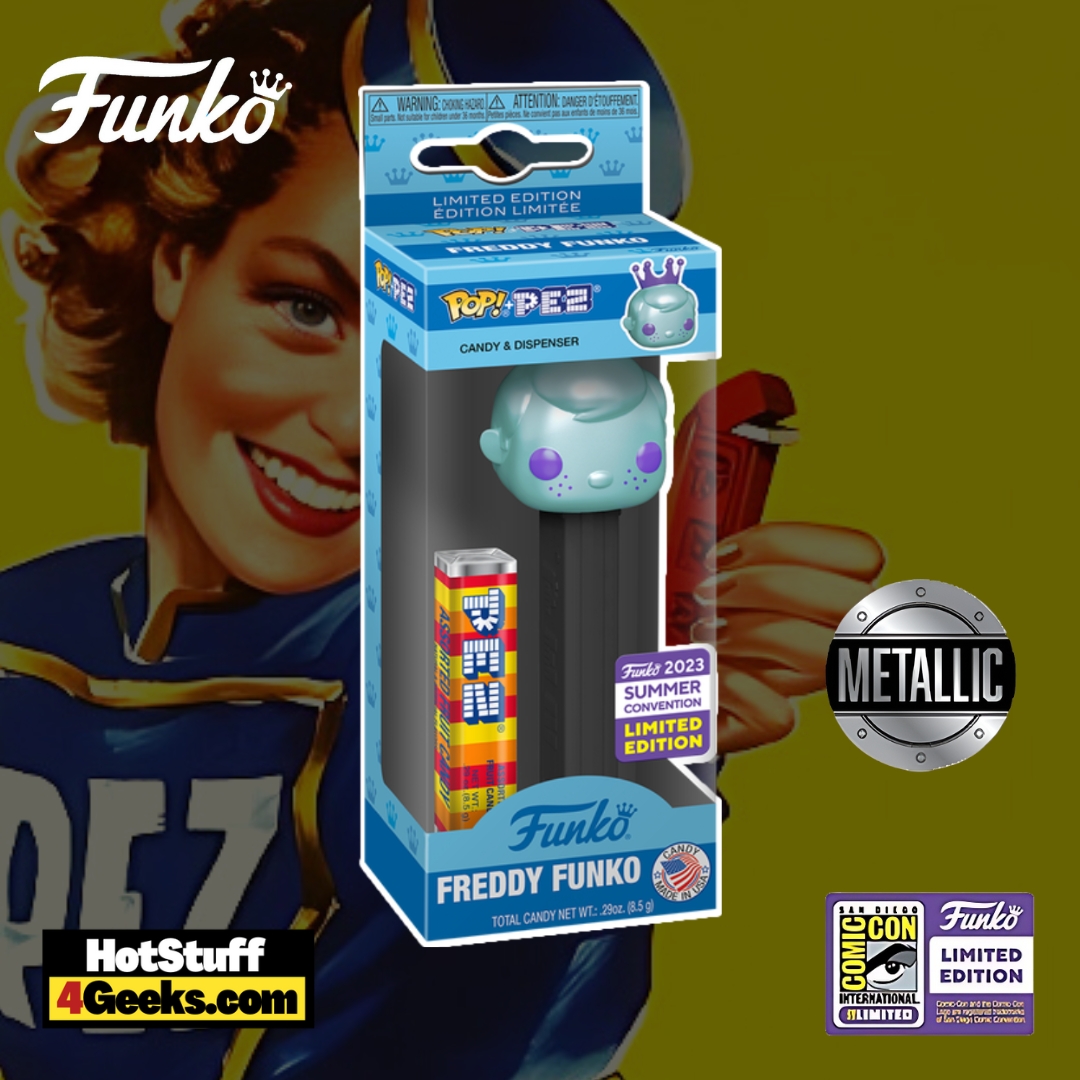 What's fascinating is the magnetism this exclusive piece holds. It's not about the candy, and it's not just about the dispenser.
It's about Freddy, the quirky, fun-loving character we've all come to adore, presenting a blast from the past with a contemporary, funky twist.
He isn't just offering PEZ candies; he's offering a portion of the joy that comes from being part of a community that loves, celebrates, and treasures pop culture as much as he does.
It's essential to understand the charm of this particular Pop! PEZ dispenser goes far beyond its surface.
The Metallic Freddy Funko PEZ Dispenser is an artifact of jubilation, representing every character, every franchise, and every storyline we've ever loved and embraced.
As you hold this metallic marvel, you are not just holding a pop culture artifact but a piece of shared joy and enthusiasm that Freddy himself embodies.
The 2023 SDCC exclusive Metallic Blue and Purple Freddy Funko PEZ Dispenser is a collectible that resonates with the sweet, simple joy of sharing, being part of a fandom, and embracing our passions with open hearts and broad smiles.
It embodies the spirit of our beloved Freddy – the ultimate fan and our metallic blue and purple ambassador of fun and fandom!
As we unwrap this enchanting addition to our collections, let's do so with the same excitement and passion that Freddy has for everything in the wonderful world of fandom.
Let's savor this moment as a new gem finds a home amongst our cherished treasures, casting a metallic blue and purple glow on the many magical moments of fandom we've shared and will continue to share.
And, of course, let's remember to savor those sweet PEZ candies, each a symbol of the sweetness that is part of this beautiful, wild, and wacky community of fans. Long live the fandom, and long live Freddy Funko!
Funko PEZ! Freddy Funko (Metallic) Pez– SDCC 2023  and Funko Shop Shared Exclusive
Available at:
Starting now, you can receive 10% off in-stock items with my special link at Entertainment Earth!
 Enjoy!
As an Amazon Associate I earn from qualifying purchases
Want more stuff like this?
Get the best viral stories straight into your inbox!
Don't worry, we don't spam