SDCC 2023: Power Rangers – Rita Repulsa Funko Pop! Exclusive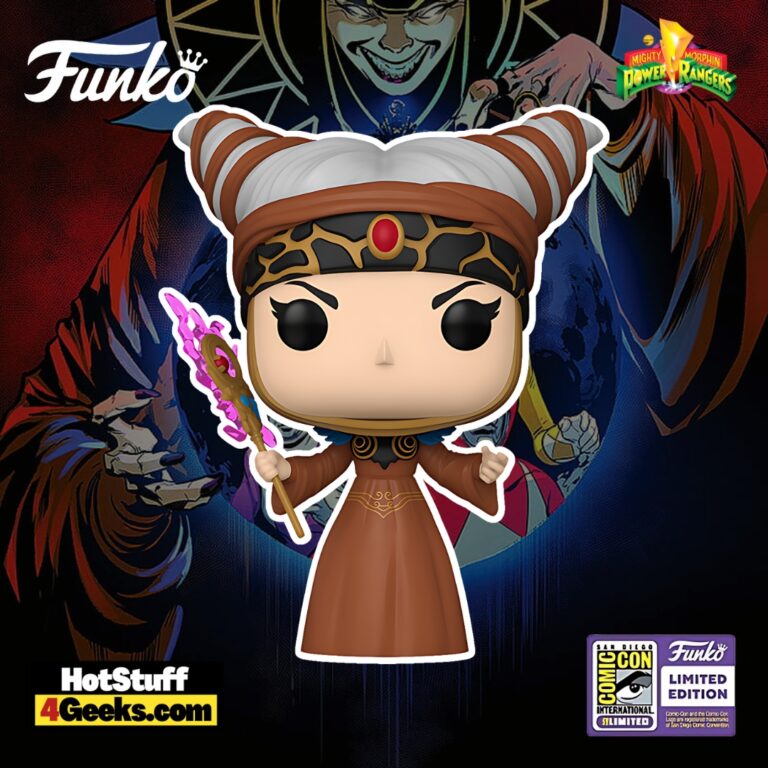 The new Funko POP! Mighty Morphin Power Rangers – Rita Repulsa Funko Pop! Vinyl Figure – SDCC 2023 and GameStop Shared Exclusive will be available online starting at 6 AM PT on Thursday, July 20, at the links below (click to jump!)
Rita Repulsa Reigns in Funko Pop! Form – An 2023 SDCC Exclusive Reveal
The new Rita Repulsa Funko Pop! is an absolute treat for all Mighty Morphin Power Rangers fans.
Exclusively unveiled at the San Diego Comic-Con 2023, this vinyl figure is a fantastic fusion of nostalgia and Funko's signature style.
This collectible is a tiny titan of craftsmanship, faithfully recreating Rita's iconic look.
Donning her intricate headdress and robe ensemble and holding her magical scepter, the Funko Pop! figure perfectly captures the sorceress's eccentric style. But it's more than just a physical likeness.
Funko has managed to infuse her palpable aura of devious charisma into this figure, creating an item that is not just a vinyl figure but a manifestation of Rita Repulsa herself.
In conclusion, this Rita Repulsa Funko Pop! Vinyl Figure is a creative celebration of the audacious and larger-than-life antagonist we all have a strange soft spot for.
It's a brilliant addition to the Power Rangers Funko Pop! lineup and an absolute must-have for collectors.
The SDCC 2023 and GameStop Shared Exclusive Rita Repulsa can be found at the links below as soon as the online sale begins (click to jump!)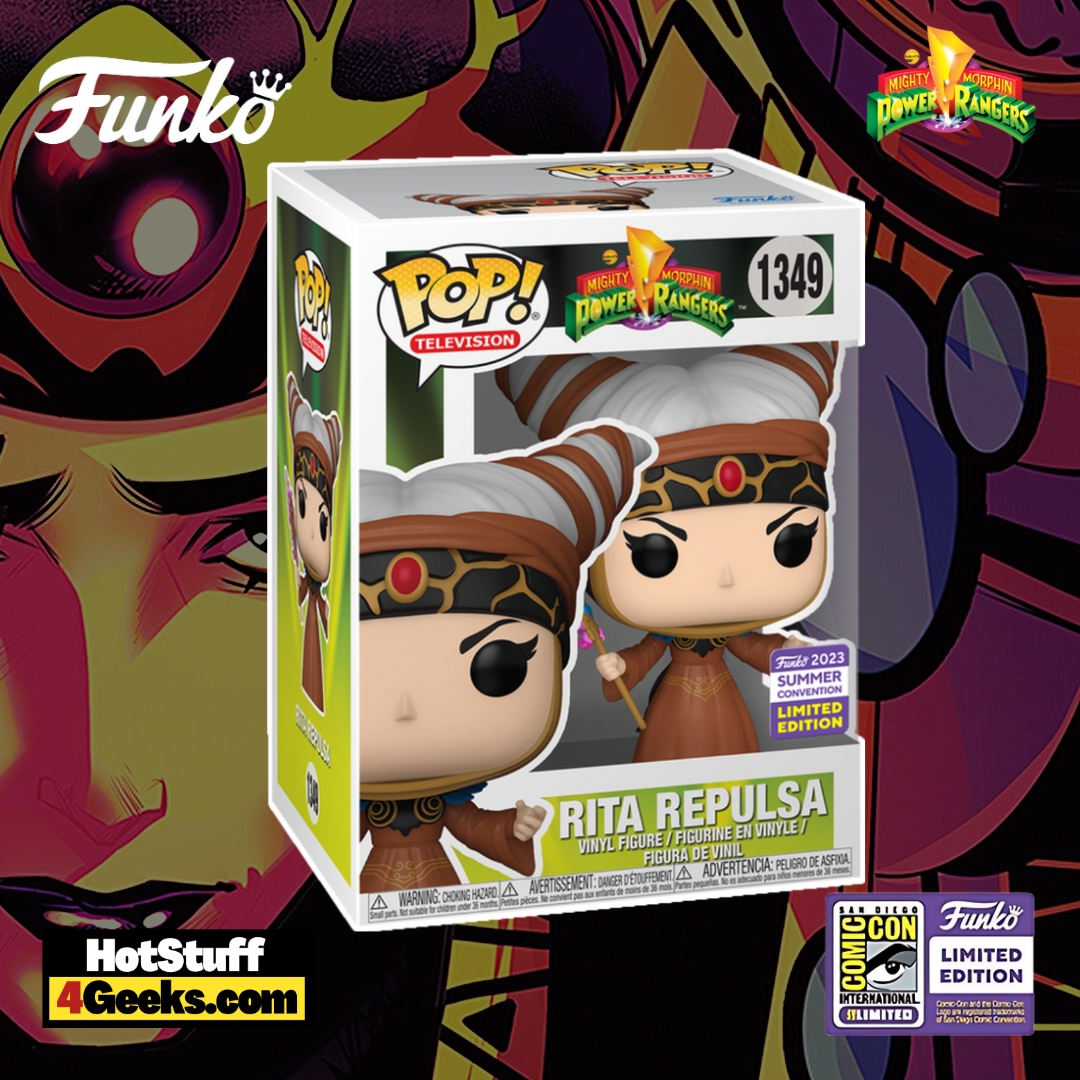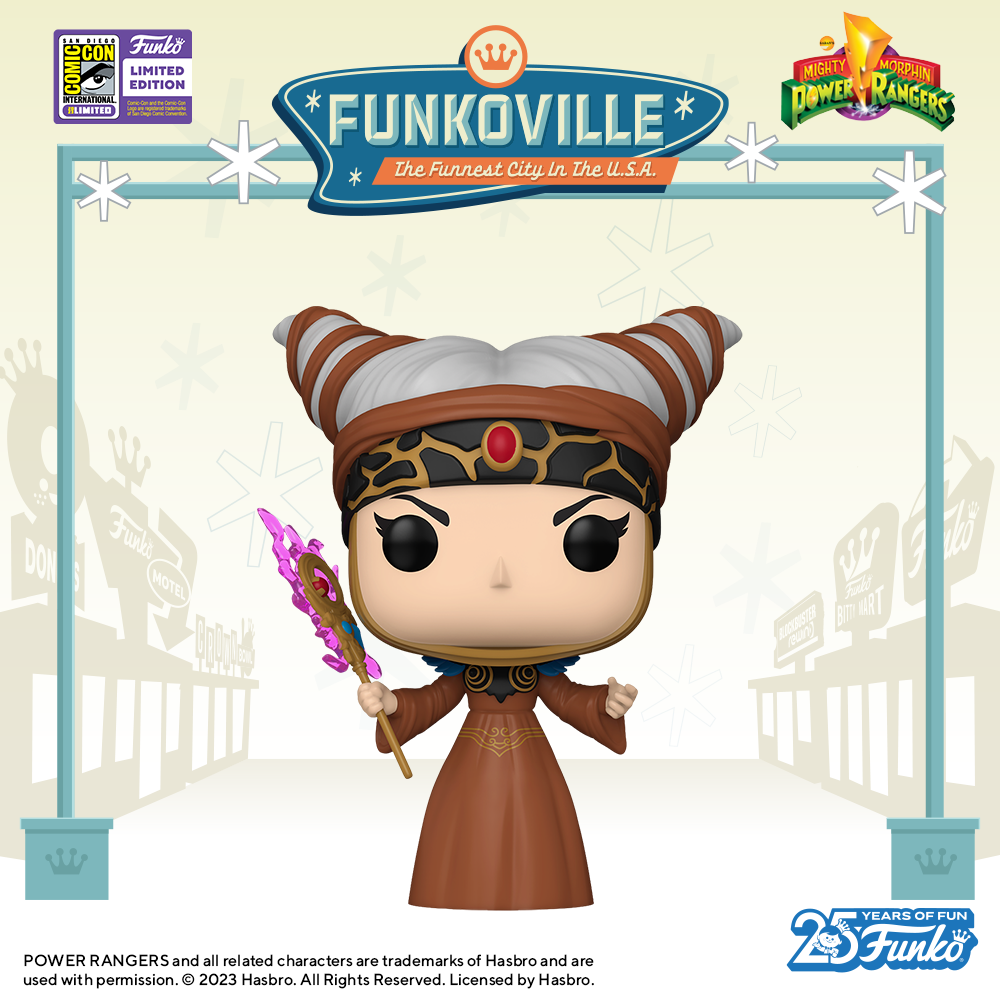 Unmasking Rita Repulsa: A Deeper Dive into the Power Rangers' Arch-Nemesis
We've all seen her—the extravagant antagonist of the Mighty Morphin Power Rangers, Rita Repulsa. Even if you weren't a fan of the show, her image is likely etched into your memory.
Unconventional and compelling, she became an instant classic in the world of villains. Let's shift our perspective a bit and dive into an alternate view of Rita Repulsa.
Haim Saban and Shuki Levy, the creative geniuses behind the Mighty Morphin Power Rangers, designed Rita Repulsa as an intergalactic sorceress on a relentless mission to conquer Earth.
Dressed in flowing robes and a striking horned headdress, wielding a magical scepter, her eccentric style set her apart in the Power Rangers universe. Her boisterous and dramatic character spiced up the series with its unpredictable dynamism.
Rita Repulsa was a model of unyielding determination.
Despite numerous setbacks, she never backed down.
Her elaborate strategies, and her imaginative monsters, all reflected her audacity. She earned the loyalty of her minions and the dread of her enemies.
Yet, beneath that sinister exterior were brief glimpses of potential for goodness, making her a more intriguing character.
Her interactions with other characters, particularly her loyal yet clumsy servant Goldar, brought out her charismatic leadership.
Rita's impatience, tantrums, and ambitious plans to capture Earth contrasted sharply with the idealistic Power Rangers, intensifying the series' appeal. Her raw energy turned a simple children's show into a timeless cultural phenomenon.
Rita Repulsa's character underwent significant development throughout the series—for instance, her unexpected marriage to Lord Zedd, the intimidating overlord.
As partners in crime, they were a force to reckon with.
This union added another layer to Rita's personality, painting her as a cunning manipulator who used any means necessary, including love potions, to reach her goals.
Rita Repulsa was more than just a villainess. She embodied defiance, humor, and resilience.
Although her methods were dubious, her charisma and allure were captivating.
Her iconic laughter, unique fashion, and stubborn resolve made her a character we found ourselves rooting for.
Despite her role as the villain, the Mighty Morphin Power Rangers would have lacked a significant source of excitement without her.
Heroes, after all, need worthy adversaries, and Rita Repulsa was undoubtedly one for the books.
Funko POP! Mighty Morphin Power Rangers – Rita Repulsa Funko Pop! Vinyl Figure – SDCC 2023 and GameStop Shared Exclusive
Available at:
Starting now, you can receive 10% off in-stock items with my special link at Entertainment Earth!
 Enjoy!
As an Amazon Associate I earn from qualifying purchases
Want more stuff like this?
Get the best viral stories straight into your inbox!
Don't worry, we don't spam