SDCC 2023: REWIND Freddy Funko (Comic Hero Adventures) Figure
The new Funko! REWIND: Freddy Funko Rewind (Freddy's Comic Hero Adventures version) Vinyl Figure with Chase – SDCC 2023 and Funko Shop Shared Exclusive will be available online starting at 6 AM PT on Thursday, July 20, at the links below (click to jump!)
Diving into the Comic World with Funko's Freddy Rewind – 2023 SDCC Exclusive
Journey with us into a nostalgia-laden universe where our dear Freddy Funko isn't just Funko's mascot but a comic hero embarking on adrenaline-pumped adventures!
With the Funko Rewind series taking center stage, Freddy Funko steps into the limelight as a San Diego Comic-Con 2023 Exclusive – the Comic Hero Adventures version.
This isn't the usual Freddy Funko we all know.
Imagine him leaping off comic pages, ready to fight evil and save the day.
This version depicts Freddy in a classic superhero suit, oozing with comic book charm.
The colors are vibrant, the stance is dynamic, and there's an unmistakable aura of heroic determination.
But wait, there's a cherry on top! Some lucky collectors will stumble upon a Chase edition of this figure.
A surprise version, the Chase is a testament to Funko's creativity, adding an extra level of excitement to your collecting experience.
With the Freddy Funko Rewind Comic Hero Adventures version, Funko promises a ride back to the time of Saturday morning cartoons and superhero comic books.
Ready to embark on this adventure?
The SDCC 2023 and Funko Shop Shared Exclusive Freddy's Comic Hero Adventures version of REWIND Freddy Funko can be found at the links below as soon as the online sale begins (click to jump!)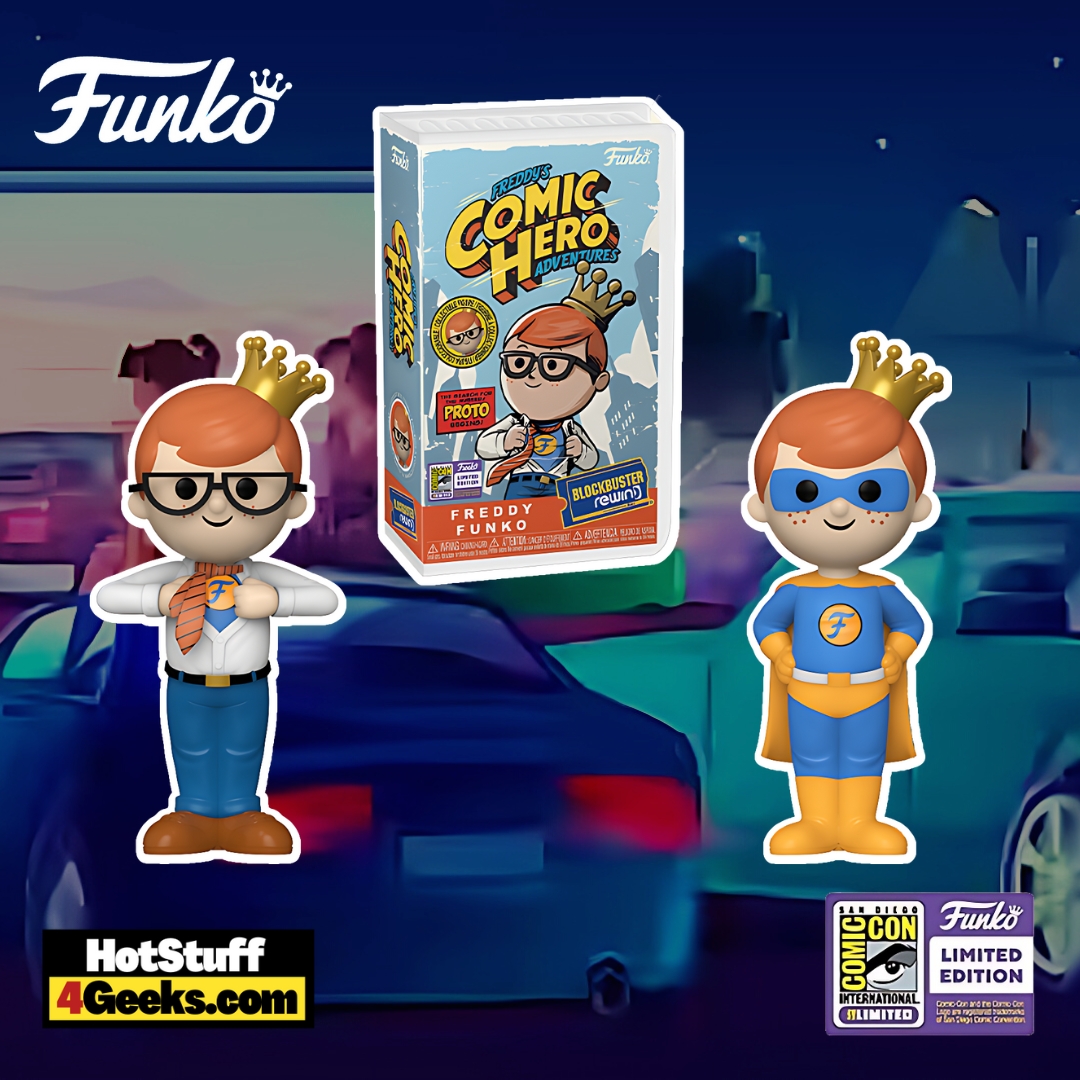 Retro Love: Blockbuster Rewind Springs Forth from Funko's Time Machine
You can almost hear the sound of the rewind button whirring, can't you?
Funko, the world-renowned toymaker known for its iconic Pop! figures, is stepping into the time machine.
Leaving the familiar territory of doe-eyed, large-headed figures, Funko's launching a new line that will stir your nostalgia like a long-lost favorite mixtape.
It's the Blockbuster Rewind series, a tribute to an era when the weekend movie night was a family event, and Blockbuster was our reliable companion.
Ah, Blockbuster! The ultimate video store of the '90s.
A place that was home to cinematic stories from every genre you could think of, locked away in colorful VHS clamshell cases.
With late fees and worn-out cassettes, it's the memories of our Friday-night traditions that have painted Blockbuster in the colors of nostalgia.
Funko has recognized this longing for simpler times and has stepped up to the plate, ready to hit us right in the feels.
The Rewind series is more than just a nod to Blockbuster; it celebrates the entire video store culture.
When developing the concept, the Funko team couldn't resist the pull of the Blockbuster universe – its distinctive blue and yellow branding and that feeling of entering a whole new world every time you step inside a store.
So, they decided to go all in. Funko got the rights to Blockbuster's IP and has birthed an exceptional tribute to the past with the Rewind line.
Every vinyl figure in the Rewind series will come encased in a VHS-style clamshell box, complete with a Blockbuster rental card.
It's a delightful re-creation of the video store experience that we've missed so dearly.
Moreover, the figures won't be the usual Pop! style that we're accustomed to.
They're smaller, around four inches, and the design evolves.
The distinctive Funko DNA is still visible in the figures, but there's a shift toward more anatomically stylized rendering.
There's also a twist of anticipation added to the mix.
The initial wave of Rewind figures will have an element of surprise, as Funko isn't spilling the beans on what characters we can expect.
The company has a reputation for spanning the pop culture landscape, and this series will be no different.
They promise a mix of characters from obscure films, classic TV shows, cartoons, and major theatrical releases.
In addition, every sixth set will feature a chase piece, a special-edition figure designed to encourage trades and repeat purchases.
But don't expect a flood of new figures; the release strategy for the Rewind line will be more measured, with about six to eight pieces released each month.
Blockbuster may be a relic of the past, but Funko's latest venture, the Blockbuster Rewind series, is set to teleport us back to the era of VHS tapes and video stores.
So, prepare your hearts for a nostalgia trip like no other. It's time to rewind, relax, and relive those cherished memories of yesteryears.
Funko! REWIND: Freddy Funko Rewind (Freddy's Comic Hero Adventures version) Vinyl Figure with Chase – SDCC 2023 and Funko Shop Shared Exclusive
Available at:
Starting now, you can receive 10% off in-stock items with my special link at Entertainment Earth!
 Enjoy!
As an Amazon Associate I earn from qualifying purchases
Want more stuff like this?
Get the best viral stories straight into your inbox!
Don't worry, we don't spam