SDCC 2023: Rugrats – Reptar Funko Soda Figure Exclusive
The new Funko Soda! Rugrats: Green Reptar Funko Soda Vinyl Figure with Pink Reptar Chase Variant – SDCC 2023 and FYE Shared Exclusive will be available online starting at 6 AM PT on Thursday, July 20, at the links below (click to jump!)
A Roaring Revival: 2023 SDCC's Reptar Funko Soda Vinyl Figure
Fans, get ready to be transported back to the nostalgia-infused world of Rugrats with the unveiling of the SDCC 2023 exclusive – Green Reptar Funko Soda Vinyl Figure and its Pink Reptar Chase variant.
The pair, resembling our favorite dinosaur, is the ultimate blast from the past, embodying the show's spirit like no other.
The Green Reptar, with its trademark spiky back and expressive eyes, is a vivid and striking representation of the classic character.
Its bold color and strong stance reflect those fun-filled afternoons spent watching Reptar stomp around on TV.
But wait, there's more! The Pink Reptar Chase variant adds an unexpected twist to our beloved character.
This exclusive piece reflects the fun unpredictability that Rugrats is known for, delighting fans with its playful shade.
It's Reptar reimagined, bringing a fun twist to our classic dinosaur. Catch them while you can!
The SDCC 2023 and FYE Shared Exclusive Funko SODA Reptar can be found at the links below as soon as the online sale begins (click to jump!)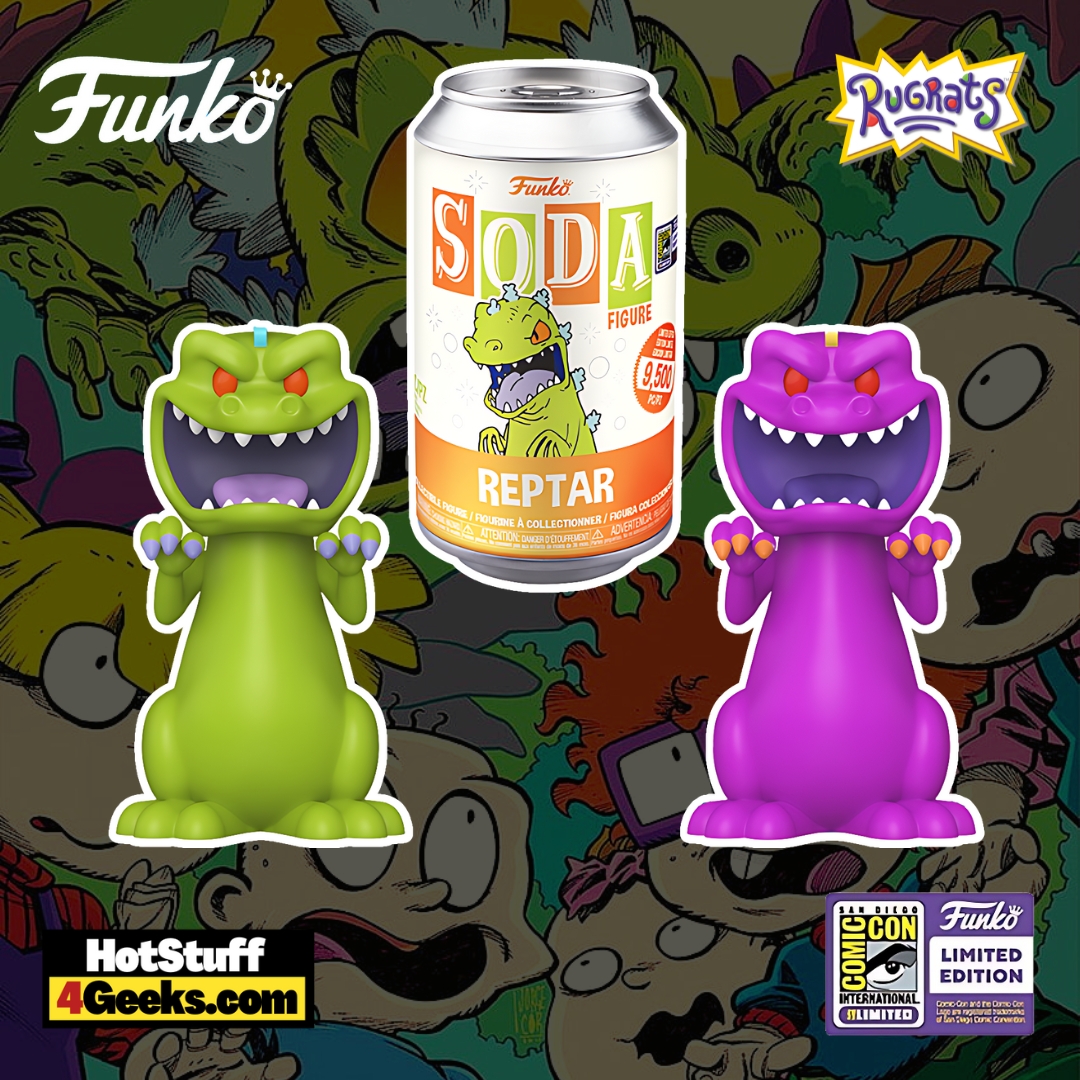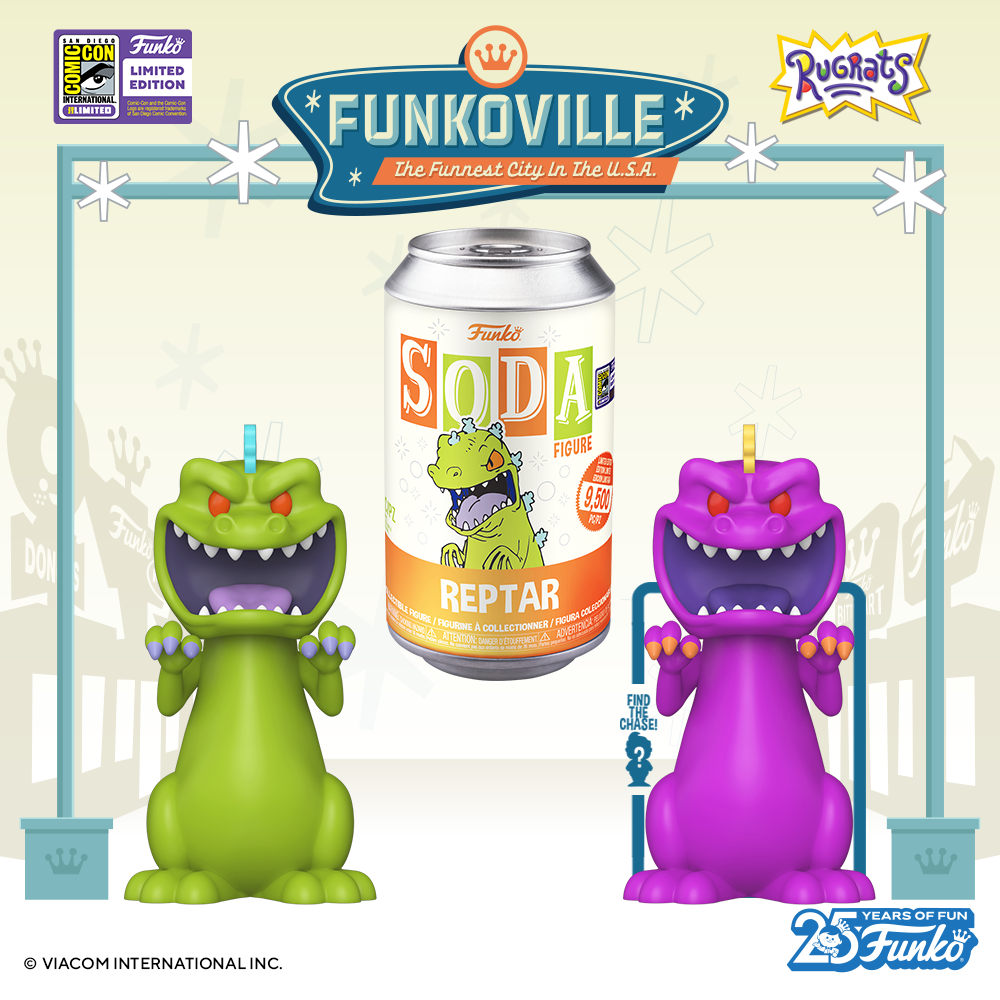 Unleashing the T-Rex: A Closer Look at Rugrats' Reptar
The 90s nostalgia train chugs along, and today we're hopping aboard for a ride to "Rugrats" town.
The Nickelodeon show is an enduring classic, loved for its whimsical humor and heartwarming stories told from a baby's eye view.
Yet, amidst the vibrant gang of tots, there stands a rather unusual icon – a green, roaring, city-stomping dinosaur named Reptar.
This king of the dinosaurs has left an indelible mark on the Rugrats universe, and it's time we sink our teeth into the story behind this larger-than-life creature.
Imagine a creature that's a mash-up of Godzilla's raw power and Mickey Mouse's ubiquitous charm, and voila!
You've got Reptar.
With his neon-green skin and turquoise spikes, this Tyrannosaurus Rex has become synonymous with the Rugrats franchise.
Often seen rampaging around cities in Rugrats movies, Reptar's design and actions mirror those of his inspiration, Godzilla, yet, interestingly, he is portrayed as a heroic figure in the Rugrats world.
This paradoxical hero-villain distinction feeds into Reptar's allure.
His marketing prowess is virtually unparalleled in the Rugrats universe.
You'll find Reptar everywhere, from cereal boxes to candy bars, ice-skating shows to a grand EuroReptarland amusement park in France.
What's truly astounding is the way this fictional character's branding leaped into reality, leading to the creation of real Reptar-themed amusement park rides and even his snacks becoming available in stores.
The evolution of Reptar hasn't been without bumps in the road.
The resemblance to Godzilla was unmistakable, and in 2002, this led to a lawsuit from Toho, Godzilla's creators, against Klasky Csupo, the company behind Rugrats.
As a result, Reptar's appearances dwindled in the series' final seasons, yet his presence in the Rugrats world remained undiminished.
Perhaps one of the most touching aspects of Reptar's story lies in the spinoff series "All Grown Up!"
An episode features the now-older Rugrats kids finding an old Reptar toy, invoking a sense of nostalgia and emotional connection that echoes what many adult fans of Rugrats feel towards Reptar.
Yet, Reptar's story isn't just about an iconic character's journey through TV series, movies, and merchandise.
It's a story about childhood, about the characters we grow to love, and about how these characters shape our understanding of heroism, friendship, and even time itself.
It's the story of a generation that grew up seeing a city-crushing dinosaur as a hero, learning that appearances can be deceptive and courage can be found in the unlikeliest creatures.
From his initial conception to his transformation into a cultural icon, Reptar remains a beloved piece of our childhood memories.
He's a testament to the power of well-crafted characters and compelling storylines, a neon-green reminder that sometimes, a city-stomping dinosaur can be a hero.
Funko Soda! Rugrats: Green Reptar Funko Soda Vinyl Figure with Pink Reptar Chase Variant – SDCC 2023 and FYE Shared Exclusive
Available at:
Starting now, you can receive 10% off in-stock items with my special link at Entertainment Earth!
 Enjoy!
As an Amazon Associate I earn from qualifying purchases
Want more stuff like this?
Get the best viral stories straight into your inbox!
Don't worry, we don't spam