SDCC 2023: Scooby-Doo in Scuba Outfit Funko Pop! Exclusive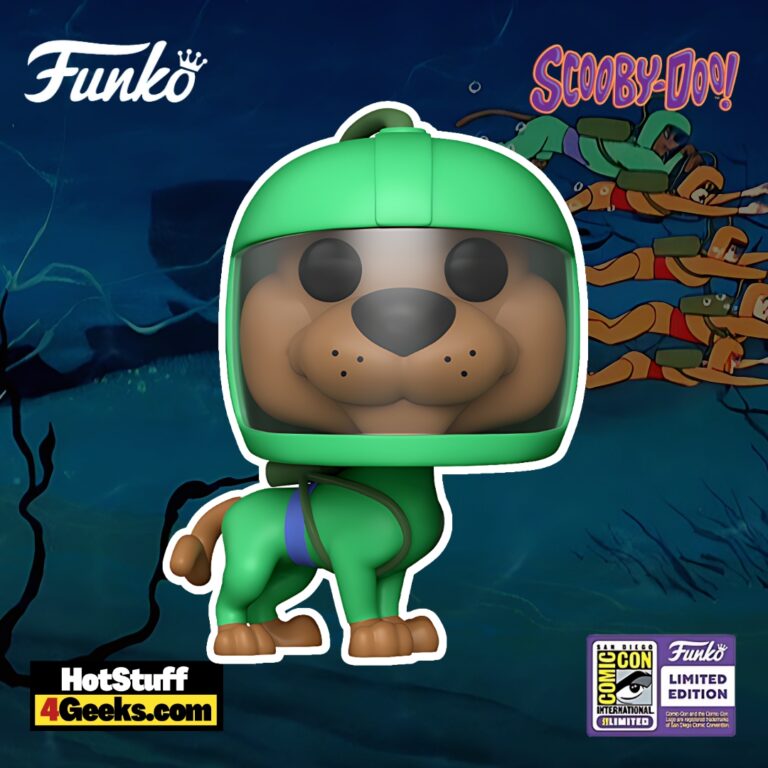 The new Funko POP! Animation: Scooby-Doo – Scooby-Doo in Scuba Outfit Funko Pop! Vinyl Figure – SDCC 2023 and Funko Shop Shared Exclusive will be available online starting at 6 AM PT on Thursday, July 20, at the links below (click to jump!)
A Splash of Nostalgia: The 2023 SDCC Scooby-Doo in Scuba Outfit Funko Pop! Exclusive
The 2023 San Diego Comic-Con has pulled another rabbit out of the hat!
Introducing the Scooby-Doo in Scuba Outfit Funko Pop! Vinyl Figure, a tribute to our favorite fright-filled episode, "Clue for Scooby-Doo."
This exclusive Funko Pop! plunges straight into nostalgia, capturing Scooby-Doo's amusing charm in an adorable new design.
This figure sports Scooby-Doo's classic scuba gear, capturing a memorable moment from the episode.
Dressed in his bright green scuba outfit with that familiar bashful expression, this rendition of Scooby will send you right back to the suspense-filled dive scenes from the show.
We see the fearful yet brave hero, hesitating at the edge of danger but diving in regardless, always willing to solve a mystery and save the day.
It's a figure that does more than just pay homage to the iconic dog detective; it lets fans carry a piece of their favorite Saturday morning mystery show.
And for those who remember the thrill of watching "Clue for Scooby-Doo," this Funko Pop! is more than a delightful memory—it's a celebration of the mystery, the humor, and the heart of a show we hold dear.
So, here's to Scooby-Doo, the most endearing underwater detective in the animation world.
The SDCC 2023 and Funko Shop Shared Exclusive Scooby-Doo in Scuba Outfit Funko Pop! can be found at the links below as soon as the online sale begins (click to jump!)
The Mystery Unraveled: A Deeper Look at "Clue for Scooby-Doo"
If you're a fan of classic cartoon adventures, you're probably familiar with "Clue for Scooby-Doo," a standout episode from the original 1967 "Scooby-Doo, Where Are You!" series.
The story begins on the shore of a quiet seaside town, where the cheerful gang – Scooby-Doo, Shaggy, Fred, Velma, and Daphne – stumble upon a baffling mystery.
The once peaceful coastal waters have been plagued by sightings of a ghostly figure dressed in an old-fashioned diving suit, known as the Ghost of Captain Cutler.
Intrigued by this spectral sighting, our amateur detectives start their quest for answers.
As they probe deeper into the community, they discover that Captain Cutler was a local fisherman who died in a boating accident, his boat colliding with a yacht on a foggy night.
Legend has it that he's returned from the depths to exact revenge on the community for his untimely death.
The plot thickens as the gang learns that numerous yachts have mysteriously disappeared since the Ghost of Captain Cutler began his hauntings.
Armed with this alarming information, the gang presses forward with their investigation, gathering clues while dealing with their typical dose of slapstick antics and high-energy humor.
Under the leadership of Fred and the intellectual prowess of Velma, the group eventually discovers that the ghostly sightings align with the missing yachts' locations.
They formulate a plan, and in a thrilling showdown, they capture Captain Cutler's Ghost.
In the classic Scooby-Doo tradition, they reveal that the ghost is, in fact, the supposedly deceased Captain Cutler himself!
Cutler had faked his death and used the ghost story as a cover to steal yachts, repaint them, and sell them off.
With the mystery solved, our heroes once again prove that not all supernatural occurrences are what they seem.
"Clue for Scooby-Doo" is an emblematic episode of the series, filled with captivating mystery, clever twists, and delightful humor.
Its enduring charm stems from its seamless blend of suspense and comedy, which has made it a beloved piece of Scooby-Doo history.
So, let's celebrate this iconic chapter in the chronicles of our favorite mystery-solving gang.
Funko POP! Animation: Scooby-Doo – Scooby-Doo in Scuba Outfit Funko Pop! Vinyl Figure – SDCC 2023 and Funko Shop Shared Exclusive
Available at:
Starting now, you can receive 10% off in-stock items with my special link at Entertainment Earth!
 Enjoy!
As an Amazon Associate I earn from qualifying purchases
Want more stuff like this?
Get the best viral stories straight into your inbox!
Don't worry, we don't spam