SDCC 2023: Snoop Dogg (Ego Trippin) 5″ Funko Gold Figure
The new Funko Gold: Snoop Dogg in Green and Yellow Tracksuit (Ego Trippin' Album) 5-Inch Funko Vinyl Gold Figure – SDCC 2023 and Funko Shop Shared Exclusive will be available online starting at 6 AM PT on Thursday, July 20, at the links below (click to jump!)
Funko's Golden Homage: The 2023 SDCC Exclusive Snoop Dogg Funko Pop!
Introducing the latest exclusive from Funko, the Gold Snoop Dogg, in his renowned green and yellow tracksuit.
This 5-Inch Funko Vinyl Gold Figure made available at SDCC 2023, was inspired by the illustrious tenth album of the hip-hop legend, 'Ego Trippin'.'
The collectible brings forth Snoop Dogg's persona donned in his hallmark outfit.
The figure subtly radiates Snoop's unforgettable aura and captures his well-known style, characterized by the striking design of his tracksuit.
Yet, this vinyl isn't merely about the visuals.
This unique Snoop Dogg figure is a real-world symbol of the rapper's sustained impact on our cultural landscape.
It is a salute to Snoop's unparalleled status in the annals of music, encapsulated within Funko's characteristic aesthetic.
For collectors and fans alike, this Funko Gold Snoop Dogg figure vividly celebrates hip-hop's enduring spirit.
It's not merely a figurine; it's a piece of music history made tangible, commemorating Snoop Dogg's legacy in the most captivating way.
The SDCC 2023 and Funko Shop Shared Exclusive Snoop Dogg in Tracksuit 5-Inch Funko Gold Figure can be found at the links below as soon as the online sale begins (click to jump!)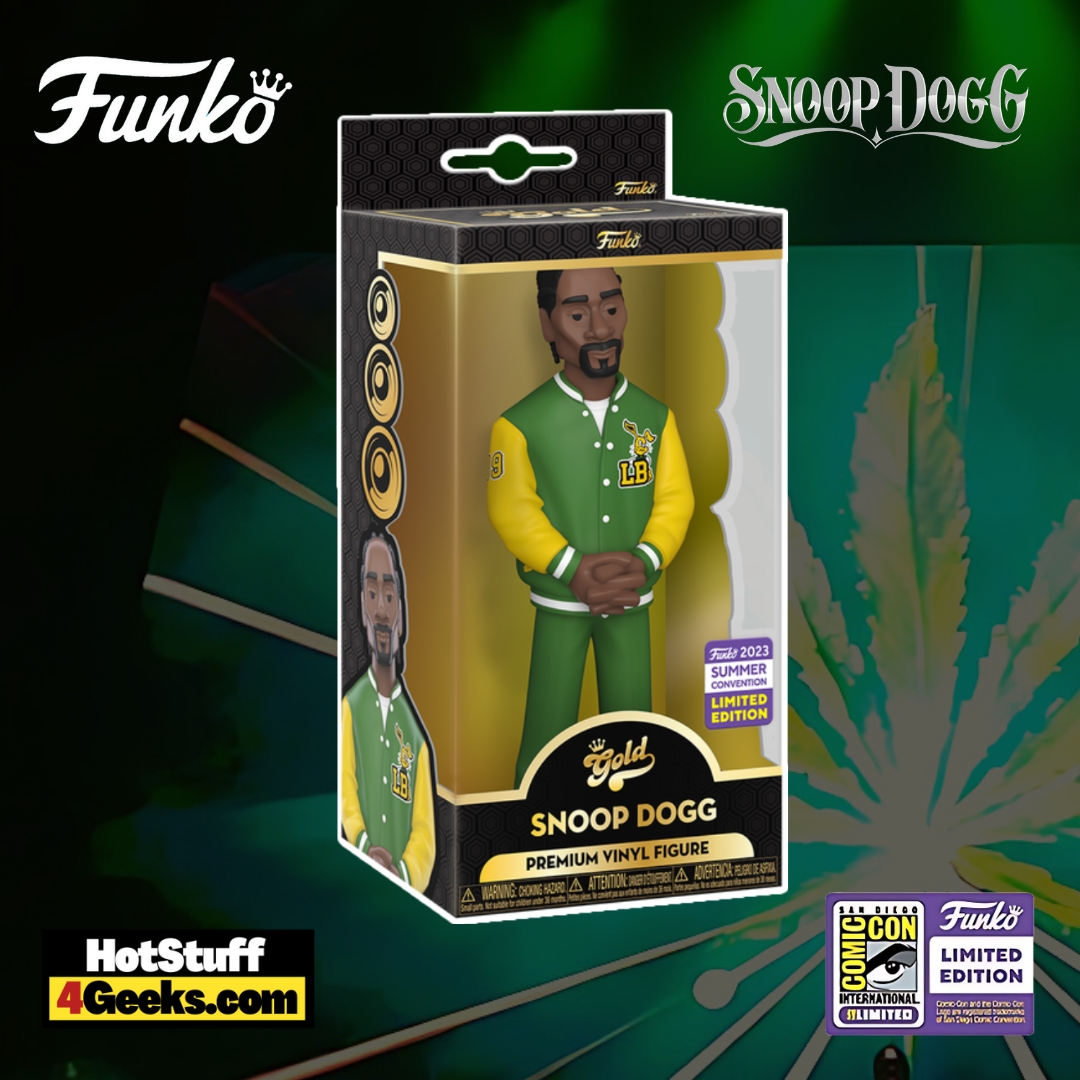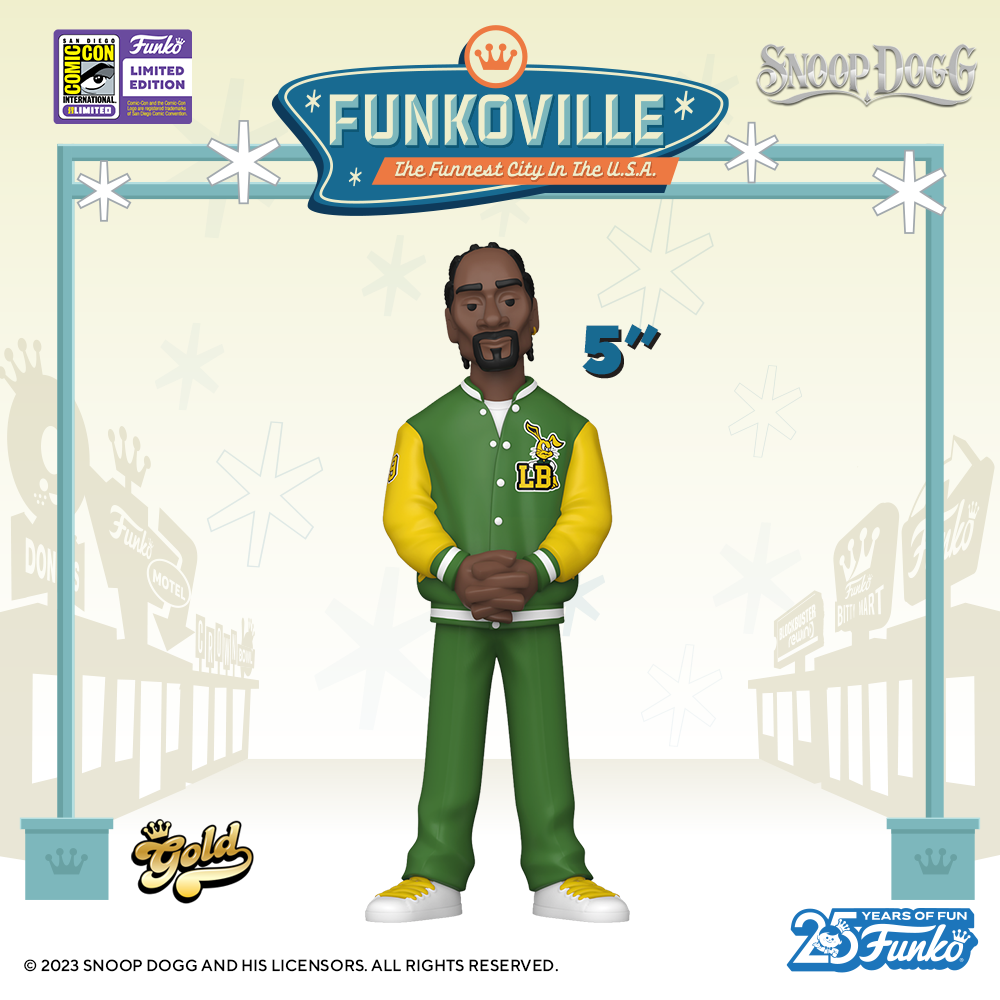 A Trip with Snoop Dogg's 'Ego Trippin'
In the ever-evolving realm of hip-hop, only a few artists stand tall, surviving the trials of time and the capriciousness of music trends.
One such enduring luminary is Snoop Dogg.
Now, let's dive headfirst into the sonic pool of Snoop's tenth studio album, 'Ego Trippin,' and find out just what makes it so remarkable.
On your first encounter with 'Ego Trippin', you'll be thrown a curveball with Snoop Dogg's bold opening salvo, "Sexual Eruption."
This track finds him not rapping in his usual laid-back style but crooning – with a dash of Auto-Tune – creating a mesmerizing blend of hip-hop and electronica.
This surprising twist in Snoop's musical style illustrates his audaciousness, an attribute that has kept him at the apex of the rap scene for decades.
But it's not all experimental on 'Ego Trippin'. With 21 tracks on the roster, there's a veritable smorgasbord of potential chart-toppers to satiate your auditory appetite.
Take a moment to bask in the lush beats of "SD Is Out," a finger-snapping tune that weaves a tale of West Coast swagger.
Or maybe you'll prefer "Waste of Time," a song that proves itself to be anything but crafted with the golden touch of Raphael Saadiq.
Exploring further, you might find yourself entranced by Snoop's lyrical lamentations on the album's closer "Can't Say Goodbye."
A profoundly introspective track that lays bare the soul of the man beneath the Dogg, it shows that he's not just a hitmaker but also a profound poet who can capture the human condition in his verses.
In true Snoop fashion, 'Ego Trippin' is not one-note.
He even veers into an unexpected duet with Everlast on "My Medicine," a nod to the Man in Black himself, Johnny Cash.
Coupled with the Michael Jackson-esque "Cool," Snoop again proves that his creative prowess knows no bounds.
The chameleon-like adaptability Snoop Dogg exhibits throughout 'Ego Trippin' is something to be marveled at.
From G-funk to pop and a dash of the blues, he demonstrates his musical talent, transcending boundaries and breaking stereotypes.
This blend of innovation, reinvention, and a keen ear for the right beat makes this album standout in his discography.
To sum up, 'Ego Trippin' is an ambitious and eclectic musical journey that cements Snoop Dogg's position at the pinnacle of the rap world.
He remains an unstoppable force in the music industry, constantly evolving, surprising, and, most importantly, entertaining us with his music.
Through 'Ego Trippin,' Snoop Dogg truly is, as the album suggests, trippin' – not on ego, but on the expanse of his creativity and the boundless reach of his talent.
To Read:
Funko Gold: Snoop Dogg in Green and Yellow Tracksuit (Ego Trippin' Album) 5-Inch Funko Vinyl Gold Figure – SDCC 2023 and Funko Shop Shared Exclusive
Available at:
Starting now, you can receive 10% off in-stock items with my special link at Entertainment Earth!
 Enjoy!
As an Amazon Associate I earn from qualifying purchases
Want more stuff like this?
Get the best viral stories straight into your inbox!
Don't worry, we don't spam