SDCC 2023: Star Wars – Darth Vader 3 Liter Funko Soda Figure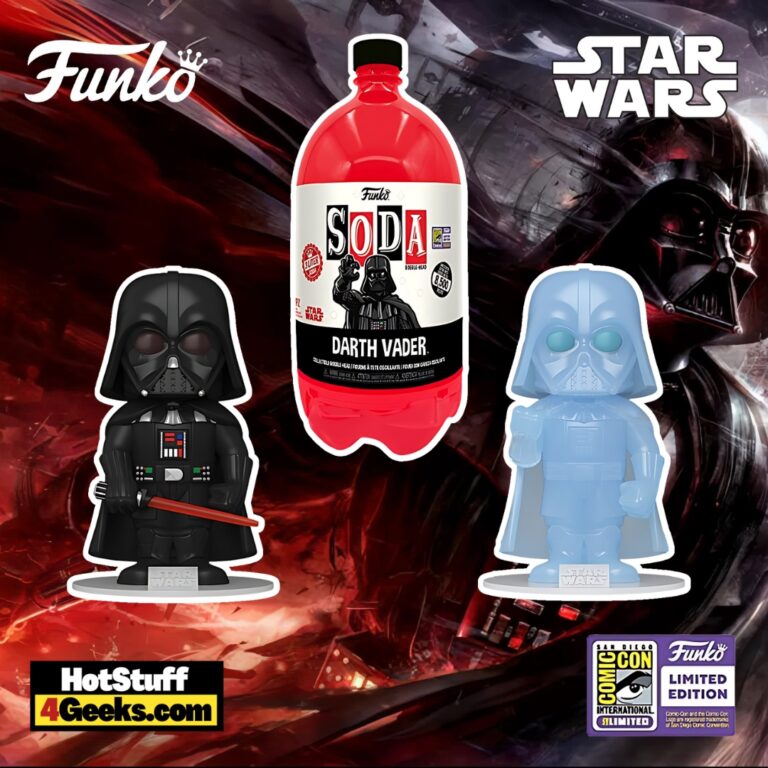 The new Funko Soda! Star Wars – Darth Vader 3 Liter Funko Soda Vinyl Figure with Translucent Chase – SDCC 2023 and Funko Shop Shared Exclusive will be available online starting at 6 AM PT on Thursday, July 20, at the links below (click to jump!)
A Darkly Glorious Addition: 2023 SDCC Exclusive 3 Liter Darth Vader Funko SODA Vinyl
Galactic domination takes a pop culture turn as Darth Vader joins your Star Wars collection in a new light—or should we say, a new dark?
The 3 Liter Darth Vader Funko SODA Vinyl, a San Diego Comic-Con 2023 exclusive, brings this towering Sith lord to life in your living room.
The captivating aura of Vader encapsulated perfectly in the vinyl figure, can send a chilling reminder of his ceaseless quest to quash the resistance and claim the galaxy for the Empire.
Your shelves might need to brace for impact, as his arrival is bound to stir up your rebel forces.
Limited to 8,500 pieces worldwide, this piece's exclusivity mirrors the singular presence of Vader in the Star Wars universe.
It's Darth Vader, true to form, yet with a playful pop-culture twist.
While the standard vinyl figure is already a coveted collectible, there's a thrilling possibility of a surprise in store.
One in six of these figures is a Translucent Darth Vader Chase variant, an ethereal representation of our menacing Sith lord.
It's not just a game of luck but a suspenseful hunt reminiscent of Vader's own relentless pursuits.
So, as you unbox this imperial gem, remember it's not merely a cool collectible—it's a slice of Vader's elusive mystique finding its way into your Star Wars shrine.
Now, that's something worth surrendering to the Dark Side for, right?
The SDCC 2023 and Funko Shop Shared Exclusive Vinyl Soda 3 Liter Darth Vader with Translucent Chase  can be found at the links below as soon as the online sale begins (click to jump!)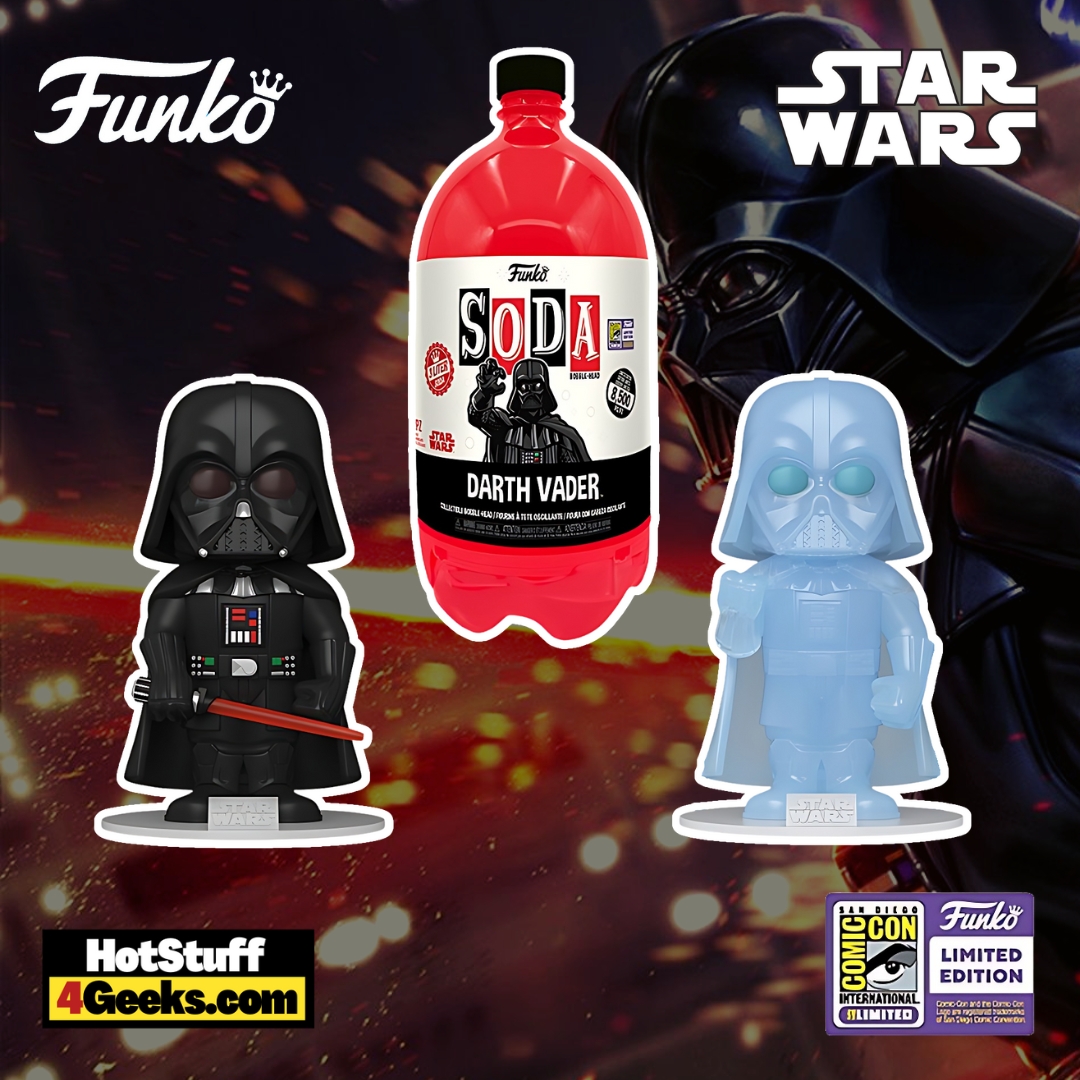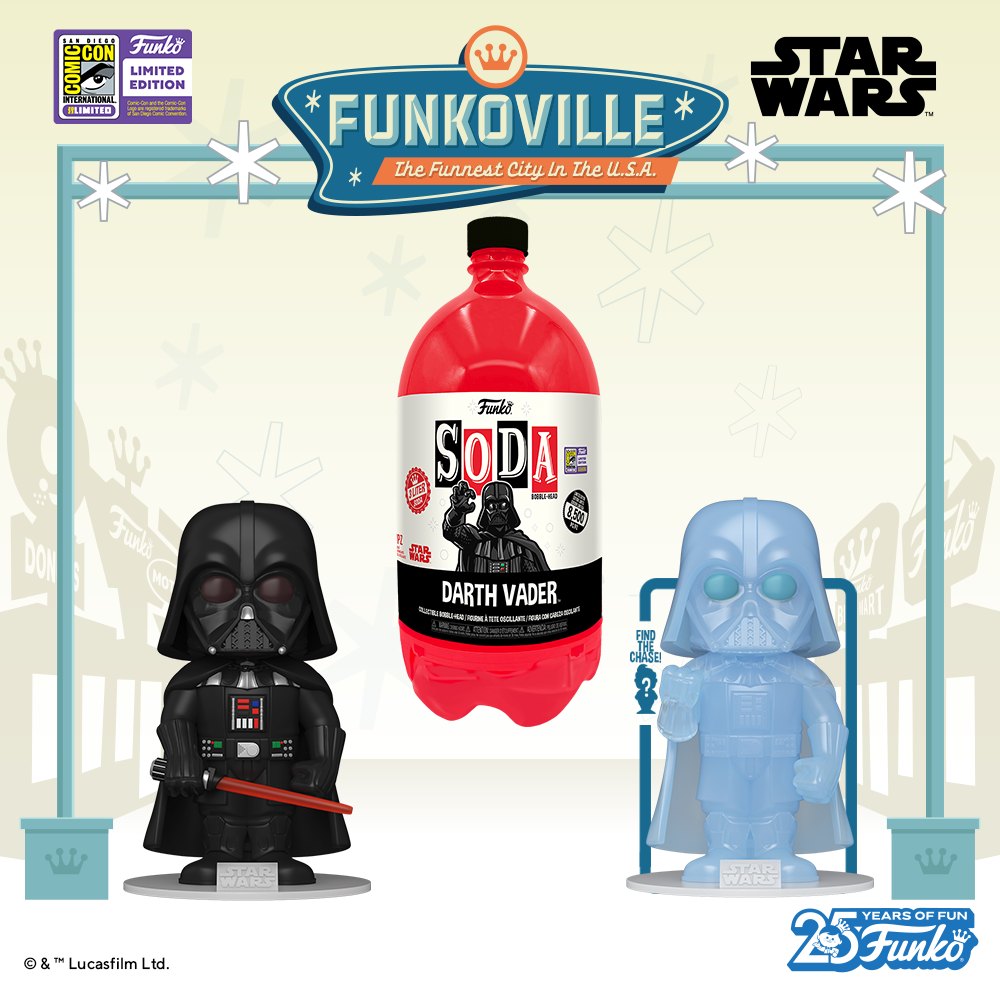 The Enigma of Darth Vader: From Galactic Tyrant to Cultural Phenomenon
The realm of cinema has few characters as enduring, enigmatic, and fascinating as Darth Vader from the legendary Star Wars saga.
Beneath the armor, the figure of Vader towers above most Hollywood villains. His ominous presence, authoritative tone, and chilling silence have rendered him an irreplaceable icon in popular culture.
Many elements contribute to Vader's enduring status.
His unmistakable design, an all-black armor suit, is as memorable as the cinematic landscape it inhabits.
As he strides across galactic spaceships or alien worlds, Vader's physicality – a testament to the actors behind the mask – exudes an intensity that keeps viewers riveted.
But the allure of Vader isn't just his commanding presence.
It's also in his voice that resounding baritone skillfully crafted by James Earl Jones. Its echo weaves an aura of dread and authority, making even his silence a compelling narrative tool.
What makes Vader more intriguing, however, is his profoundly complex character.
He's not merely an agent of terror.
There's an intricate psychology beneath the black armor, an intensity of purpose that gives his villainy a unique dimension.
This isn't your run-of-the-mill space tyrant; Vader has depth.
As Anakin Skywalker, he was driven by a passionate desire to protect his loved ones, even if it meant plunging into the shadows of the Dark Side.
As Darth Vader, he bears his loss, isolation, and self-loathing with an almost tragic stoicism.
These subtleties in his character make him a figure of fascination, someone we fear yet can't look away from.
One might wonder, then, why a character as ostensibly malevolent as Vader strikes a chord with viewers across generations.
Could it be that beneath his fearsome exterior, there's an appeal to his unwavering conviction, a magnetic pull to his singular focus?
After all, he doesn't kill for sport; every action has its purpose.
Vader's resurgence in 'Rogue One' reminded audiences of the chillingly ruthless enforcer we first encountered.
His hallways rampage in the film served as a sobering reminder of the latent violence he's capable of, free of any family or political constraints.
Yet, the complexity of Darth Vader lies in this very paradox.
While his actions may be chilling, his motivations are rooted in a deeply personal struggle that's both relatable and tragic.
This, coupled with his no-nonsense authority and simmering rage, makes him an intriguing study in villainy.
In pop culture, Darth Vader's unique appeal lies in this intricate blend of power, mystery, and suppressed vulnerability.
He represents a kind of 'silent force' that commands respect.
This isn't about endorsing his violent tendencies but about acknowledging the allure of his unflinching determination and absolute power.
There's something inherently compelling about his stoicism, making him the ultimate antihero in a galaxy far, far away.
Funko Soda! Star Wars – Darth Vader 3 Liter Funko Soda Vinyl Figure with Translucent Chase – SDCC 2023 and Funko Shop Shared Exclusive
Available at:
Starting now, you can receive 10% off in-stock items with my special link at Entertainment Earth!
 Enjoy!
As an Amazon Associate I earn from qualifying purchases
Want more stuff like this?
Get the best viral stories straight into your inbox!
Don't worry, we don't spam