SDCC 2023: Star Wars – Wicket with Slingshot Funko Pop!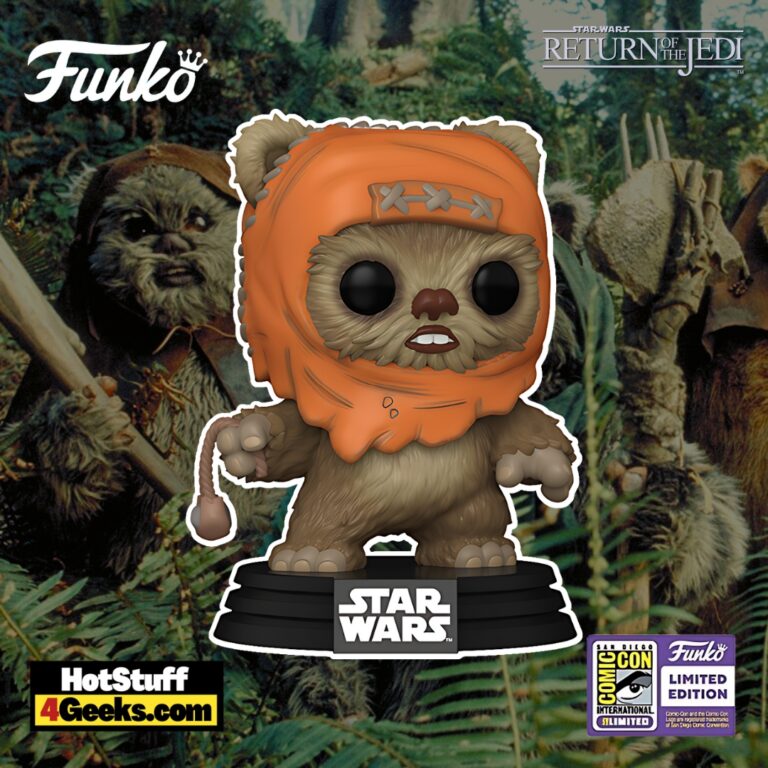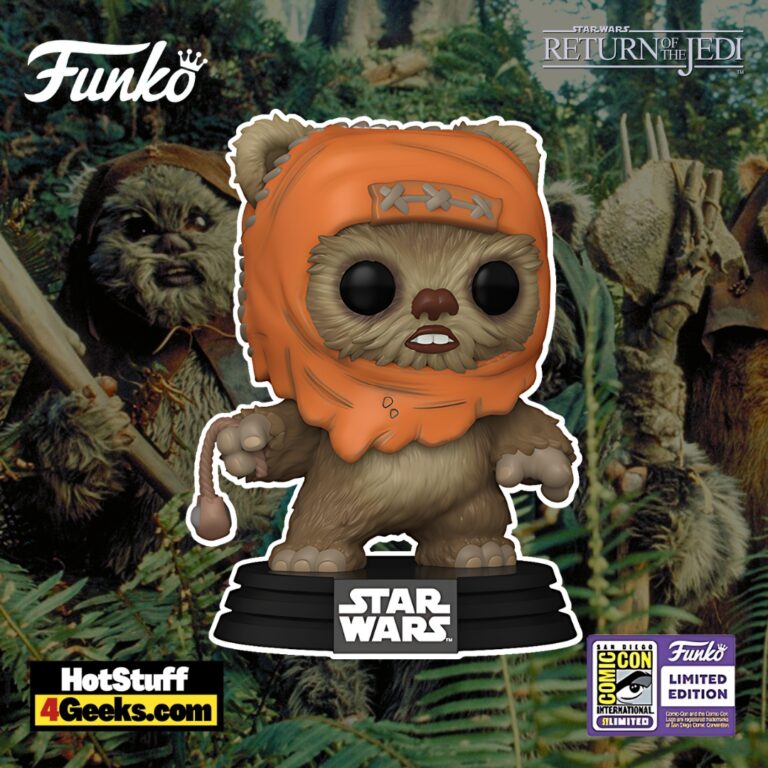 The new Funko POP! Star Wars: Return of the Jedi 40th Anniversary – Wicket with Slingshot Funko Pop! Vinyl Figure – SDCC 2023 and FYE Shared Exclusive will be available online starting at 6 AM PT on Thursday, July 20, at the links below (click to jump!)
Join the Rebellion: 2023 SDCC Exclusive Wicket with Slingshot Funko Pop!
There's something unique about the enduring charm of Star Wars, particularly when it comes to its multitude of diverse characters.
One such character, who has been captivating audiences for forty years, is Wicket W. Warrick.
To honor the 40th anniversary of Return of the Jedi, a fresh interpretation of this beloved Ewok comes to us in the form of an exclusive Funko Pop! Vinyl figure, showcasing Wicket armed with his iconic slingshot.
In this figure, Funko has encapsulated the courage, determination, and raw, furry appeal of Wicket in perfect detail.
The slingshot, a nod to the resourcefulness of the Ewoks in the face of highly technologically advanced adversaries, is a testament to the character's significance.
It symbolizes not only Wicket's bravery but also the resilience of the Ewoks, reminding us of their monumental role on the forest moon of Endor.
Enthusiasts will appreciate the care taken to render Wicket's likeness.
It is a snapshot of a pivotal character at a defining moment, creating a tangible connection to the Star Wars universe we've grown to love.
In bringing home this ferociously adorable Wicket Funko Pop! Vinyl, you're not just adding another piece to your Star Wars collection.
You're acknowledging the heart of the Rebellion, the spirit that stood against the odds, the essence of Wicket, the unsung hero of Endor.
A must-have for every fan, it's more than an addition to your display case; it's a piece of the Star Wars saga's legacy.
The SDCC 2023 and FYE Shared Exclusive Wicket with Slingshot Funko Pop! can be found at the links below as soon as the online sale begins (click to jump!)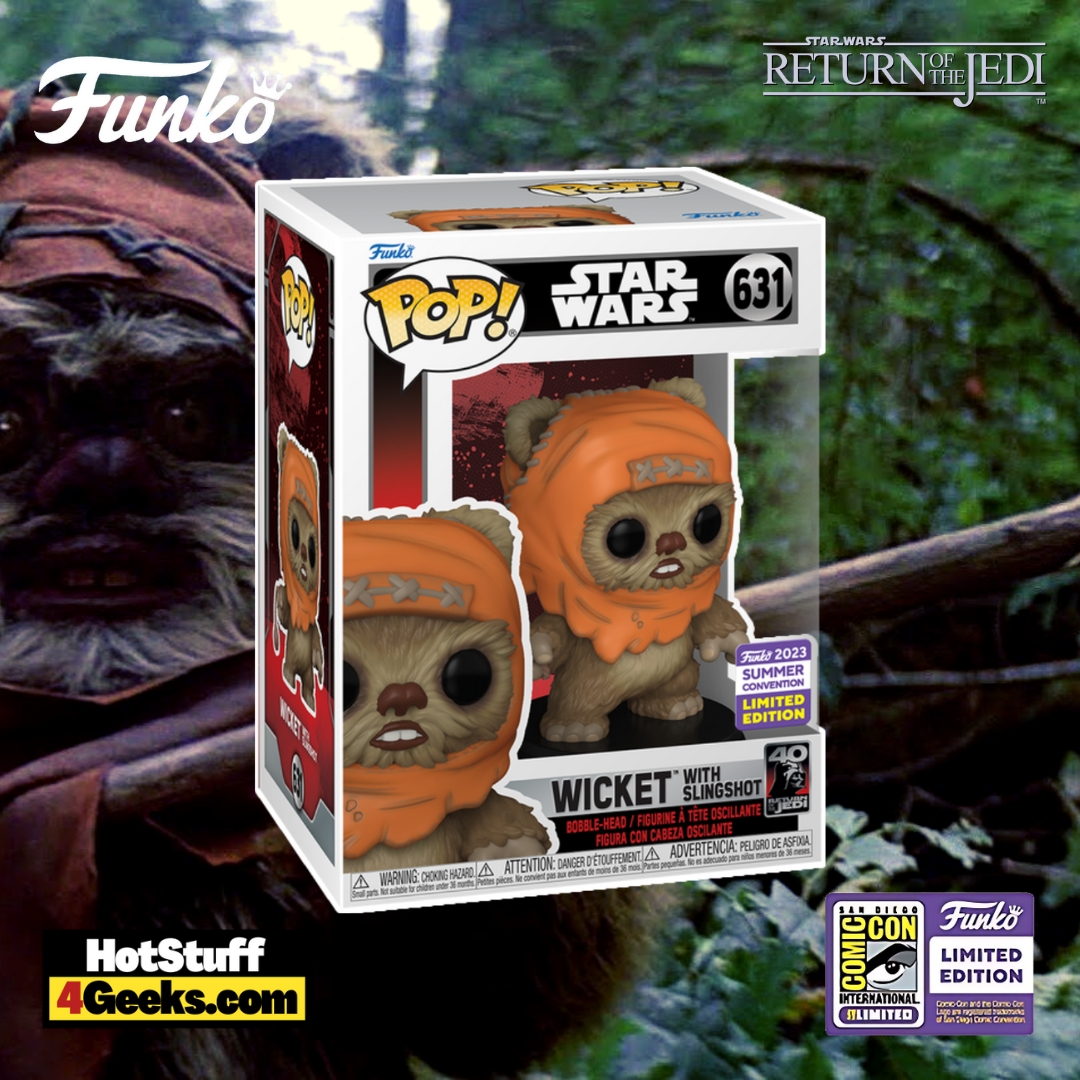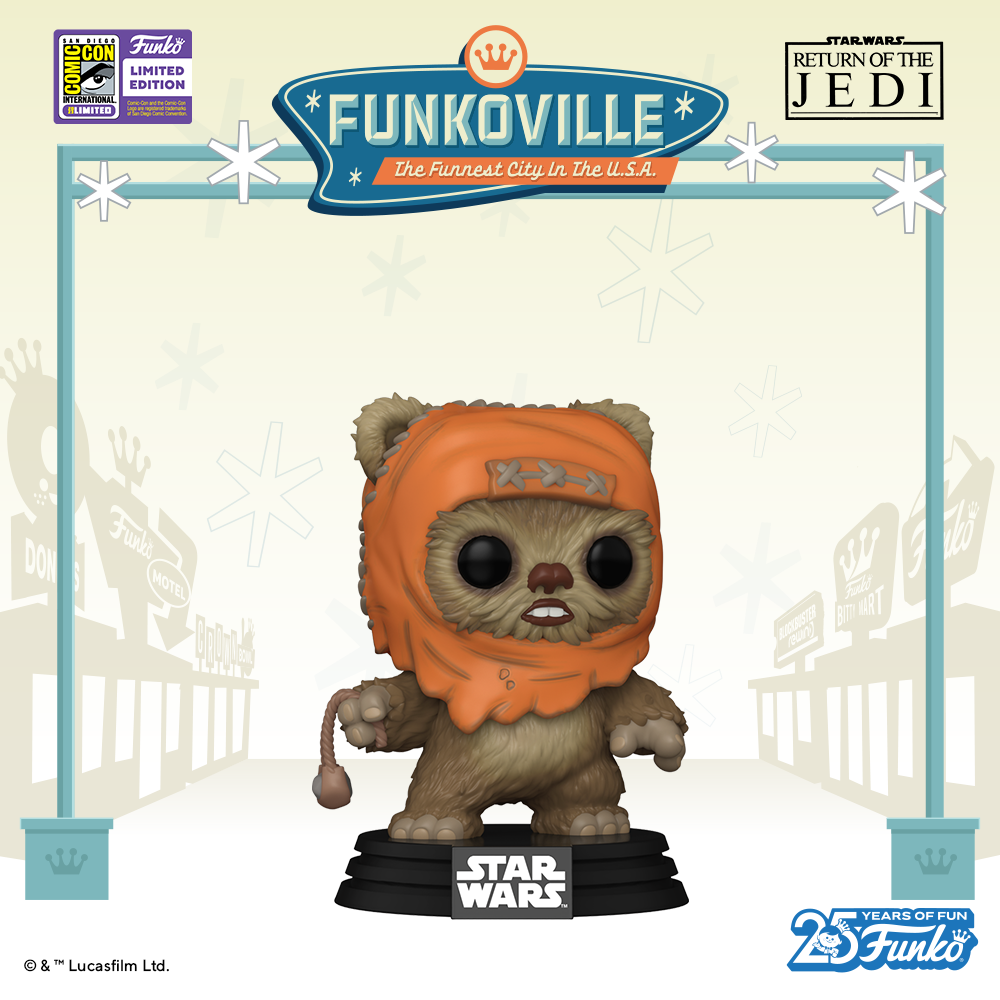 Wicket W. Warrick: The Unsung Hero of Endor
In the immersive universe of Star Wars, a universe brimming with memorable characters and epic stories, one character who's endeared himself to fans is a pint-sized powerhouse named Wicket W. Warrick.
First gracing our screens in "Return of the Jedi," Wicket is an Ewok who bravely stands with the Rebellion, proving pivotal to their victory on the forest moon of Endor.
Now, you may think of Ewoks as adorable teddy-bear-like beings, and that's not wrong.
Yet, it's worth noting that there's more to these creatures, especially Wicket than meets the eye.
He is more than just a cuddly woodland critter; he's a fearless warrior, a resourceful scout, and a faithful ally to the Rebel cause.
When the Empire decided to use Endor as the site for its massive shield generator, the lives of the Ewoks, including our friend Wicket, were forever changed.
As a young scout, Wicket was thrust into the heart of the intergalactic conflict.
Despite the Empire's advanced technology and overwhelming firepower, he overcame the challenge with innovative strategies to outmaneuver their war machines.
His plans were implemented when fate introduced him to none other than Princess Leia Organa.
Their chance encounter following Leia's speeder bike crash sparked an alliance that extended to the Ewoks and the Rebel forces.
Wicket was instrumental in convincing his tribe to join the Rebellion, weaving their strength and cunning into the Rebel's offensive against the Empire.
While the Ewoks may not have had blasters or lightsabers, they had something equally, if not more, potent: an intimate understanding of their forest home, which they used to their advantage.
When the time came to fight, Wicket wasn't lurking in the shadows; he was front and center, matching wits with the stormtroopers.
Their victory freed the forest moon, marked the demise of the Emperor, and was a critical turning point for the Rebellion.
All of this was possible thanks, in no small part, to the brave Ewok named Wicket W. Warrick.
Wicket's story didn't end with "Return of the Jedi."
He made brief cameos in subsequent Star Wars films and expanded universe content, further entrenching his place in the Star Wars lore.
As viewers, we couldn't help but root for Wicket, an unlikely hero who proved that courage and determination aren't tied to size or strength.
In a galaxy filled with Jedi Knights, Sith Lords, rogue smugglers, and interstellar politics, Wicket W. Warrick embodies the heart and spirit of the Rebellion.
He shows us that anyone, no matter how small or seemingly insignificant, can make a world of difference.
This lasting message makes Wicket not just an endearing Ewok but a hero in his own right.
Funko POP! Star Wars: Return of the Jedi 40th Anniversary – Wicket with Slingshot Funko Pop! Vinyl Figure – SDCC 2023 and FYE Shared Exclusive
Available at:
Starting now, you can receive 10% off in-stock items with my special link at Entertainment Earth!
 Enjoy!
As an Amazon Associate I earn from qualifying purchases
Want more stuff like this?
Get the best viral stories straight into your inbox!
Don't worry, we don't spam