SDCC 2023: Star Wars – Young Leia with Lola Funko Pop!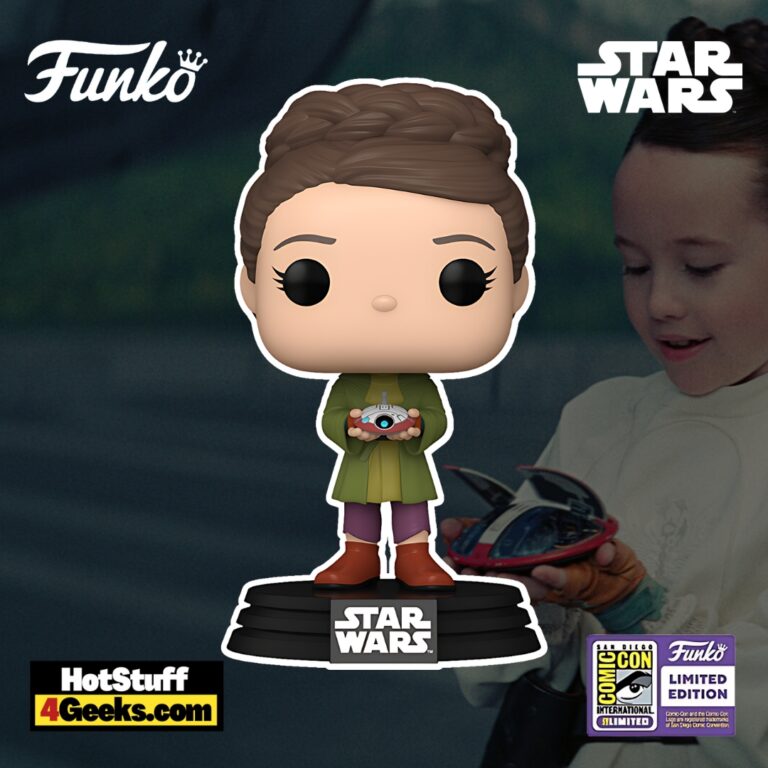 The new Funko POP! Star Wars: Young Leia with Lola Funko Pop! Vinyl Figure – SDCC 2023 and Entertainment Earth Shared Exclusive will be available online starting at 6 AM PT on Thursday, July 20, at the links below (click to jump!)
A Treasured Alliance: The Young Leia with Lola Funko Pop! 2023 SDCC Exclusive
If you're a fan of Star Wars, particularly of the captivating Obi-Wan Kenobi series, you'd be thrilled to know about the SDCC 2023 exclusive Funko Pop! release.
Yes, you guessed it! It's the Young Leia with Lola!
This adorable duo serves as a reminder of a complex yet heartwarming storyline in a universe far, far away.
The young Princess Leia Organa, the embodiment of bravery and wisdom beyond her years, stands ready to face the Empire.
Dressed in her green attire, she's accompanied by her trusted droid, Lola. Lola, herself a symbol of loyalty and resourcefulness, compliments Leia's courage with her steadfastness.
This Funko Pop! is a testament to their enthralling journey in the Obi-Wan Kenobi series.
With Inquisitors on the prowl, this Leia and Lola duo is looking for a safe haven.
Could your Obi-Wan Kenobi collection be their new home?
Remember, this isn't just another addition to your collection; it's a piece of Star Wars history.
The SDCC 2023 and Entertainment Earth Shared Exclusive Young Leia with Lola Funko Pop! can be found at the links below as soon as the online sale begins (click to jump!)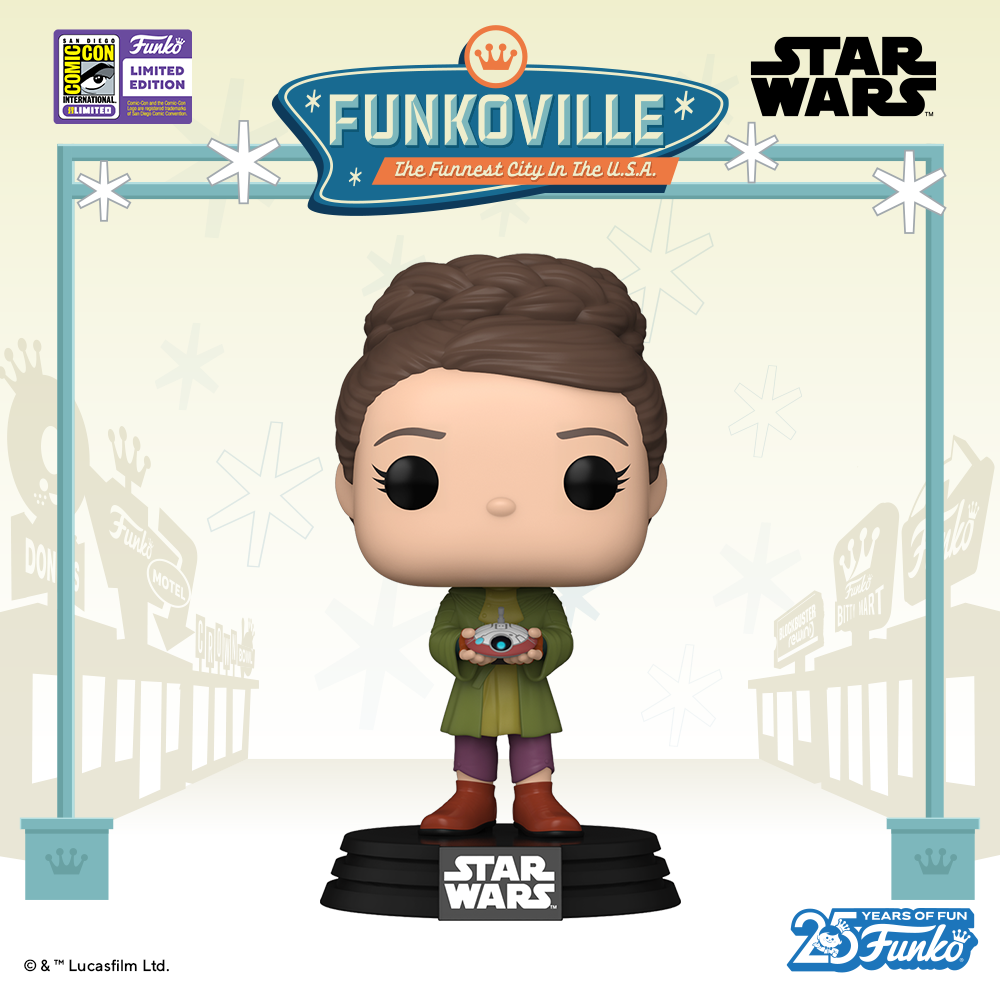 Galactic Partners: The Emergence of Leia and Lola in the Obi-Wan Kenobi Series
In the ever-expanding Star Wars universe, the Obi-Wan Kenobi TV series introduces an intriguing narrative twist with the inclusion of Princess Leia and her trusty droid, Lola.
The anticipation surrounding their appearances was tinged with a thrilling blend of nostalgia and curiosity, which the series has not disappointed in satisfying.
Princess Leia, a character synonymous with strength, resilience, and leadership, continues to captivate audiences with her expanded role in the Obi-Wan Kenobi series.
Seeing her as a young woman, delicately balancing the complexities of her royal responsibilities and the dark secrets of her family lineage, adds a refreshing dimension to her character arc.
This nuanced representation of Leia, without negating the iconic traits of her original character, is a masterstroke of storytelling.
It's a fantastic tribute to the legacy of the late Carrie Fisher while providing an opportunity to redefine Leia's journey through the eyes of a new generation.
Alongside Leia, the series introduces Lola, a droid that quickly became a fan favorite.
In a galaxy where droids are often the unsung heroes, Lola's design and character stand out.
Built with an eccentric sense of style that exudes a retro-futuristic aesthetic, Lola captures a sense of charm that is often lost in the cold, metallic bodies of traditional droids.
Even her lively name, Lola, deviates from the typical alphanumeric droid nomenclature, offering an engaging and human-like touch to her character.
The chemistry between Leia and Lola is utterly compelling.
Their interactions often carry a sense of companionship rather than the traditional master-servant dynamic that defines most human-droid relationships.
Lola is not merely a tool but an ally, a confidante, and a friend to Leia.
This profound bond adds depth to their characters and creates compelling drama that propels the narrative forward.
Moreover, Lola's role extends beyond being a companion to Leia.
Her unique attributes contribute significantly to the plot, often placing her at the center of many crucial moments in the series.
Lola's skills as a versatile droid are constantly on display, from her advanced piloting abilities to her knack for getting the team out of tight spots.
The series skillfully navigates Lola's role, carefully balancing her robotic abilities with a touching undercurrent of human-like emotion.
In conclusion, the Obi-Wan Kenobi series does a remarkable job of integrating Princess Leia and Lola into its narrative.
Their dynamic relationship, coupled with their individual developments, gives fans, both new and old, a fresh perspective on the Star Wars universe.
The inclusion of these characters is not just a testament to the creative direction of the series but a reminder of why we fell in love with the galaxy far, far away.
Through Princess Leia and Lola, we're not just watching a story unfold; we're part of an ongoing legacy.
Funko POP! Star Wars: Young Leia with Lola Funko Pop! Vinyl Figure – SDCC 2023 and Entertainment Earth Shared Exclusive
Available at:
Funko Shop
Entertainment Earth
eBay
Starting now, you can receive 10% off in-stock items with my special link at Entertainment Earth!
 Enjoy!
As an Amazon Associate I earn from qualifying purchases
Want more stuff like this?
Get the best viral stories straight into your inbox!
Don't worry, we don't spam