SDCC 2023: The Fairly Odd Parents 3-Pack Funko Pops! Cosmo, Wanda, and Timmy Turner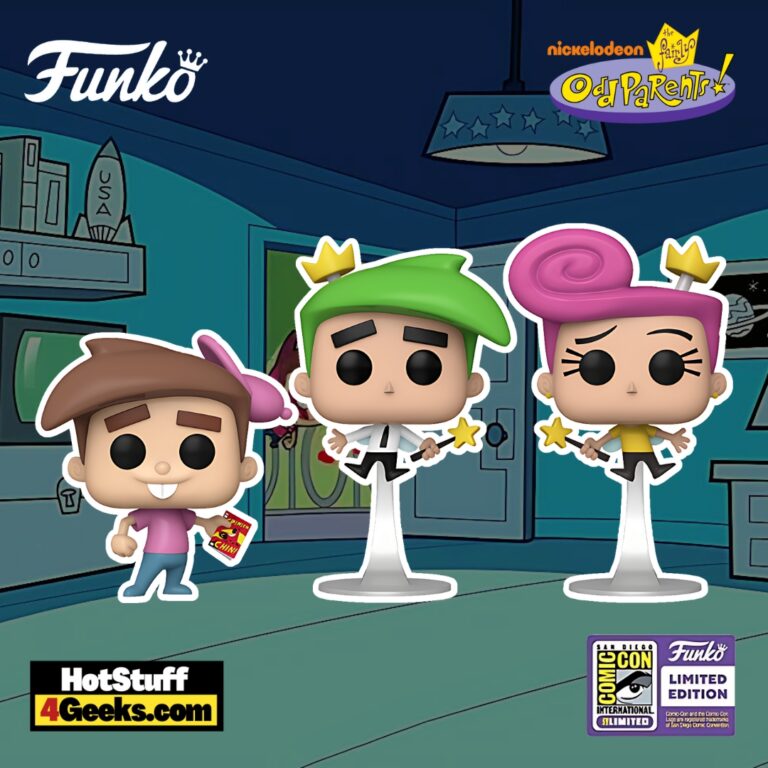 The new Funko POP! Animation: The Fairly Odd Parents – Cosmo, Wanda, and Timmy Turner Funko 3-Pack Pop! Vinyl Figures – SDCC 2023 and Meijer Shared Exclusive will be available online starting at 6 AM PT on Thursday, July 20, at the links below (click to jump!)
Magical Trio: Fairly OddParents 2023 SDCC Exclusive Funko Pop! Set
Imagine holding the delightful chaos of The Fairly OddParents in the palm of your hand. Meet the exclusive Funko Pop! trio from the 2023 San Diego Comic-Con: Timmy Turner and his dynamic fairy godparents, Cosmo and Wanda.
Crafted with attention to the smallest details, these figures encapsulate the quirky charm this animated trio brings to the screen.
First, there's Timmy – a seemingly ordinary boy, yet beneath that everyday exterior lies a heart filled with wishes that catapult him into extraordinary adventures.
His Funko Pop! figure captures the essence of his ten-year-old wonder, making it a must-have for any dedicated fan.
Then, we have the cosmically comedic Cosmo. His figure is as whimsical as his character, embodying the zany charm that makes him a fan favorite.
Beside him stands the vigilant Wanda, her Pop! figure echoing her constant vigilance and wise counsel in the face of chaos.
Together, they are more than just vinyl figures.
They're a tribute to a show that taught us to find magic in the mundane, to take risks, and to face the unexpected consequences of our wishes.
These figures aren't just a part of your collection – they're a part of your nostalgia-filled journey through childhood adventures.
Embrace the magic and step back into the enchanting world of The Fairly OddParents with this exclusive Funko Pop! trio.
The SDCC 2023 and Meijer Shared Exclusive Cosmo, Wanda, and Timmy Turner Funko Pops! can be found at the links below as soon as the online sale begins (click to jump!)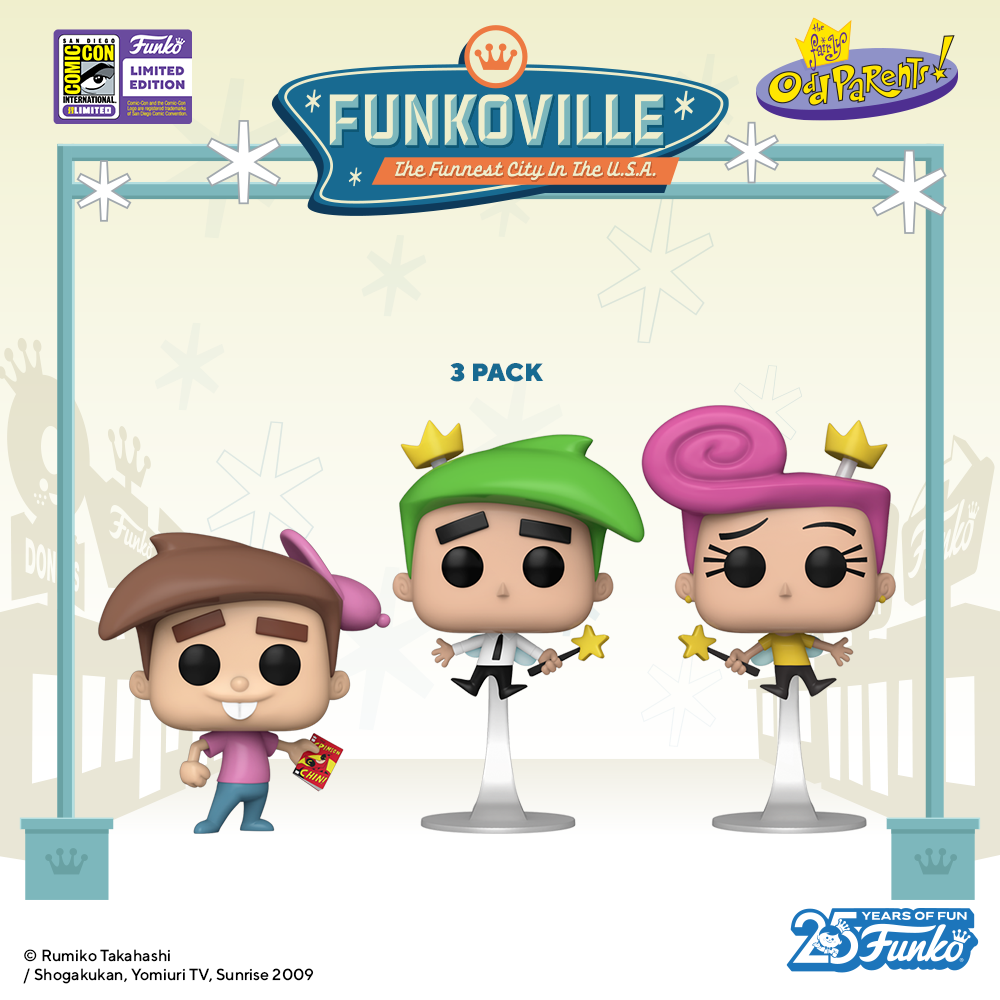 The Magic of Childhood: A Dive into the World of The Fairly OddParents
Hello there, magical beings and curious minds alike!
We're going to take a whimsical journey into the animated realm of The Fairly OddParents, a world where wishes come true in the most unexpected ways and life's trials are tackled with a dash of fairy dust.
The Fairly OddParents spins an enchanting tale of ten-year-old Timmy Turner, a seemingly ordinary boy living an extraordinary life.
Neglected by his parents and tormented by his wicked babysitter, Vicky, Timmy's existence is far from a bed of roses.
But then, as in all great fairy tales, magic steps in to turn the tide.
Suddenly granted two fairy godparents, the wacky Cosmo, and the level-headed Wanda, Timmy embarks on a rollercoaster ride of whimsical adventures.
The duo's enchanting powers aim to improve Timmy's somewhat somber existence by granting his every wish.
Yet, as every show fan knows, these wishes often have unpredictable outcomes and spin out into humorous calamities, teaching Timmy and, indirectly, us viewers valuable lessons along the way.
What's heartwarming about this show is the deep love that Timmy's godparents and parents hold for him.
Despite their lack of awareness about Vicky's cruel intentions or their occasional negligence, his parents, when it counts, step up to the plate.
Who can forget the touching episode where they surrendered their superhero powers to save Timmy? Love, indeed, knows no bounds.
Wanda, Timmy's fairy godmother, plays a crucial role in this narrative too.
With Cosmo's frequent missteps, Wanda's firm grip on reality and her nagging yet necessary advice often save the day.
The godparents provide not just wishes but emotional support that Timmy lacks, underscoring the importance of having someone to lean on in life.
Of course, it wouldn't be an enchanting childhood without friends.
And Timmy's got the best of them – A.J., the super-genius, and Chester McBadbat, the loyal confidante.
Their camaraderie is a beacon of true friendship, unfazed by power plays or popularity contests.
The show, in all its magical chaos, always assures that Timmy's lessons come without long-term harm.
His story teaches us that it's okay to make mistakes as long as we learn from them.
And then there's the allure of magic itself!
How delightful would it be to have a magic wand at your disposal, capable of conjuring up anything your heart desires?
Well, as long as it adheres to 'Da Rules,' of course.
Stepping into his future, we see a more muscular, well-rounded Timmy, skilled in combat and leading a happy family life.
In his everyday adventures, from meeting his favorite celebrities to living out his action-packed dreams, Timmy's life is anything but dull.
To sum it up, The Fairly OddParents serves us a generous dose of childhood wonder and adventure, with the underlying message that every cloud has a silver lining.
After all, what could be more magical than overcoming life's challenges with a touch of fairy dust and a good deal of bravery?
Funko POP! Animation: The Fairly Odd Parents – Cosmo, Wanda, and Timmy Turner Funko 3-Pack Pop! Vinyl Figures – SDCC 2023 and Meijer Shared Exclusive
Available at:
Starting now, you can receive 10% off in-stock items with my special link at Entertainment Earth!
 Enjoy!
As an Amazon Associate I earn from qualifying purchases
Want more stuff like this?
Get the best viral stories straight into your inbox!
Don't worry, we don't spam