SDCC 2023: The Powerpuff Girls Diamond 3-Pack Funko Pops!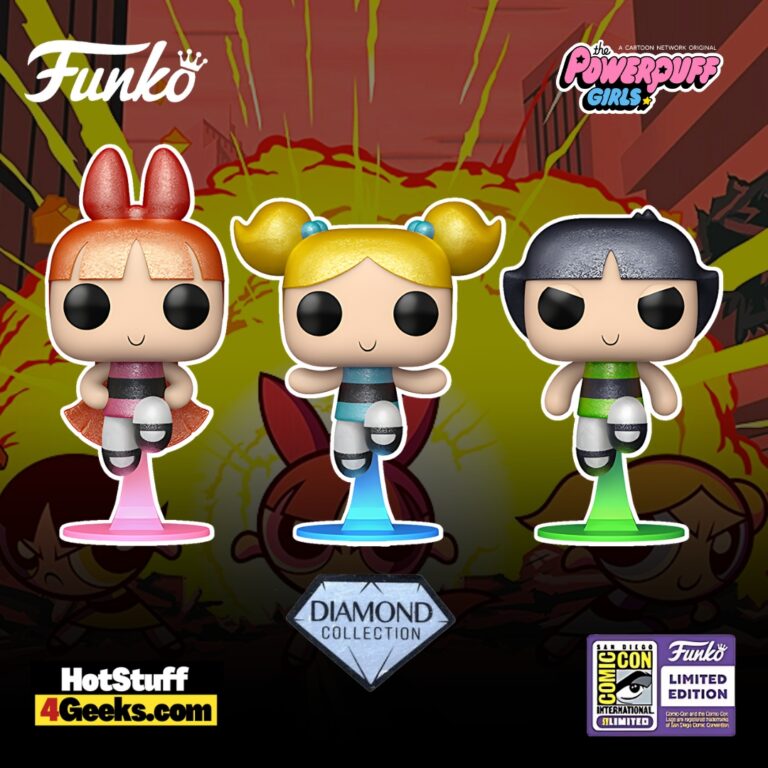 The new Funko POP! The Powerpuff Girls: Blossom, Bubble, and Buttercup Diamond Glitter 3-Pack Funko Pop! Vinyl Figures – SDCC 2023 and Funko Shop Shared Exclusive will be available online starting at 6 AM PT on Thursday, July 20, at the links below (click to jump!)
Diamonds are Forever: The Powerpuff Girls' Glittering 2023 SDCC Funko POP! Release
Set your sights on a glittering spectacle! SDCC 2023 has truly outdone itself with the release of the Diamond Glitter 3-Pack Funko Pop! Vinyl Figures of Blossom, Bubbles, and Buttercup, our beloved Powerpuff Girls.
Blossom's signature fiery red hair exudes a glow of leadership and tactical acumen that's hard to miss. She embodies a cool-headed strategy amidst the chaos, a trait wonderfully captured in her sparkling figurine.
The angelic Bubbles, radiating innocence and compassion, stands out with her signature bright blue outfit and pigtails. The glittering representation captures her pure heart and infectious optimism capable of melting even the most hardened villains.
Lastly, Buttercup's figure radiates toughness with her iconic green dress and rebellious short black hair. She sparkles with tenacity, emphasizing her never-back-down spirit and embodying the grit behind her endearing grumpiness.
This trio, in their glittering glory, reinforces their enduring symbolism. Beyond collectibles, they're enduring testaments to feminism, presented with an irresistible charm that's quintessentially Powerpuff!
The SDCC 2023 and Funko Shop Shared Exclusive Diamond Glitter Blossom, Bubble, and Buttercup 3-Pack Funko Pops! can be found at the links below as soon as the online sale begins (click to jump!)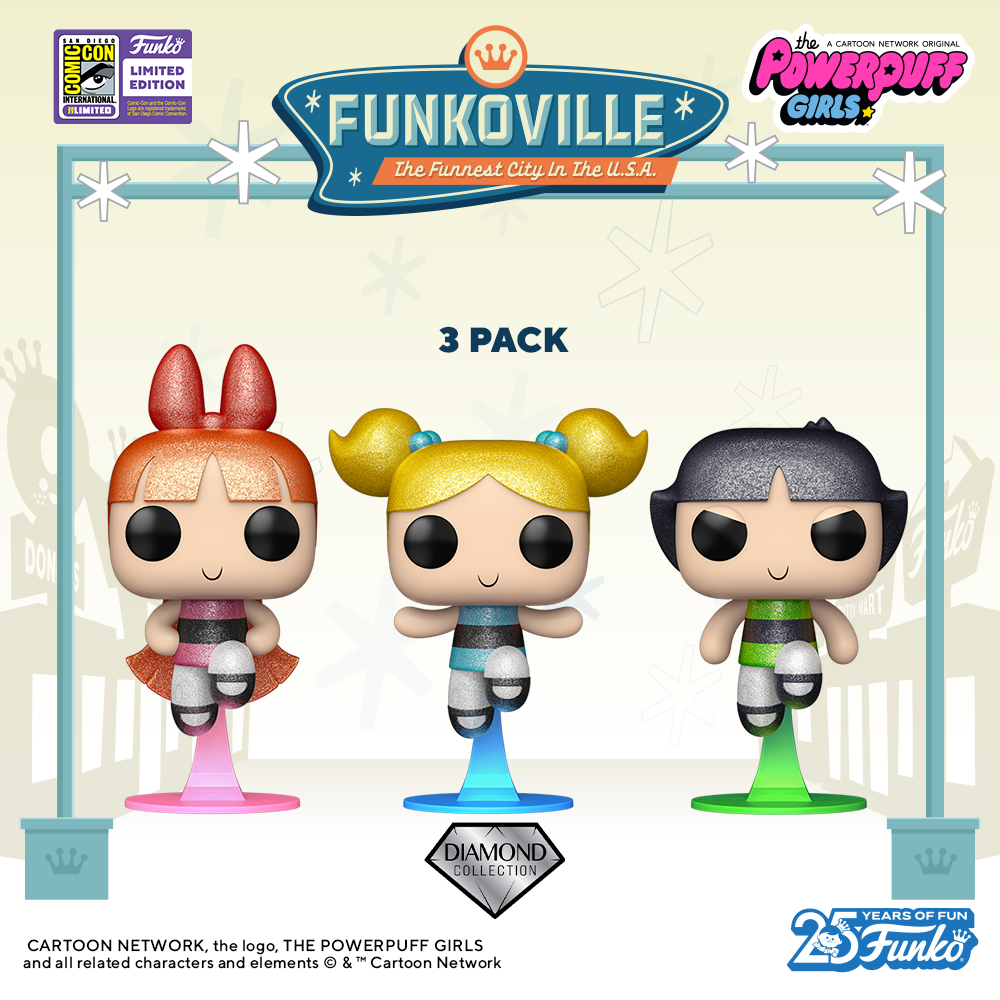 Blossom, Bubbles, and Buttercup: Unmasking The Powerpuff Girls
As a burst of kaleidoscopic imagery graced our television screens in the late 1990s, we were introduced to a riveting cartoon narrative that became a sensation overnight – The Powerpuff Girls.
You could almost hear the collective gasps of children worldwide as we first laid our eyes on the trio of pint-sized superheroes, defying conventions and exuding courage in abundance.
Created by animator Craig McCracken, The Powerpuff Girls aren't your ordinary heroes.
They're unique, standing tall with their blend of sugar, spice, everything nice, and a secret ingredient – Chemical X.
Blossom, Bubbles, and Buttercup, with their distinct personalities and collective power, have charmed viewers across the globe.
It wasn't just about their superhero antics but how they navigated their everyday life, which connected with the audience and made them universally loved.
Blossom, the self-proclaimed leader, symbolizes order and reason.
With her tactical brilliance, she leads her sisters to combat the villains of Townsville. Bubbles, the gentle spirit, is the embodiment of joy and innocence.
But when defending her city, her soft exterior belies a fierce determination.
And then, Buttercup, the most formidable fighter who isn't afraid to throw the first punch, is a true embodiment of strength.
What sets The Powerpuff Girls apart from traditional superhero narratives is the radical interpretation of femininity. Here we have female characters, not as sidekicks or damsels in distress, but as superheroes.
They are not reduced to mere tropes; instead, they are the heart of the story, with complex personalities and individual identities.
They embrace their femininity, proving that being 'girly' and 'powerful' aren't mutually exclusive terms.
But it's not all about saving the day.
The Powerpuff Girls bring to life the struggles and triumphs of girlhood, effortlessly intertwining the extraordinary with the ordinary.
One moment they're thwarting the villainous Mojo Jojo's plans, and the next, they're struggling with homework or fighting over who gets to play with Octi, Bubbles' stuffed octopus.
The series portrays strong and independent female characters without ever losing their sense of fun.
The animation style, rich with psychedelic colors and pop-art aesthetics, adds to the show's charm.
The Powerpuff Girls also flaunts a fantastic lineup of villains.
From the brainy Mojo Jojo to the creepy Him, each antagonist presents a unique challenge, keeping the narrative exciting.
Two decades later, The Powerpuff Girls remain relevant.
They continue to inspire generations of girls, showing them that they, too, can be the heroes of their stories.
The series has been a beacon of empowerment and a celebration of femininity in all its colors, proving that girls can save the world before bedtime.
As we journey down nostalgia lane, we are reminded that the Powerpuff Girls are not just cartoon characters – they're a powerful symbol of female empowerment and childhood memories.
In all its technicolor glory, the story of these super-sisters still holds a special place in our hearts.
Funko POP! The Powerpuff Girls: Blossom, Bubble, and Buttercup Diamond Glitter 3-Pack Funko Pop! Vinyl Figures – SDCC 2023 and Funko Shop Shared Exclusive
Available at:
Starting now, you can receive 10% off in-stock items with my special link at Entertainment Earth!
 Enjoy!
As an Amazon Associate I earn from qualifying purchases
Want more stuff like this?
Get the best viral stories straight into your inbox!
Don't worry, we don't spam