SDCC 2023: Thor Love and Thunder – Thor in Toga Funko Pop!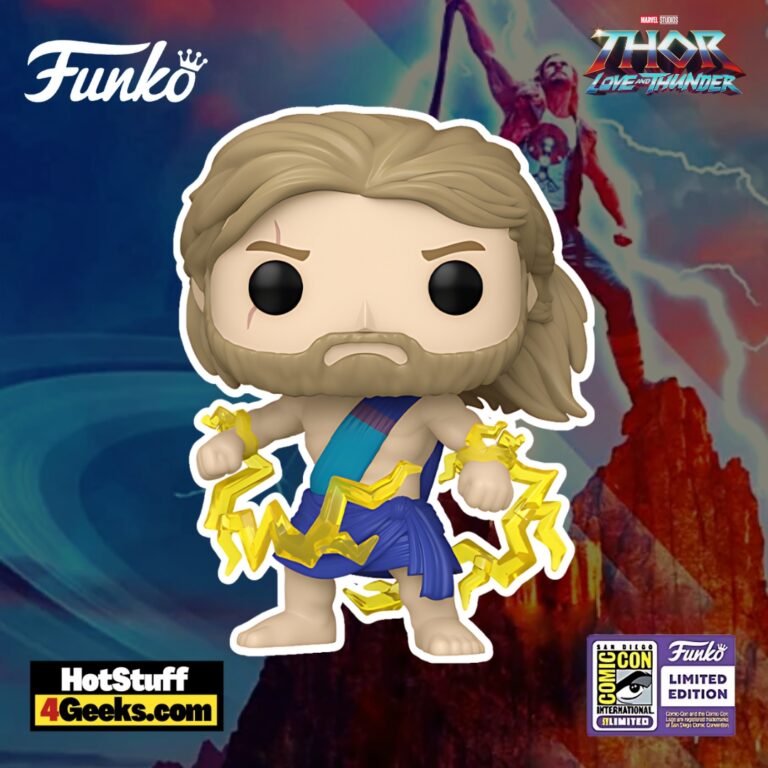 The new Funko POP! Marvel Studios' Thor: Love and Thunder – Thor in Toga (with Lightning Bolts) Funko Pop! Vinyl Figure – SDCC 2023 and Funko Shop Shared Exclusive will be available online starting at 6 AM PT on Thursday, July 20, at the links below (click to jump!)
Harnessing the Thunder: A Glimpse of Thor in Toga Funko Pop! 2023 SDCC Exclusive
Straight out of Marvel Studios' blockbuster Thor: Love and Thunder, this exclusive San Diego Comic-Con 2023 figure presents our favorite Asgardian god in a stunningly detailed Toga, complete with dazzling lightning bolts.
Here we see Thor in an entirely new light, a testament to his enduring evolution throughout the MCU.
This vinyl figure showcases him in his magnificent toga, a nod to his celestial heritage and a far cry from his usual battle armor.
The striking lightning bolts add a sense of dynamic action, highlighting his elemental powers as the God of Thunder.
This figure beautifully captures Thor's journey from a warrior king to a loving father while maintaining his divine essence.
It's the perfect tribute to Thor's complex and evolving character, making it a must-have for all Marvel enthusiasts.
Not just an ornament for your shelf, this Funko Pop! is a small piece of Thor's transformative narrative from Love and Thunder.
The SDCC 2023 and Funko Shop Shared Exclusive Thor in Toga with Lightning Bolts Funko Pop! can be found at the links below as soon as the online sale begins (click to jump!)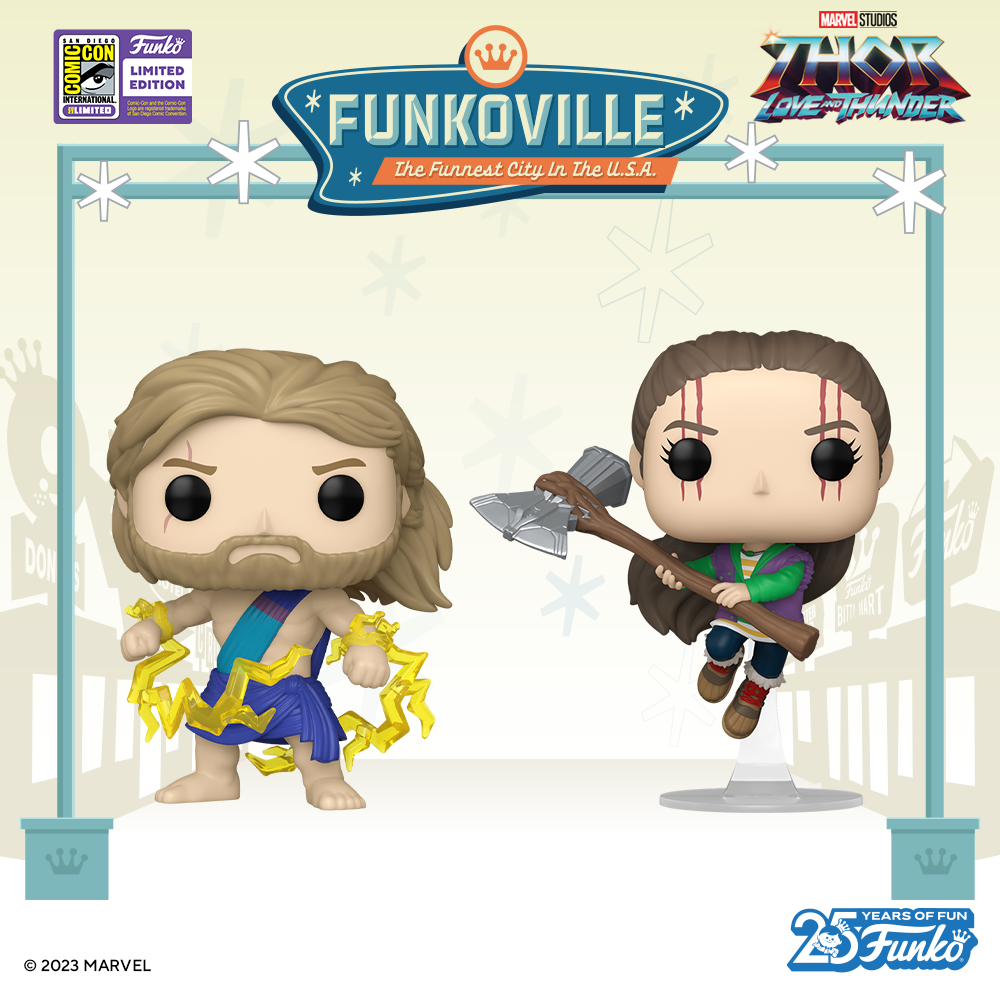 The Asgardian Odyssey: Thor's Touching Transformation in Love and Thunder
Regarding the Marvel Cinematic Universe (MCU), few heroes have left an impression as powerful as Thor, the God of Thunder.
Embarking on an odyssey through loss, redemption, and personal growth, our beloved Asgardian has emerged anew in the recent installment, Thor: Love and Thunder.
The journey he undergoes in this movie not only stirs the audience's emotions but also takes Thor's character arc to previously unexplored heights.
Thor, portrayed magnificently by Chris Hemsworth since 2011, has always been defined by his love for those around him and the pain he experiences when that love is lost.
The God of Thunder's adventures throughout the MCU laid the groundwork for a monumental change that could not have been better displayed than in Love and Thunder.
From being an arrogant prince ready to ascend the throne of Asgard, Thor has matured into a compassionate being who values love and life above all.
This film adds a new layer of complexity to Thor's character.
A God, an Avenger, and a king, Thor has now assumed the mantle of a father. It's a role he never anticipated but accepted with open arms.
He becomes the guardian to Love, the resurrected daughter of his nemesis Gorr, the God Butcher.
This unexpected twist takes Thor's quest for love and purpose to a new level.
Having lost his family, friends, and even his love, Jane Foster, to the cruel hands of fate, Thor now finds a renewed purpose and love in parenting Love.
This divine responsibility, his new battle to fight, offers him a chance to protect and nurture, unlike the violent confrontations he's been part of so far.
In essence, Love and Thunder celebrate the transformation of Thor from a warrior king to a loving father.
His journey from the majestic halls of Asgard to the intimate setting of a family paints a heartfelt narrative of change and growth.
Despite the heartache and loss, Thor finds a way to embrace love once again.
Moreover, Thor's adoption of Love is a poetic ending to his relentless struggle for love, which has defined him all these years.
The superhero, known for his formidable powers, steps into the role of a single dad, and in this shift, the film beautifully encapsulates the essence of his journey.
Essentially, the Thor we once knew – the brawny God of Thunder, seems to have found a profound purpose beyond the battlefield.
As Love and Thunder conclude, Thor's character enters a new era.
An era where he becomes the protector of a child, the bearer of new hope.
This film beautifully ties the knot on the God of Thunder's narrative, creating an emotionally satisfying close and opening the door to new possibilities.
In the grand panorama of the MCU, Thor's touching transformation in Love and Thunder is nothing short of a triumph – a testament to the limitless potential of love and the power of change.
Funko POP! Marvel Studios' Thor: Love and Thunder – Thor in Toga (with Lightning Bolts) Funko Pop! Vinyl Figure – SDCC 2023 and Funko Shop Shared Exclusive
Available at:
Starting now, you can receive 10% off in-stock items with my special link at Entertainment Earth!
 Enjoy!
As an Amazon Associate I earn from qualifying purchases
Want more stuff like this?
Get the best viral stories straight into your inbox!
Don't worry, we don't spam