SDCC 2023: Tony The Tiger Surfing (Common and Flocked) Funko Pop!
by

PopCorn Princess

July 15, 2023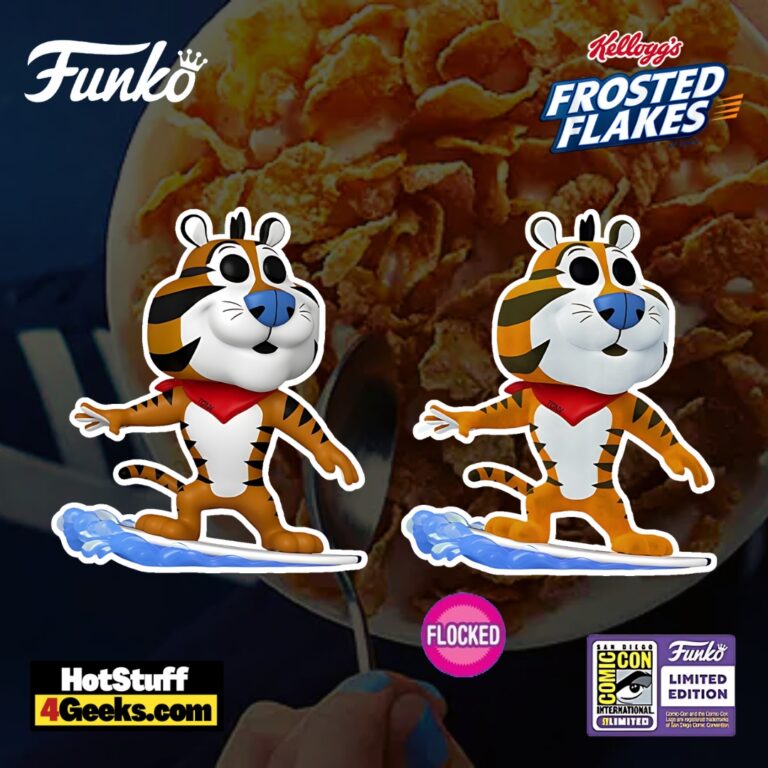 The new Funko POP! Ad Icons: Kellogg's Frosted Flakes – Tony The Tiger Surfing (Common and Flocked Version) Funko Pop! Vinyl Figure – SDCC 2023 and Funko Shop Shared Exclusives will be available online starting at 6 AM PT on Thursday, July 20, at the links below (click to jump!)
SDCC 2023 Highlights: Tony the Tiger's Surfing Funko Pop Debut
Kellogg's charismatic mascot, Tony the Tiger, has once again roared his way into the hearts of fans, this time as an exciting new collectible.
In his latest iteration, the Frosted Flakes icon swaps his sports jersey for a surfboard in the Funko POP! Ad Icons: Kellogg's Frosted Flakes – Tony The Tiger Surfing vinyl figure.
This charming character rendition is an exclusive 2023 San Diego Comic-Con reveal.
This captivating Funko Pop! showcases Tony in a dynamic surfing pose, effortlessly balancing atop frothy waves.
The standard version presents Tony in his full vibrant color, while the flocked variant gives a unique tactile feel, mimicking Tony's tiger fur.
Both figures, true to Funko's signature style, encapsulate Tony's energy and zest for life.
For fans of Tony the Tiger and Funko collectors alike, these figures are a delightful way to celebrate the ever-inspiring and grrrrreat Tony.
It's not every day that you see a tiger hanging ten, especially one as iconic as Tony.
Catch this wave, and let Tony bring a bit of surf, sun, and crunch to your collection.
The Funko Shop Shared Exclusives Tony The Tiger Surfing (Common and Flocked Version) Funko Pops! can be found at the links below as soon as the online sale begins (click to jump!)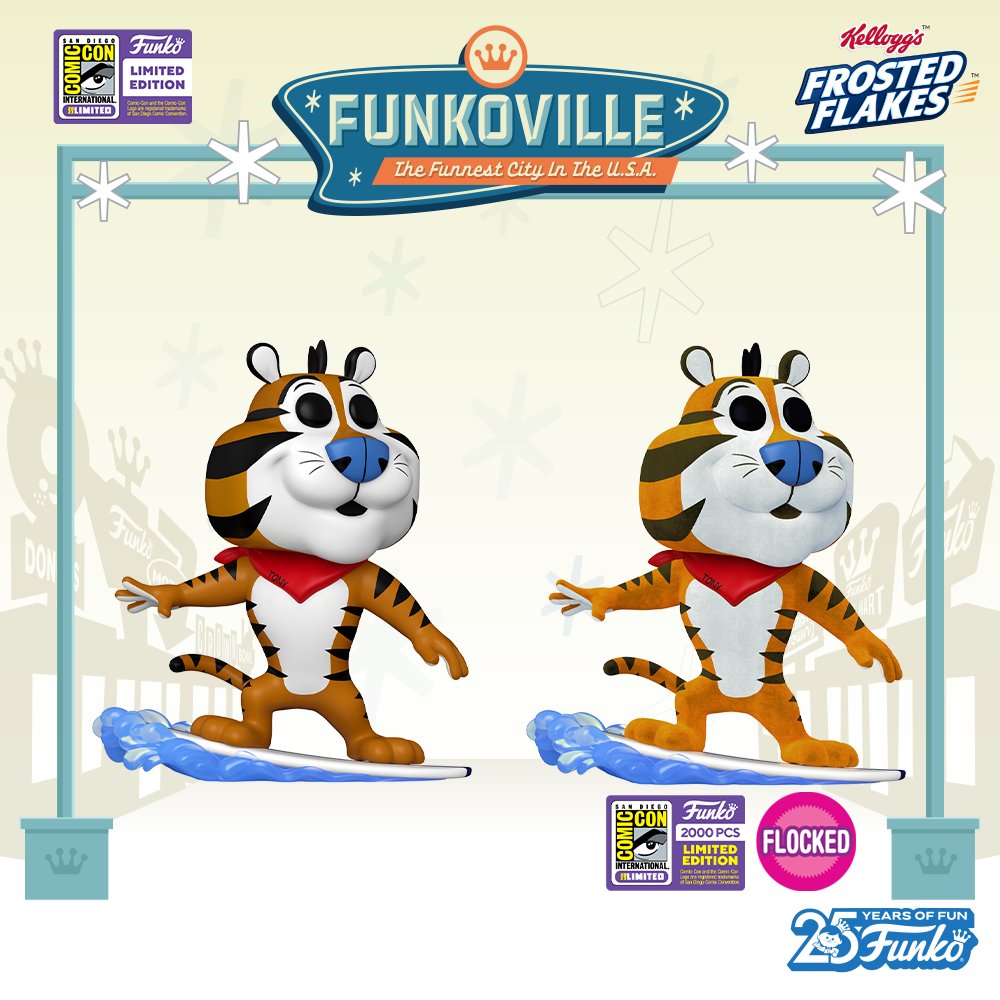 Tony the Tiger: Roaring Through Generations
If you've ever enjoyed a bowl of Kellogg's Frosted Flakes, you're likely familiar with the cereal's dynamic, athletic, and inspiring mascot, Tony the Tiger.
Tony has been encouraging kids and adults alike to start their day right with a hearty breakfast for over seven decades now.
He's more than just an advertising figure; he's a cultural icon transcending breakfast cereal to become a beacon of positivity and active living.
Tony came into being back in 1951, courtesy of a sketch contest to find the face of a new breakfast cereal.
Eugene Kolkey, an accomplished graphic artist and art director at Leo Burnett, dreamt up a tiger named Tony, who ultimately outshone other contenders like Katy the Kangaroo and Newt the Gnu.
Tony was, fittingly, named after an ad man at Leo Burnett, Raymond Anthony Wells.
Through the years, Tony's character has been lovingly crafted and humanized.
He's been given an Italian-American heritage and an entire tiger family, including Mama Tony, Mrs. Tony, and their kids, Tony Jr. and Antoinette.
Tony's Italian-American roots resonated deeply with the same community in the real world, so much so that he graced the covers of Italian GQ and Panorama in 1974, the Year of the Tiger.
Tony's roar—that familiar catchphrase "They're Grrrrreat!"—was brought to life by the talented Thurl Ravenscroft.
Ravenscroft's deep, resonant bass made Tony an auditory as well as a visual treat for millions.
The character's voice has since been passed down to other talents, such as the late announcer Lee Marshall and UK-based Californian voiceover, Tom Clarke-Hill, ensuring Tony's spirit continues to inspire.
As we've followed Tony's journey, his image has evolved significantly from a whimsical, cereal-box-sized tiger to a sleek, muscular sports enthusiast.
Tony Jr., who at one point even got his own cereal, Frosted Rice, eventually replaced his father as the mascot, symbolizing the generational transition within the breakfast table tradition.
In commercials, Tony often appears as an animated figure in a real-world setting, skillfully superimposed over live-action characters.
His energetic persona not only sells cereal but also promotes an active, athletic lifestyle.
Despite the inevitable changes over the decades, Tony the Tiger remains a beloved figure.
From the cereal boxes in our pantries to commercials on our screens, he continues to encourage us to do our best and keep our spirits high.
He may just be a cereal mascot, but Tony the Tiger's positivity, enthusiasm, and determination message is certainly "Grrrrreat!"
Funko POP! Ad Icons: Kellogg's Frosted Flakes – Tony The Tiger Surfing (Common and Flocked Version) Funko Pop! Vinyl Figure – SDCC 2023 and Funko Shop Shared Exclusives
Available at (updating):
Starting now, you can receive 10% off in-stock items with my special link at Entertainment Earth!
 Enjoy!
As an Amazon Associate I earn from qualifying purchases
Want more stuff like this?
Get the best viral stories straight into your inbox!
Don't worry, we don't spam
PopCorn Princess
Hey there, I'm Princess. I'm an annual comic con attendee, Star Wars-loving, and collector freak. My mission is simple: To bring cool geeky news and content and share my passion with the rest of the world. (... I secretly wish to save the world as a superheroine...)