SDCC 2023: Who Framed Roger Rabbit? Jessica Rabbit Funko Soda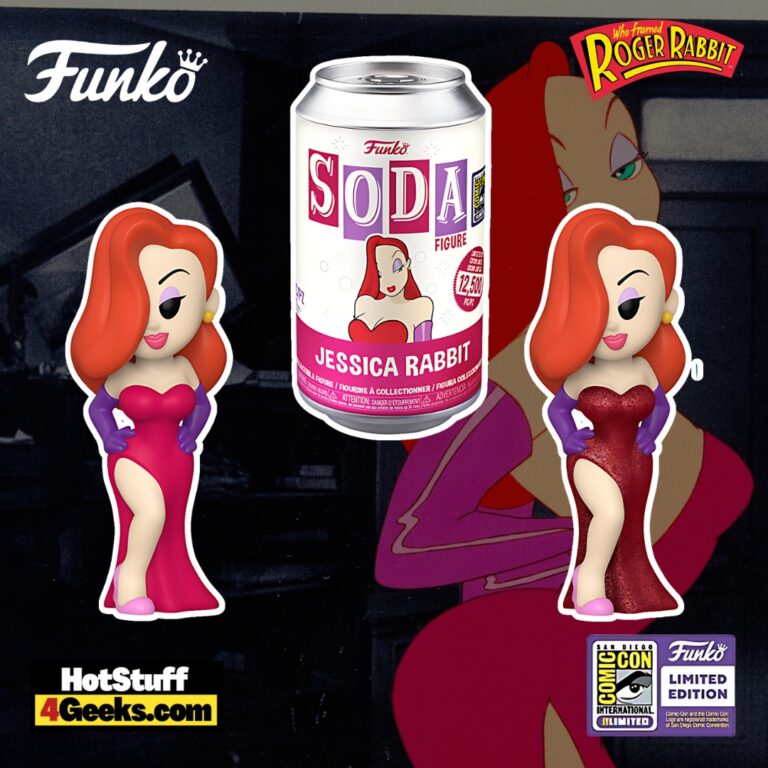 The new Funko Soda! Who Framed Roger Rabbit? Jessica Rabbit Funko Soda Vinyl Figure with Diamond Glitter Chase Variant – SDCC 2023 and Funko Shop Shared Exclusive will be available online starting at 6 AM PT on Thursday, July 20, at the links below (click to jump!)
Capturing the Sparkle: The 2023 SDCC Exclusive Jessica Rabbit Funko Soda Vinyl Figure
Stepping right into the glitz and glamour of San Diego Comic-Con 2023, Funko Soda has unveiled a real gem – an exclusive Jessica Rabbit vinyl figure.
This head-turner isn't your ordinary Funko Soda piece; it's a Diamond Glitter Chase Variant, adding an extra dose of sparkle to our beloved cartoon diva.
Every detail of Jessica from "Who Framed Roger Rabbit" has been meticulously sculpted, capturing her signature allure.
Her striking red gown, painted with a lavish layer of glitter, radiates her charm and charisma.
This figure, sparkling under the light, encapsulates the enigmatic presence of Jessica Rabbit like never before.
Yet, the beauty of this collectible isn't merely skin deep.
It's a small-scale tribute to the multidimensional character we adore.
Those hypnotic eyes, that confident stance, and the iconic long gloves all bring Jessica's spirit to life in a tangible form.
The Jessica Rabbit Funko Soda vinyl figure is more than a homage to a classic film character.
It's a snapshot of the enchanting and complex persona that continues to captivate us, a glittering addition to any fan's collection.
The Diamond Glitter Chase Variant? Well, that's just the cherry on top!
The SDCC 2023 and Funko Shop Shared Exclusive Funko SODA Jessica Rabbit can be found at the links below as soon as the online sale begins (click to jump!)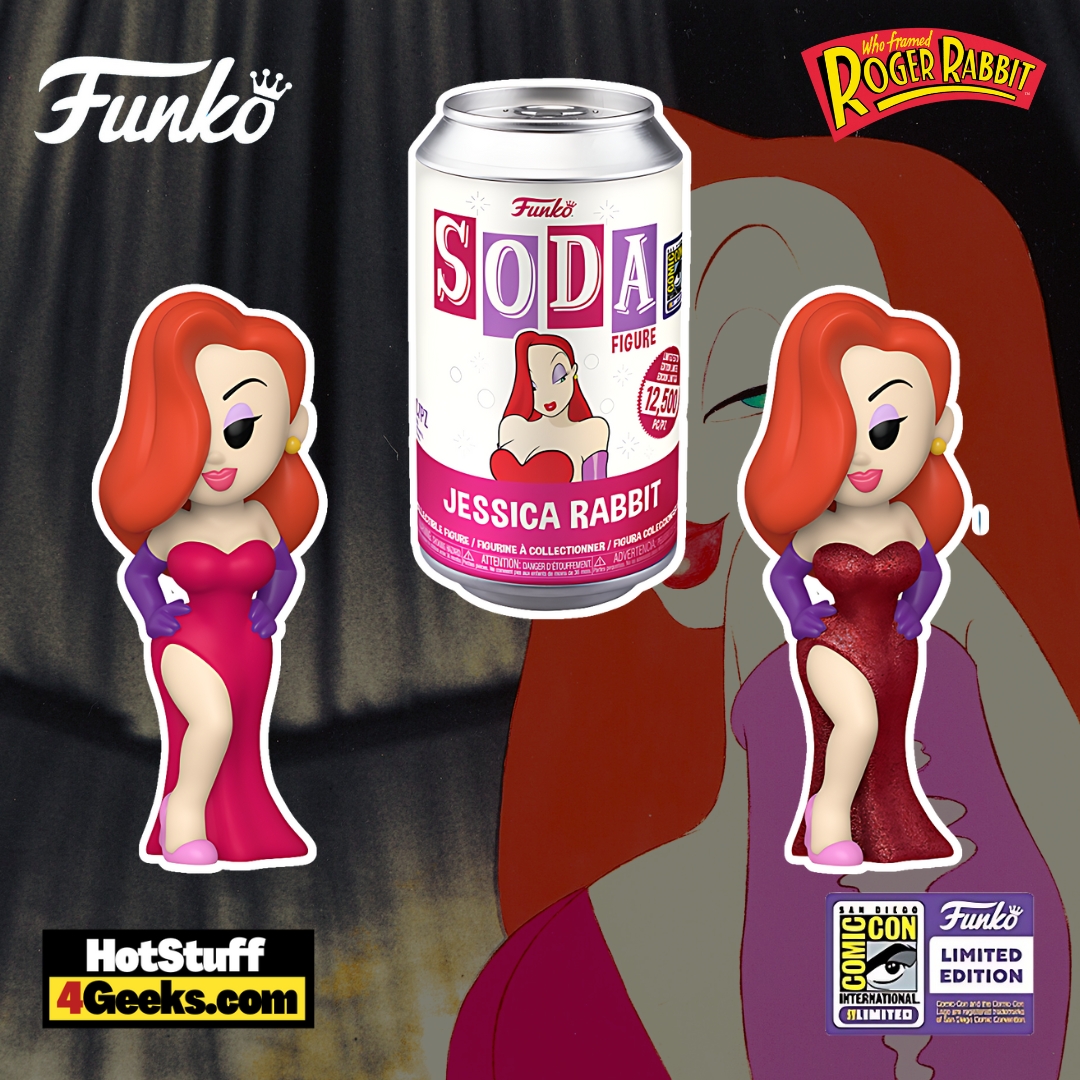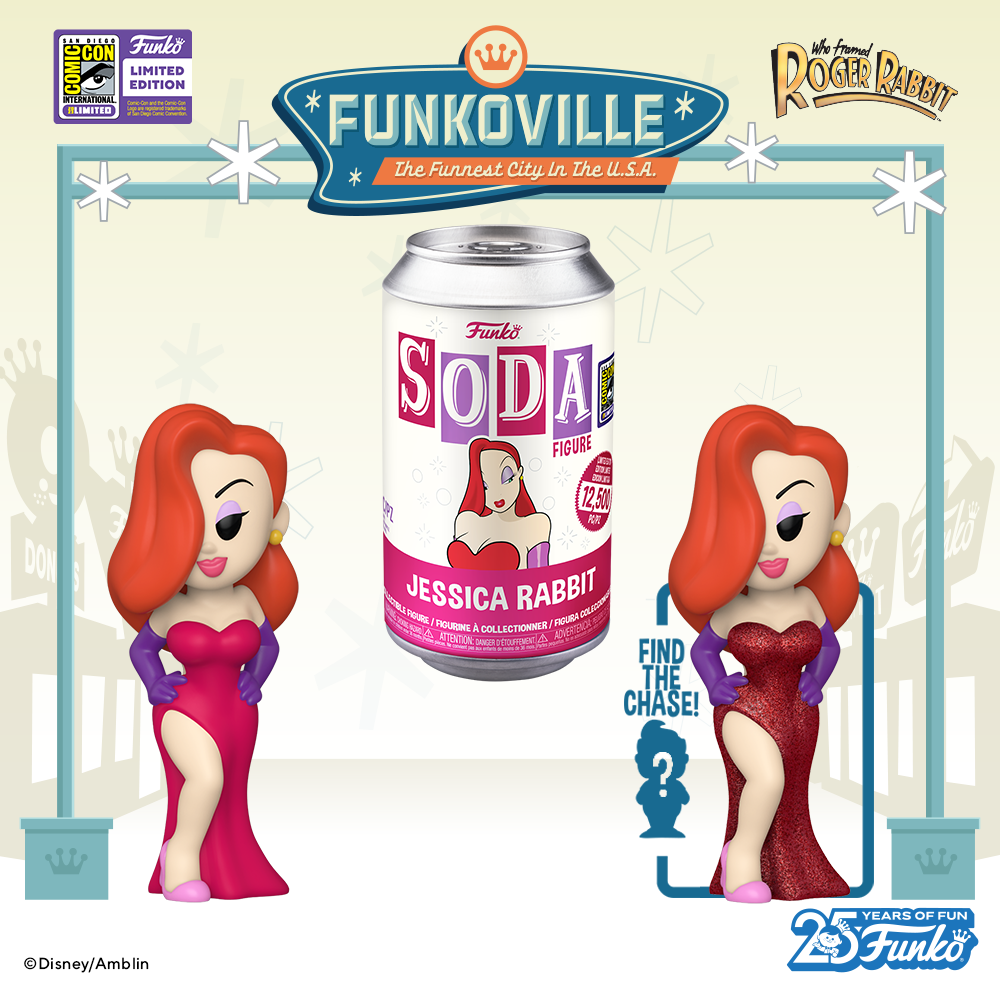 The Everlasting Allure of Jessica Rabbit
We all remember our first encounter with Jessica Rabbit, the audacious character from "Who Framed Roger Rabbit" (1988).
With her provocative attire and the memorable line, "I'm not bad, I'm just drawn that way," Jessica cemented her place in animation history.
Her character was a creative burst that redefined the art form, bringing an unforeseen degree of complexity and sophistication to the animated screen.
Born in the whirlwind of imagination, Jessica was not your typical cartoon character.
Animated as a classic Hollywood starlet, she was captivating, glamorous, and imbued with an irresistible allure.
She appeared on screen with such vivacity and verve, her striking beauty and wittiness creating a paradoxical blend of reality and fiction.
Her visual design was an intentional exaggeration, an irresistible cocktail of the iconic features of screen sirens such as Rita Hayworth, Lauren Bacall, and Veronica Lake.
Yet, it wasn't just her physicality that attracted audiences but her charm, grit, and wit.
She was mysterious, an epitome of strength, holding her ground in the chaotic world of Toontown.
Jessica Rabbit wasn't just a pretty face. Beneath the glittering gown and captivating aura, she had a rich, multidimensional character. Jessica's relationship with Roger Rabbit is a testament to her depth.
Even amidst the wackiness of Toontown, their love was real, sincere, and against all odds.
It was a cornerstone of the movie, illustrating that love transcends appearances.
Despite the surface incongruities, Jessica was smitten with Roger because, as she famously says, "he makes me laugh."
This unique dynamism of Jessica Rabbit led to her transcending celluloid and becoming a cultural icon.
Today, she stands as a symbol of empowered femininity, a testament to the nuanced character development that animation can achieve.
In a field often relegated to the realm of children's entertainment, Jessica was a game changer, demonstrating that cartoons can have just as much depth and complexity as their live-action counterparts.
In subsequent animated productions, Jessica's influence can be seen, but none has captured her distinctive spark.
She remains an enduring testament to the power of animation, a character who burst onto the scene with a vitality that left an indelible mark.
In conclusion, Jessica Rabbit is not just a character.
She is an icon, a phenomenon, and a trailblazer.
While she was "just drawn that way," her charm and complexity resonate beyond the screen, making her a character we continue to discuss and admire more than three decades after her debut.
She serves as a reminder that in animation, just as in life, it's what's inside that truly counts.
Funko Soda! Who Framed Roger Rabbit? Jessica Rabbit Funko Soda Vinyl Figure with Diamond Glitter Chase Variant – SDCC 2023 and Funko Shop Shared Exclusive
Available at:
Starting now, you can receive 10% off in-stock items with my special link at Entertainment Earth!
 Enjoy!
As an Amazon Associate I earn from qualifying purchases
Want more stuff like this?
Get the best viral stories straight into your inbox!
Don't worry, we don't spam