SDCC 2023: WWE – Johnny Knoxville Funko Pop! Exclusive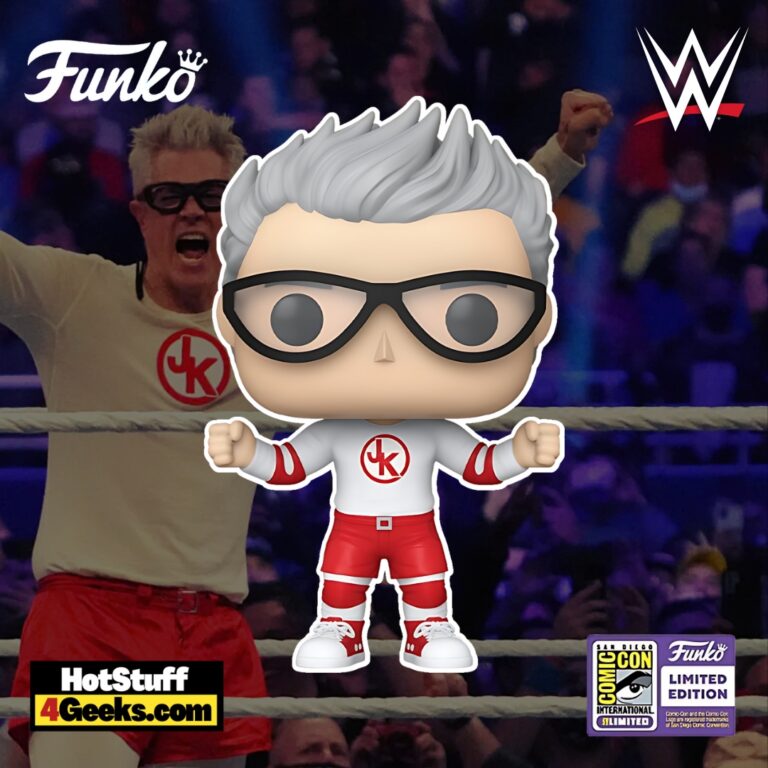 The new Funko POP! WWE: Johnny Knoxville (Royal Rumble) Funko Pop! Vinyl Figure – SDCC 2023 and Amazon Shared Exclusive will be available online starting at 6 AM PT on Thursday, July 20, at the links below (click to jump!)
The Smackdown of Funko POP!: Johnny Knoxville (Royal Rumble) 2023 SDCC Exclusive
It's time to roll out the red carpet for your newest WWE collection member, the Funko POP! WWE: Johnny Knoxville (Royal Rumble) vinyl figure.
This exclusive edition, released just in time for SDCC 2023, embodies Knoxville's bold energy and audacious spirit that he exhibited during his stint in the Royal Rumble.
This isn't just a static figure, either. Picture it as a celebration of Knoxville's unexpected foray into the WWE Universe, marking that audacious Royal Rumble appearance.
It challenges convention, much like Knoxville himself, promising to add a refreshing, exhilarating twist to any WWE collection.
Be it for the love of Funko Pop!, an admiration for Knoxville's audacious career, or just the thrill of owning an exclusive piece. This figure is a must-have.
So, brace yourself! Pop! Johnny Knoxville is prepared to turn your collection into his personal wrestling ring!
The SDCC 2023 and Amazon Shared Exclusive Johnny Knoxville (Royal Rumble) Funko Pop! can be found at the links below as soon as the online sale begins (click to jump!)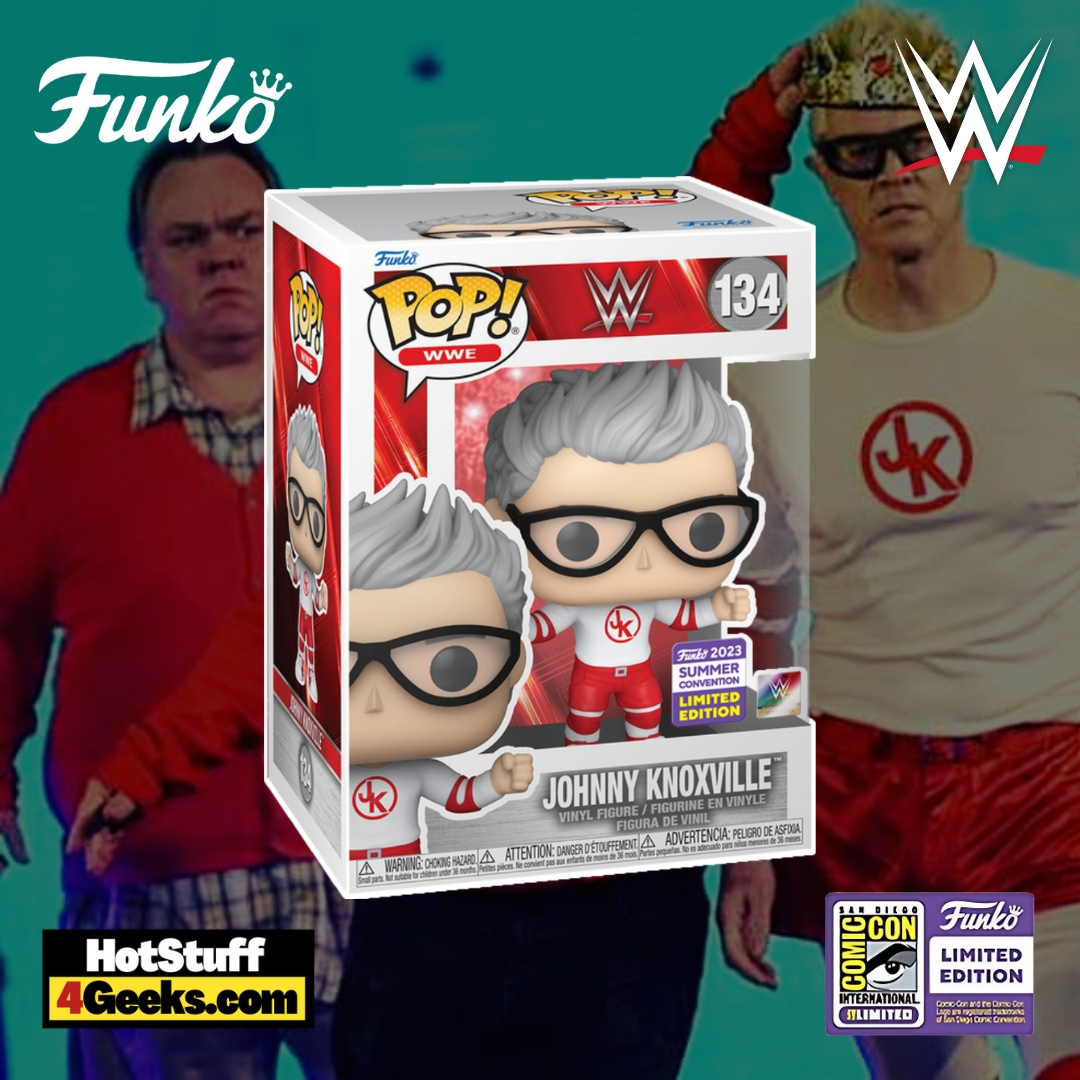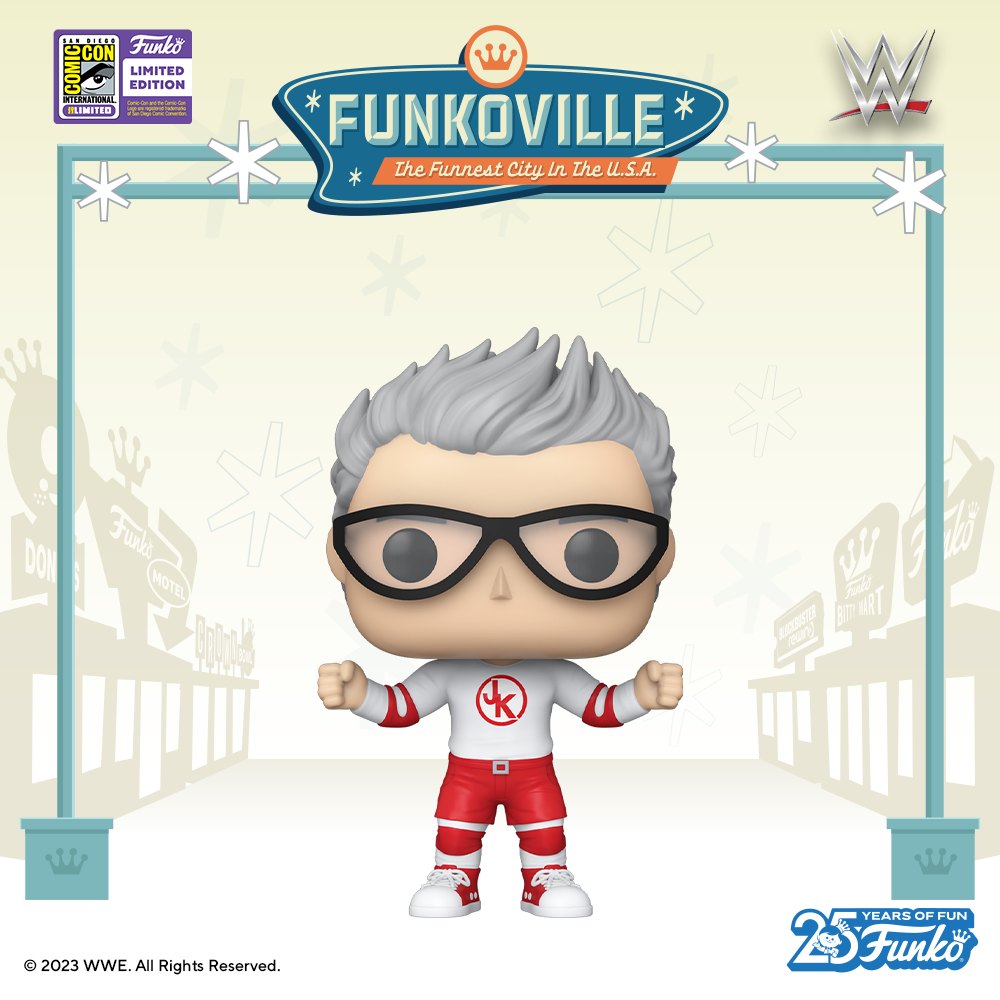 Johnny Knoxville: A Maverick of Pranks and the Wrestling Ring
From the world of outrageous stunts to the canvas of the wrestling ring, Johnny Knoxville has fashioned a unique space for himself in the entertainment industry.
His audacious demeanor, coupled with an undeniable talent for theatrics, has made him a beloved and recognizable figure in the realm of physical comedy.
Born P.J. Clapp, Knoxville did not always hold his distinctive moniker.
He had ambitions of writing for magazines during his formative years, so he craved a name with more flair.
A combination of his middle name, "Johnny," and the city where he spent his childhood, Knoxville, Tennessee, was the perfect cocktail of familiarity and individuality.
And thus, "Johnny Knoxville" was born.
Growing up with an inclination towards humor, Knoxville always wanted to entertain.
His passion led him from Tennessee to California, with dreams of becoming an actor.
However, after a brief stint at the Pasadena Academy of Dramatic Arts, Knoxville found his true calling in a much grittier domain—creating unique stunts and prank-driven content.
His distinctive taste for humor, coupled with an undeniable sense of fearlessness, soon caught the attention of Jeff Tremaine, editor of Big Brother magazine.
This fortuitous encounter would catapult Knoxville into an arena of mainstream entertainment, where MTV and Comedy Central would soon spar for the rights to showcase his talents.
Ultimately, MTV emerged victorious, and the result was 'Jackass'—an iconic show that redefined physical comedy for a new generation.
While the comedic chaos of Jackass formed the bedrock of his career, Knoxville's journey didn't stop there. In a surprising twist, the master of stunts found himself stepping into the wrestling ring.
In a display of his characteristic audacity, Knoxville declared that he would win WWE's iconic Royal Rumble.
Despite his declaration and a striking entrance, Knoxville didn't manage to hold his ground for long.
The likes of AJ Styles and Montez Ford proved to be formidable opponents.
His stint in the ring ended with a boot to the face by Sami Zayn. But for Knoxville, it was yet another notch on his belt of outlandish exploits.
For the uninitiated, his Royal Rumble appearance may seem bizarre.
Yet, for those familiar with Knoxville's unorthodox career trajectory, it was another chapter in a captivating tale.
He's the prankster who shot to stardom, the jackass who dared to challenge professional wrestlers and an entertainer who continually pushes boundaries to incite laughter.
In conclusion, Knoxville's unconventional path in the entertainment industry is nothing short of extraordinary.
From inventing a dynamic stage name to revolutionizing physical comedy with Jackass and even stepping into the wrestling ring, Knoxville continues to captivate and surprise us.
And as we anticipate his next wild exploit, one thing is for sure—there's never a dull moment with Johnny Knoxville.
Funko POP! WWE: Johnny Knoxville (Royal Rumble) Funko Pop! Vinyl Figure – SDCC 2023 and Amazon Shared Exclusive
Available at:
Starting now, you can receive 10% off in-stock items with my special link at Entertainment Earth!
 Enjoy!
As an Amazon Associate I earn from qualifying purchases
Want more stuff like this?
Get the best viral stories straight into your inbox!
Don't worry, we don't spam