2022 NEW She-Hulk: Attorney at Law – Frog Man Funko Pop!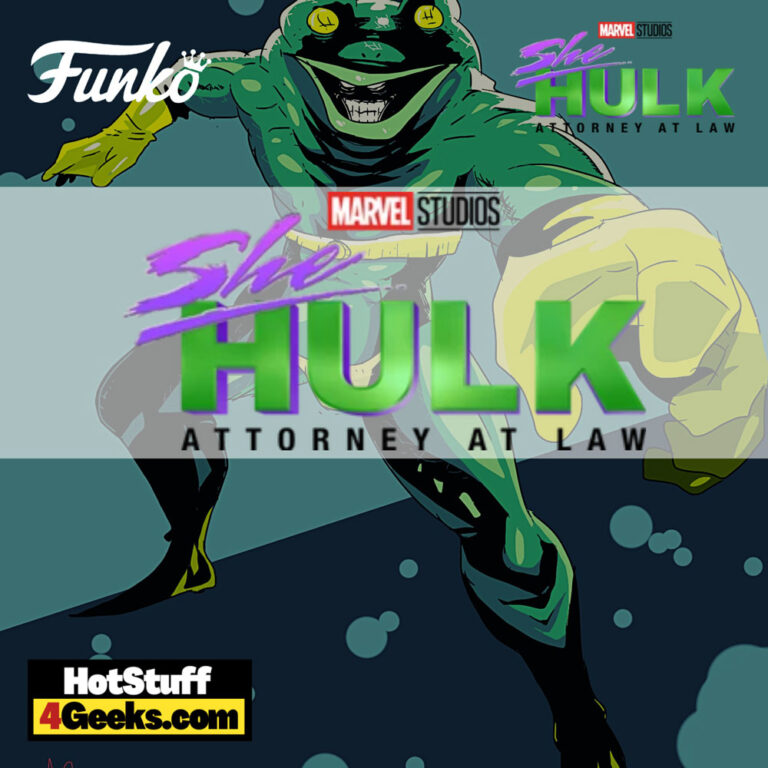 Not official until confirmed.
The new She-Hulk: Attorney at Law show on Disney+ is already making waves, and not just because of its groundbreaking legal drama.
The live-action series introduces a colorful cast of characters, including the delightfully quirky Frog Man.
Now, Funko is releasing the Funko Pop! Marvel Studios: She-Hulk: Attorney at Law – Frog Man Funko Pop! Vinyl Figure – Exclusive, inspired by the character's appearances on the show.
A former minor villain turned into an unlikely hero. Frog Man has won over fans with his goofy attitude and total commitment to justice.
So if you're looking for a way to show your love for one of the most unexpectedly charming characters on television, be sure to pick up a Frog Man Funko Pop.
Frog Man Funko Pop! from She-Hulk: Attorney at Law show is an unconfirmed release. It is only official when or if Funko announces it. I'll update more information in the long run.

Eugene Patilio, better known as Frog-Man, is a Marvel Comics hero created by J.M. Dematteis and Kerry Gammill and first appeared in Marvel Team-Up #121, published in June 1982.
Eugene is the son of the former super-villain Leap-Frog who hoped to do good and become a hero. Instead, he clumsily tried to fight crime to redeem his father's name.
His only "power" is the ability to jump great distances with electric coils in his boots.
Eugene Patilio is the son of Rose and Vincent Patilio. He was born in Brooklyn, New York; his father was an inventor who never managed to create anything successful.
Rose was the only one who worked and paid the household expenses. Her salary kept them well off financially until she died of cancer.
Vincent was not paid enough to cover the rent, and Eugene, at the age of 15, had to start working to help his father, but he was still studying and barely had time to do his schoolwork.
Vincent invented electrical coils that he then turned into a fantasy. Finally, he turned to crime after failing to profit from his inventions.
As Frog, Vincent fought Daredevil several times, and with an ill-fated career as the villain, Frog soon ended up in prison.
Eugene, who was always very curious, found his father's costume, and with a sense of heroism mixed with a desire to clean up Vincent's image, he donned the costume and used it as a symbol for good.
Eugene Patilio has no superhuman powers.
However, he wears an updated version of his father's costume, which allows him to jump great distances through electric springs in his boots, reaching heights of 6 floors per jump.
Using the Frogman suit, he also has excellent strength, speed, and durability.
Still, the springs in the suit make it almost impossible to stay in a straight line, which causes him considerable navigational problems when moving.
Despite his best intentions, Eugene at first could not control his father's costume and seemed more of an annoyance or distraction to other superheroes, such as Spider-Man.
He defeated some villains in his troubled career, but by sheer luck.
Check out more She-Hulk: Attorney at Law pops here.
Starting now, you can receive 10% off in-stock items with my special link at Entertainment Earth!
 Enjoy!
As an Amazon Associate I earn from qualifying purchases
Want more stuff like this?
Get the best viral stories straight into your inbox!
Don't worry, we don't spam