2023 NEW Simpsons: Nightmare Willie 6″ Funko Pop! Exclusive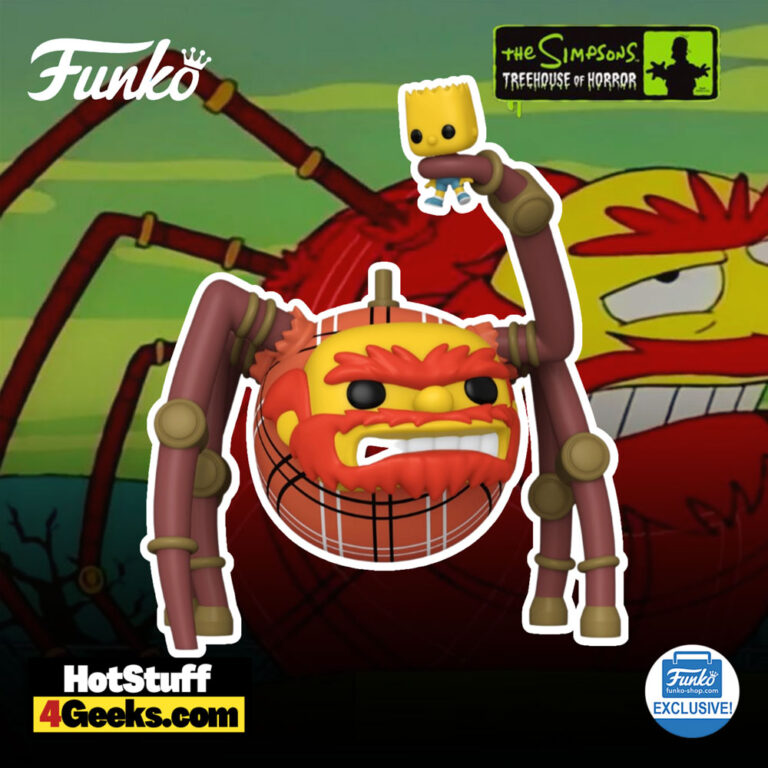 Inspired by the Nightmare on Evergreen Terrace episode comes the new Funko Pop! Television: Simpsons – The Treehouse of Horror: Nightmare Willie (Spider Willie) 6-inch Funko Pop! Vinyl Figure.
The pop figure can be found below (click to jump!)
Willie, the Scottish Groundskeeper, is one of the most recognizable characters on The Simpsons. He's grumpy Scottish and has a thick accent that makes him difficult to understand.
But what many fans don't know is that Willie once turned into a spider.
Willie, the Spider from Treehouse of Horror VI, is a classic character who brings nightmares and humor to the beloved The Simpsons series.
In the Nightmare on Evergreen Terrace segment, Willie takes on an eight-legged crepuscular form, embodying terror in its most amusing form as he sets out determinedly to scare young Bart Simpson.
When Lisa finally reveals to Bart, the true identity of his 'spooky' assailant, it doesn't detract from Willie's attempt at horror – instead, it amplifies it!
When people think they recognize old Willie's new guise, his eagerness to frighten creates a unique brand of comedy.
This balance between fear and hilarity offers a look into the complexity of human emotions – and gives viewers plenty of giggles along the way.
Nightmare Willie (Spider Willie) Holding Bart Simpson's 6-inch Funko Pop!  is coming soon and can be found at the links below (click to jump)
The Simpsons are known for its annual Halloween special, the Treehouse of Horror series, which features spooky and hilarious tales involving the show's beloved characters.
In the sixth episode of the seventh season, The Simpsons deliver another classic with the Nightmare on Evergreen Terrace segment.
This story follows Bart's nightmare that Groundskeeper Willie is out to kill him.
Bart's nightmare begins when he is chased and attacked by Willie, who slashes him with a rake.
Bart wakes up, but the scratches on his body remain. Many other students at Springfield Elementary School also report being terrorized by Willie in their nightmares.
Things take a turn for the worse when Martin falls asleep during a test and is strangled to death by Willie in his dream before waking up and dying in the real world.
Bart and Lisa decide to investigate and discover that Willie burned to death after the thermostat was turned too high.
His suffering was drawn out by the disrepair of the school and the parents of the students looking on and doing nothing.
Willie swore that he would take his revenge on their children in their dreams when their parents could not protect them.
Bart, Lisa, and Maggie try to stay awake to avoid falling asleep and encountering Willie in their dreams.
However, Bart decides to confront Willie and stop him once and for all. Bart falls asleep and tries to find Willie, who appears as a lawn mower.
Bart tricks Willie into mowing a sandbox filled with quicksand, causing Willie to sink.
Willie recovers and turns into a giant bagpipe spider, attempting to kill Bart and Lisa.
But Maggie saves the day by using her pacifier to seal the vent on Willie's spider body, causing Willie to explode.
As the children wake up, relieved to be alive, Lisa expresses her fear that Willie might still be around "out there" and could come back at any time, in any form.
This is proven when a very much alive Willie exits a bus and tries to scare the children but loses a shoe as he chases the bus to retrieve a gun he left aboard.
Despite this segment's darker tone, The Simpsons incorporate humor and satire throughout, making it a fan favorite.
Overall, the Nightmare on Evergreen Terrace segment of The Simpsons' Treehouse of Horror VI is a must-watch for any fan of the show.
It showcases the series' unique blend of comedy and horror while delivering a memorable story involving one of its most beloved characters.
Check out more about The Treehouse of Horror here.
Funko Pop! Television: Simpsons – The Treehouse of Horror: Nightmare Willie (Spider Willie) Holding Bart Simpson 6-inch Funko Pop! Vinyl Figure
Available at:
Starting now, you can receive 10% off in-stock items with my special link at Entertainment Earth!
 Enjoy!
As an Amazon Associate I earn from qualifying purchases
Want more stuff like this?
Get the best viral stories straight into your inbox!
Don't worry, we don't spam