2023 NEW Simpsons: Nightmare Willie 6″ Funko Pop! Exclusive
Funko Pop! Television: Simpsons – The Treehouse of Horror: Nightmare Willie (Spider Willie) Holding Bart Simpson 6-inch Super-Sized Funko Pop! Vinyl Figure (2023 release)
Available at:
Talk about a spine-chilling transformation! The iconic Nightmare Willie from The Simpsons' legendary "Treehouse of Horror" series has slinked its way into the world of Funko Pop!, but not just any form of Willie – it's the dreaded Spider Willie, and he's got Bart in his grasp! Meet the new Funko Pop! Television: Simpsons – The Treehouse of Horror: Nightmare Willie (Spider Willie) Holding Bart Simpson 6-inch Super-Sized Funko Pop! Vinyl Figure (2023 release).
The Pop Figure drops today at 9.30 AM PT! To get your hands on this Pop Vinyl Figure at its release, be sure to check out the links I've provided below – click to jump or scroll to continue reading!
Web of Horror: The Super-Sized Treehouse Nightmare Willie Funko Pop!
Have you ever wished that you could freeze-frame one of the most iconic moments from The Simpsons?
Especially from those unforgettable "Treehouse of Horror" episodes? Your dreams might have just come true.
Funko Pop! has rolled out its latest gem: the 6-inch super-sized Nightmare Willie (Spider Willie) with his ominous grasp on Bart Simpson!
Are you even a Simpsons fan if this doesn't send chills down your spine?
At first glance, it's hard not to be enamored by the meticulous detailing of the figure.
From Willie's unmistakable spider transformation to Bart's petrified expression, it encapsulates pure horror-comedy gold.
We've seen Funko master the art of capturing characters in their tiny forms, but the scale of this piece?
Well, it pushes the envelope.
Moreover, the audacity of featuring Willie's most sinister avatar, intertwined with Bart's vulnerable state, makes it a conversation starter.
Grab it, and let the nightmares… I mean, the memories come flooding back!
The Funko Shop Exclusive Nightmare Willie (Spider Willie) Holding Bart Simpson's 6-inch Funko Pop! can be found for purchase at the links below (click to jump)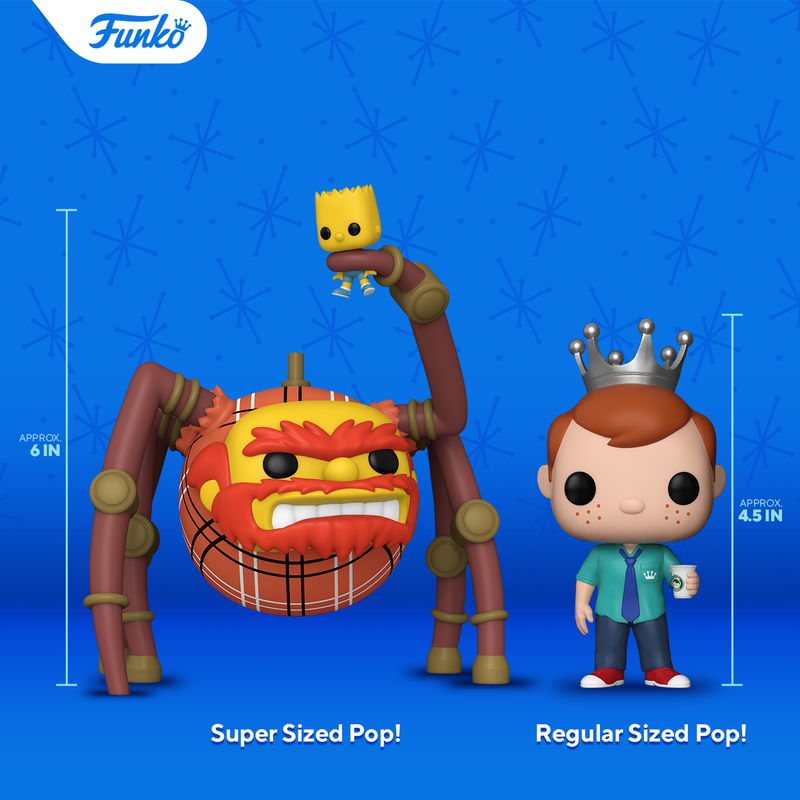 When Groundskeeper Willie Takes Over Your Nightmares
There's something about classic horror tales that have always intrigued and entertained viewers.
The marriage of suspense, surreal imagery, and a dash of humor can lead to captivating stories, and few do it better than the iconic episode "Treehouse of Horror VI" from The Simpsons' vault of classics.
Now, for those who might not be deeply entrenched in the world of The Simpsons, "Treehouse of Horror" episodes are an annual affair where the series ventures into the realms of horror and the supernatural.
These segments often take on a playful tone, parodying famous horror franchises and churning out tales that will make you chuckle and shudder in equal measure.
And "Nightmare on Evergreen Terrace" is no different.
So, remember those nights when your irrational fears would manifest as nightmares?
Well, in this episode, those nightmares don't end when you wake up.
Groundskeeper Willie, the cantankerous Scotsman we all secretly adore, becomes the stuff of Springfield's nightmares – and he's out for revenge.
In a hilarious and yet disturbing twist, Bart's dream turns awry when Groundskeeper Willie morphs into Springfield's Freddy Krueger.
Armed with a rake, Willie is on a mission.
When Bart wakes up, his nightmare isn't over.
Those rake marks?
They're real!
This segment ingeniously blurs the line between dreams and reality, making you question the potency of our subconscious fears.
The terror spreads across Springfield Elementary, with students sharing eerily similar tales of Willie's nocturnal pursuits.
The tragic backstory unveils the haunting image of Willie meeting his fiery end due to a faulty thermostat and the lackadaisical attitude of Springfield's adults.
But Willie's not one to forgive and forget.
He's back and taking revenge on the children, where he can control the narrative in their dreams.
The climax is a masterclass in creativity.
To fight back, Bart bravely decides to face Willie in the dream world.
What follows is a cacophony of chaos, complete with Willie transforming into a menacing lawnmower and a bagpipe spider.
But it's not all gloom and doom.
The conclusion, driven by the wit of The Simpsons, is both unexpected and comically satisfying.
I won't spoil the end, but let's just say, never underestimate the power of a pacifier.
To wrap it all up, if you're a fan of dreamy horrors, quirky twists, and The Simpsons' quintessential humor, "Nightmare on Evergreen Terrace" is your perfect watch.
And even if you think you know The Simpsons, this episode is bound to leave you astonished, proving once again why "Treehouse of Horror VI" isn't just a Halloween special but one of the best episodes to grace our screens.
So, if you haven't had the pleasure (or terror) of watching this segment, I'd say it's about time.
Just maybe keep a light on.
And perhaps, double-check your thermostat.
You never know what might lurk in your dreams.
Check out more about The Treehouse of Horror here.
As an Amazon Associate I earn from qualifying purchases
Funko Pop! Television: Simpsons – The Treehouse of Horror: Nightmare Willie (Spider Willie) Holding Bart Simpson 6-inch Super-Sized Funko Pop! Vinyl Figure (2023 release)
Available at:
Want more stuff like this?
Get the best viral stories straight into your inbox!
Don't worry, we don't spam