Star Wars: Ahsoka Tano Series Funko Pops! (2023 release)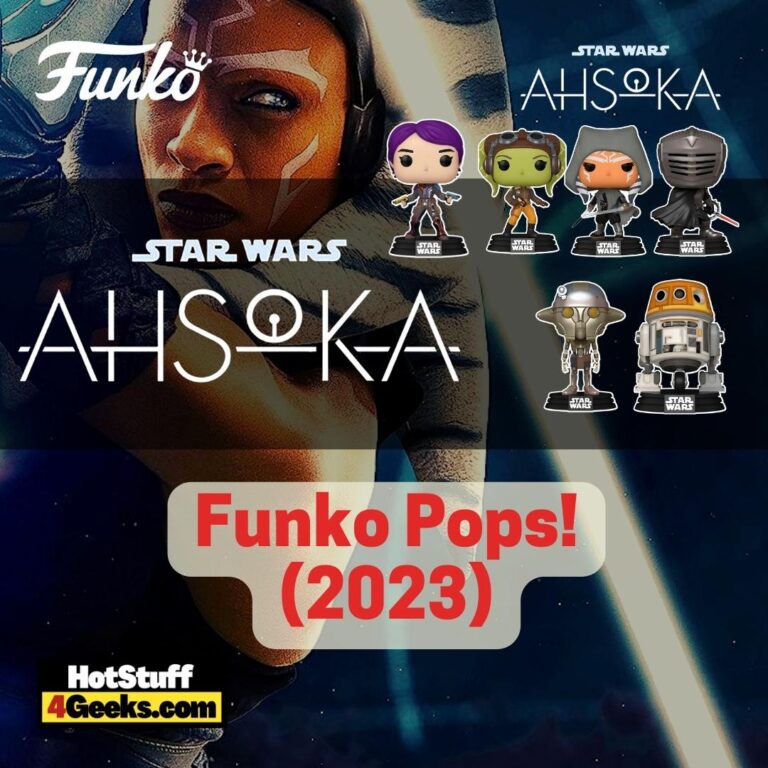 The galaxy far, far away just got a little closer to home with the new Star Wars: Ahsoka Tano Live-Action TV Show Series Funko Pops! (2023 release). This latest addition promises to meld the timeless allure of Star Wars with the undeniable charm of Funko. For fans and collectors alike, these figures represent a fusion of epic storytelling and playful design. As Ahsoka's tale unfolds on screen, these collectibles offer a tangible piece of that expanding universe.
To get your hands on these Pop Vinyl Figures at their release, be sure to check out the links I've provided below – click to jump or scroll to continue reading!
The Force is with Funko: Ahsoka Tano's Live-Action Series 2023 Funko Pops!
For any Star Wars fan, the thrill of "Ahsoka," the much-awaited Live-Action series, is hard to encapsulate in mere words.
But what if we added an extra dimension of excitement?
Yep, I'm talking about those incredibly adorable yet detailed Funko Pops!
As 2023 unfolds, Funko takes fans on another delightful spin with the release of the Star Wars: Ahsoka Tano TV Show line.
The design of the Funko Pops! is quite the spectacle.
There's a remarkable resonance with Ahsoka's character – that spunk, the signature lightsabers, and oh, those Togruta markings!
Truly, Funko captures nuances like no other.
As the show prepares to grace our screens on Disney+, imagine having a piece of that narrative on your desk or shelf.
In the sprawling universe of collectibles, this particular release feels like a nod to fans who've journeyed with Ahsoka from animation to live-action.
Dive in, and let's celebrate this galactic dance of nostalgia and novelty!
Unveiling the Ahsoka Tano's Live Action Funko Pops List for 2023's release:
Sabine Wren Funko Pop! Vinyl Figure
C1-10P (Chopper) Funko Pop! Vinyl Figure
Professor Huyanga Funko Pop! Vinyl Figure
Marrok Funko Pop! Vinyl Figure
General Hera Syndulla Funko Pop! Vinyl Figure
The Ahsoka Tano Live-Action TV Show Funko Pop! Vinyl Figures (2023 release) can be found for purchase at the links below (click to jump!)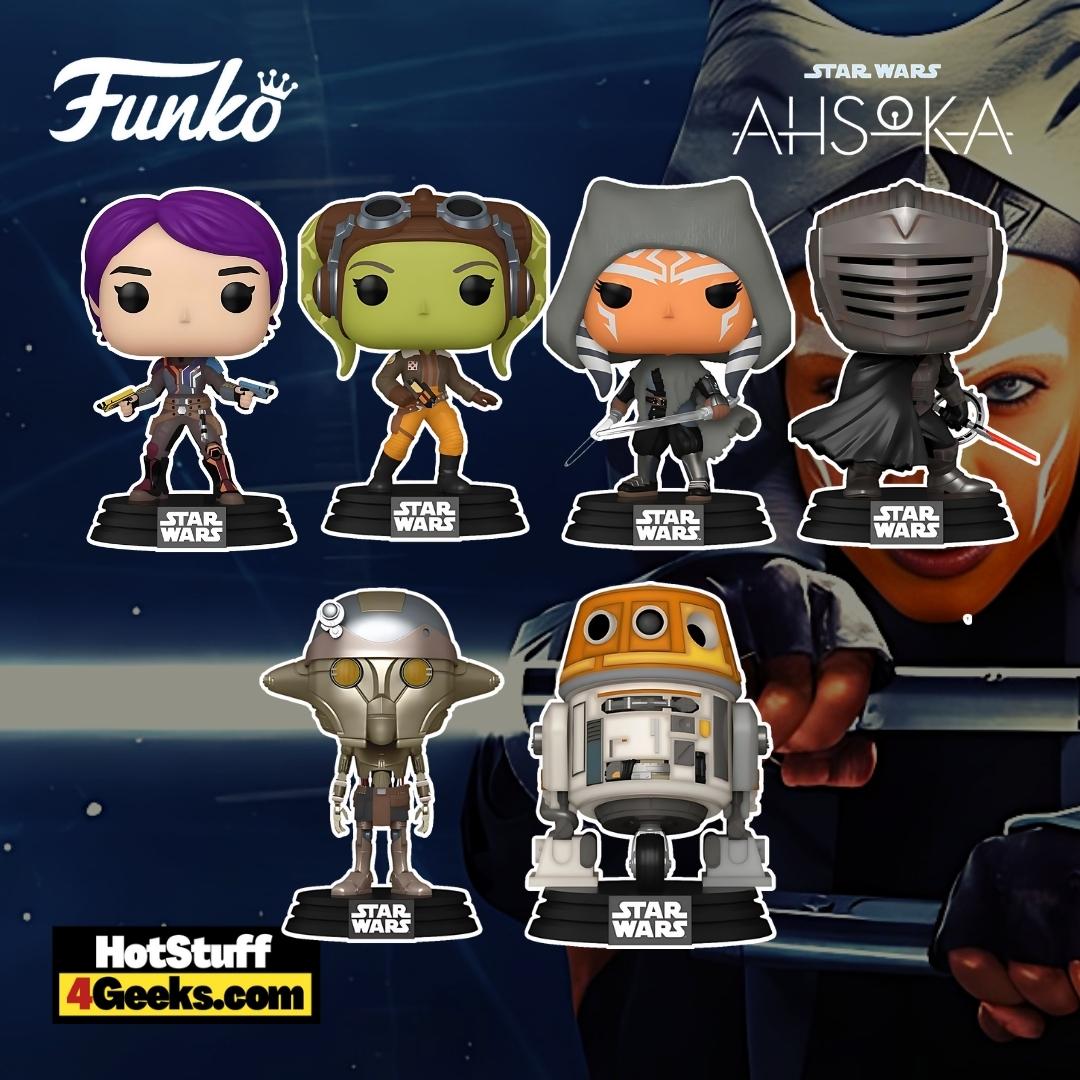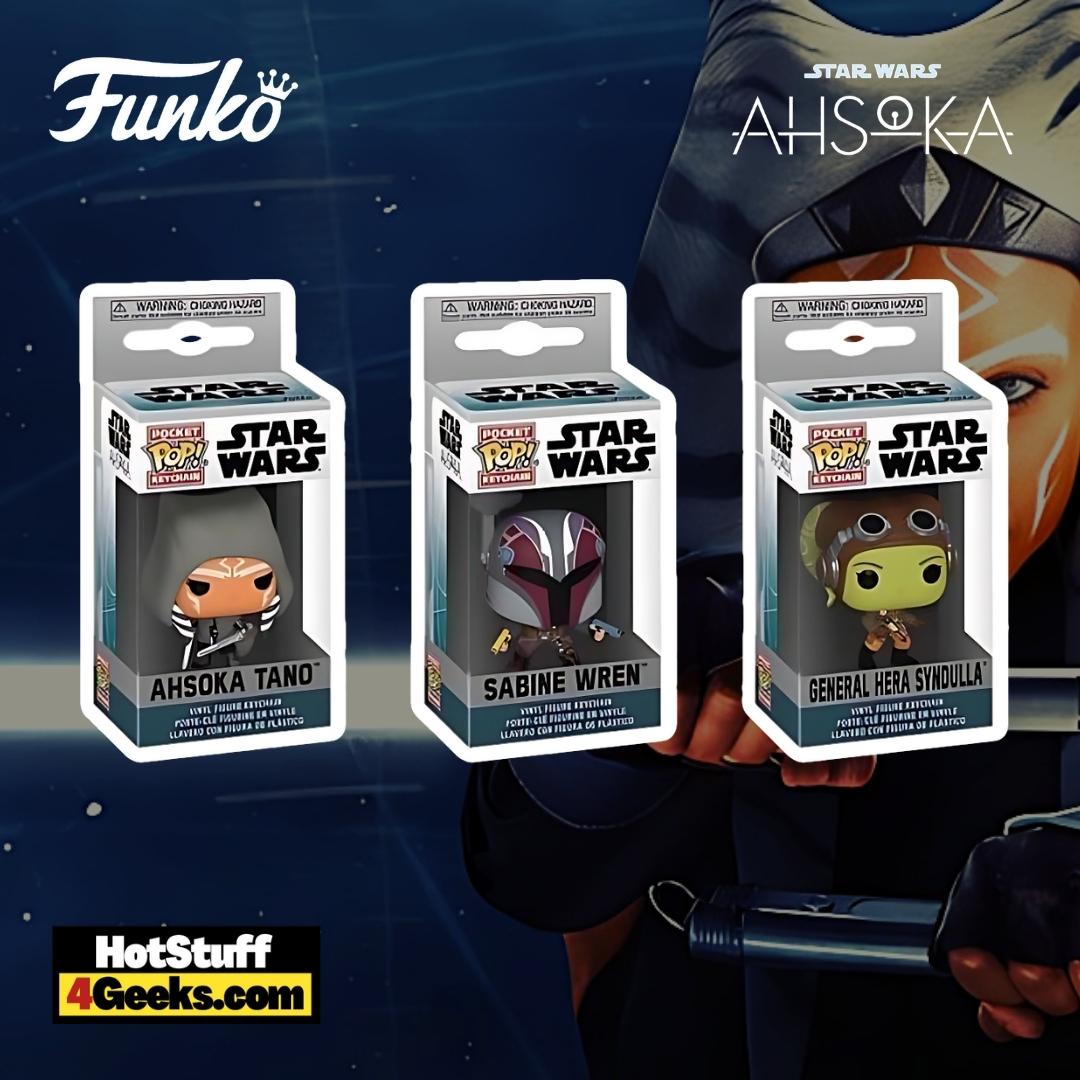 A Dive into Ahsoka Tano: The Galaxy's Unsung Hero
Whenever we delve into the vast universe of Star Wars, our attention often gets diverted to the well-trodden paths of Skywalkers, Solos, and Siths.
However, nestled in the pages of lore, and then eventually on our screens, is a character that's gradually earned the hearts of many – Ahsoka Tano.
Ahsoka is a symbol of resilience, the embodiment of the spirit of a true Jedi, albeit one who was not afraid to walk away from the very institution that had shaped her.
Introduced as Anakin Skywalker's padawan in "Star Wars: The Clone Wars," she was a brash, eager youngling, bright-eyed with a fiery sense of determination.
To some, she might've initially appeared as the headstrong apprentice, always caught in the center of galactic troubles, but there's so much more depth to her.
Remember when she was falsely accused of a terrorist attack on the Jedi Temple? While the arc was thrilling, it was also deeply revealing.
Amid the whirlwind of betrayal, Ahsoka showcased her unwavering conviction in her own values.
The Jedi Council, even with its age-old wisdom, faltered and doubted her. But rather than stew in bitterness, she made a profound decision – she left the Order.
That kind of courage? It's unparalleled.
But what makes Ahsoka truly captivating isn't just her past.
It's her future.
The galactic civil war might've had Luke and Leia at its center, but Ahsoka's journey during these times, often under the radar, was filled with adventures that were as compelling as they were important.
Her encounter with Darth Vader? Bone-chilling.
Her brief brush with the Dark Side in the world of Mortis? Truly transformative. And her role in the early days of the Rebellion? Absolutely pivotal.
Yet, despite the magnitude of her contributions, there's a subtle, grounded nature to her character.
She's no stranger to making tough calls, but she's also touched by the softer moments, the brief yet significant instances of camaraderie, loyalty, and mentorship.
These are the things that keep her tethered to the reality of the Force, even when it's most elusive.
As the Star Wars universe continues to expand, the presence of characters like Ahsoka becomes even more crucial.
They represent the layers beneath the mainstream, the untold tales that add depth, nuance, and diversity to a galaxy far, far away.
She stands as a beacon for those who've felt lost, teaching us that the most significant journeys sometimes begin when we've been cast away.
Given the passion and depth Ahsoka Tano brings to the Star Wars universe, it's no wonder she's been graced with her very own TV show.
"Ahsoka," developed by the brilliant minds of Jon Favreau and Dave Filoni for Disney+, is set to be a mesmerizing addition to the franchise.
Rooted in the same timeline as the critically acclaimed "The Mandalorian," this limited series aims to bridge the gap between the aftermath of "Return of the Jedi" and the continuance of the animated "Star Wars Rebels."
Mark your calendars because, on August 23, 2023, we're diving into the next chapter of Ahsoka Tano's journey with the premiere of "Ahsoka."
Spanning eight captivating episodes, the series is slated to wrap up on October 4, promising fans an exploration of the galaxy's challenges after the Empire's fall through the eyes of one of its most resilient defenders.
It's an exhilarating time for Star Wars enthusiasts, and "Ahsoka" looks poised to be yet another feather in the franchise's illustrious cap.
Funko Pop! Star Wars: Ahsoka Tano Live-Action TV Show Series Funko Pops! (2023 release)
Available at:
Starting now, you can receive 10% off in-stock items with my special link at Entertainment Earth!
 Enjoy!
As an Amazon Associate I earn from qualifying purchases
Want more stuff like this?
Get the best viral stories straight into your inbox!
Don't worry, we don't spam