2023 NEW Star Wars: R2-D2 Lights and Sounds Funko Pop!
Diving into the world of collectibles often leads to treasures that tug at our nostalgia. The new Funko Pop! Star Wars: R2-D2 Lights and Sounds Funko Pop! Vinyl Figure – Funko Shop Exclusive is one such gem. Channeling the essence of a galaxy far, far away, this exclusive piece promises more than just a place on your shelf—it's a journey into iconic Star Wars moments with every glance.
R2-D2 Lights and Sounds releases today at 9.30 AM PT! To get your hands on this Pop Vinyl Figure at its release, be sure to check out the links I've provided below – click to jump or scroll to continue reading!
Echoes from the Galaxy: 2023's R2-D2 Lights & Sounds Funko Unveiled
R2-D2, the astromech droid who's seen it all – galactic battles, epic rescues, and heartwarming friendships – is now capturing our world in a unique light (and sound)!
The new Funko Pop! release brings our beloved Artoo into our homes with some pretty out-of-this-galaxy features.
Remember those nights rewatching Star Wars, the glimmering moments where R2-D2 communicated with chirps and beeps, light patterns, and that infectious charm?
Now imagine a slice of that starry nostalgia right on your desk or shelf.
This isn't your typical Funko Pop! No siree.
With a simple press atop this bobblehead, you can relive the magic as R2-D2 lights up and produces those iconic sounds.
Sure, Artoo is known for aiding pilots across the stars, but now?
He's here to accompany your earthly adventures.
Stellar, isn't it?
The Funko Shop Exclusive Lights and Sounds R2-D2 Funko Pop! can be found for purchase at the links below (click to jump!)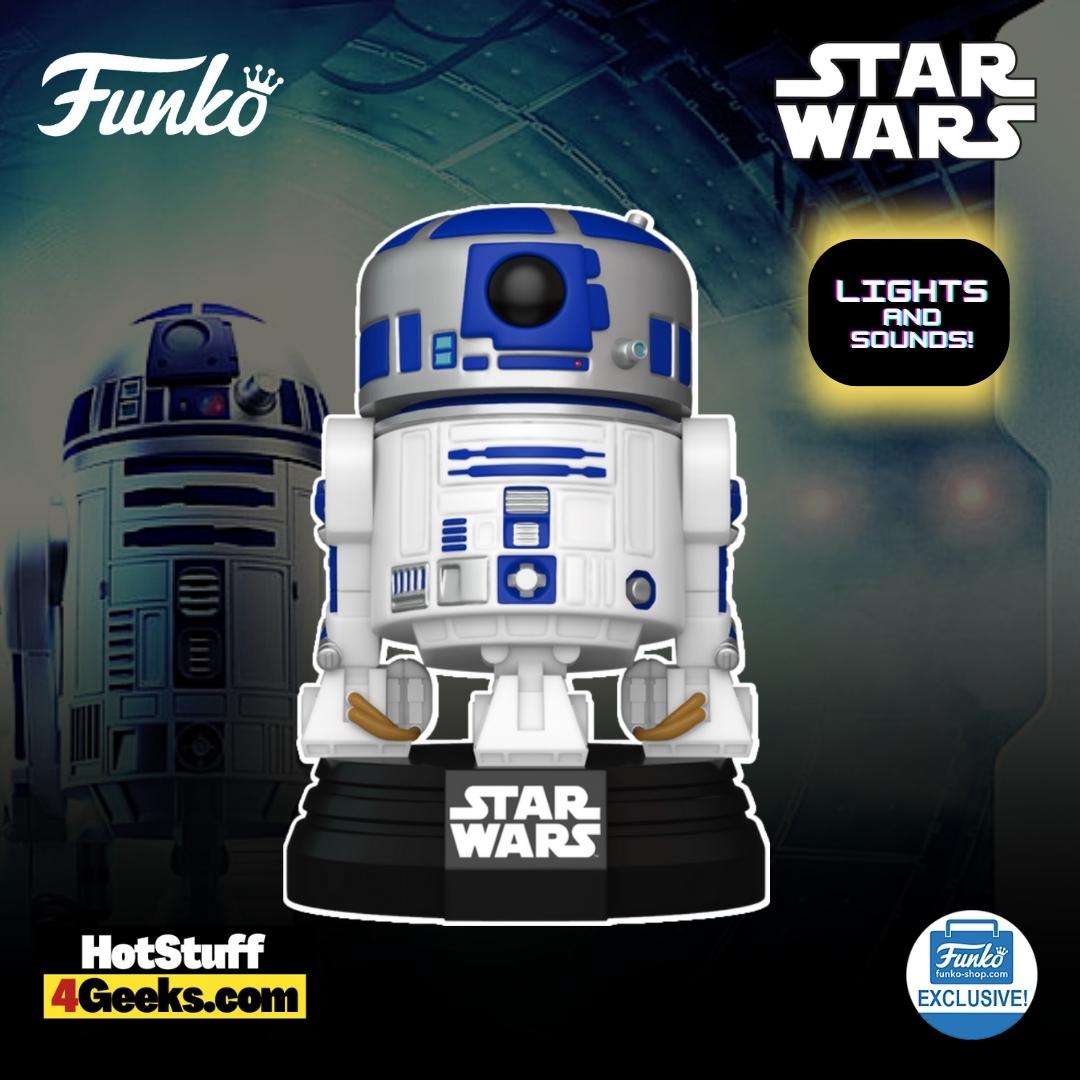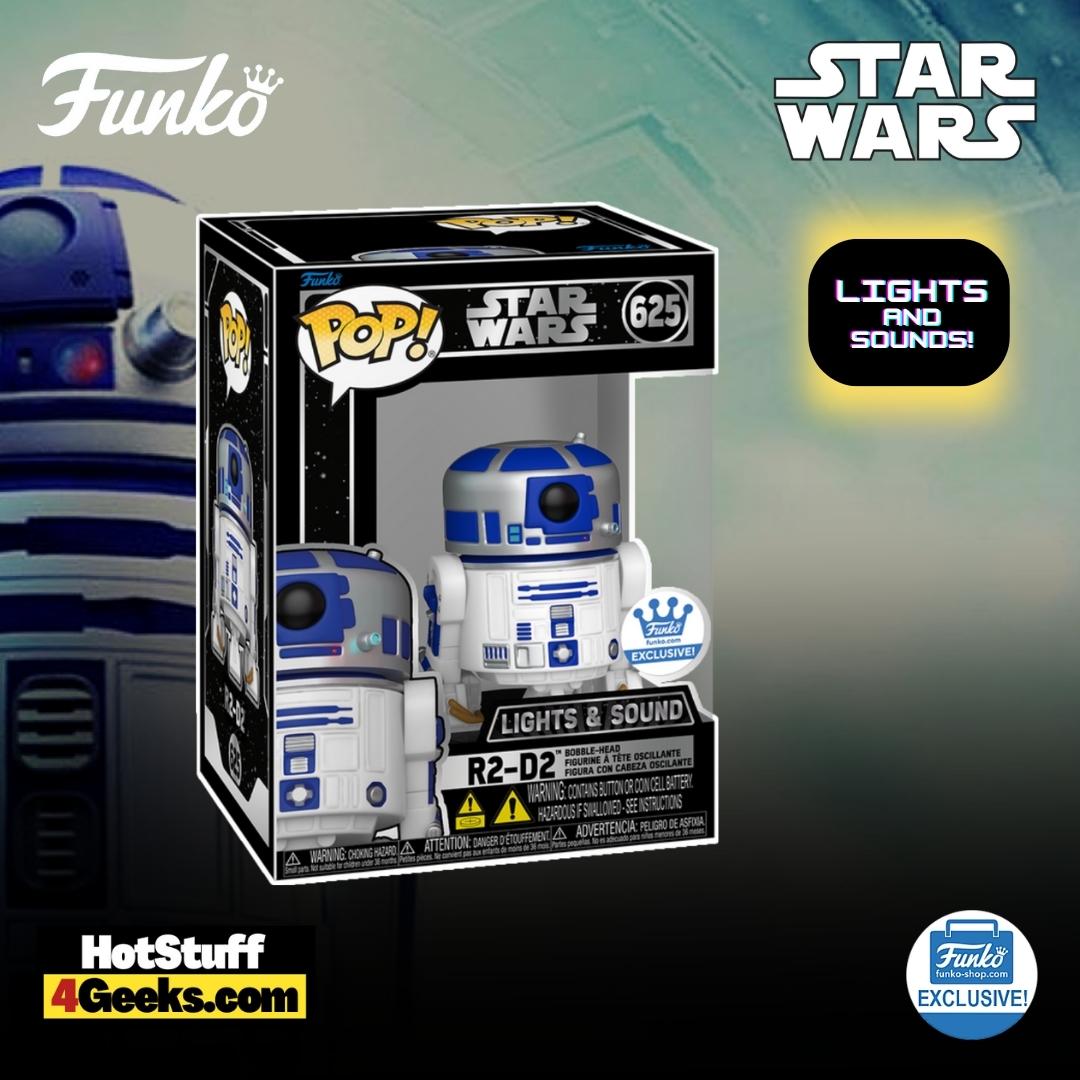 The Unexpected Adventures of R2-D2: More Than Meets the Beep
R2-D2, that charming beeping and bleeping astromech droid we've come to know and love.
He's been with us from the twin sunsets of Tatooine to the battlefronts of Starkiller Base.
But did you know that our beloved Artoo has had his fair share of unexpected adventures? Let's dive right into the fascinating universe of this iconic droid.
Firstly, the Star Wars galaxy isn't the only universe where R2-D2 makes an appearance.
The silver screen has often enjoyed inserting our favorite little droid into some unexpected spots.
Take Spielberg's "Close Encounters of the Third Kind" or even "Indiana Jones: Raiders of the Lost Ark."
And if you pay real close attention, you might spot him sneaking into the realms of "Star Trek" and even among "Transformers."
Yup, he's that famous.
But what's in a name?
Here's an intriguing tidbit – Artoo might owe his quirky nomenclature to an off-the-cuff comment during a sound editing session for the film American Graffiti.
You wouldn't immediately link a rebellious teen film with a galaxy far away, but George Lucas' filmmaking journey is full of surprises.
Speaking of surprises, ever noticed how articulate R2-D2 sounds despite not uttering a single comprehensible word?
Thank Ben Burtt
. This genius of a sound designer went through a fascinating dance of machine noises, and baby sounds to craft Artoo's unique "voice."
He's the same mastermind behind those gripping lightsaber hums and Darth Vader's haunting breath.
But Burtt didn't stop there; he went on to voice some of Pixar's beloved robotic characters too.
Quite the resume, huh?
Now, let's take a moment to discuss the droid's fighting spirit. R2-D2, a war hero?
You bet!
Beyond his famous escapades with Skywalker and crew, he once teamed up with an elite droid-only task force called D-Squad in the animated Clone Wars series.
Talk about droid power!
Ownership is a tricky thing in the Star Wars galaxy. R2-D2 has had a colorful list of caretakers, from Naboo's government to the Skywalker lineage.
He's been on all sides of the galaxy's ongoing power struggles.
Yet, through all his adventures, one thing remains constant: Artoo's unwavering loyalty to the good side.
Ever noticed how Artoo suddenly couldn't fly in the original trilogy?
Well, it turns out his rocket thrusters took a bit of a beating post the Clone Wars.
Though it would've been cool to see him zip around the Death Star, he still managed to save the day – on the ground multiple times.
In the world of tech, R2-D2 isn't just a cinematic legend.
His name has adorned some pretty hefty real-life military tech, from missile systems to advanced navigation tools.
Our favorite droid is truly out of this world – both in fiction and reality.
In the heart of Star Wars creator George Lucas, R2-D2 holds a special place.
He is, in fact, Lucas's absolute favorite character.
Through every twist and turn of the saga, Lucas ensured that Artoo always had a hero moment.
Whether saving a ship's shields or unveiling a map to a missing Jedi, this droid always comes through.
In the vast tapestry of Star Wars, R2-D2 stands out not just for his pivotal roles but for the sheer charm he brings to every scene. So, here's to R2-D2 – the galaxy's true unsung hero. May the Force always be with him.
Funko Pop! Star Wars: R2-D2 Lights and Sounds Funko Pop! Vinyl Figure – Funko Shop Exclusive
Available at:
Starting now, you can receive 10% off in-stock items with my special link at Entertainment Earth!
 Enjoy!
As an Amazon Associate I earn from qualifying purchases
Want more stuff like this?
Get the best viral stories straight into your inbox!
Don't worry, we don't spam