2022 NEW Argyle w/ Surfer Boy Pizza Van Funko Pop! Ride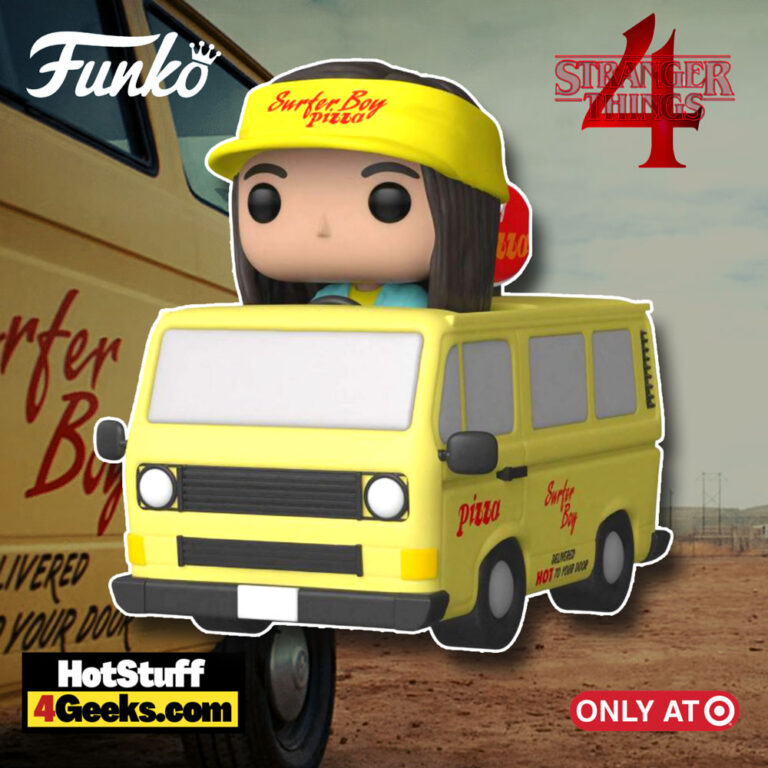 Fans of Stranger Things will be excited to get their hands on the new Funko Pop! Rides: Stranger Things Season 4 – Argyle With Surfer Boy Pizza Van Funko Pop! Ride Vinyl Figure – Target Exclusive.
The Stranger Things fourth season welcomes a handful of newcomers, but Argyle is undoubtedly one of my favorite additions to the supernatural mayhem.
The pop figure is available for order at the links below (click to jump!)
With long dark brown hair that reaches down to his hips, Argyle has a distinctive appearance. He provided the much-needed comic relief and lighthearted energy as soon as he made his on-screen debut.
Argyle offered humor right off in his first line: "Hold Onto Your Butts, Brochachos!" he said before speeding off to drive Jonathan, Eleven, and Will to school in his Surfer Boy Pizza van.
Argyle is one of Jonathan's new friends, a pot-smoking surfer dude who works as a pizza delivery guy for Surfer Boy Pizza and quickly became popular as his laid-back 80s vibe.
Argyle's positive attitude was contagious and helped to make the fourth season one of the most memorable seasons of Stranger Things.
Argyle With Surfer Boy Pizza Van Funko Pop! Ride from Stranger Things Season 4 is now available for pre-order at the links below (click to jump!)
If you have seen the last season of Stranger Things, you may remember that Argyle drives a van for Surfer Boy Pizza, the pizzeria where he works. On one side of the transport is a phone number.
It turns out that the number 805-457-4992, or 805-45-PIZZA, can actually be dialed in real life, and the person who answers on the other end of the line is Argyle himself, making the situation hilarious.
In the message, Argyle answers as if he is working at Surfer Boy Pizza, repeating a line he says in the series regarding pineapples coming from a can:
"Surfer Boy Pizza, this is Argyle speaking. We make everything fresh here at Surfer Boy, except for our pineapple which comes from a can, but I still recommend slapping some juicy pineapple on.

Oh, fruit on your pizza is gnarly you say? Well, I say try before you deny! Hello?"
In addition, the recording also leaves us waiting as he talks to his co-workers about a suspicious order he had received:
"Brochacos, I just got another order before this dude on hold called it's super specific, like weird specific. You ready?

So first, it's got to be a six inch crust and it's got to be super yellow. I don't know, don't ask me man. That's what they said. And then we got to get the red sauce, just up to the edge on the crust. So don't go over.

And next they want, and this is really important, four chops of white mozzarella, three habaneros nice and bright orange, two green pepper slices, got to let the habanero sing man.

And then one, just one, piece of blue cheese on top. Now I know it's strange. Blue cheese is damn near mold. But hey, have you tried it? Try before you deny bro.

Ok that's all I got. Did you get the order? Yeah, cool."
The move was an excellent way for the team behind the series to further increase the level of interaction with fans, ensuring good laughs and even greater appreciation for Argyle!
It is worth noting that this was not the first time the series left a message for fans on a phone that appeared in the episodes.
In Season 3, released in 2019, the series had already done something similar when it left a phone on display that also featured a real mailbox.
At the time, the number was answered by the character Murray Bauman, with a message suggesting that he would unite with Joyce in the future.
Check out more Stranger Things Season 4 pops here.
Starting now, you can receive 10% off in-stock items with my special link at Entertainment Earth!
 Enjoy!
As an Amazon Associate I earn from qualifying purchases
Want more stuff like this?
Get the best viral stories straight into your inbox!
Don't worry, we don't spam