2023 NEW Stranger Things: Vecna With Creel House Funko Pop!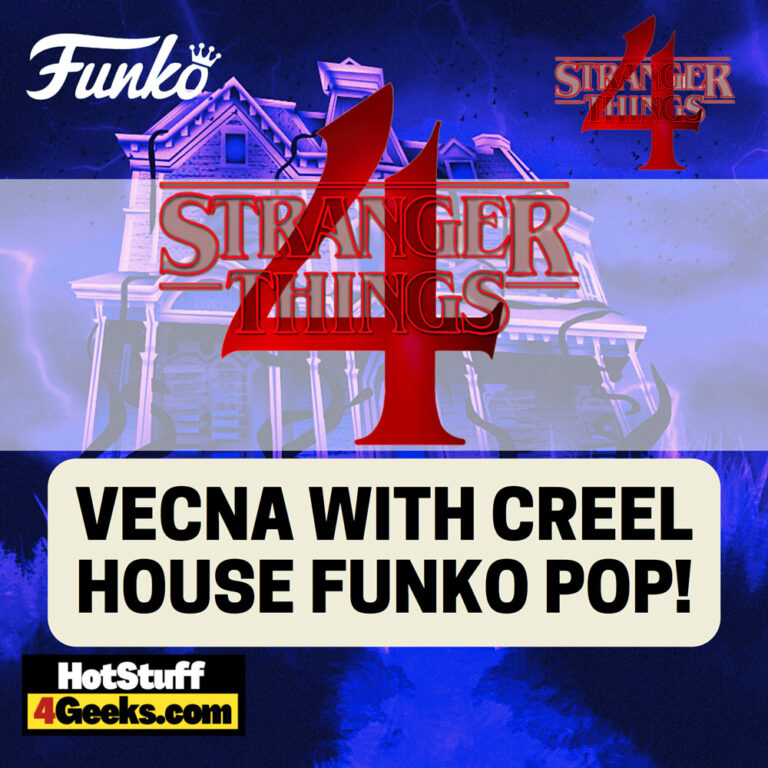 Not official until confirmed.
Are you ready for a hauntingly exquisite new piece in your Funko Pop! collection? Fresh from the eerie universe of Stranger Things Season 4, it's time to welcome the evil character, Vecna, and his unsettling abode, the Creel House, in the new Funko Pop! Town – Stranger Things Season 4: Vecna with Creel House Funko Pop! Town Vinyl Figure.
To get your hands on this Pop Vinyl Figure at its release, be sure to check out the links I've provided below – click to jump or scroll to continue reading!
Meet Funko's Latest Star: Vecna with Creel House Vinyl Figure
In the ever-expanding universe of Stranger Things collectibles, Funko has outdone itself once again! Season 4's sinister antagonist, Vecna, is making a grand entrance alongside the chillingly iconic Creel House, all bundled into a captivating Funko Pop! Town Vinyl Figure.
Each meticulous detail captures Vecna's ominous aura, from his disquieting visage to his stylized attire, evoking an unmistakable sense of the malevolent force he embodies.
In tandem, the Creel House, a bastion of secrets and supernatural occurrences, mirrors its TV counterpart's brooding character with an intricate design that is sure to impress any Stranger Things enthusiast.
This exclusive Funko Pop! Town Vinyl Figure is an eerie yet enthralling addition, making your collection feel a little more Upside Down.
Creel House with Vecna Funko Pop! Town can be found at the links below (click to jump!)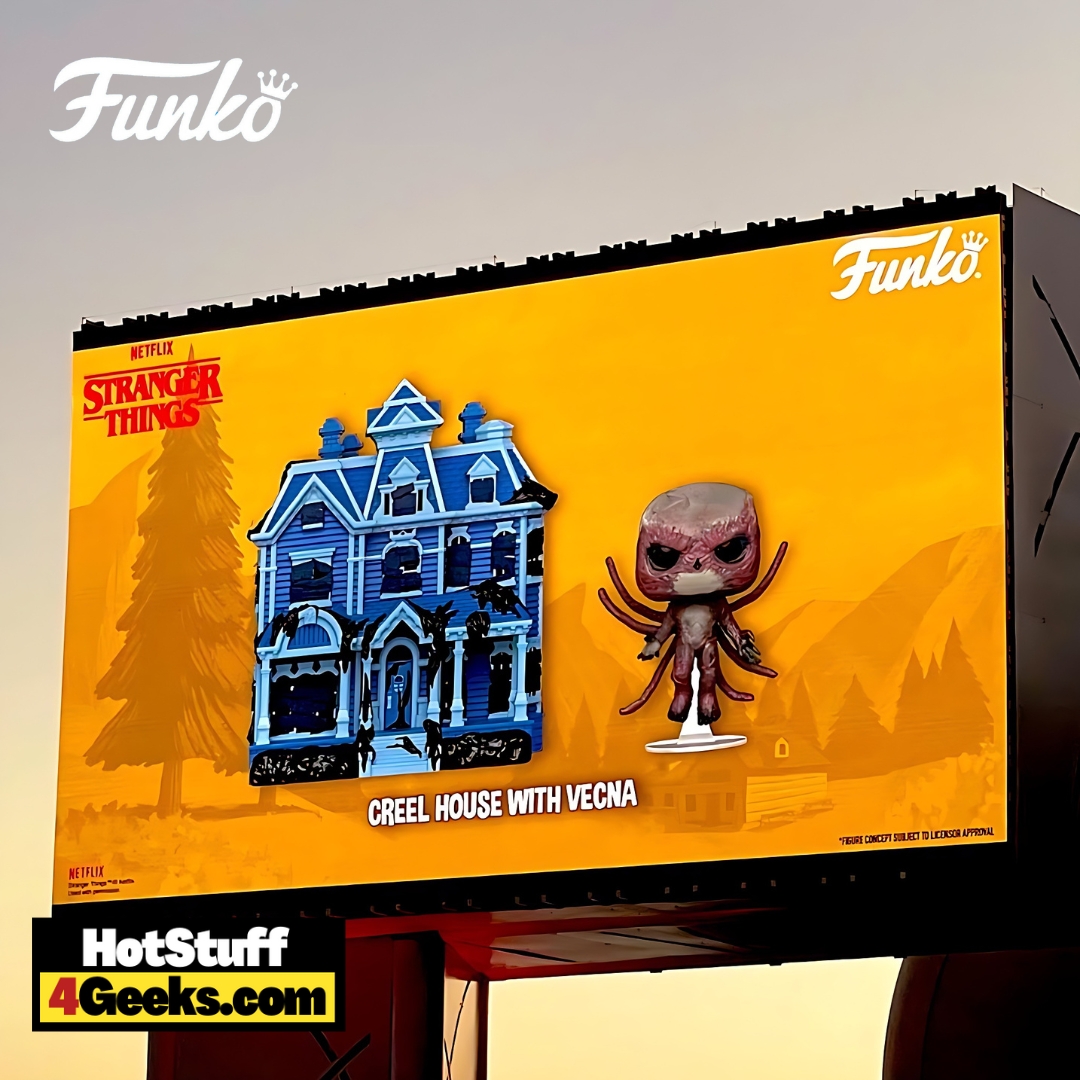 The Unsettling Secrets of Creel House: Vecna's Lair in Stranger Things
Stranger Things Season 4 brought an unexpected twist by introducing us to a fresh locale of significant importance, the Creel House.
This mysterious abode held an eerie charm reminiscent of Mike Flanagan's "The Haunting of Hill House" and was inextricably linked to the season's formidable antagonist, Vecna.
In the late 1950s, the Creel House was home to the seemingly ordinary family of Victor, Virginia, Alice, and Henry Creel. However, this façade of normality quickly shattered with a gruesome double homicide.
Victor was wrongfully accused of the crime, while young Henry was placed under Dr. Brenner's watchful eye.
Fast-forward to the present, and we find our beloved group of misfits – Robin, Nancy, Lucas, Dustin, Max, and Steve – breaking into the eerie Creel House in search of answers.
Their exploration was driven by a desire to uncover Vecna's mysterious past and to unravel the connection between the house and a series of haunting visions.
What they found was far more sinister than they could have ever imagined.
The Creel House turned out to be Vecna's operational headquarters, located in a chilling mirror image within the Upside Down.
This discovery was made possible through an enlightening encounter with the wrongly accused, Victor Creel.
Trapped in an ethereal connection with Vecna's realm, the house acted as a sort of nexus, linking the physical world with the unsettling domain of the Upside Down.
They could observe Vecna's movements within his dark domain through this eerie nexus.
However, Vecna's influence extended far beyond the boundaries of the Creel House.
His presence seemed to permeate the entire Upside Down as he demonstrated his ability to follow Nancy, Steve, Robin, and Eddie outside the Creel House, which set the stage for a heart-stopping cliffhanger.
From his Upside Down headquarters, Vecna demonstrated an uncanny ability to communicate with the regular dimension, leaving our heroes on constant edge.
As the mysteries of the Creel House unraveled, another shocking revelation came to light – Vecna was none other than Henry Creel.
The troubled child, born with inherent powers and a malicious streak, had become Hawkins Lab's first test subject, codenamed '001'.
Following a gruesome massacre and Eleven's subsequent overpowering, he was banished to the Upside Down, thus completing his transformation into the terrifying, Dungeons & Dragons-inspired entity we know as Vecna.
Victor Creel's role in this chilling saga was particularly poignant.
Falsely accused and institutionalized for decades, he helped lead Nancy and the gang on their investigation.
Victor's vindication was a small consolation amid the realization that the Creel House, his former home, had become the epicenter of Hawkins' ongoing paranormal crisis.
With Stranger Things set to conclude in season 5, we're bracing ourselves for a high-stakes finale where the fate of Hawkins hangs in the balance.
Will the Hawkins crew manage to defeat Vecna and save their town? Only time will tell!
Funko Pop! Town – Stranger Things Season 4: Vecna With Creel House Funko Pop! Town Vinyl Figure
Available at:
Starting now, you can receive 10% off in-stock items with my special link at Entertainment Earth!
 Enjoy!
As an Amazon Associate I earn from qualifying purchases
Want more stuff like this?
Get the best viral stories straight into your inbox!
Don't worry, we don't spam