The 2023 Schoolhouse Rock's Funko Pop! Debut: A Nostalgia Trip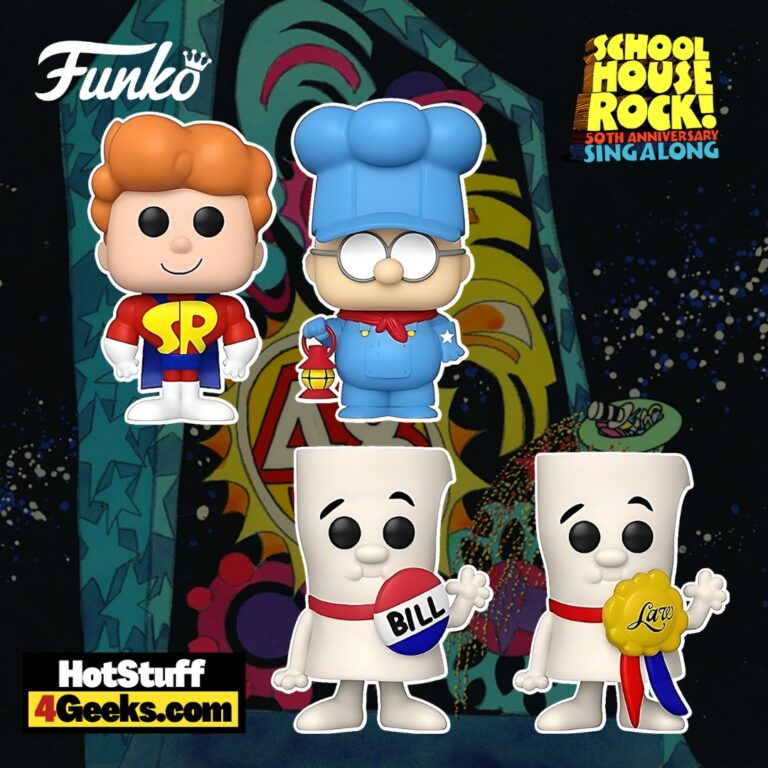 If you've grown up humming the tunes of Schoolhouse Rock! or discovered it along your parenting journey, brace yourself for a nostalgia-infused trip. 2023 rings in a special surprise for Schoolhouse Rock! Funko unveils its latest release – Funko Pop! Television: Schoolhouse Rock Funko Pops! (2023 release).
UPDATE: Now available for pre-order at Amazon! To get your hands on these Pop Vinyl Figures at their release, be sure to check out the links I've provided below – click to jump or scroll to continue reading!
Catching the Nostalgia Wave: Schoolhouse Rock Hits Funko Pop! in 2023
This unique collection brings beloved Schoolhouse Rock! characters to life in Funko's signature style, blending colorful memories with contemporary creativity.
Each Funko Pop! figure captures the essence of the original characters, fostering a tangible connection to the vibrant educational series.
Characters that once graced our television screens on quiet Saturday mornings now stand ready to adorn our bookshelves, office desks, or wherever we crave a dash of nostalgia.
Our cherished memories don't receive such a delightful tribute every day.
And it's a testament to Schoolhouse Rock's enduring legacy that these characters are just as compelling in stylized vinyl form as they were in animated shorts.
Unleash your inner child, indulge your affinity for the iconic series, and let the Schoolhouse Rock Funko Pops! serve as your own personal time machine for those melodious, knowledge-filled mornings.
The Funko Pop! Television: Schoolhouse Rock collection is here. Are you ready to rock?
Here's the Schoolhouse Rock Pops list for this release:
Schoolhouse Rock: Conductor Funko Pop! Vinyl Figure
Schoolhouse Rock: Bill with Chase Variant Funko Pop! Vinyl Figure
Schoolhouse Rock: Rocky Funko Pop! Vinyl Figure
The Schoolhouse Rock Funko Pop! Vinyl Figures can be found at the links below (click to jump!)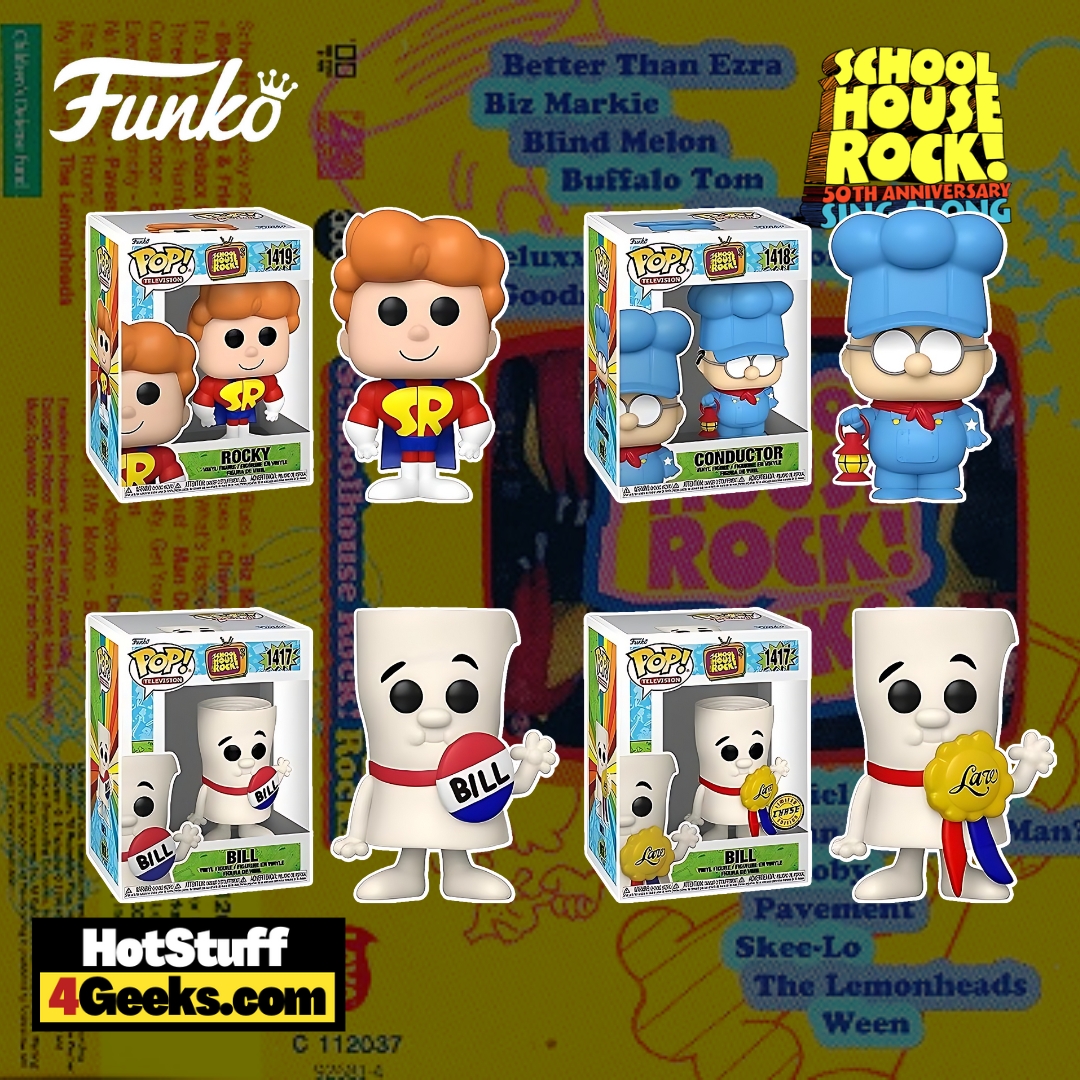 Harmonizing Learning: Celebrating 50 Years of Schoolhouse Rock!
When we turn back the pages of television history, one name reverberates louder than most in the educational sphere: Schoolhouse Rock!
Launched five decades ago, this vibrant animated series revolutionized Saturday morning television, captivating young viewers with a blend of rock and roll, colorful visuals, and invaluable learning.
The journey of Schoolhouse Rock! began with a simple observation. David McCall, a New York advertising executive, noticed his son could effortlessly memorize catchy song lyrics while struggling with multiplication tables.
Recognizing the potential, McCall envisioned a series of instructive, engaging songs to help kids overcome similar learning hurdles.
Teaming up with the talented artists and writers at McCaffrey and McCall, the first Schoolhouse Rock! melodies, like "Zero My Hero" and "Three Is the Magic Number," were crafted and aired in January 1973. The response was unprecedented!
These animated musical shorts swiftly earned a fan base, integrating learning into the traditionally entertainment-driven space of Saturday morning cartoons.
Divided into five subjects—multiplication, grammar, American history, science, and computers—Schoolhouse Rock! had something for every curious young mind.
Who could forget the melody of "Conjunction Junction" or the enlightening journey of a 'bill' dreaming of becoming law in the hallowed halls of Congress?
The songs presented complex concepts with memorable charm, ensuring the learning experience was delightful and beneficial.
What made Schoolhouse Rock! unique wasn't just its integration of music and education but also its distinctive visual aesthetics.
Borrowing more from the likes of underground comic-book artist R. Crumb and the psychedelic art style of Yellow Submarine than traditional Saturday morning cartoons, its visuals were bright, earthy, and refreshingly diverse.
Schoolhouse Rock! dared to portray non-stereotyped people of color, a rarity during that era, giving everyone a chance to see themselves on screen.
While production halted in 1985 due to regulatory changes, the magic of Schoolhouse Rock! never faded.
In the 1990s, a new generation of viewers and fans, raised on the tunes of Schoolhouse Rock!, brought the series back into the spotlight.
This revival led to reruns on ABC, newly commissioned pieces, and even a Broadway musical.
Today, as we celebrate 50 years of Schoolhouse Rock!, we can't help but admire its legacy.
The series successfully leveraged the immersive power of music and television to make learning palatable and exciting.
It showed us that with a dash of creativity, education, and entertainment could seamlessly harmonize, transforming Saturday mornings into a time for both fun and knowledge.
In the face of changing times, one wonders if the spirit of Schoolhouse Rock! is ripe for a reboot, enhanced with modern technological advancements and enriched by a more inclusive understanding of history.
The possibility is intriguing, indeed.
After all, who wouldn't want a new generation to rock out while learning, just like we did?
Here's to Schoolhouse Rock!, a trailblazing series that made us sing, dance, and, most importantly, learn.
As we hum along to its timeless tunes, let's remember the lessons it taught us—not just the multiplication tables or grammatical rules, but the joy and potential of learning itself.
Starting now, you can receive 10% off in-stock items with my special link at Entertainment Earth!
 Enjoy!
As an Amazon Associate I earn from qualifying purchases
Want more stuff like this?
Get the best viral stories straight into your inbox!
Don't worry, we don't spam