Funkoween 2022: The Bride of Chucky: Tiffany Black Light Funko Pop!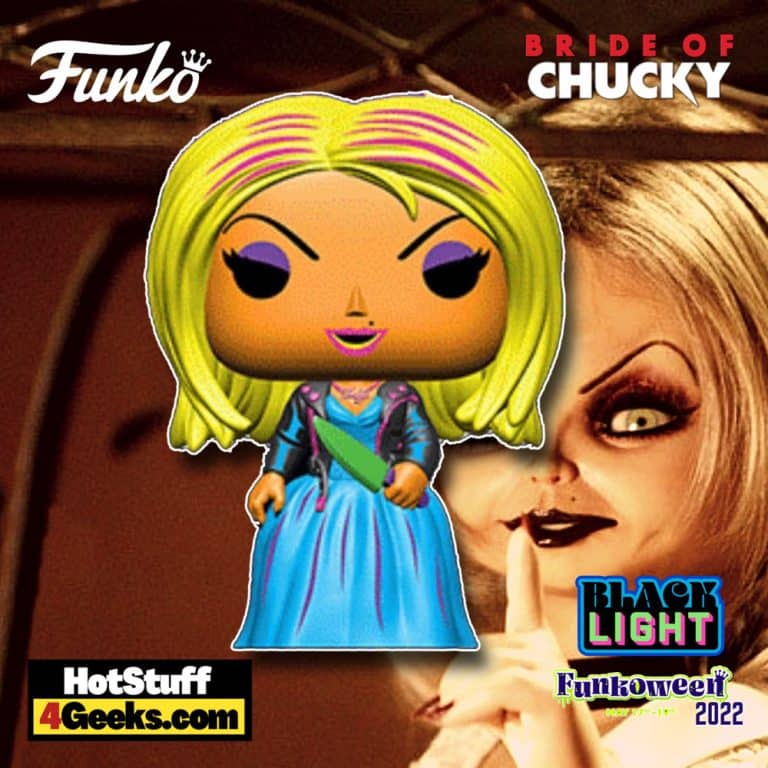 The new Funko Pop! Movies: The Bride of Chucky: Tiffany Black Light Funko Pop! Vinyl Figure – Hot Topic Exclusive (Funkoween 2022 release) depicts Chucky's playmate looking sinisterly sassy in a wedding dress paired leather moto jacket.
You can find the pop figure below (click to jump!)
The soul of Charles Lee Ray, aka Chucky, has been trapped for over a decade in one of the most popular dolls among children. In The Bride of Chucky, his ex-fiancée Tiffany decides to play along, and the two embark on a bloody honeymoon filled with love, mayhem, and destruction.
Tiffany Black Light Funko Pop! (Funkoween 2022) is releasing today and can be found at the links below (click to jump!)

Tiffany was the girlfriend of Charles "Chucky" Lee, the serial killer who had his soul transferred into the Killer Toy.
Obsessed with getting him back, Tiffany manages to rescue the remains of Chucky, which were being kept as police evidence, and tries to rebuild him with a needle, thread, and various pieces of old dolls.
She gets her ex-boyfriend's soul to return to the doll through a voodoo ritual. However, things do not go as she imagined, and the "couple" breaks up.
Tiffany decides to lock the doll in a small cage and gives him a doll dressed as a bride as his "partner." However, Chucky has more sinister plans and tries to put Tiffany's soul into the doll.
Having succeeded, the couple searches for new bodies and the amulet that was buried along with Charles "Chucky" Lee's body in New Jersey.
Since they cannot go there alone, they involve Jade and Jesse, a young couple in love who are hunted down as if they were responsible for the murders committed by the dolls.
Check out Tiffany's perfect companion: Chucky Black Light Funko Pop!
Starting now, you can receive 10% off in-stock items with my special link at Entertainment Earth!
 Enjoy!
As an Amazon Associate I earn from qualifying purchases
Want more stuff like this?
Get the best viral stories straight into your inbox!
Don't worry, we don't spam