The Flash (2023): Batman (Keaton) Diamond Glitter Funko Pop!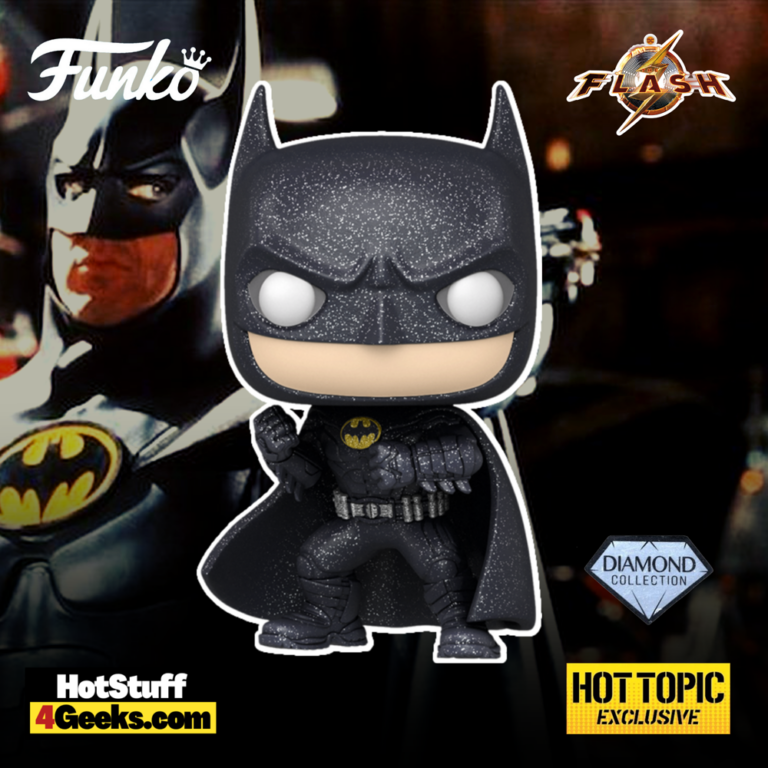 Collectors, take note! If you're a fan of Batman, then this The Flash (2023): Batman (Keaton) Diamond Glitter Funko Pop! Vinyl Figure – Hot Topic Exclusive inspired by the upcoming The Flash movie is precisely what your shelf needs.
The pop figure is now available for pre-order at the links below – click to jump or scroll to continue reading!
Fans of the Caped Crusader had to be patient as they waited for years in anticipation, but it looks like their perseverance is finally being rewarded!
The upcoming movie 'The Flash' is a sign that the DC Universe is back on track and promises to bring the superhero genre to a whole new level.
With Michael Keaton reprising his legendary role as Batman, this blockbuster won't just test our heroes' limits but also give nostalgia-seeking fans a chance to relive some classic scenes from Burton's era.
What could be better than watching the Dark Knight return in full force?
This Pop! figure contains all the suave and sophistication of the Batman we know and love.
Not to mention, it adds a surprise touch of sparkle when you least expect it!
Perfect for any Bat-Funko collection one may have.
It's not just another Pop!
It's an icon.
The Hot Topic Exclusive Batman Diamond Glitter Funko Pop! is now available for order at the links below (click to jump!)
Get ready to put on your cape and cowl because Batman is back!
And not just any Batman, but the one and only Michael Keaton reprising his role as the Dark Knight in the upcoming 2023 movie The Flash.
For years, fans have debated the canonicity of the Tim Burton Batman movies, with questions like "What happened to Michael Keaton's Batman after Batman Returns?" and "Are Joel Schumacher's movies sequels to Burton's Batman universe?"
Well, it looks like The Flash is about to settle all those debates once and for all.
Not only will we see Keaton's iconic Batcave and Batmobile from the Burton movies, but we'll also see how his version of Batman fits into the multiverse of DC movies.
How will he interact with Barry Allen and the other superheroes of the DCEU?
That remains to be seen, but one thing is for sure: Keaton's return as Batman is a celebration of his legacy as the Dark Knight.
But what about the future?
Initially, Keaton's return as Batman seemed to be a long-term storyline for the DCEU, with plans for him to appear in Batgirl and even a Batman Beyond movie.
However, with the recent shakeups at DC Studios, it's unclear what the future holds for Keaton's Batman.
Regardless of what happens next, one thing is sure: Michael Keaton's return as Batman in The Flash will be epic.
It's a chance for fans to revisit one of the most iconic portrayals of the Dark Knight and to see how he fits into the larger tapestry of the DC multiverse.
So please mark your calendars for 2023 because Batman is back and ready to run with The Flash.
Check out more about The Flash (2023) Funko Pops here.
The Flash (2023): Batman (Keaton) Diamond Glitter Funko Pop! Vinyl Figure – Hot Topic Exclusive
Available at:
Starting now, you can receive 10% off in-stock items with my special link at Entertainment Earth!
 Enjoy!
As an Amazon Associate I earn from qualifying purchases
Want more stuff like this?
Get the best viral stories straight into your inbox!
Don't worry, we don't spam