The New 2023 Deadpool Funko Pops! Unveiling the Chaos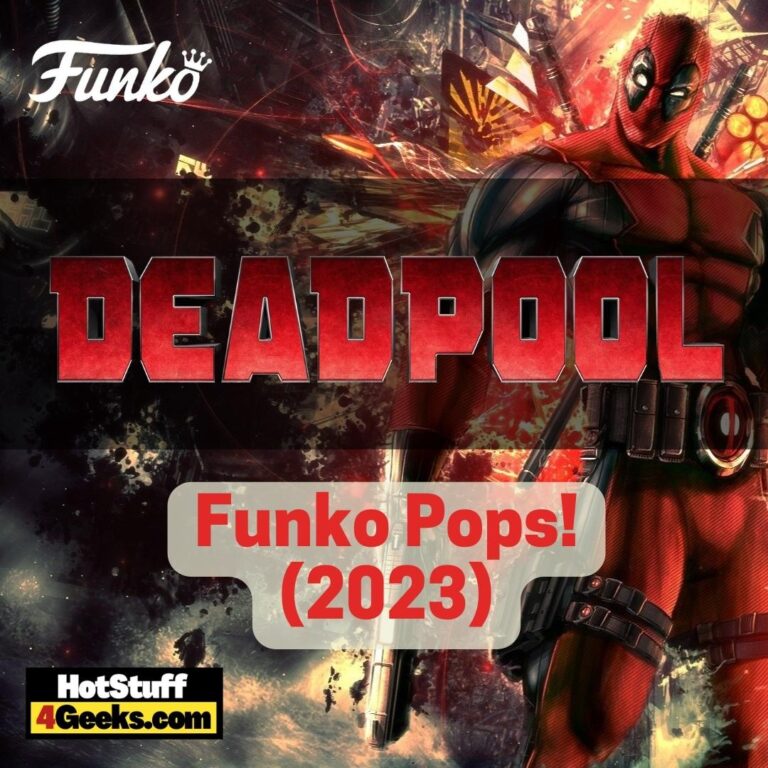 Not official until confirmed.
If you're a fan of Marvel's notorious anti-hero, get ready to marvel at the newest arrivals from the Funko universe. The new Deadpool Funko Pops (2023 release) are here and oozing Wade Wilson's inimitable style. We're talking about detailed designs that genuinely capture Deadpool's irresistible charm, mischievous humor, and his love for all things chimichangas.
To get your hands on this Pop Vinyl Figure at its release, be sure to check out the links I've provided below – click to jump or scroll to continue reading!
Unleashing Chaos: The 2023 Deadpool Funko Pop Revelation
There's nothing like the thrill of cracking open a brand-new Funko Pop box, especially when the charismatic rogue Deadpool is peering back at you.
Ready to burst forth in all his vinyl glory, the 2023 collection does not disappoint, showcasing our beloved Merc in a multitude of his iconic stances.
True to his meta nature, each model captures the unique essence of Deadpool.
They've got his swagger, his offbeat humor, and, most importantly, his flair for the dramatic.
These aren't your ordinary pop figures; they're miniature, finely-detailed encapsulations of Wade Wilson's vibrant personality.
Funko Pop is honoring a Marvel icon who defies convention with this release.
So, whether you're a seasoned collector or just a fan of Deadpool's antics, this collection is a slice of the chaotic charm that makes Deadpool, well, Deadpool.
Here's the list for this Deadpool Funko Pops release:
Deadpool Bowler Funko Pop! Vinyl Figure
Deadpool Beauty Pageant Funko Pop! Vinyl Figure
Deadpool Lederhosen Funko Pop! Vinyl Figure
Deadpool Metal Band Funko Pop! Vinyl Figure
Deadpool Sleepover Funko Pop! Vinyl Figure
Deadpool Tourist Funko Pop! Vinyl Figure
Deadpool Funko Pop! Vinyl Figures (2023 release) can be found for purchase at the links below (click to jump!)
Diving into the Enigma That is Deadpool
To truly appreciate the enigma known as Deadpool, one must navigate the labyrinth of paradoxes and quirkiness that define this anti-hero.
Marvel's irreverent Merc with a Mouth doesn't just break the rules; he decimates them, playing by his own whimsical set of guidelines that are as unpredictable as they are entertaining.
Imagine a superhero so charismatic, so oddly endearing, that Hollywood's elite is fighting to bask in his on-screen glory.
Deadpool, in his own unique style, rubs shoulders with luminaries like Hugh Jackman and Celine Dion.
One moment he's causing mischief in Jackman's hotel room.
The next, he's dancing with Dion on stage, showcasing his versatility and insatiable thirst for the limelight.
Yes, Wade Wilson is quite the social butterfly when he's not slicing up bad guys.
But the intrigue of Deadpool runs deeper.
He's a true maestro of pop culture, artfully weaving references to movies and TV shows into his dialogue with such ease it makes you wonder if he even sleeps.
After all, when does he find the time between saving the world, savoring chimichangas, and delivering those smartly timed zingers?
One minute he's parodying the Green Lantern. The next, he's nodding to Ferris Bueller's Day Off.
He lets us in on the joke with a cheeky wink, acknowledging his existence as a fictional character.
Moreover, Deadpool has an arsenal of powers he casually "borrows" from other Marvel characters.
This masterful mimic has taken the best traits of heroes and villains alike, transforming himself into a supercharged amalgam of abilities.
Remember, imitation is the highest form of flattery!
Additionally, Wade Wilson's comic book consciousness goes beyond the norm.
Thanks to his peculiar ability to perceive our reality, he lives in a state of meta-existence, being aware he's a character in a comic book, video game, or movie.
It's a trippy thought that gives him an edge, enabling him to predict and alter his own future. It's like he's holding all the narrative strings, puppeteering his story as he pleases.
Most notably, Deadpool is a storyteller's dream (or nightmare, depending on how you see it).
He's a character so layered that he confounds even the most ardent comic book nerds.
Beneath that red and black suit is a character so complex that he can rewrite the very fabric of Marvel's reality, reset timelines, and make you laugh while doing it.
And then, of course, there's that incredible healing factor.
Bullets, swords, explosives – they might slow him down, but they can't keep him down.
He bounces back from any injury, his body regenerating at a rate that would make Wolverine jealous.
In essence, Deadpool is a kaleidoscope of complexities – a chaotic, lovable rogue who keeps us guessing and leaves us wanting more.
His unpredictability is part of his charm, and his refusal to play by the rules makes him one of Marvel's most captivating creations.
So here's to Deadpool, the enigma we can't help but love.
Funko Pop! Marvel: Deadpool Funko Pop! Vinyl Figures (2023 release)
Available at:
Starting now, you can receive 10% off in-stock items with my special link at Entertainment Earth!
 Enjoy!
As an Amazon Associate I earn from qualifying purchases
Want more stuff like this?
Get the best viral stories straight into your inbox!
Don't worry, we don't spam