TMNT: 2023 NEW Dark Leonardo PX Exclusive Funko Unveiled
Funko Pop! Comics: Dark Leonardo Funko Pop! Vinyl Figure – PX Previews Exclusive
Available at:
Step into the lair of collectibles and behold the ultimate prize: the Funko Pop! Comics: Dark Leonardo Funko Pop! Vinyl Figure – PX Previews Exclusive. This isn't just any hero in a half-shell; it's the moodier, broodier sidekick your shelf has been waiting for, wrapped up in exclusive Funko flair!
Update: Now available for pre-order! To secure one upon release, use the links provided below – click to jump! or keep scrolling for more details!
The Dark Turtle Emerges: Leonardo PX Funko Exclusive
Unveiling the latest entrant in the Funko universe, the Comics: Dark Leonardo Pop! Vinyl Figure emerges as a PX Previews Exclusive, ready to cast a shadow on your TMNT collection.
With its intricately designed armor and signature grimace, this figure captures the essence of Leonardo's alter ego from the darker chapters of TMNT lore.
The vinyl figure stands out with its bold, black bandana and the red detailing on its plastron, a nod to the character's edgier storyline.
Each element, from the dual katana blades to the aggressive stance, reflects Dark Leonardo's intensity.
The contrast of the dark palette against the classic green brings a sense of depth to the character, hinting at the internal conflict and the darker narrative arcs he traverses.
This isn't merely a figure; it's a statement piece that embodies the duality of a hero who walks the line between light and dark.
Whether perched on a shelf or standing among your TMNT collection, Dark Leonardo's Pop! Vinyl Figure is an exclusive emblem of the intriguing shadows within a hero's journey.
The PX Previews Exclusive Dark Leonardo Funko Pop! can be found for pre-order at the links below (click to jump!)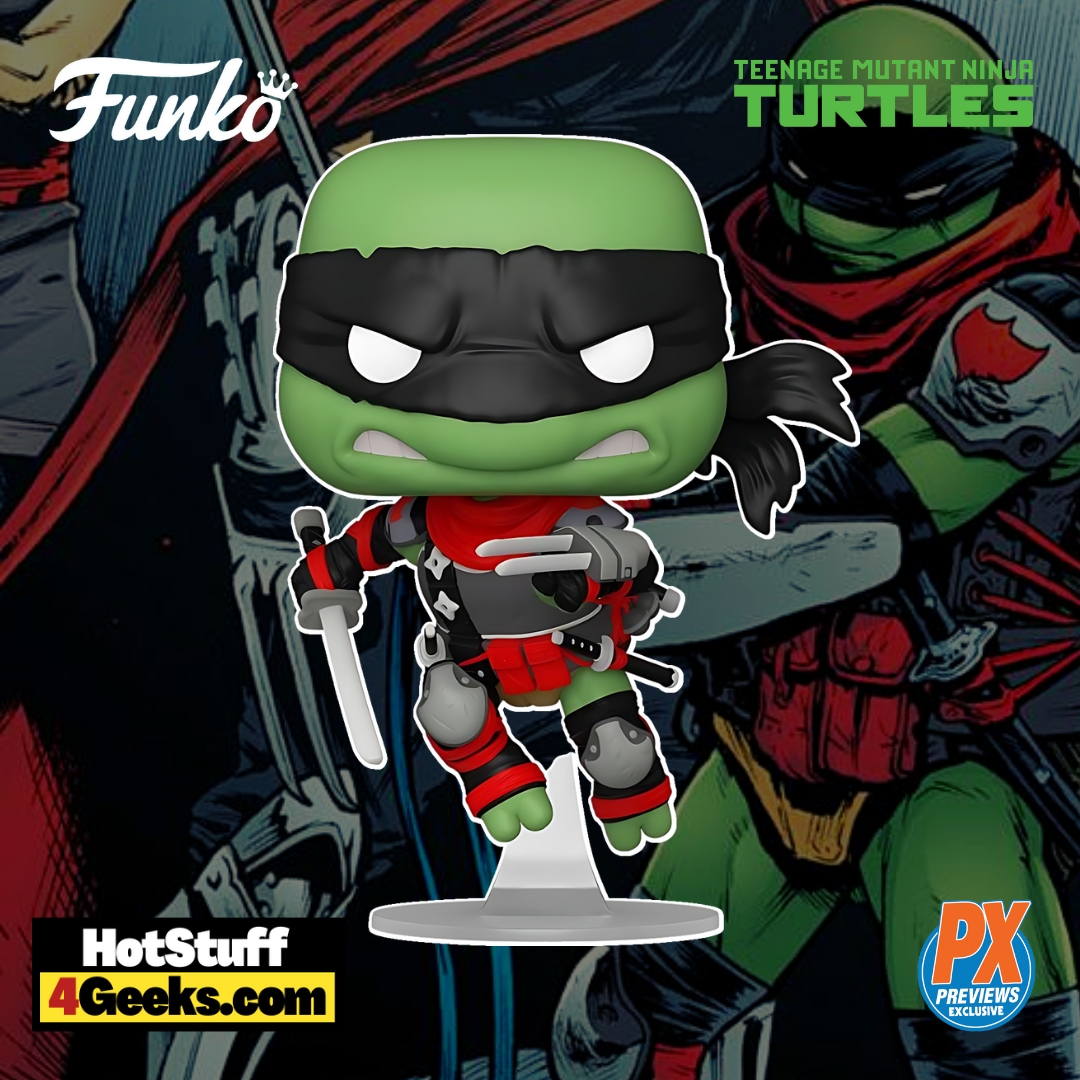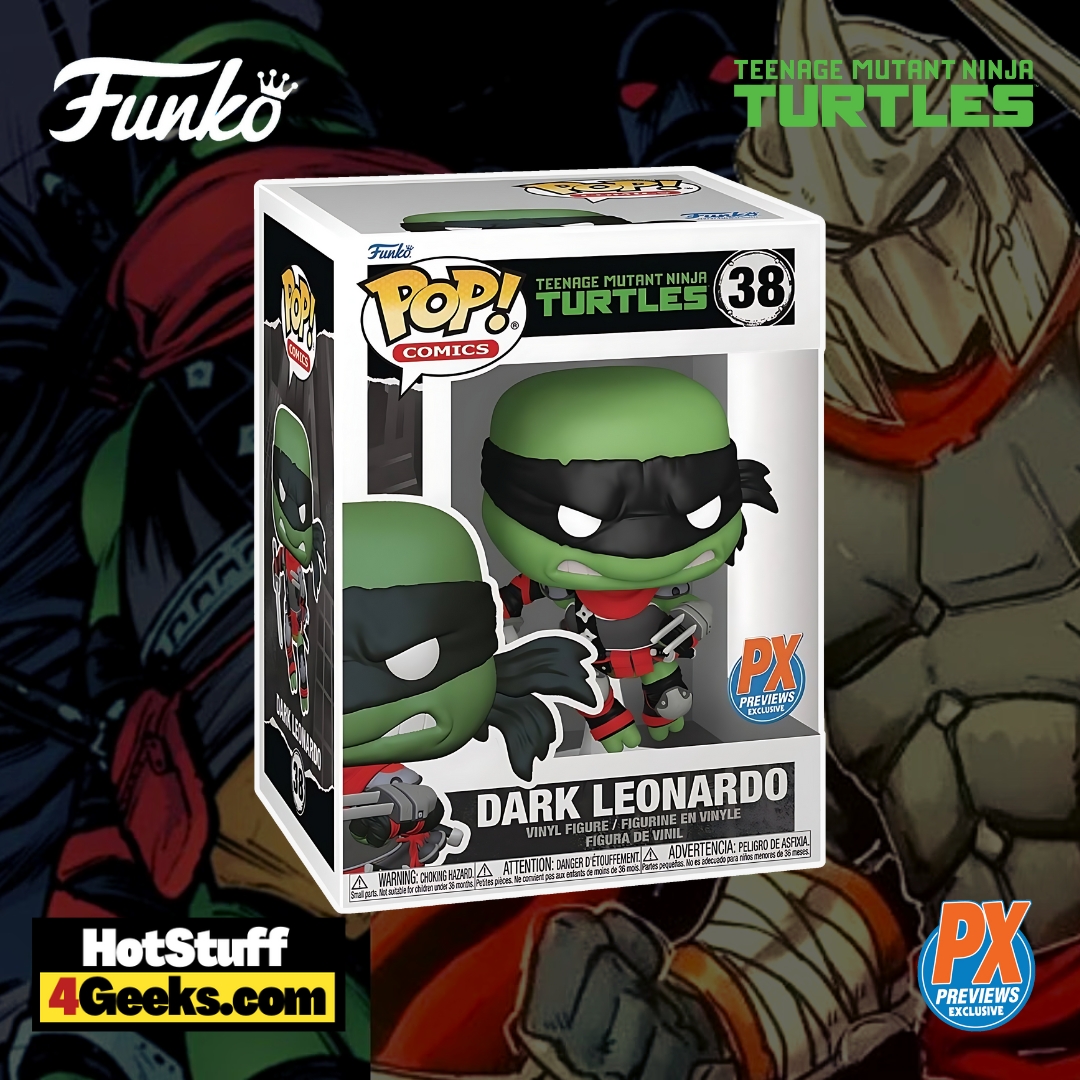 Exploring the Shadows: The Intriguing Tale of Dark Leonardo from TMNT
In the dynamic world of Teenage Mutant Ninja Turtles (TMNT), few characters captivate fans as much as Dark Leonardo.
Straying from his familiar role as the disciplined leader of the Ninja Turtles, Dark Leonardo embodies a fascinating divergence, a reflection of what happens when darker impulses shadow the qualities of a hero.
Dark Leonardo first surfaced in the TMNT universe as an antithesis to the character we've known.
Leonardo, typically characterized by his unwavering sense of responsibility and commitment to his team, turns into a figure that fans barely recognize when he becomes Dark Leonardo.
This transformation is not just a shift in behavior; it's a complete overhaul of his persona, driven by various narrative devices such as mind control, alternate realities, or mystical influences.
What makes Dark Leonardo particularly intriguing is the exploration of his moral complexity. It presents an opportunity to delve into the 'what-ifs' of a character usually portrayed as the epitome of good.
This darker version challenges fans to reconsider their perceptions of heroism and leadership. It questions the good versus evil binary, showing that even the most virtuous characters have layers and complexities.
In various TMNT series and comics, Dark Leonardo's appearance often heralds a significant plot twist or a period of intense conflict. His presence catalyzes change for himself and his brothers and their dynamic.
It forces the other Turtles to confront the possibility of losing their brother to darkness and tests their resilience as a team.
The design of Dark Leonardo also merits attention. Visually, he often sports a more menacing look, with darker colors and sometimes even changes in his armor or weapons.
This visual transformation reinforces the thematic shift in his character, signaling a departure from the Leonardo that fans are accustomed to.
The narrative arcs involving Dark Leonardo usually revolve around his eventual redemption or return to his original self.
These stories are not just about the battle between good and evil; they are about internal struggle, the power of brotherhood, and the enduring nature of one's true self.
They offer a deeper look into Leonardo's character, providing a richer understanding of his strengths and vulnerabilities.
As an Amazon Associate I earn from qualifying purchases
Funko Pop! Comics: Dark Leonardo Funko Pop! Vinyl Figure – PX Previews Exclusive
Available at:
Want more stuff like this?
Get the best viral stories straight into your inbox!
Don't worry, we don't spam