Unveiling the 2023 South Park Funko Pops! Collection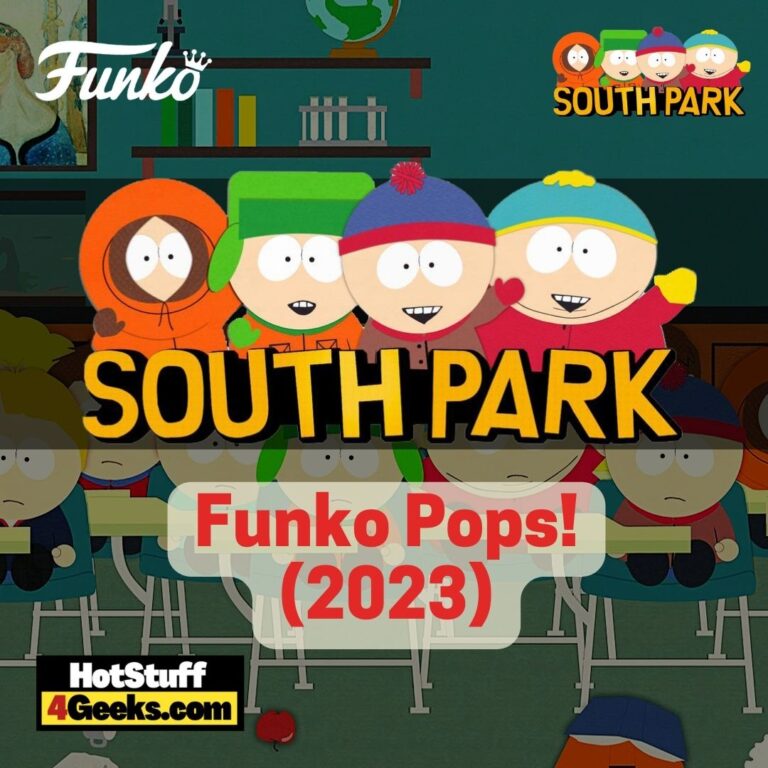 Not official until confirmed.
The world of South Park just got a bit more tangible with the release of their all-new South Park Funko Pops (2023 release). From the beloved characters of the iconic show, including the irrepressible Cartman and the doe-eyed Butters, to those who steal the show in their brief appearances, this collection is a playful nod to the series we all know and love.
To get your hands on this Pop Vinyl Figure at its release, be sure to check out the links I've provided below – click to jump or scroll to continue reading!
A Fresh Spin on Nostalgia: South Park Funko Pops
Reviving the joyous chaos of South Park, the latest line of Funko Pops presents a treat for every devoted fan out there.
We all have a soft spot for the satirical insanity South Park brings to our screens, and these new figures offer a vibrant, tactile echo of that sentiment.
Taking center stage are the infamous characters that inhabit the world of South Park.
These are not just about imitating their animated counterparts; they encapsulate the spirit, the quirks, and the uncanny charm of each character.
With these miniatures, you can bring home a piece of South Park's audacious narrative and a sense of nostalgia woven into the fabric of pop culture.
Each Funko Pop brings to life the unique quirks that have made South Park a cultural phenomenon.
These delightful figures celebrate the show's influence, standing as a tangible testament to the enduring appeal of this iconic series.
Here's the South Park Funko Pops list for this release:
Tweek Funko Pop! Vinyl Figure
Chef in Suit Funko Pop! Vinyl Figure
Mr. Mackey with Sign Funko Pop! Vinyl Figure
Randy Marsh Funko Pop! Vinyl Figure
Timmy and Gobbles Funko Pop! Vinyl Figure
Satan 6-Inch Super-Sized Funko Pop! Vinyl Figure
South Park Funko Pop! Vinyl Figures (2023 release) can be found for purchase at the links below (click to jump!)
The Evolution of South Park: A Journey from Cardboard to CGI
South Park, a name synonymous with controversy and satire, began its journey in 1997.
It has always been a show that stirs up discussion, both positive and negative, due to its daring narrative and audacious humor.
However, its inception and evolution over the years are testaments to its undeniable popularity and lasting appeal.
In the beginning, South Park was all about cardboard cutouts
. These rudimentary designs, although simplistic, lent the show a unique identity.
These handcrafted cutouts defined each character, and the unusual medium added an appealing quirkiness to the series. But, much like any living entity, South Park evolved.
Today, the show relies on the powerful software, Autodesk Maya, to bring its world to life.
Though the essence of cardboard cutouts remains intact, the modern animation technique enhances the visual appeal while keeping up with technological advancements.
This evolution wasn't merely aesthetic. It also allowed the show to reduce its episode production time from weeks to just a few days, making it one of the most responsive shows in the world of animation.
A significant character from South Park's inaugural season, Chef, voiced by the talented Isaac Hayes, is still sorely missed by fans.
Chef was a unique character who used the song as a tool to explain adult scenarios to the young protagonists.
His departure left a void in the series, leading to increasingly outlandish situations for our South Park residents.
However, even in the absence of Chef, the show has remained relevant by tackling contemporary issues.
South Park's later seasons have been marked by insightful political commentary and timely satire, showing the creators' ability to adapt and evolve with the changing times.
While the show's first season was groundbreaking in many ways, it was also notorious for pushing the boundaries of acceptable humor.
It generated a storm of reactions, many adverse, from outraged parents and critics alike.
Despite the intense backlash, the show persisted, paving the way for more daring content in television.
Over the years, the show's narrative has become increasingly wild.
From Kenny's journey to hell to Cartman feeding a kid his parents' remains, South Park has not shied away from the bizarre and absurd.
It's this penchant for outrageousness that keeps fans hooked and critics talking.
Despite its evolution, one thing has remained constant: South Park's commitment to humor, even when tackling serious issues. Initially, the show was content to satirize itself.
Now, it's not afraid to dive headfirst into the intricate world of political and social satire, all the while maintaining its characteristic irreverence.
Finally, South Park would not be what it is today without its memorable characters.
Adding Butters Stotch, for instance, added a new dynamic to the series.
This shy, nervous little boy, with his own set of peculiar secrets, has been an excellent addition to the cast, maintaining the humor quotient while adding a touch of innocence.
In essence, South Park's journey from a cardboard cutout show to a CGI masterpiece is an epic saga of adaptation and evolution.
From pushing boundaries to embracing contemporary issues, the show has managed to remain relevant and entertaining throughout its run, all the while maintaining its unique identity.
The future of South Park is as unpredictable as its past has been, and that's the way we love it.
Funko Pop! South Park Funko Pop! Vinyl Figures (2023 release)
Available at:
Starting now, you can receive 10% off in-stock items with my special link at Entertainment Earth!
 Enjoy!
As an Amazon Associate I earn from qualifying purchases
Want more stuff like this?
Get the best viral stories straight into your inbox!
Don't worry, we don't spam