Unveiling the NEW Bruno Madrigal Glow Funko Pop! BoxLunch Exclusive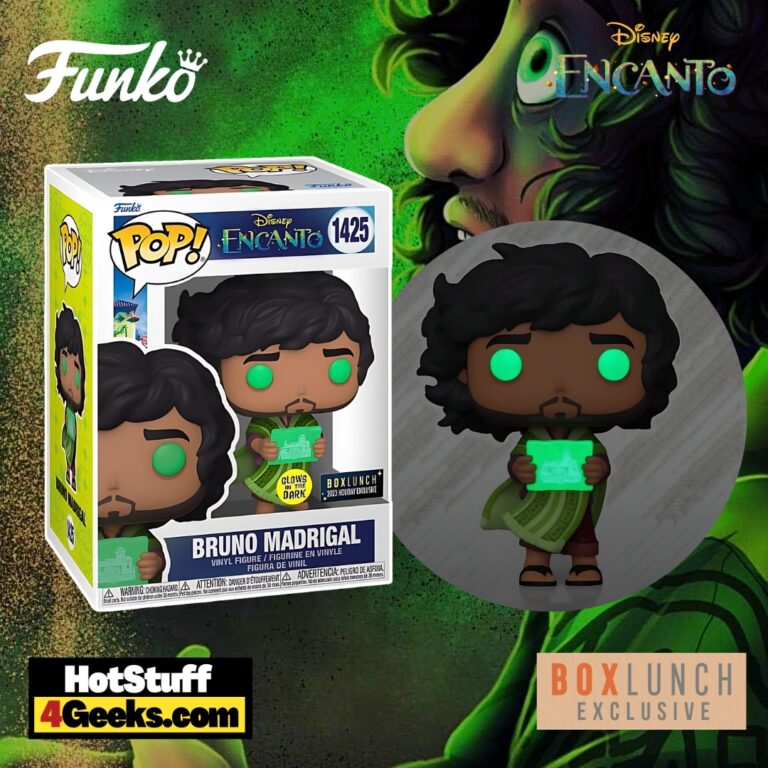 Whispers through the vibrant village of Encanto have spun a new tale, not of impending doom, but of an illuminating new collectible sure to enchant fans and collectors alike! The new Funko Pop! Disney Encanto: Bruno Madrigal Glow-In-The-Dark (GITD) Funko Pop! Vinyl Figure – BoxLunch Exclusive (2023 release) arrives, not hidden behind walls but gleaming with a captivating, mystical aura, ready to add a glimmer of Madrigal magic to shelves around the world.
UPDATE: Now available for order! To get your hands on this Pop Vinyl Figure, be sure to check out the links I've provided below – click to jump or scroll to continue reading!
Exclusive Bruno Madrigal Glow-in-the-Dark Figure Now at BoxLunch!
The magic of Disney's "Encanto" has undeniably resonated with audiences worldwide, and a significant fragment of its allure can be attributed to the enigmatic Bruno Madrigal.
Now, fans are in for a treat, as a fresh embodiment of Bruno's charm awaits them. The release of the new Encanto: Bruno Madrigal Glow-In-The-Dark Funko Pop! Vinyl Figure, an exclusive offering from BoxLunch, is setting waves of excitement across collector communities.
Elegantly capturing the essence of Bruno, this Funko Pop figure doesn't just stand as a mere representation but emanates the aura of the beloved seer.
When lights dim, the glow-in-the-dark feature adds a surreal dimension, reminding us of Bruno's ethereal visions, a crucial element in the storyline.
Amidst the sea of collectibles, it's heartening to find an item that pays homage to the depth and mystery of Bruno Madrigal, intricately designed for those who cherish the intricate layers of his character.
The BoxLunch Exclusive Bruno Madrigal Glow-In-The-Dark (GITD) Funko Pop! can be found for order at the links below (click to jump!)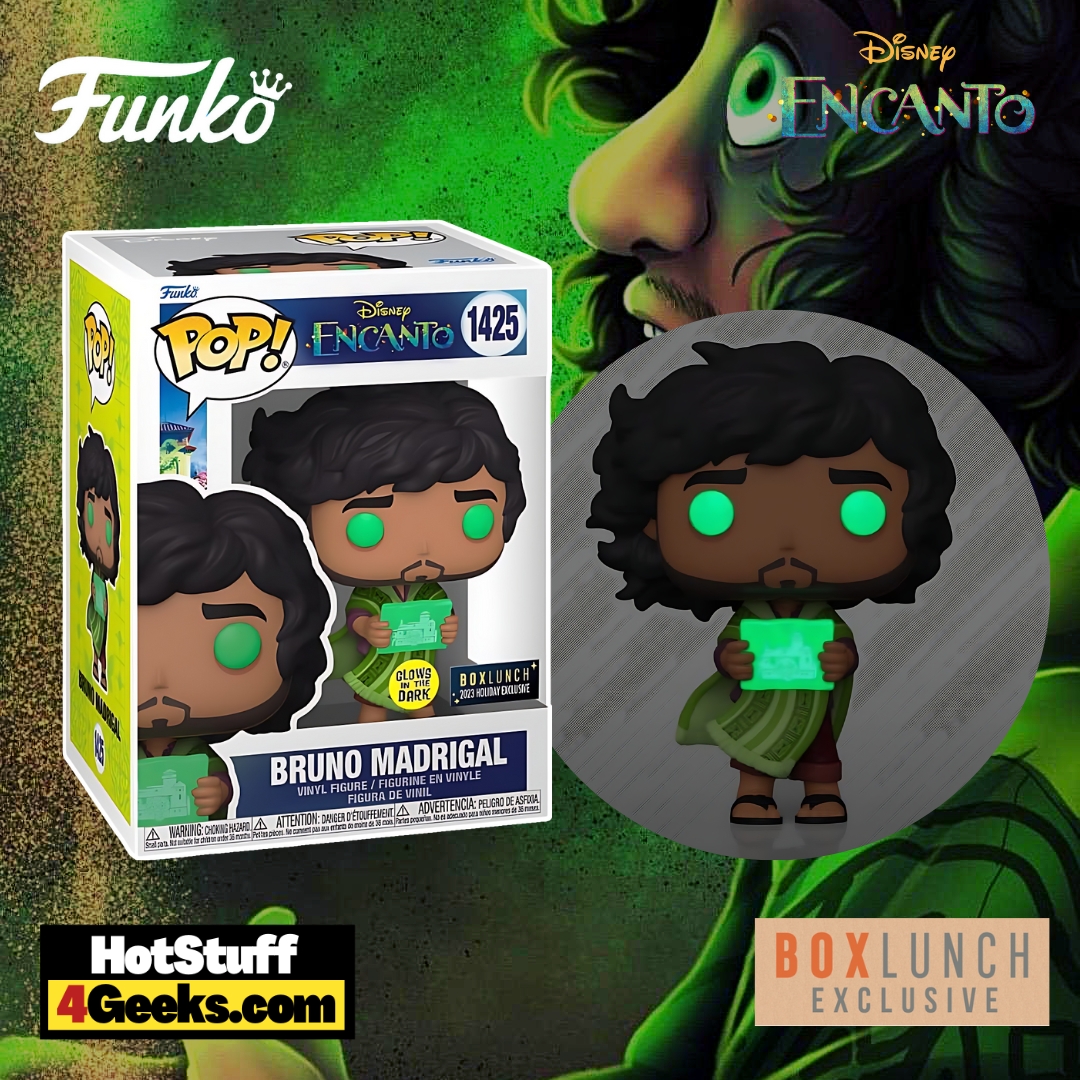 The Subtle Magic Behind Bruno Madrigal's Character
Navigating through the vibrant hues and compelling narratives of Disney's "Encanto", one finds an exciting ensemble of characters, each stitched meticulously with unique traits and magical abilities.
Amidst the colorful tapestry of personalities, a fascinating character named Bruno Madrigal occupies a special nook, not only in the vivid environment of the Madrigal family but also in the hearts of the audience.
Bruno, a character shaped with layers of intricacy and melancholy hues, brings forth a nuanced narrative that veils his genuine, vulnerable self beneath a shroud of mystery and misunderstood forecasts.
The Madrigal family enjoys a spectrum of marvelous abilities in the vivid world that animates Encanto's environs. But with Bruno, we encounter a stark contrast in his gift, or rather, a burden.
He foresees the future, a talent that ostensibly appears magnificent yet harbors a crippling isolation beneath its splendid exterior. His visions, often skewed towards unfortunate events, paint him in a rather ominous light amongst his family and fellow villagers.
Undeniably, navigating through a world where your abilities are perceived with apprehension can seed a poignant solitude, and Bruno's character is sculpted masterfully to embody this dichotomy.
Bruno's verdant-green visions, while dazzling in their visual execution, convey more than mere predictions; they unravel a tapestry where threads of fate, decision, and circumstance intertwine.
His secluded existence behind the walls—quite literally within them—echoes the dichotomy of being simultaneously revered and feared for a gift that intertwines fate and calamity.
Intricately weaving through the narrative, the film subtly unfurls the layers that encapsulate Bruno's character.
His seclusion is not merely physical but deeply emotional and psychological, rooted in the paradox his gift naturally fabricates.
He is tethered between his intrinsic, generous nature and the external perception that taints his every interaction. While laced with the possibility of undesirable outcomes, every prophecy springs from a place of love and concern. This detail often gets eclipsed by the unfolding of the unpleasant predictions themselves.
The beauty of his character lies not just in his mystical abilities but profoundly in his humaneness, vulnerability, and gentle kindness that persists despite being perpetually enshrouded by misinterpretations.
As viewers, we get an intimate glimpse into Bruno's world, where his warm heart and genuine concern for the family persistently eclipse the apprehension and mistrust often directed his way.
In "Encanto," every character plays a pivotal role in the melodic flow of the story, and Bruno acts as a poignant reminder that understanding, acceptance, and love often lie buried beneath the surface of misjudgment and fear.
Through his eyes, we perceive a world where foresight does not predicate control and the unpredictable future is a malleable fabric subject to change and reinterpretation.
His narratives and predicaments subtly whisper the profound truth that in the very essence of our being, amidst the various roles, expectations, and perceptions we are shackled with, resides a pure, unadulterated self, persistently seeking light, acknowledgment, and love.
The undulating journey of Bruno Madrigal weaves this intrinsic truth into the vibrant, enchanting tapestry of "Encanto," fascinating and educating in equally compelling measure.
Check out the Bruno Madrigal Glow Funko Pop! Exclusive to Funko Shop
As an Amazon Associate I earn from qualifying purchases
Want more stuff like this?
Get the best viral stories straight into your inbox!
Don't worry, we don't spam