Unveiling the NEW Netflix Rebel Moon Funko Pops! (2023 release)
Funko Pop! Movies: Netflix Rebel Moon Funko Pop! Vinyl Figures (2023 release)
Available at:
In a universe where collectibles and cinematic brilliance intertwine, the new Funko Pop! Movies: Netflix Rebel Moon Funko Pop! Vinyl Figures (2023 release) have emerged as the newest celestial bodies. These figures, infused with the spirit of Zack Snyder's cosmic vision, promise to be both a collector's dream and a movie lover's keepsake. With meticulous design and unmistakable charm, they are set to take both the Funko and Netflix realms by storm.
Update: Now available for pre-order! To get your hands on these Pop Vinyl Figures at their release, be sure to check out the links I've provided below – click to jump or scroll to continue reading!
Rebel Moon Funko Pops: A Galactic Touchdown
Netflix's upcoming space odyssey, "Rebel Moon," is already garnering attention, and what better way to celebrate its anticipated success than with the release of Rebel Moon Funko Pop! Vinyl Figures?
These figures, showcasing the movie's characters in those cute, oversized-headed designs Funko is known for, are a delightful merger of fandom worlds.
They're tiny tributes to the colossal universe Zack Snyder is preparing to unveil. Characters like the intriguing Kora, who's set to battle across galaxies, now have their miniature counterparts ready for display.
And let's be honest, these Funko Pops are truly delightful!
They capture the movie's essence while giving fans something tangible to hold onto as they await the film's release. For those gearing up for the "Rebel Moon" experience, these figures are a cosmic hint of the adventure ahead.
It's a charming way to keep the celestial buzz alive and kicking!
Unveiling the Rebel Moon Funko Pops List for this year's release:
Kora Funko Pop! Vinyl Figure
Nemesis Funko Pop! Vinyl Figure
Jimmy Funko Pop! Vinyl Figure
Titus Funko Pop! Vinyl Figure
Kai Funko Pop! Vinyl Figure
Atticus Noble Funko Pop! Vinyl Figure
The Rebel Moon Funko Pops can be found for pre-order at their release at the links below (click to jump!)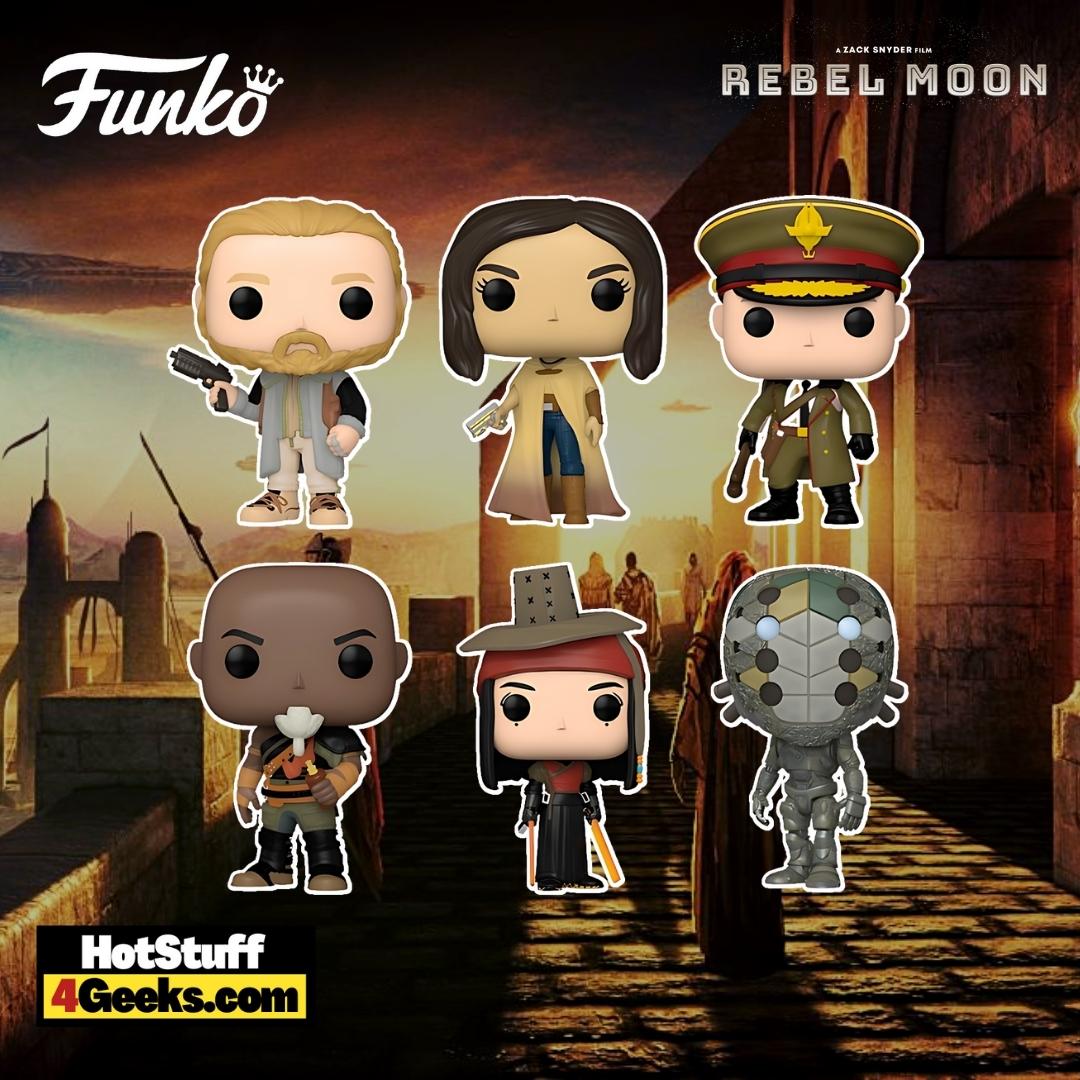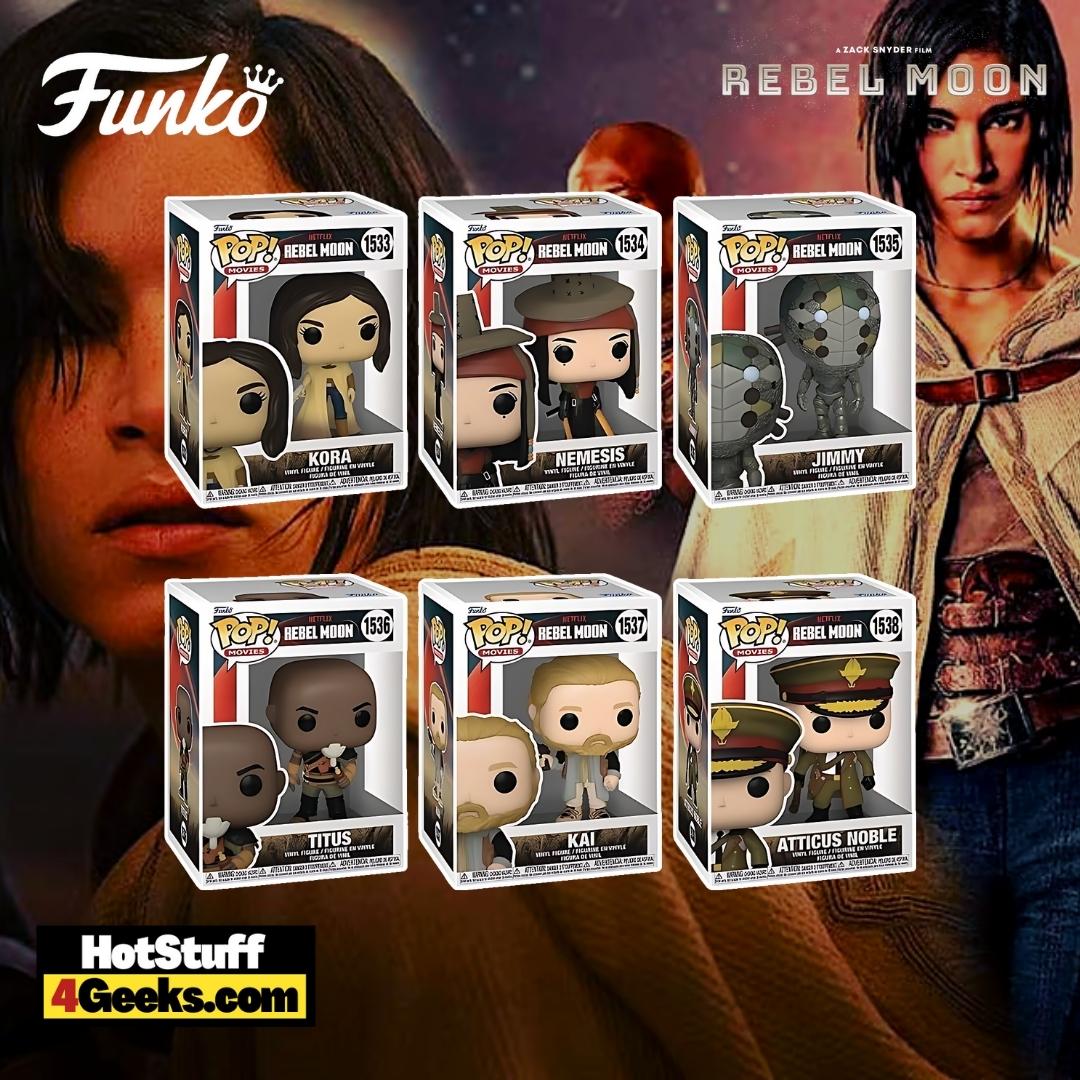 Journey Beyond the Stars: Netflix's "Rebel Moon" Unraveled
As Netflix unfurls its cinematic charm into the sprawling expanse of the universe, Rebel Moon tantalizingly orbits our anticipation, preparing to cascade a stellar shower of sci-fi and fantasy elements onto our screens.
A creative venture by the celebrated Zack Snyder, this two-part space opera promises to narrate a tale where faraway galaxies, enigmatic characters, and a tussle between desolation and hope interweave magnificently.
Here's an intricate peek into the cosmic aura surrounding this forthcoming epic.
Embarking upon a journey where cinematic brilliance is expected to collide with a stellar storyline, Rebel Moon finds its inception on a peaceful colony perched on the brim of a distant galaxy.
The tranquility, however, is shrouded by the ominous threats of a dictatorial ruling force, pushing the narrative into a tumultuous adventure that promises to be as beguiling as it is exhilarating.
Inhabitants, intergalactic warriors, and perhaps secrets as boundless as the universe itself are poised to play pivotal roles in this unfolding cosmic drama.
Navigating through the celestial journey is Kora, portrayed by Sofia Boutella, a stranger harboring secrets and, potentially, the savior of her people.
Her mission, both daunting and imperative, unfolds as she seeks to assemble a motley crew of warriors – each harboring their own histories, quests for redemption, and flames of revenge.
The ensemble cast, encompassing Charlie Hunnam, Michiel Huisman, Ray Fisher, and others, promises to weave an intricate tapestry of characters, each contributing to the ebb and flow of this interstellar narrative.
As visually enticing fields of wheat reminiscent of Gladiator bathe in the sunlight and creatures that may evoke a certain magical nostalgia make subtle appearances, the movie doesn't merely linger in the shadows of its Star Wars-inspired genesis.
Rather, it seemingly eclipses into a realm where various cinematic inspirations gracefully collide, all under Snyder's distinctive directorial flare, acclaimed for its meticulous world-building and stylized slow-mo sequences.
"Rebel Moon – Part One: A Child of Fire", the initial part of this movie series, will embark on its celestial journey through the Netflix universe this December.
Followed by its sequel, "Rebel Moon – Part Two: The Scargiver," viewers will be propelled back into its astral tales and character arcs in April 2024.
The episodic storytelling, distinctly etching each part, ensures not only a comprehensive exploration of its character dynamics and plot intricacies but also a suspenseful interlude that could hold audiences in eager anticipation.
Snyder's narrative vision, originally conceptualized as a Star Wars film, finds its unique identity amidst the vast cinematic cosmos, intertwining familiar galactic echoes with its own unique lore and visually stunning universe.
While the glowing red weapons and rebellion against a tyrannical force strike a familiar chord with seasoned space opera aficionados, Rebel Moon undeniably orchestrates its own symphony of visuals, themes, and cosmic explorations.
Navigating through a universe where the fate of an entire galaxy precariously balances, the films offer more than mere escapism; they herald an exploration into realms unknown, where every frame could unveil a new mystery, a new character depth, or perhaps, a new cinematic wonder.
Rebel Moon is an exciting new addition to the sci-fi genre, featuring a cascade of galactic turmoil, mysterious entities, and a battle cry for survival. The show invites viewers to explore meticulously crafted worlds, engage with intricately woven characters, and immerse themselves in an enthralling narrative. All from the comfort of their earthly abodes.
As an Amazon Associate I earn from qualifying purchases
Funko Pop! Movies: Netflix Rebel Moon Funko Pop! Vinyl Figures (2023 release)
Available at:
Want more stuff like this?
Get the best viral stories straight into your inbox!
Don't worry, we don't spam