2023 NEW Wednesday Addams Netflix Series Funko Pops!
I'm not sure what it is about Wednesday Addams that has inspired so many Funko pops. But I'm not complaining. I mean, she's the perfect blend of creepy and cute, and who doesn't love a good goth girl? In the new Wednesday Addams Funko pops, inspired by Wednesday's Netflix series, Wednesday is rocking her iconic braided pigtails and severe expression.
UPDATE: Wednesday Addams With Cello and Enid Sinclair are now available for order! The pop figures are now available for pre-order at the links below – click to jump or scroll to continue reading!
As the daughter of Gomez and Morticia Addams, Wednesday Addams was born into a family of darkness and quirkiness. From an early age, she displayed many of the traits that would come to define her personality.
She's always severe, rarely smiles, and has a fascination with all things dark and macabre.
In short, Wednesday was (and still is) the perfect embodiment of Goth culture.
Here are the Wednesday pops for this release:
Wednesday:  Wednesday Addams Funko Pop! Vinyl Figure
Wednesday:  Wednesday Addams Diamond Glitter Funko Pop! Vinyl Figure – Hot Topic Exclusive
Wednesday:  Wednesday Addams With Cello Funko Pop! Vinyl Figure – Funko Shop Exclusive
Wednesday: Bianca Barclay Funko Pop! Vinyl Figure (coming soon)
Funko Pop! Television: Wednesday –  Wednesday Addams, Wednesday Addams Diamond Glitter, and Wednesday Addams with Cello Funko Pop! Vinyl Figures are now available for pre-order at the links below (click to jump!)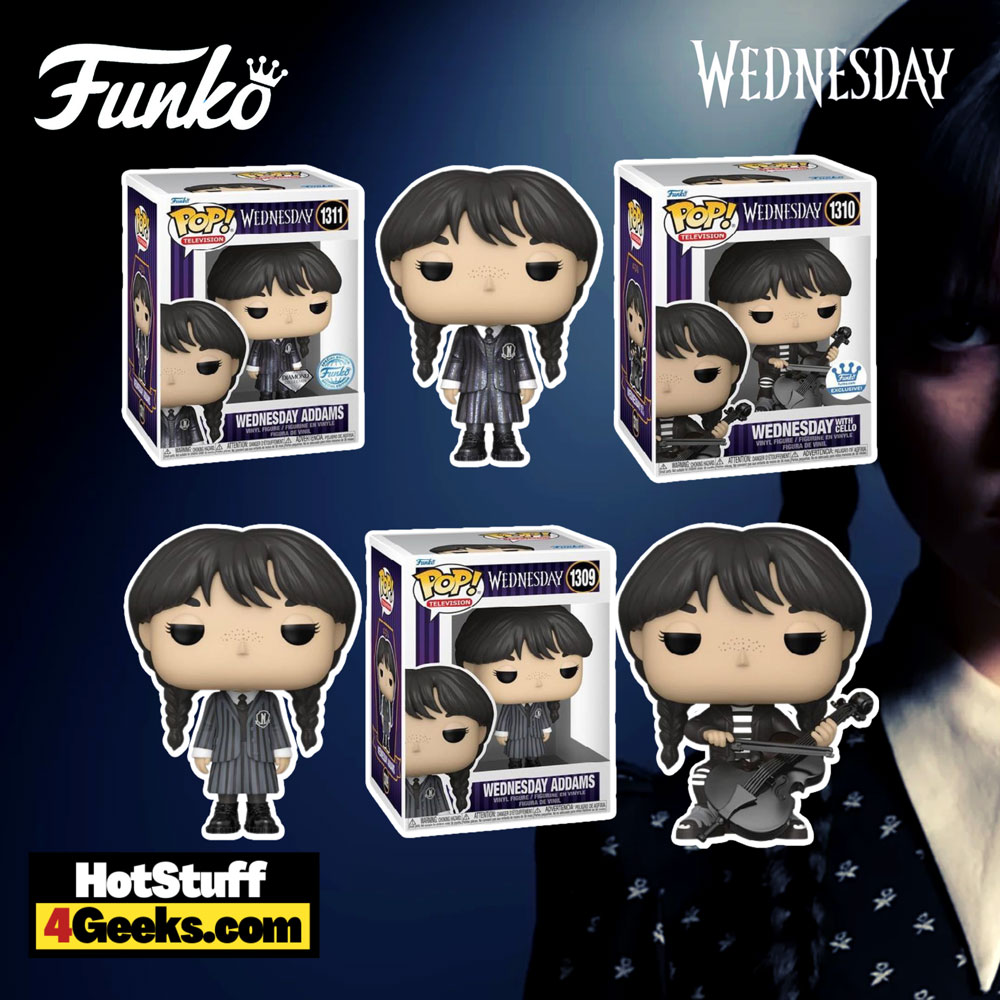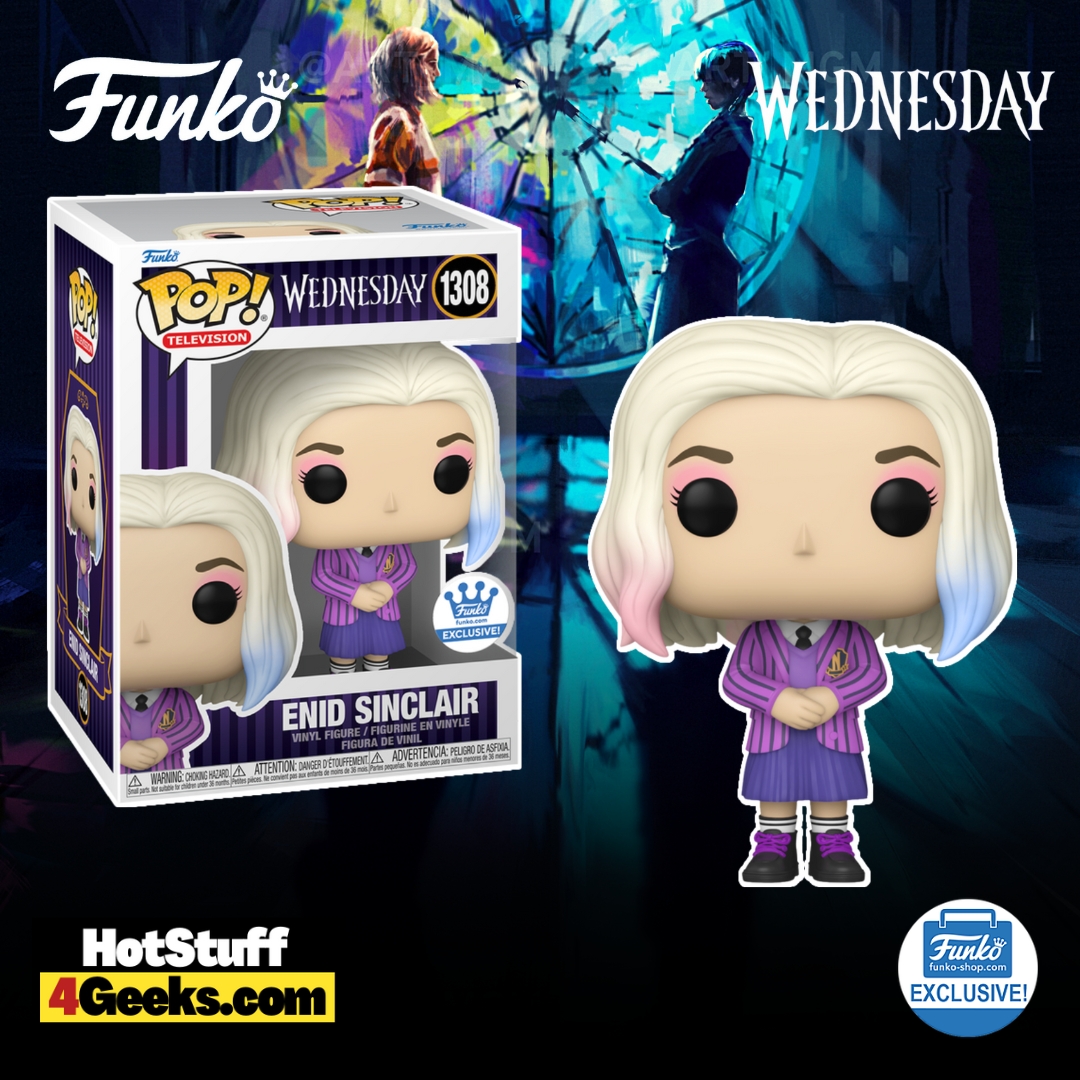 If you're a fan of "The Addams Family," then you know Wednesday Addams is the family's most famous member. She's the one with the black dress, the braids, and the deadpan expression.
She's also the one who always seems to be up to something.
A few things make Wednesday Addams stand out from the rest of her family. For one thing, she's brilliant. She's always coming up with elaborate plans and schemes.
Additionally, Wednesday is fiercely independent and determined. She doesn't take kindly to being told what to do and is not afraid to speak her mind.
Whenever a task needs to be done, you can always count on Wednesday to get it done quickly and efficiently. She is always up for a challenge.
In addition to being intelligent and resourceful, Wednesday is also fiercely independent.
She's not afraid to speak her mind or stand up for what she believes in—even if it means going against her family's wishes.
While she may not be everyone's cup of tea, there's no denying that she's one of the most interesting characters on television.
Netflix's new offering "Wednesday" has taken the streaming world by storm, spinning a macabre yet hilariously relatable web around the iconic Addams Family character, Wednesday Addams.
Putting a fresh, offbeat spin on the typical teenage drama, it's no wonder the show has captured the record for the most hours viewed in a week for an English-language series on Netflix.
Crafted by the visionary mind of Tim Burton, "Wednesday" combines his signature whimsical style with the grim humor we've come to love from the Addams Family.
Each episode sees our deadpan heroine, portrayed by the talented Jenna Ortega, navigate the tumultuous world of high school – and not just any high school, but a school for outcasts, brimming with werewolves, vampires, and other fascinating creatures.
The series follows Wednesday's student years at Nevermore Academy, where she tries to control her emerging psychic abilities, prevent a series of monstrous deaths that terrorize the locality, and solve the supernatural mystery surrounding her parents 25 years earlier – while dealing with the new and very complicated relationships at the school.
There's no shortage of adolescent melodrama in this series. Love triangles, rival-school drama, and yes, even the unveiling of new superpowers add rich layers to Wednesday's otherwise morose persona.
The series also strikes a balance by tackling more profound themes like mental health and classism, making it an engaging viewing experience for teens and adults alike.
Ultimately, what sets "Wednesday" apart isn't the supernatural elements or even its tongue-in-cheek humor.
It's the show's ability to take a well-known, somewhat inscrutable character and put her in a context that makes her experiences, emotions, and dilemmas relatable.
It's a coming-of-age tale dressed up in the trappings of the supernatural, effortlessly blending the absurd with the earnest.
So, let's toss out the "CW" comparisons and savor "Wednesday" for what it is: a delightfully quirky, deeply engaging series that brings a beloved character into a whole new light.
As an Amazon Associate I earn from qualifying purchases
Want more stuff like this?
Get the best viral stories straight into your inbox!
Don't worry, we don't spam