2023 NEW Wednesday Addams Netflix Series Funko Pops!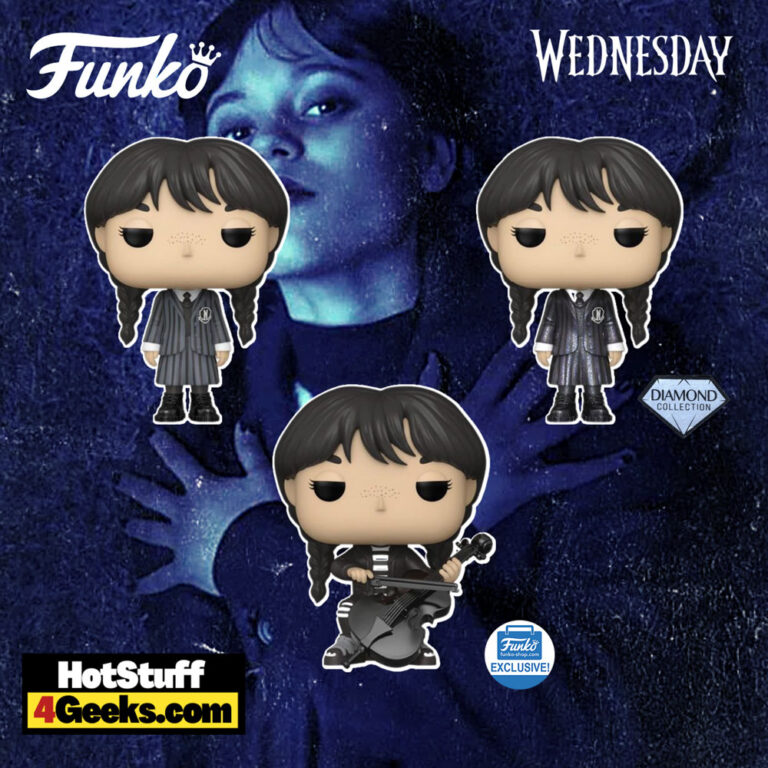 I'm not sure what it is about Wednesday Addams that has inspired so many Funko pops. But I'm not complaining. I mean, she's the perfect blend of creepy and cute, and who doesn't love a good goth girl?
Pop! Wednesday Addams with Cello (Funko Shop exclusive) is dropping today at 9:30 AM PT  at the links below (click to jump!)
In the new Wednesday Addams Funko pops, inspired by Wednesday's Netflix series, Wednesday is rocking her iconic braided pigtails and severe expression. The pop figures are now available for pre-order at the links below – click to jump or scroll to continue reading!
As the daughter of Gomez and Morticia Addams, Wednesday Addams was born into a family of darkness and quirkiness. From an early age, she displayed many of the traits that would come to define her personality.
She's always severe, rarely smiles, and has a fascination with all things dark and macabre.
In short, Wednesday was (and still is) the perfect embodiment of Goth culture.
Here are the Wednesday pops for this release:
Wednesday Addams Funko Pop! Vinyl Figure
Wednesday Addams Diamond Glitter Funko Pop! Vinyl Figure – Hot Topic Exclusive
Wednesday Addams With Cello Funko Pop! Vinyl Figure – Funko Shop Exclusive
Funko Pop! Television: Wednesday –  Wednesday Addams, Wednesday Addams Diamond Glitter, and Wednesday Addams with Cello Funko Pop! Vinyl Figures are now available for pre-order at the links below (click to jump!)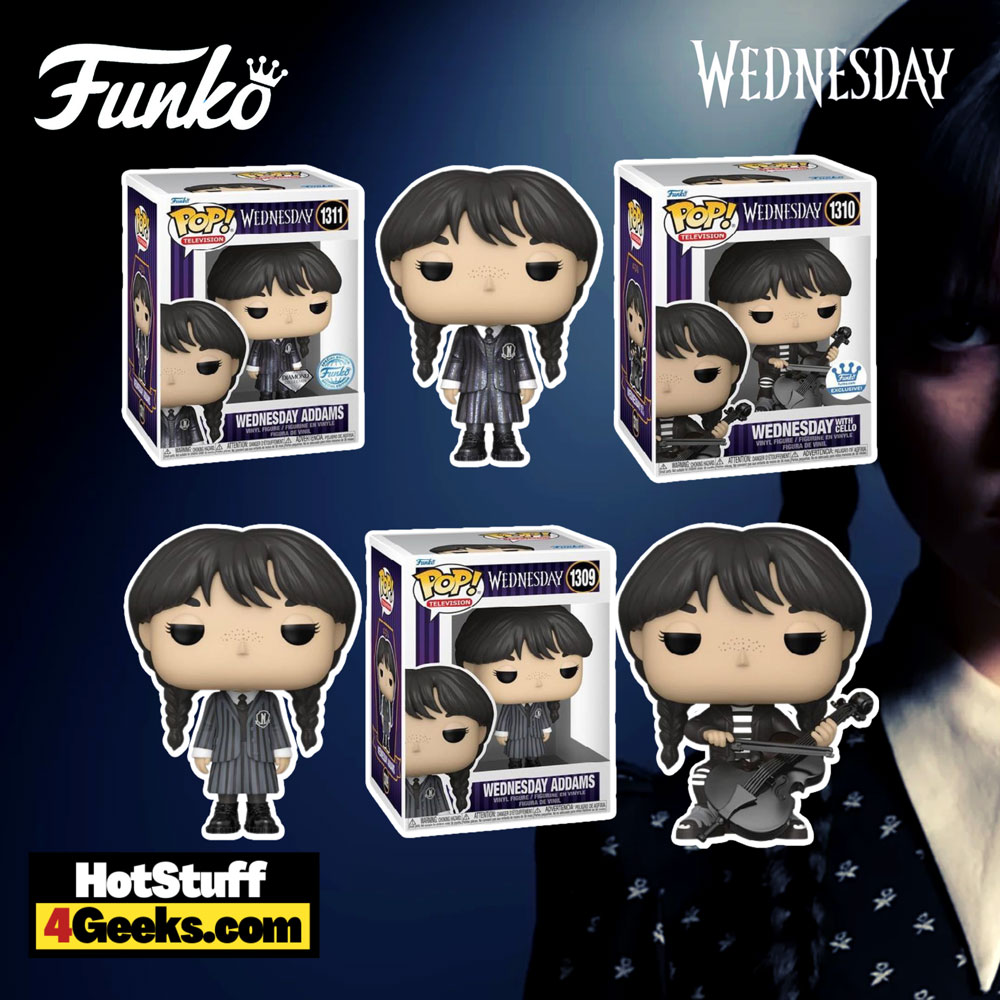 If you're a fan of The Addams Family, then you know Wednesday Addams is the family's most famous member. She's the one with the black dress, the braids, and the deadpan expression.
She's also the one who always seems to be up to something.
A few things make Wednesday Addams stand out from the rest of her family. For one thing, she's brilliant. She's always coming up with elaborate plans and schemes.
Additionally, Wednesday is fiercely independent and determined. She doesn't take kindly to being told what to do and is not afraid to speak her mind.
Whenever a task needs to be done, you can always count on Wednesday to get it done quickly and efficiently. She is always up for a challenge.
In addition to being intelligent and resourceful, Wednesday is also fiercely independent. She's not afraid to speak her mind or stand up for what she believes in—even if it means going against her family's wishes.
While she may not be everyone's cup of tea, there's no denying that she's one of the most interesting characters on television.
The new Wednesday's Netflix series follows Wednesday's student years at Nevermore Academy, where she tries to control her emerging psychic abilities, prevent a series of monstrous deaths that terrorize the locality, and solve the supernatural mystery surrounding her parents 25 years earlier – while dealing with the new and very complicated relationships at the school.
The series, played by Jenna Ortega, centered on the bizarre daughter of Morticia (Catherine Zeta-Jones) and Gomez Addams (Luis Guzmán), was developed by Tim Burton and marks the director's television debut.
He directed the first two of the eight scheduled episodes.
Starting now, you can receive 10% off in-stock items with my special link at Entertainment Earth!
 Enjoy!
As an Amazon Associate I earn from qualifying purchases
Want more stuff like this?
Get the best viral stories straight into your inbox!
Don't worry, we don't spam