WonderCon 2023: A Bug's Life  – Flik on Dandelion Seed Funko Pop!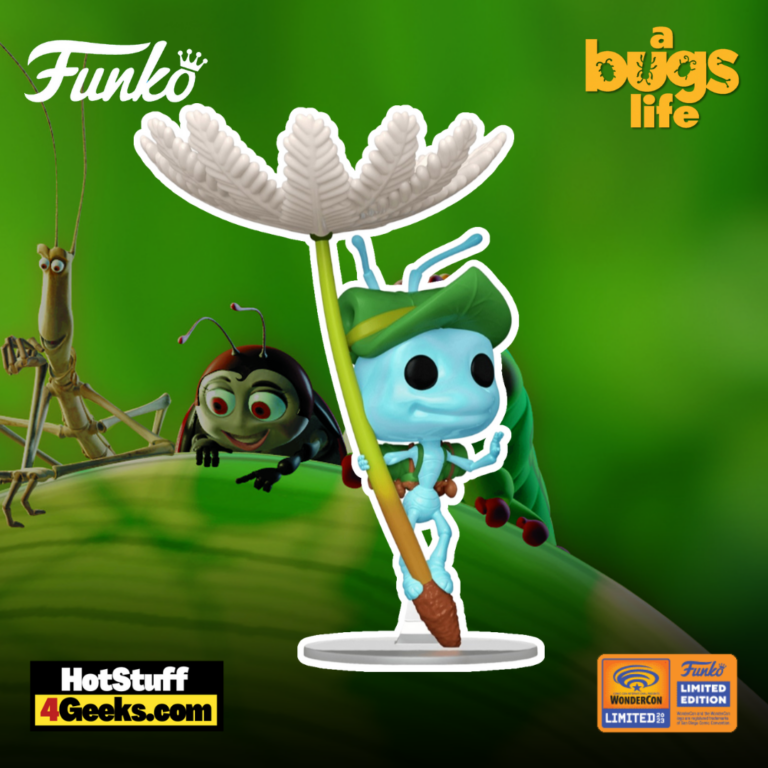 The new Funko POP! Pixar's A Bug's Life  – Flik on Dandelion Seed Funko Pop! Vinyl Figure – WonderCon 2023 and Funko Shop Exclusive will be available online starting at 6 AM PT on Friday, March 24, at the links below (click to jump!)
Flik is the inventive and optimistic protagonist of "A Bug's Life." He's constantly tinkering with his inventions in hopes of finding a way to save his colony from the oppressive grasshoppers.
And in one iconic scene, he takes to the air on a dandelion seed, soaring above the treetops and inspiring his fellow ants to stand up for themselves.
The Flik on Dandelion Seed Funko Pop perfectly captures this moment of triumph and hope.
The figure features Flik clutching a dandelion seed as he takes flight, with his signature blue-and-green outfit and antennaed head.
Whether you're a die-hard "A Bug's Life" fan or simply appreciate the beauty of Funko Pops, this figure is sure to bring a smile to your face. So why not add a little bit of hope and optimism to your day, and pick one up for yourself?
The Wondrous Comic Con 2023 exclusive Flik on Dandelion Seed Funko Pop! can be found at the links below as soon as the online sale begins (click to jump!)
A Bug's Life is a beloved animated movie that tells the story of a colony of ants forced to stand up against a group of grasshoppers to save their home.
Directed by John Lasseter and Andrew Stanton, the film was released in 1998 and quickly became a favorite of audiences of all ages.
The plot of A Bug's Life revolves around Flik, a quirky inventor ant who is constantly trying to make life easier for his fellow ants.
However, his latest invention accidentally destroys a large portion of the colony's food supply, which is supposed to be offered to the grasshoppers as protection money.
The grasshoppers, led by the menacing Hopper, demand that the ants provide them with even more food as compensation for the accident.
Fearing for their lives, the ants turn to Flik for help, and he suggests that they seek the help of bigger and tougher bugs to fight the grasshoppers.
Flik sets out on a quest to find these "warrior bugs," but instead, he stumbles upon a group of down-on-their-luck circus bugs.
Despite their lack of warrior skills, Flik convinces them to return to the colony with him and pretend to be the warrior bugs to scare off the grasshoppers.
What follows is a hilarious and heartwarming adventure as Flik, and the circus bugs try to fool the grasshoppers while also learning to work together as a team.
Along the way, Flik also falls in love with Princess Atta, the ant queen's daughter, and must navigate his feelings for her while also trying to save the colony.
A Bug's Life is a charming and entertaining movie that teaches valuable lessons about bravery, teamwork, and standing up for what is right.
It features a talented voice cast, including Dave Foley as Flik, Kevin Spacey as Hopper, and Julia Louis-Dreyfus as Princess Atta.
The film's stunning animation, colorful characters, and catchy musical score also make it a feast for the eyes and ears.
It's no wonder that A Bug's Life has remained a beloved classic for over two decades and continues to capture the hearts of new generations of viewers.
You can check all the Wondercon 2023 Funko releases here.
Funko POP! Pixar's A Bug's Life  – Flik on Dandelion Seed Funko Pop! Vinyl Figure – WonderCon 2023 and Funko Shop Exclusive
Available at:
Starting now, you can receive 10% off in-stock items with my special link at Entertainment Earth!
 Enjoy!
As an Amazon Associate I earn from qualifying purchases
Want more stuff like this?
Get the best viral stories straight into your inbox!
Don't worry, we don't spam