WonderCon 2023: Batman – Poison Ivy Funko Pop!
The new Funko POP! Batman – Poison Ivy Funko Pop! Vinyl Figure – WonderCon 2023 and FYE Shared Exclusive will be available online starting at 6 AM PT on Friday, March 24, at the links below (click to jump!)
The Poison Ivy Funko Pop is definitely a must-have for any comic book fan!
Not only does it feature an incredibly vibrant and detailed design with bright colors, but it also has all of Poison Ivy's iconic features and accessories.
From her leather boots to the long and luxurious leaves that cascade through her hair, this figure presents fans with a truly realistic representation of the villainous character.
With her coy smirk and sly elegance, this collectible will have you admiring its distinct charm for years to come.
Not only is she ready to wreak chaos on the world of Gotham, but she also brightens up any shelves or desks she sits upon.
With her outrageous personality and spellbinding intellect, this collectible will surely be admirable in anyone's collection!
The Wondrous Comic Con 2023 exclusive Poison Ivy Funko Pop! can be found at the links below as soon as the online sale begins (click to jump!)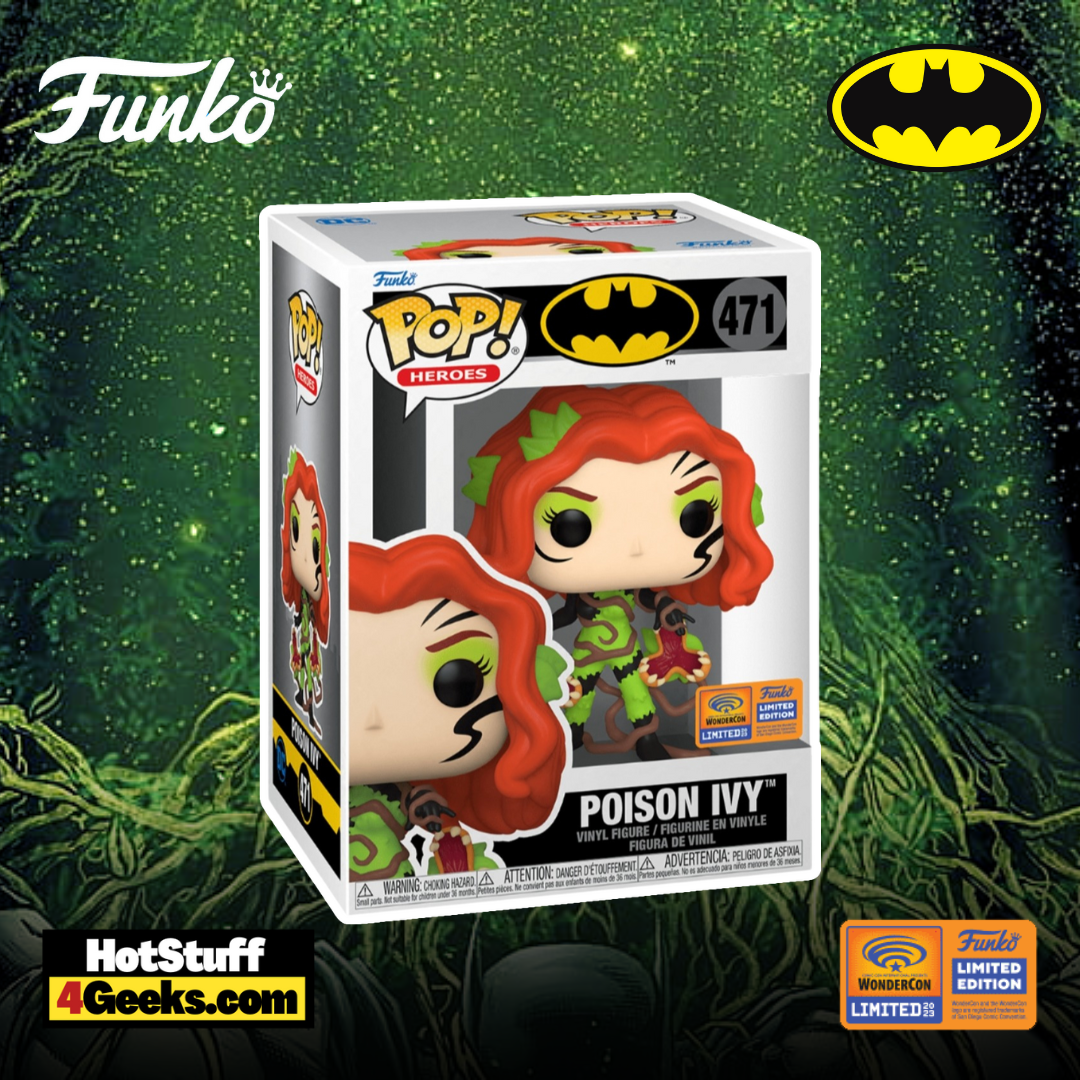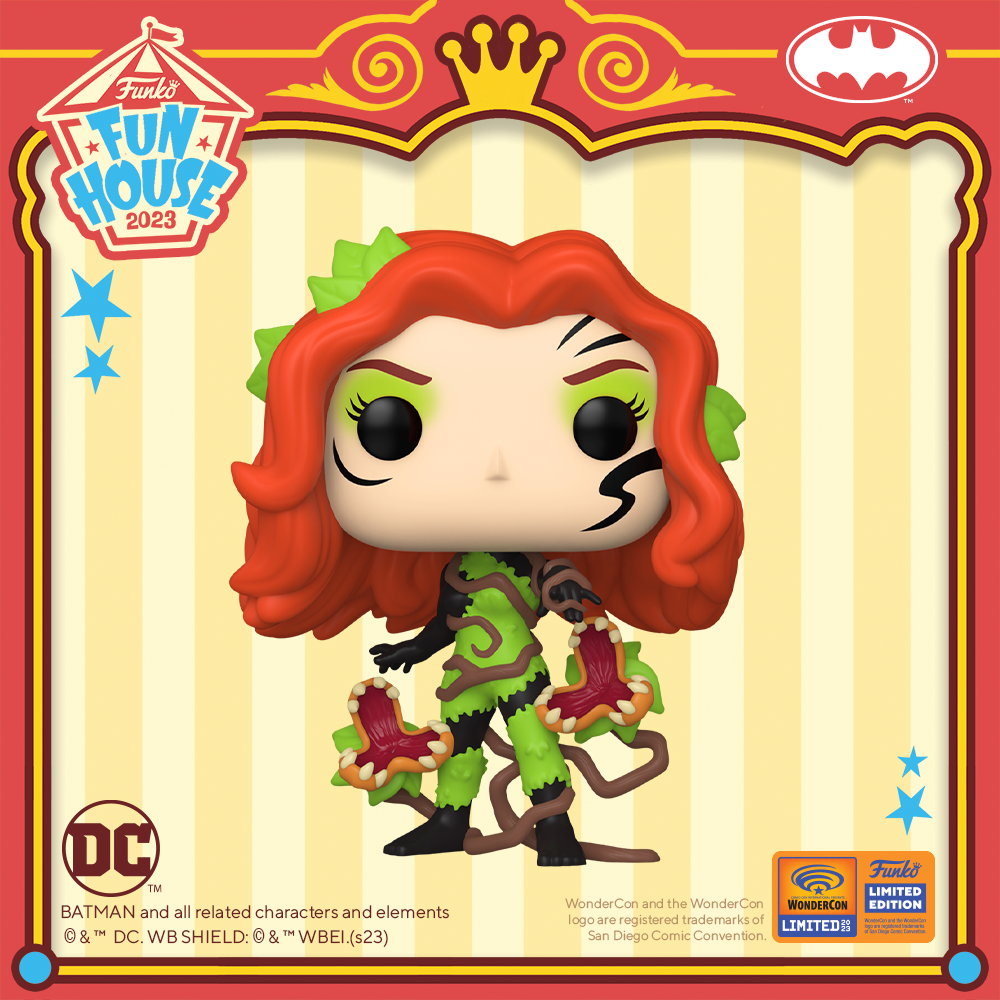 Poison Ivy is one of the most popular and recognizable villains in the Batman universe.
She is known for her red hair, green skin, and plant powers.
Poison Ivy was created over fifty-seven years ago by Robert Kanigher and Sheldon Moldoff and has appeared in various media, including television shows, animated films, and one live-action film.
In her early appearances, Poison Ivy was depicted as a seductress and a love interest for Bruce Wayne.
However, as her popularity grew, she became more empowered and complex, standing alone as one of Batman's most dangerous enemies.
Poison Ivy is an eco-terrorist fighting for the greater good of plants.
Her love for the Earth and her disdain for humanity make her a compelling and unique nemesis for the Dark Knight.
While most Batman villains act in selfish, psychotic ways for the sake of evil, Poison Ivy fights for a cause she believes in.
One of the most exciting things about Poison Ivy is her origin story, which was partially inspired by Nathaniel Hawthorne's short story "Rappaccini's Daughter."
Like the story's protagonist, Poison Ivy has immunity to toxins and poisons and has biochemical toxins in her body.
She loves plants much more than she loves humans and can create plant avatars that do her bidding.
Poison Ivy's seductive powers are also a hallmark of her character.
She exudes pheromones that attract people to her and can secrete various substances that come from plants, including a chemical that causes anyone around her to become full of desire and lust.
She uses this secretion as a weapon and has even seduced Batman in their encounters.
Poison Ivy and Harley Quinn are one of the most beloved pairs in the Batman universe.
They are always up to crazy antics and chaotic heists. In an alternate reality storyline called "Rockumentary," the two were even in a folk duo.
While Poison Ivy has undergone several changes throughout the years, one thing remains the same: she is a complex and intriguing character.
Her love for plants and her willingness to do anything to protect them makes her a unique and fascinating villain.
You can check all the Wondercon 2023 Funko releases here.
Funko POP! Batman – Poison Ivy Funko Pop! Vinyl Figure – WonderCon 2023 and FYE Shared Exclusive
Available at:
Starting now, you can receive 10% off in-stock items with my special link at Entertainment Earth!
 Enjoy!
As an Amazon Associate I earn from qualifying purchases
Want more stuff like this?
Get the best viral stories straight into your inbox!
Don't worry, we don't spam