WonderCon 2023: Bugs Bunny as Superman Funko Soda w/ Flocked Chase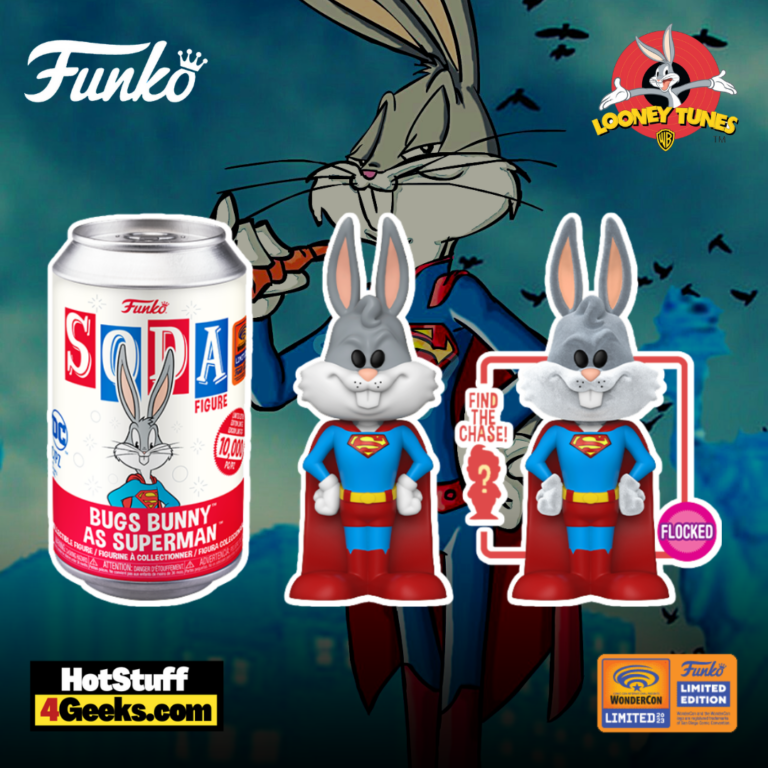 The new Funko POP! Warner Bros – Bugs Bunny as Superman with Flocked Chase Funko Soda Vinyl Figure – WonderCon 2023 and Funko Shop Shared Exclusive will be available online starting at 6 AM PT on Friday, March 24, at the links below (click to jump!)
Bugs Bunny is a timeless classic for children and adults alike, with his iconic red bow tie, mischievous grin, and smart-aleck demeanor.
Now, the legendary character is taking on a new form thanks to the Funko Soda Vinyl Figure inspired by the "Super-Rabbit" episode of the classic Bugs Bunny cartoon.
Perfect for any fan of the series or collector of pop icons, this soda figure features Bugs Bunny in Superman's costume.
While it may not grant him any superpowers, fans can still enjoy owning their own piece of classic cartoon historical memorabilia.
The Wondrous Comic Con 2023 exclusive Bugs Bunny as Superman Funko Soda with Flocked Chase can be found at the links below as soon as the online sale begins (click to jump!)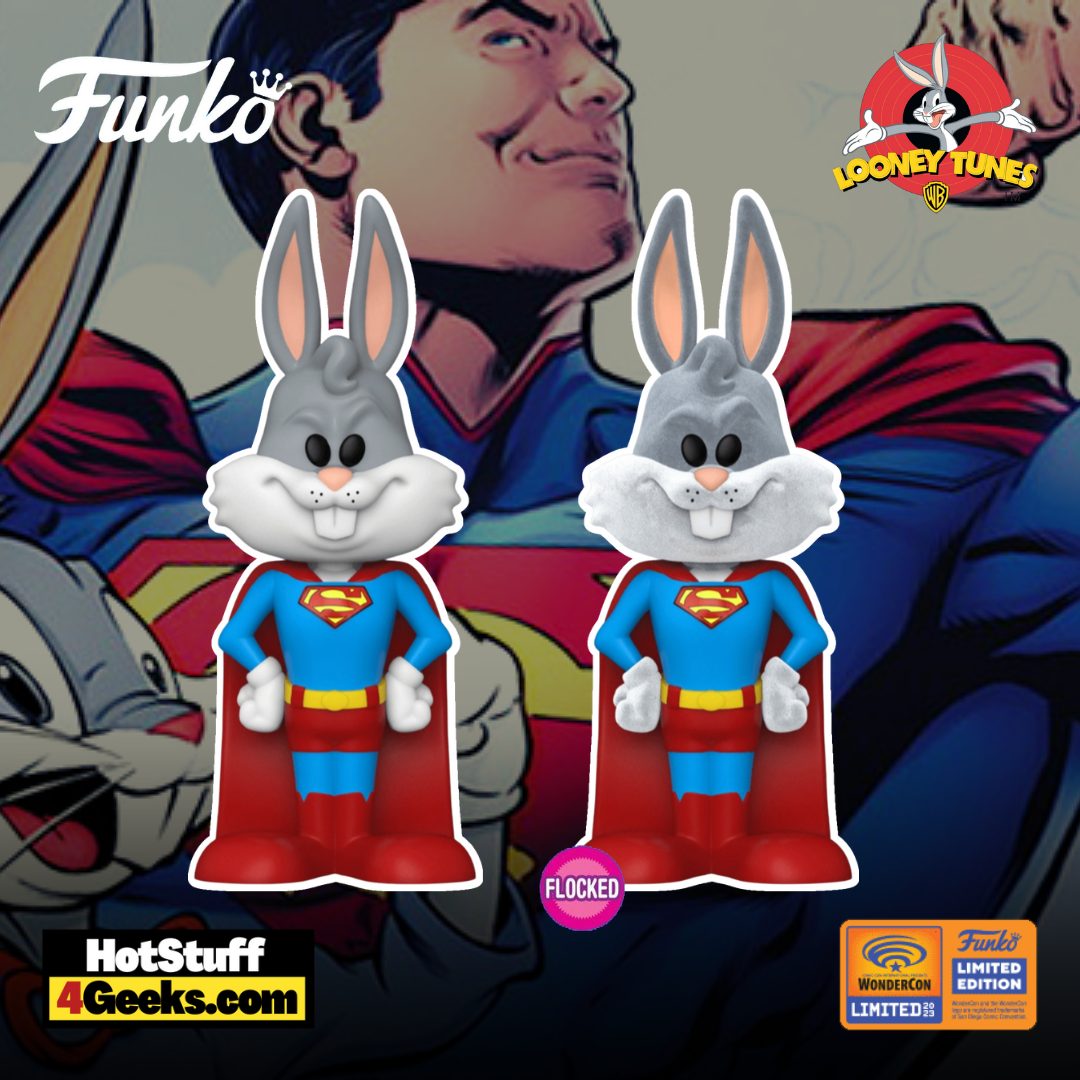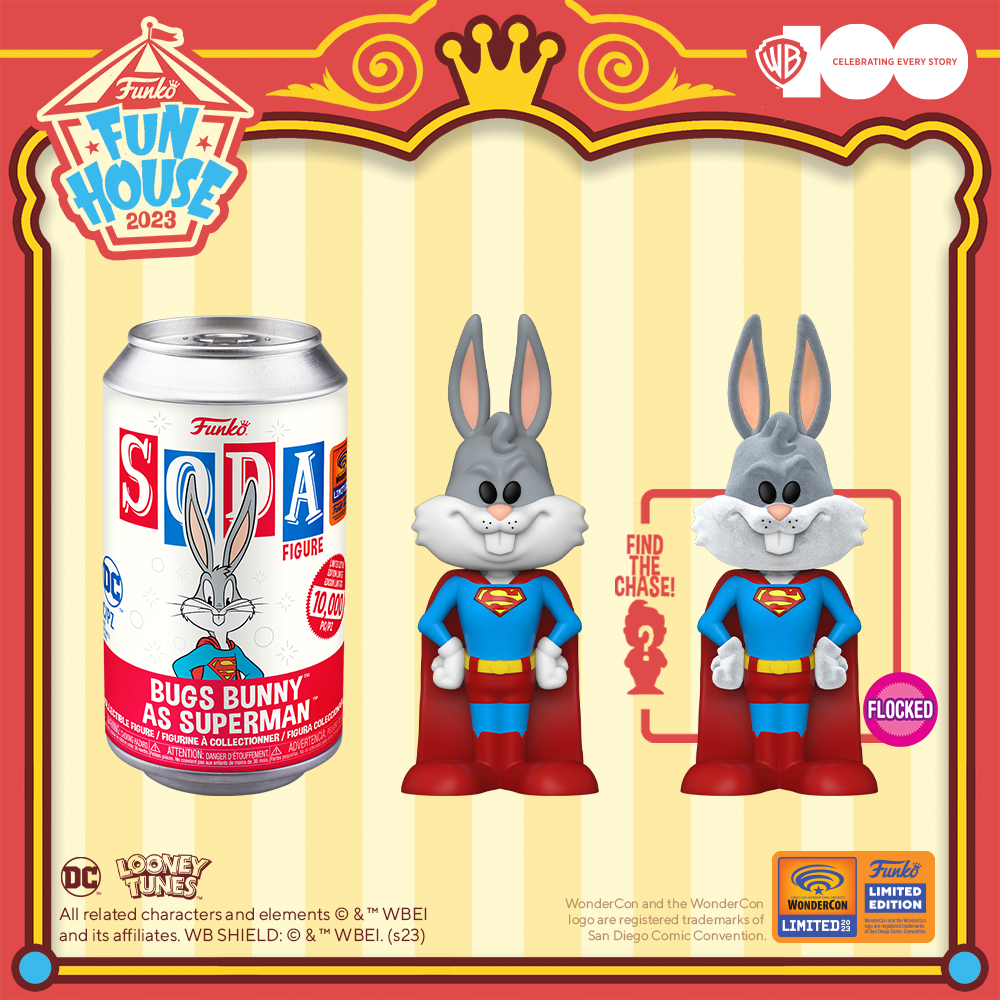 f you're a fan of classic cartoons, you may remember a certain episode of "Looney Tunes" where Buggs Bunny donned the iconic red cape and became Superman.
It was a crossover event that brought together two of the most beloved characters in animation history, and it remains a fan favorite to this day.
But how did this unlikely pairing come about? And what made this particular episode so special? Let's dive into the history of "Super-Rabbit" and explore why it's still such a memorable moment in cartoon history.
The idea for "Super-Rabbit" came about in the early 1940s when the Superman character was at the height of his popularity.
The folks at Warner Bros. saw an opportunity to capitalize on this success by creating a parody of the Man of Steel.
Enter Buggs Bunny, who was already a popular character in his own right.
The idea of turning him into a superhero was a natural fit, and thus "Super-Rabbit" was born.
The plot of "Super-Rabbit" is pretty straightforward.
Buggs Bunny is minding his own business when he comes across a group of animals who are being threatened by a hunter.
To save them, Buggs transforms into Super-Rabbit and takes on the hunter.
The rest of the episode plays out like a classic superhero story, with Super-Rabbit using his powers to outsmart the villain and save the day.
It's a simple but effective plot showcasing Buggs Bunny's trademark wit and charm.
So why does "Super-Rabbit" continue to resonate with audiences today, decades after it was first released? There are a few reasons.
First and foremost, it's simply a well-crafted episode of "Looney Tunes".
The animation is top-notch, the jokes are clever, and the pacing is spot-on.
Even if you're not a fan of superhero stories, you can appreciate the artistry that went into creating this cartoon.
But there's also something timeless about the character of Buggs Bunny.
He's a scrappy underdog who always manages to come out on top, no matter what challenges he faces.
In "Super-Rabbit," we see him take on an entirely new persona and still maintain that same spirit of determination and wit.
And, of course, there's the nostalgia factor.
For many people, "Super-Rabbit" was a formative part of their childhood.
Watching it again as an adult can bring back fond memories and feelings of nostalgia for a simpler time.
You can check all the Wondercon 2023 Funko releases here.
Funko POP! Warner Bros – Bugs Bunny as Superman with Flocked Chase Funko Soda Vinyl Figure – WonderCon 2023 and Funko Shop Shared Exclusive
Available at:
Starting now, you can receive 10% off in-stock items with my special link at Entertainment Earth!
 Enjoy!
As an Amazon Associate I earn from qualifying purchases
Want more stuff like this?
Get the best viral stories straight into your inbox!
Don't worry, we don't spam