WonderCon 2023: Disney – Hercules w/ Action Figure Funko Pop!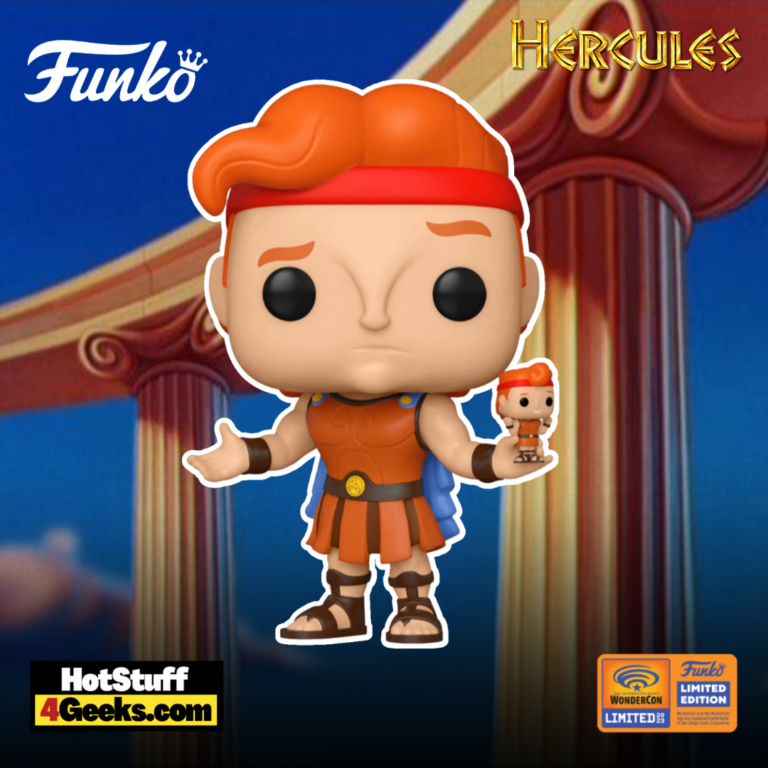 The new Funko POP! Disney Hercules  – Hercules with Action Figure Funko Pop! Vinyl Figure – WonderCon 2023 and Walmart Shared Exclusive will be available online starting at 6 AM PT on Friday, March 24, at the links below (click to jump!)
Hercules stands out as a strong character because of his heroic qualities and determination.
His noble quest to prove himself worthy of being immortal puts him at the center of all that is brave and courageous.
He embraces the laborious tasks given to him, willing to do what it takes to become worthy of Mount Olympus.
Whether facing fierce monsters, fantastic creatures, or even forces greater than the gods, Hercules never backs down from a challenge.
So, are you ready to add some muscle to your Funko Pop collection? The new Hercules Funko Pop! is here, and he's bringing a little hero along for the ride.
Inspired by Disney's beloved animated film, this Hercules Funko Pop! is a sight to behold.
With his chiseled abs and bulging biceps, he's ready to take on any challenge that comes his way.
And what's that he's holding? It's a tiny Hercules action figure.
The Wondrous Comic Con 2023 exclusive Hercules with Action Figure Funko Pop! can be found at the links below as soon as the online sale begins (click to jump!)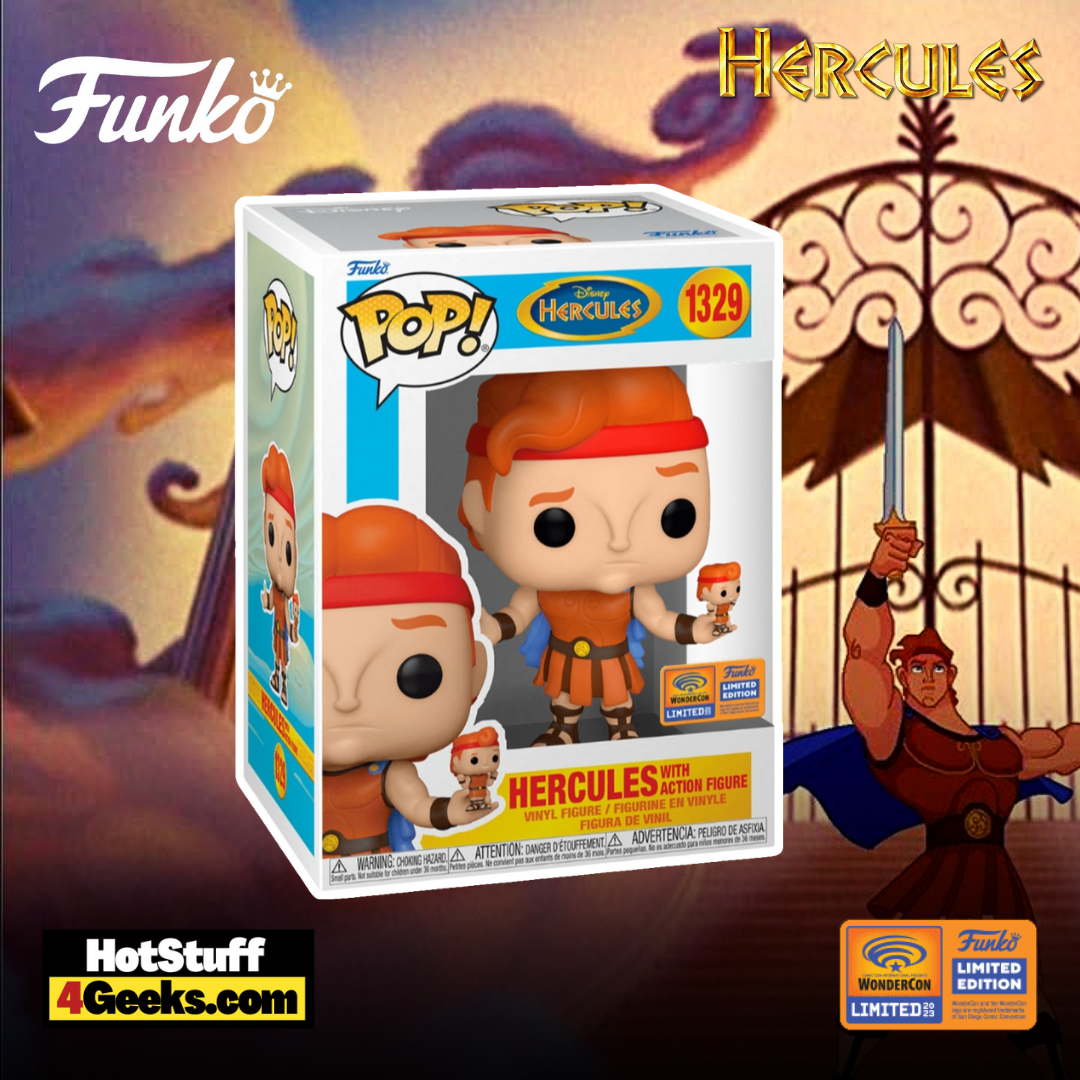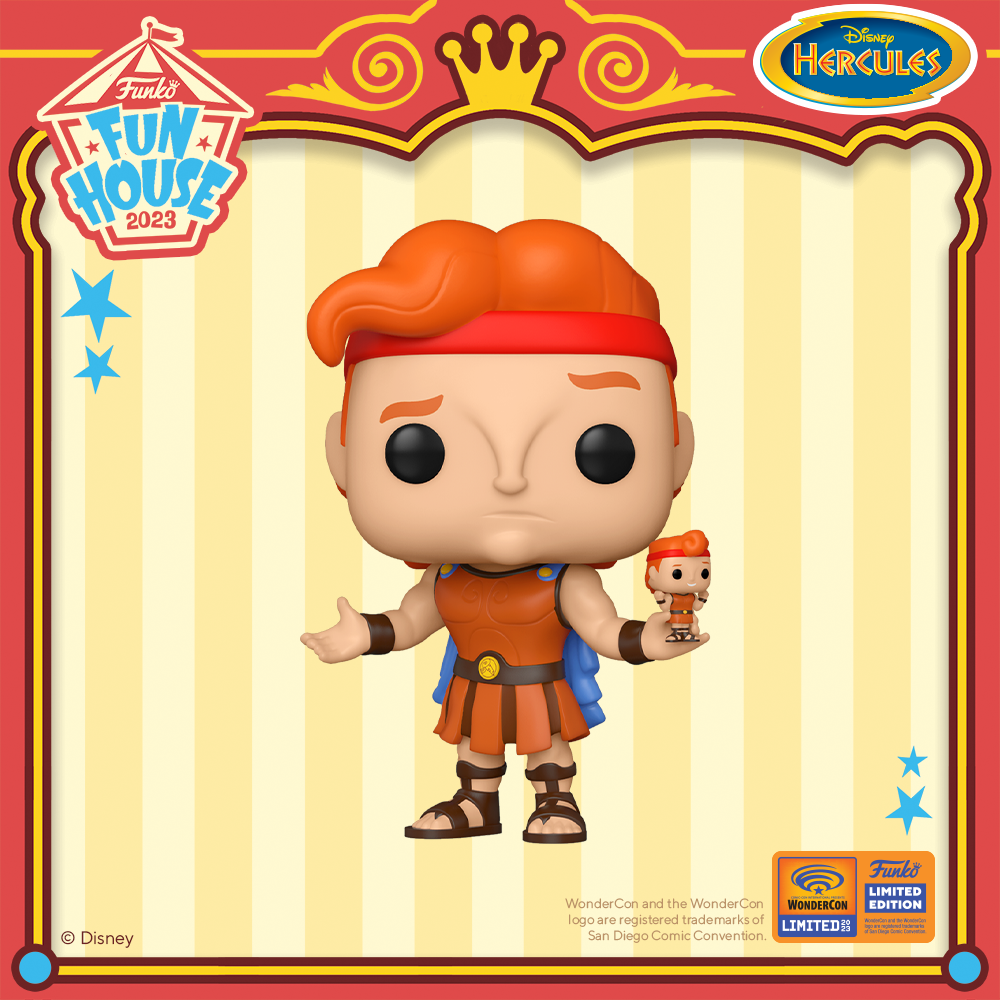 If you were a child of the '90s, you undoubtedly grew up watching Disney's animated classic, "Hercules."
And why not? It's a timeless tale of strength, perseverance, and redemption.
Hercules, the son of Zeus, was born with superhuman strength, but as a mortal, he still had to prove himself worthy of being a true hero.
And what a journey it was!
From his earliest days, Hercules was different from other children.
His incredible strength set him apart, but it also made him a target for bullies. Despite the constant teasing and taunting, however, Hercules refused to use his powers for personal gain.
Instead, he longed to use them to help others and make the world a better place.
As he grew older, Hercules faced many challenges that tested his strength, both physical and emotional.
He was forced to confront the truth about his past, which included a terrible mistake that caused him to lose everything he loved.
But instead of giving up, Hercules used his inner fortitude to rise above his past and become the hero he was meant to be.
Along the way, Hercules made many friends, including the comical sidekicks Philoctetes and Pegasus, as well as the beautiful Megara, who taught him the true meaning of love.
He also battled many enemies, including the fearsome Hydra and the villainous Hades, who sought to destroy him and claim Olympus for himself.
Through it all, Hercules never wavered in his commitment to doing what was right.
He stood up for what he believed in, even when it meant going against the wishes of his father and his fellow gods.
And in the end, his selflessness and courage earned him the ultimate reward: a place among the immortals on Mount Olympus.
Funko POP! Disney Hercules  – Hercules with Action Figure Funko Pop! Vinyl Figure – WonderCon 2023 and Walmart Exclusive
Available at:
Starting now, you can receive 10% off in-stock items with my special link at Entertainment Earth!
 Enjoy!
As an Amazon Associate I earn from qualifying purchases
Want more stuff like this?
Get the best viral stories straight into your inbox!
Don't worry, we don't spam