WonderCon 2023: Disney Princess Cinderella w/ Trays Funko Pop!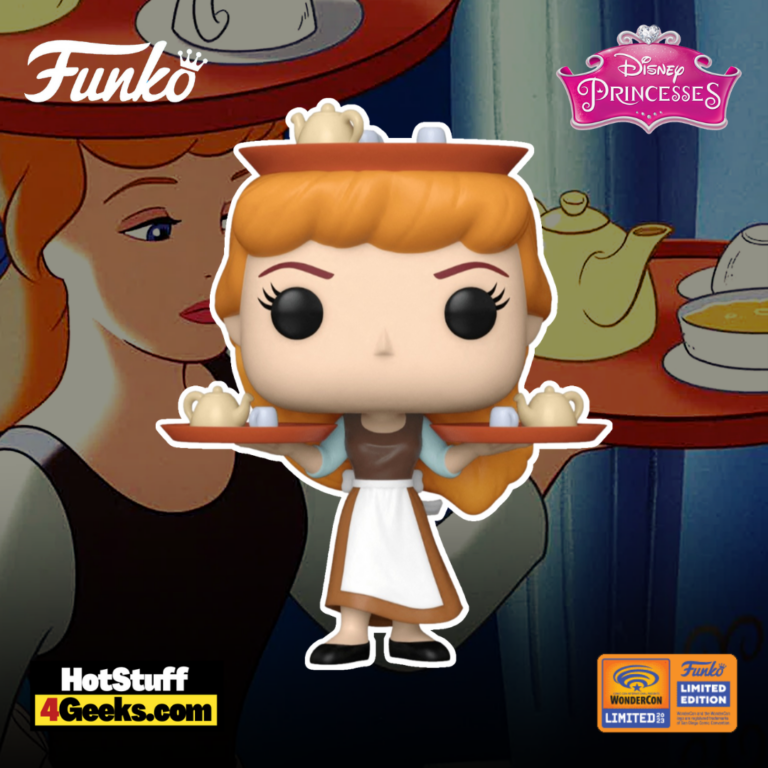 The new Funko POP! Disney Princess  – Cinderella with Trays Funko Pop! Vinyl Figure – WonderCon 2023 and Funko Shop Exclusive will be available online starting at 6 AM PT on Friday, March 24, at the links below (click to jump!)
Cinderella has captured our imaginations for centuries, and her story remains a beloved classic. As children, we all identify with her struggles and small triumphs.
Nowhere are these struggles more evident than in the iconic scene from the 50s movie Cinderella, where she is constantly bossed around by her stepfamily.
The moment is almost unbearably sad. Nevertheless, we sympathize with Cinderella as she completes menial task after menial task, nearly always wordlessly attending to her stepfamily's demands without complaint.
Underneath it all, however, runs a resilient core of optimism and love that can't be crushed by anything else – ultimately allowing Cinderella to find her happily ever after at the ball.
This Pop! Figure it's absolutely timeless!
The Wondrous Comic Con 2023 exclusive Cinderella with Trays Funko Pop! can be found at the links below as soon as the online sale begins (click to jump!)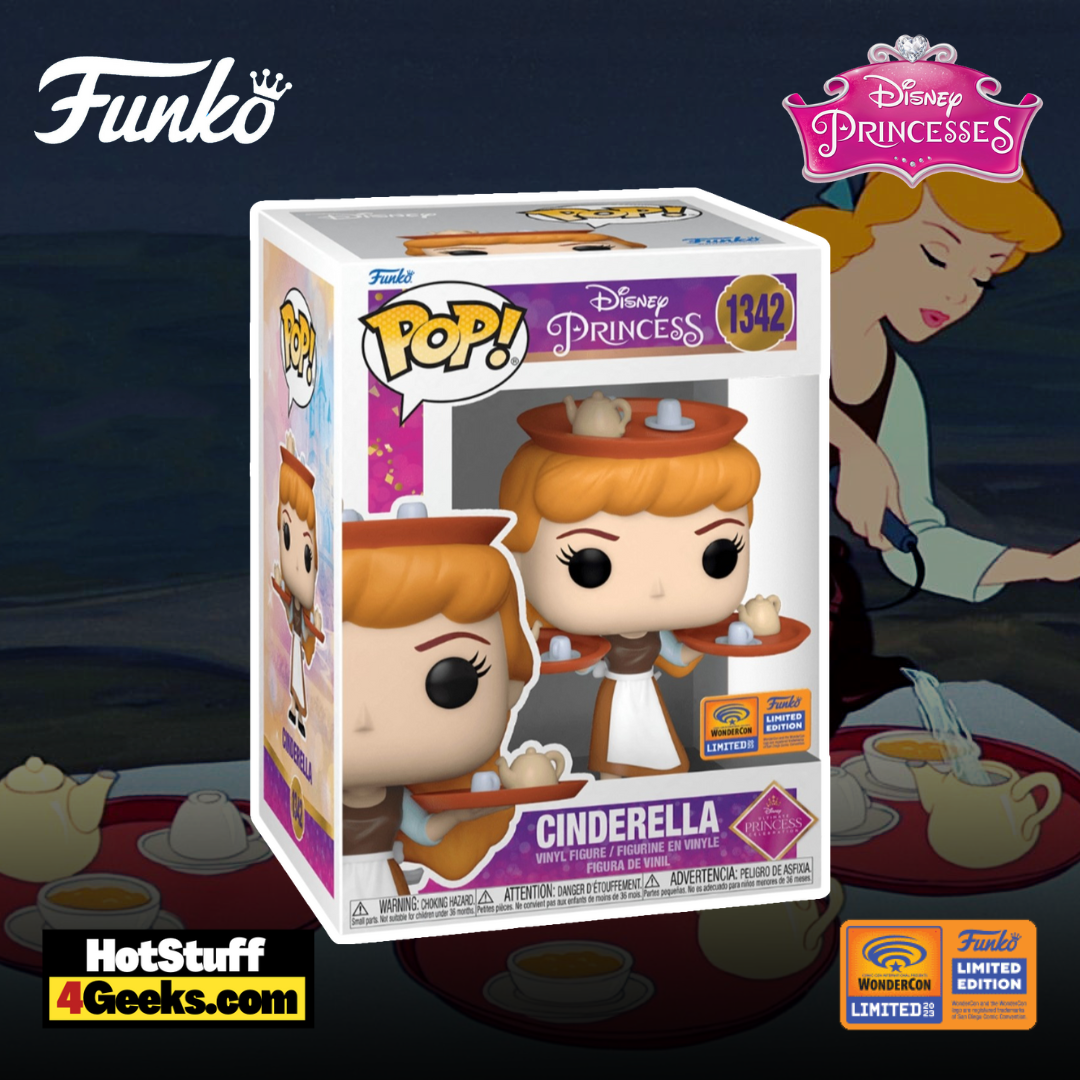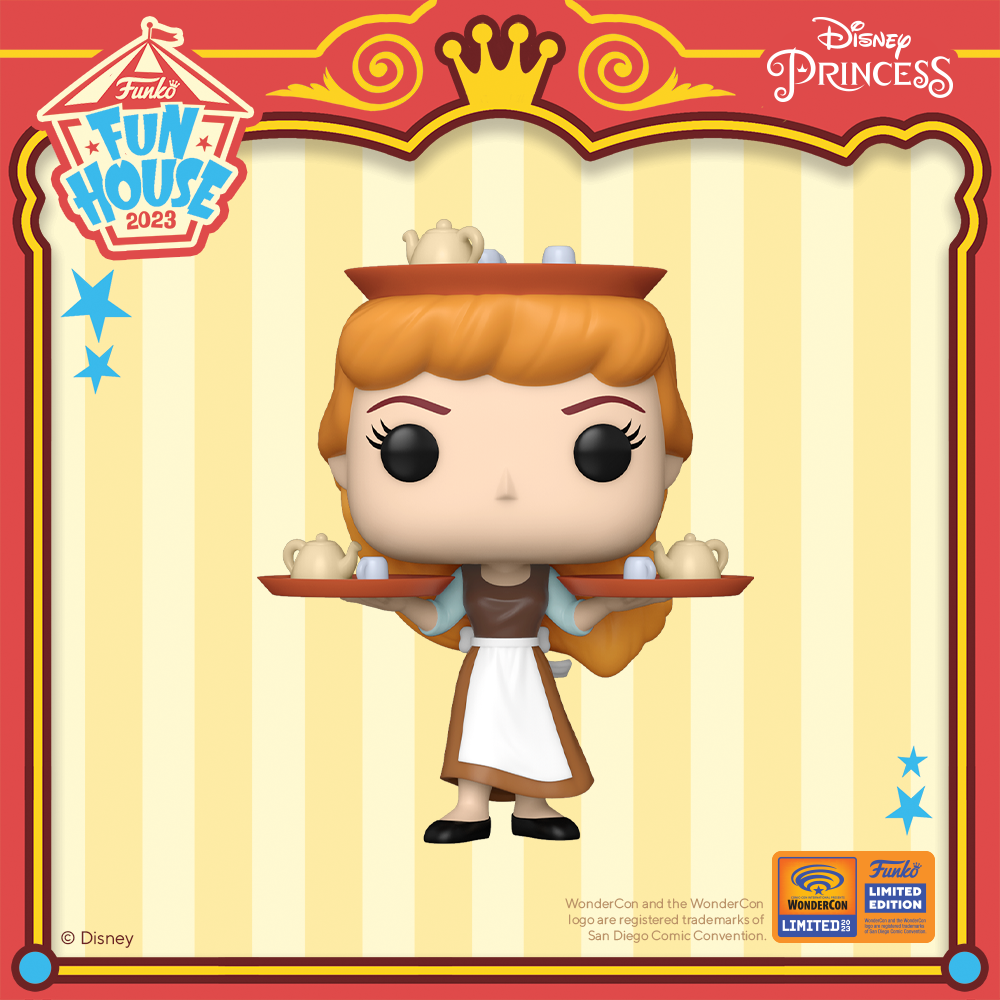 Once upon a time, there was a girl named Cinderella whose story captured the hearts of generations.
From the classic Disney film to the recent live-action retellings, the tale of Cinderella is a timeless story of hope, resilience, and love.
But let's be honest, Cinderella's life before her fairy godmother appeared was pretty bleak.
Her stepmother and stepsisters were not only mean, but they also made her do all the household chores.
Talk about being overworked and underappreciated!
But despite her circumstances, Cinderella remained kind and hopeful. And isn't that something we can all learn from?
Life can be challenging, and sometimes we feel stuck in a never-ending cycle of chores, work, and responsibilities.
But like Cinderella, we can choose to remain hopeful and keep dreaming of a better life.
And when the opportunity for change comes, like Cinderella's invitation to the ball, we must take it.
Sure, it might be scary, and we might doubt ourselves, but we have to take that first step.
Who knows, it might just lead us to our own happily ever after.
Now, let's talk about that ball. Cinderella's transformation from rags to riches is one of the most iconic moments in the story.
And who can forget her stunning glass slippers?
It's no wonder the prince was smitten!
But let's not forget that Cinderella's appearance wasn't what won the prince's heart.
It was her kindness and inner beauty that captured his attention. Cinderella's story reminds us that true beauty comes from within in a world where looks are often prioritized over character.
And when the clock struck midnight and Cinderella had to leave the ball, it was her glass slipper that became the key to her happily ever after.
But here's the thing, the slipper didn't fit anyone else, not even her stepsisters, who desperately tried to squeeze their feet into it. It was only meant for Cinderella.
And that's another lesson we can learn from this story.
We each have our own path, our own glass slipper, if you will.
And sometimes, we need to let go of what others think we should do and follow our own unique journey.
It might not be easy, and it might not fit anyone else, but it's ours to take.
Ultimately, Cinderella's story reminds us that even in the darkest times, hope and kindness can lead us to a happily ever after.
So, whether you're facing a tough situation or simply going about your daily routine, remember Cinderella's story and dream of your own fairy tale ending.
Who knows, maybe your fairy godmother is just around the corner.
You can check all the Wondercon 2023 Funko releases here.
Funko POP! Disney Princess  – Cinderella with Trays Funko Pop! Vinyl Figure – WonderCon 2023 and Funko Shop Exclusive
Available at:
Starting now, you can receive 10% off in-stock items with my special link at Entertainment Earth!
 Enjoy!
As an Amazon Associate I earn from qualifying purchases
Want more stuff like this?
Get the best viral stories straight into your inbox!
Don't worry, we don't spam